David Stone

ex-Rainbow



Here is a rare interview of David Stone, former keyboardist of Rainbow and Max Webster and now a member of the Montreal group: AraPacis. With Rainbow, from August 1977 to February 1979 (first Rainbow era). He participated in two LPs Live in Munich 1977 and Long Live Rock 'n' Roll (1978).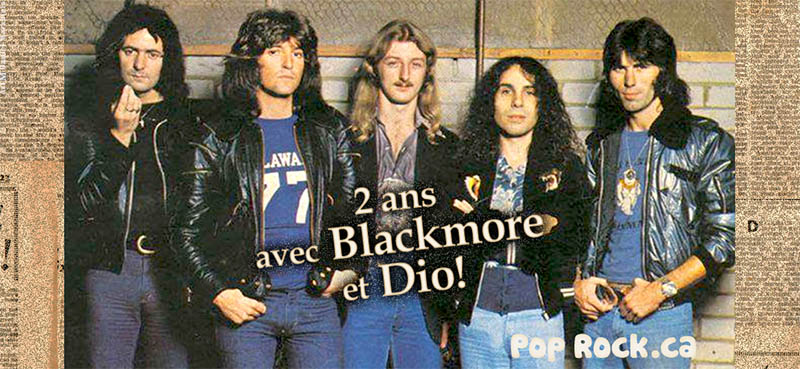 For the purposes of the interview, I use my initials JP for Junior Picard and DS for David Stone

JP: Hello David! Before discussing with you about your arrival in the Montreal group ARAPACIS, I would like to return to your career with Symphonic Slam, Max Webster and especially your time in Rainbow!

DS: Yes, of course!

JP: Do you feel that you have been a little removed from the music scene in recent years?

DS: I was very disappointed with the music scene after 20 years, I threw in the towel and played piano solo.

JP: Ritchie Blackmore has a reputation for being a hard person to work with! Was it the case?

DS: Yes, very difficult to work with him, it was like a fire test.

JP: You were part of Rainbow's great time with Dio, Powell, Daisley and Blackmore and you played on the Long Live Rock N 'Roll album in 1978 and the Live In Munich which was released much later, in the beginnings of the 2000s, what memory do you remember of your passage in this group?

DS: It was a big band performing and Ronnie James Dio was very talented and the friendliest of the group.

JP: Before joining Rainbow, you were part of the Symphonic Slam band, was this your first band?

DS: Not really, but it was the first time I had signed a record deal and they gave me $ 6000 in signing bonus in 1975, I was 21 years old and on Toronto radio we had played at Massey Hall sold out.

JP: After your adventure in Rainbow you joined Max Webster, how did you like your experience with this band?

DS: It was sad: good music, great musicians, the contact with management was horrible, Kim Mitchell had to leave to start his solo career and did not make much money. I moved to Vancouver, I worked on the third Prism album, on the third album of Jerry Doucette, I think I'm the guy on the third album! Lol!

JP: What are your main influences?

DS: My father was a brilliant pianist, so my early influences came from jazz and classical music.

JP: Your impressions on the music scene in 2019?

DS: It has become just about the industry, they have created people like Justin Bieber or Ariana Grande or like "Hollywood"! I do not think a phenomenon like the Beatles could ever happen again! Who knows!

JP: What are you listening to right now?

DS: I do not really listen to music anymore, but I play a lot! Loll. I think I only listen to my music!

JP: You participated on a piece "Order of the Ember Queen" on the album Paradox of Denial of Montreal band AraPacis, have you been difficult to convince to participate on their last album?

DS: Not really, they are very easy to exchange ideas with and their music is something that joins me.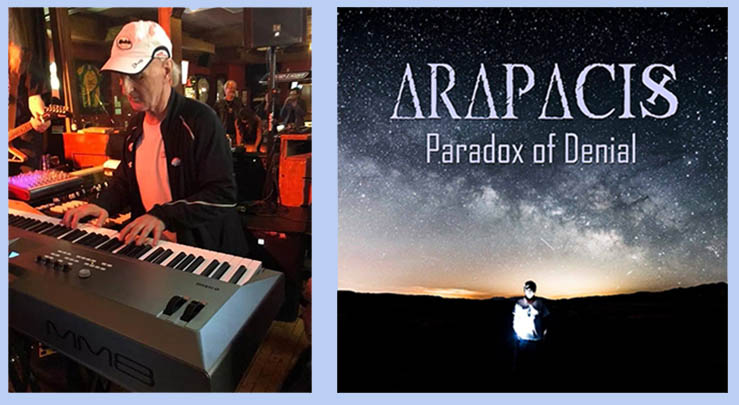 JP: Did you join the band as a permanent member of ARAPACIS?

DS: Why not? I will be recording with them for a long time now and we will take the next step in due course.

JP: Will you participate in the next album?

DS: I'd love to participate and Jerry seems to want to get involved in the creative process, which is flattering.

JP: Apart from AraPacis, do you have solo projects?

DS: A few years ago, I recorded songs that I wrote on a small studio demo here and I made them appear on iTunes as David Stone and I hope I will not forget them! loll

JP: Will it be possible to see you performing with AraPacis?

DS: Although I live in Vancouver, I've had shows in Toronto in addition to AraPacis. And I still have members of my family who live there and we try to do something together.

JP: By finishing David, I think that many Quebec fans will be very happy to know that you are working with the excellent group AraPacis!

DS: I realized very early that Quebecers were the most passionate about music and local artists and I think that's great! When I was younger, I spent a lot of time in Quebec and I only have good memories. Now, I'm looking straight ahead to come back as a musician this time, in a Quebec band.

JP: Thank you David Stone for this interview and good luck in all your projects!

DS: Thank you very much and it was a pleasure!






Jerry Fielden, founder of AraPacis, explains how this collaboration with this keyboard player took place: I first invited him as a friend on Facebook, it intrigued me what he had become after finding him so many years after his participation in Rainbow and Max Webster. We talked a lot and he opened his heart and told me (this is public) that he was sober for a few years, to have spent the hell and that he played a lot of live shows then I asked him if he wanted to play one of our songs on our upcoming album (Paradox of Denial, which is now out).

He accepted, and after several weeks of waiting, his engineer Scott Young sent me his three excellent solos for the song Order of the Ember Queen, song that can be found on Bandcamp. The wait has indeed been worth it in my opinion!

We then spoke to see if he wanted to participate in our upcoming EP where we will take back some of our old songs that Michelle did not sing on and bring them up to date with her vocals to her and David agreed that he enjoyed the experience of recording rock with a band again. This is currently on the way with the beginning of the guitar and drum recordings, then the bass, the keyboards, the vocals and then the viola and the violin.

Finally I had the sudden idea to ask David if he wanted to join the group as a full member (studio to start) and I had a nice surprise when he said "why not? In acceptance!

We are also discussing the possibility of doing some shows in Toronto, Ottawa and Montreal next year with him. Who knows? So really an exceptional moment in the history of our group with a legendary player like him!

© Junior Picard, Pop Rock Canada - November 6, 2019