BOBBY RONDINELLI



Having my eye on the release of the long-awaited "Our Cross - Our Sins", I contacted drummer Bobby Rondinelli in order to ask him a couple of questions about his past, the present (his band Rondinelli) and the future. As you'll see, Bobby is not a man of many words, but what he has to say is clear and to the point...

- Currently you're the drummer of Blue Öyster Cult, but you have played in many bands before. When exactly did you start your professional career and do you still remember those early days?

I started playing drums when I was 11 years old. I joined a band called The Wanders at 13 and we played school dances and fraternity parties. At about 14 Teddy (Bobby's brother) and I started our first band Tusk. I was in a band called Samantha when Ritchie Blackmore asked me to join Rainbow.

- Of all the bands you have been working for/with, which one do you want to be linked with far and foremost?

I guess it would have to be Rainbow, because it was my first big gig. Rainbow will always be special to me.

- Let's have a closer look at your band Rondinelli now. Many people think it's a brand-new band, but as a matter of fact Mk. I of the band was formed halfway the eighties, wasn't it? Who was in the original line up next to you and your brother?

The original Rondinelli line up was Teddy Rondinelli on guitar and vocals, Ray Gillen on vocals, James Lomenzo on bass and me on drums.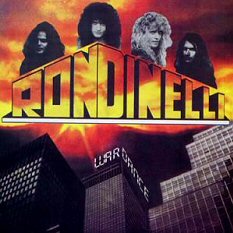 - Why did that original line up call it quits after a (relatively) short time?

The band eventually broke up after Ray Gillen left to join Black Sabbath.

- In 1992, a revamped Rondinelli line up saw the light of day, including your sister Dorothy (on keys) and Teddy Cook (on bass). Who sang at the time?

Teddy was the lead singer in that line up, but Dorothy also sang a few songs.

- A first Rondinelli album, called "Wardance", was released on FTP Records in 1996, but it only contained some demo and live material. Why wasn't a 'normal' debut album released?

We only had the four studio songs and some 2-track live recordings.

- What happened to the band Rondinelli between the release of "Wardance" and now?

Teddy and I were doing different projects.

- The recordings of "Our Cross - Our Sins" took place between June 2001 and June 2002. Isn't that a long period of time for 'only' 9 songs?

It's 10 songs, Japan has the bonus track. When you're trying to co-ordinate schedules between four guys in England and the United States, it just takes time.

- All of the tracks are written by you and your brother Teddy, but on 4 of them you have been assisted by (backing vocalist & co-producer) Dennis Feldman. Can you tell us something more about him?

Dennis is a very talented guy. He was in Tusk with Teddy and me when we were kids. He has played with the Michael Schenker Group, Paul Stanley, Joan Jett as well as others. He usually goes by the name Dennis St. James. Dennis is a great singing bass player as well as a writer.

- In the list of additional players (on keyboards) and co-writer of one track ("Dawn") is one Robert Rondinelli. Maybe another brother of yours?

No, that's my father, he is a singer-songwriter and he wrote a few parts on "Dawn".

- Bobby Rondinelli ... Teddy Rondinelli ... Dorothy Rondinelli ... Robert Rondinelli ... The Rondinelli family must be one hell of a musical family?

Yeah! When we were growing up, we had the loudest house on the block, three people tried to sell their homes the week we moved in (laughs).

- You have been playing with your brother Teddy throughout the years. How do you look upon him as a brother?

Teddy is a great brother, we fought a lot when we were kids, but not anymore, I love him.

- As a guitarist?

As a guitarist he is one of my favourites. His playing is very emotional, he has great sense of melody, great vibrato and can burn.

- And as a songwriter?

I think Teddy and I write great together, good melodies and heavy music, that's the kind of music we love to write and play.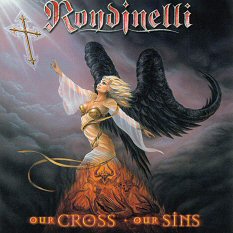 - Listening to "Our Cross - Our Sins," the music reminds me very much of Black Sabbath, when Tony Martin fronted them. The album title could also come from Black Sabbath. Is Black Sabbath one of the bands you're most influenced by?

When we were kids, we really loved Cream & Mountain. Teddy and I were going to be in a band with Mountain bass player and producer Felix Papalardi, when he was killed and so was the band! It would have been great. As far as Sabbath goes, I always dug them and with Tony Martin singing you're going to think: hey, this sounds a little like Sabbath.

- Speaking of Tony Martin (lead vocals), how did you get to know him?

I got to be friends with Tony when we were in Black Sabbath together. He's a great singer and did a fantastic job on the album.

- Besides Tony Martin, the current Rondinelli line up also features another veteran of the scene, namely Neil Murray (bass). Same question as for Tony: how did you get to know him?

I met Neil in the Rainbow days and we were in Sabbath together. I really enjoy playing with him, he played his ass off on the album.

- With such a strong line up, in earlier days one would have called Rondinelli a supergroup. Do you also consider your current band as a supergroup?

That's not for me to say, but I like the sound of it.

- Rondinelli signed a deal with German label MTM Music. Do you think they are the perfect outlet for your music?

Yes, I think so! I believe they will do a great job.

- The front cover of "Our Cross - Our Sins" is 'made' by our fellow country man Eric Philippe. Do you like his work?

I think Eric is a great artist and I'm very, very happy with the cover.

- Why exactly did you call the album "Our Cross - Our Sins"? And what's the link between the title and Philippe's artwork?

To me this means the struggle of good and evil in all of us. I think the cover captured that.

- The album will be released this month (October 2002). Any particular expectations?

I just hope people like it. I had a great time making it and I enjoyed working with everyone involved.

- Being a member of Blue Öyster Cult, what is that band doing right now?

We just released a new live DVD and CD called "Long Days Night", that should be in stores now.

Chris Lambert, Rock Report Belgium, October 2002