Ronnie Romero

Interview with the vocalist of Rainbow, Lords of Black and more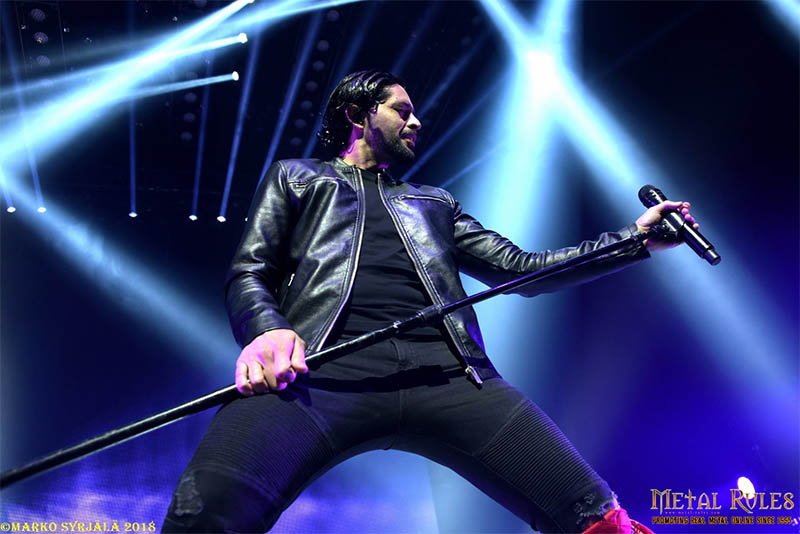 Ronald "Ronnie" Romero is a Chilean singer, songwriter, and musician, best known as the current lead singer of the legendary Rainbow and his own band, Lords of Black. It's a fact that although Ronnie had already been business for a while, not too many knew his name until late 2015 when Ritchie Blackmore surprisingly announced his return in rock scene with a renewed line-up of Rainbow including Romero as a vocalist. Since its "rebirth", the band has annually played a handful of shows across Europe and this year made no exception. This time the tour finally reached also Finland. In the eve of Rainbow's sold out concert in Helsinki, I had a pleasure to sit down with Ronnie and discuss his past, present, and future with Rainbow, Lords of Black and some other interesting things as well. Read on!





RAINBOW ON STAGE AGAIN



This is the third year in a row when Rainbow plays a short series of shows in Europe. How have the things developed since the very beginning, is anything different now compared to the very first tour which you did with the band in 2016?

Ronnie Romero: What's the difference for me? Apparently, it's completely different when you play with a new line up for the first time. We did the shows just after a couple of weeks of rehearsal. The last year was much better because we already knew each other and we had already played three or four shows together. So apparently, the dynamics of the band is grown, and the way how we can play together live is wholly different. Last year was pretty beautiful for us. The shows in the UK were, and the band was great, but now we sound even better.

In 2016 Rainbow did only three shows. After finishing those dates, did anybody know, if there was going to be more performances in the future or was an open question?

Ronnie Romero: The first tour in 2016, the original idea was, I think, to do only those three shows. Two in Germany, one in Birmingham and that's it. But then after the Birmingham show, the feeling about this was pretty cool. So, Ritchie told us, maybe we can do this again on next year. Thus, a couple of months after that, they came with the idea to do it again in 2017. I remember that there was a plan to do five shows, but at the end, we did just four of these because one of the shows was cancelled. Then after the shows Ritchie comes again and says, hey, this is working, and people like it. Maybe we can try to do it again. And now, three years later, we're here again, doing another five shows, and almost all the shows sold out. We have thought that maybe we can continue this until Ritchie can't do it anymore. He can't do this forever, but his playing is still great.

When you did those very first three shows in 2016, those were professionally filmed and released in various formats. If you watch the shows now, how does that sound and look in your opinion now?

Ronnie Romero: Yeah, it's a little bit weird. Apparently, you can hear the difference. The band at the very beginning was not so tight like we're now. Even you can notice the difference between the MEMORIES IN ROCK I and the MEMORIES IN ROCK II albums. They sound completely different. The band sounds more rehearsed now, and even the production and the mixing of the album is entirely different. The show on MEMORIES IN ROCK II was probably the best performance from last year. So yeah. When I used to listen or see the footage from the first tour, I felt almost a bit shame [Laughs]

But I think that the first tour DVD is not something that you watch too often? [Laughs]

Ronnie Romero: Currently, I know. Even now I look like there with my short haircut and everything.

But anyway it's still good that it's documented.

Ronnie Romero: Yeah, of course!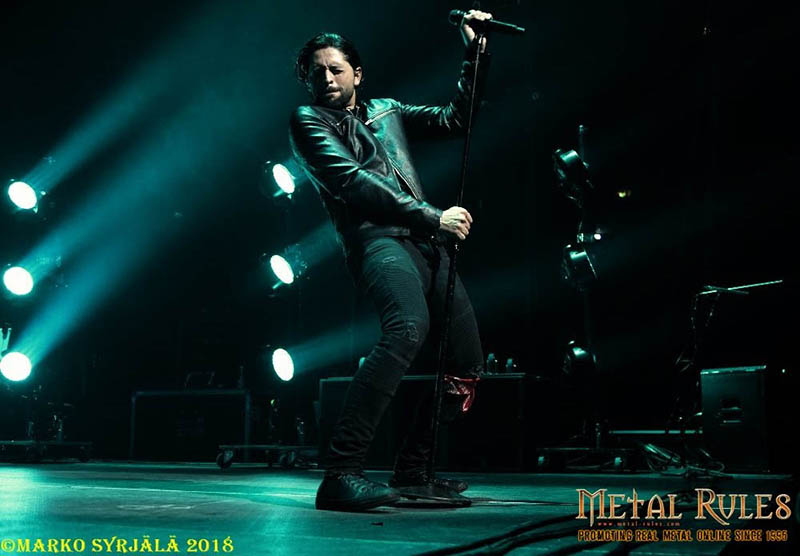 THE FORMATION



When the new Rainbow line-up was announced, the band got a lot of critics because many fans were disappointed when there weren't more classic era Rainbow members in the group. To be honest, I have hardly ever seen that much negative towards any band. But it seems that these comments are slowly fading away, and people have accepted the group how it is now.

Ronnie Romero: Yeah, yeah. I think so, and you know what. I'm a Rainbow fan by myself. I started to listen to Rainbow when I was five or seven years old because my father was a huge Rainbow fan. So, if Ritchie announces something, and apparently at that point, I'm not involved; naturally, I was always expecting something like Joe Lynn Turner and Graham Bonnet; they're still alive and Bobby Rondinelli. Or even the last line-up from the STRANGER IN US ALL album, with Doogie White. But in a way, I can understand the decision made. I can understand it. Rainbow is probably one of the most important bands in the hard rock history and Deep Purple too. So, it would be the hardcore fans that would want something special. And it's probably the older people, who still have some issues with that. But the younger ones love the current band. I think that's a great success.

So, the critiques and some fans didn't help or support you and the band much at the beginning. When you heard that feedback, did it give you some extra kick, you wanted to show them that you're still a great band no matter what they said?

Ronnie Romero: Yeah, for sure. I never think about the critiques. You can try to read all those comments on the Internet, but I don't like it at all. I never went into that. But, from the very beginning, they have the confidence from Ritchie Blackmore and Rainbow. To me, that's more important than anything else. So, I felt great from the very beginning to do this job. No hard feelings. I think it's a part of the business.

When Ritchie decided to put the band together, he first asked some well-known names to be part of it, names like Glenn Hughes and David Rosenthal were up in the air. Did you ever rehearse with Rainbow, having some different line-up than this current one?

Ronnie Romero: No. No, never. I remember when I did the first meeting, it was a kind of an interview with Ritchie in Munich. They told me about some ideas and who was coming to join us on the line-up, but finally that never happened. Being on the first rehearsal, just I met those guys. So, I don't know what happened with the rest of the guys. They told me something about Glenn Hughes, and even if I am not wrong, I remember they told me something about Lars Ulrich from Metallica. They had been considering some well-known musicians. But the funny thing is they never told me anything about having any former Rainbow members in the band. They had been looking for different people from the very beginning. I'm completely sure about that.

It's funny that even David Rosenthal lives pretty close to Ritchie, but he's not in the band.

Ronnie Romero: I know, and Even Bobby Rondinelli lives on Long Island. I have been talking with Bobby Rondinelli once when Lords Of Black was touring with Axel Rudi Pell. He told me that he lives really close to Ritchie, but he never gets any phone call or nothing about this. So, I think from the very beginning; they have been looking for different people.




VOCAL TALK



On this current tour, you're playing material from almost all eras of Blackmore, including songs originally sung by Ronnie James Dio: Graham Bonnet, Joe Lynn Turner, Ian Gillan, Glenn Hughes and David Coverdale. Ritchie has said that you're the only vocalist who can handle the whole catalogue, no matter who did the original vocals. So, which songs are the hardest for you to sing?

Ronnie Romero: All of them in a way, because we're talking about the greatest singers in the rock history. It isn't just some singers; we're talking about Dio and Ian Gillan. They're on the list of my favourite singers. So, it's tough to sing all the songs. But for technical reasons, Joe Lynn Turner stuff to me is the most difficult to sing, because the kind of a voice is entirely different from mine. I can handle very well the Ronnie James Dio stuff and Graham Bonnet because they both have a sort of like aggressive voices, which is pretty much the same as mine. Ian Gillan, honestly, it's hard. But I can handle it too because I grew up listening to Deep Purple. So, in a way, it's easy for me. But Joe Lynn Turner, he has a unique voice. It's very melodic with some twist and some vocal lines that are very difficult to replicate.

Have you ever tried to sing songs like "Stone Cold" and "Street of Dreams"?

Ronnie Romero: Yeah, yeah. In fact, I remember the last year for the UK tour; we're going to rehearse the "Street of Dreams" which is one of my favorite songs from Rainbow, and, in the beginning, it was really hard to perform that.




RE-RECORDING OF "I SURRENDER"



Rainbow released a new version of "I Surrender" In 2017. What's the story behind that release? That also got some critiques. First of all, why it was made and why the current lineup didn't record it?

Ronnie Romero: We just finished the UK tour and then… No, no. I'm wrong. We completed the first tour 2016 and then in December of that year, Ritchie told me, "Hey! I have a new song and, (I'm talking about "Waiting for a Sign"), maybe we can send it to you, and you can try it in the studio and see what happens? So, they sent me the song "Waiting for a Sign." Then one week after, they told me about "I Surrender." I think it was originally made to be an extra material on this release, MEMORIES IN ROCK II. Even if "I Surrender" is not one of Ritchie's favourite songs from Rainbow, but it's probably one of the most popular Rainbow songs, and one of the favourites from the audience and the fans. So, I think that was the idea, to put one of the greatest Rainbow songs on the spot again. Playing it in a way that he's playing now, which is entirely different to old days, of course. But I don't know why he did it in the way, why he didn't use the line-up, the current line-up to record the songs.

I have a good guess. Isn't it cheaper to do that way? [Laughs]

Ronnie Romero: Yeah, probably. I don't know. I just record the vocals and sent it back, and that's it. In a way, I think it was a great idea because I can tell you that it is one of the favourite songs from the fans and they loved it anyway.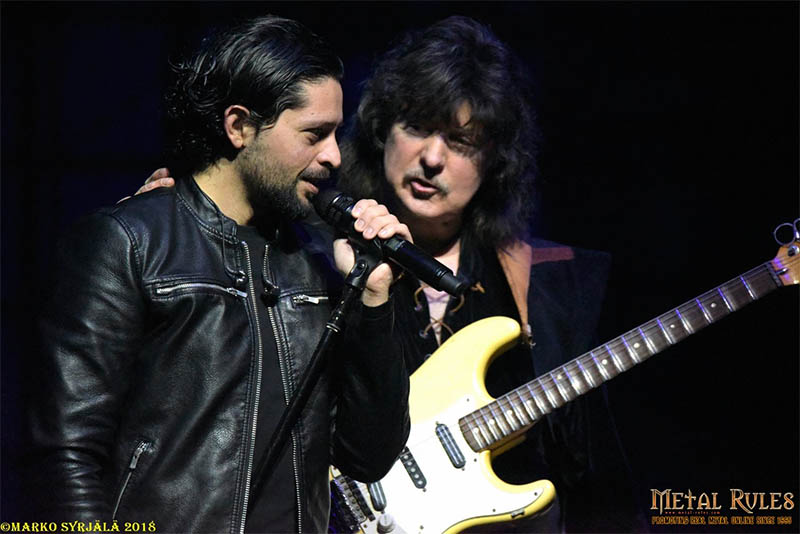 "WAITING FOR THE SIGN"



As you said, the new Rainbow song "Waiting for a Sign" was recorded at the same time when you did "I Surrender". Did you spend any with Ritchie in the studio then?

Ronnie Romero: No, he just sent me the song with Candice on the vocals, to get some guidance on vocal lines because Candice wrote the lyrics. So, they just sent me the song, and I went to the studio and recorded in a day, and that's it.

How do you like the song as a Rainbow fan? How would you categorize it?

Ronnie Romero: When they told me about the song, I was very curious about what kind of song it would be. Obviously, in a way I was expecting something like "Kill the King", but I can understand that he can't deliver that kind of music anymore because he's in a different mode now. I mean, the way he used to play in the '70s, it's not the same anymore. But I liked the song; it was a great song. When I listened to the song for the first time, I thought that it fits perfectly with the early Rainbow material. So, it was great and was fun to record it too.

I listened to the song a couple of times, in my opinion, it sounds like a mix of STRANGER IN US ALL and the first Rainbow album.

Ronnie Romero: Yeah. I think it that it matches with the first Rainbow album. Then apparently you have this Blackmore's Night vibe on the song, and it's precisely the same with the STRANGER IN US ALL album.

Maybe it's because of Candice who also had a significant role on the STRANGER album?

Ronnie Romero: Yeah, I think so.

Did you have any discussions about recording more new Rainbow songs in the future?

Ronnie Romero: No. In fact, we never talked about it. But the way we all, the whole band, we have a certain feeling about that this will finally happen sometime. Because like I told you at the beginning when I joined the band, it was supposed to be only three shows in 2016 but then it happened again in 2017 and then it's happening again now. So, I have a feeling that probably we can do something more and not just touring. I think that at the moment it's not possible, because Ritchie and Candice, they're working on a new Blackmore's Night and they are going to tour with the band in America this summer, but after that, we will see what might happen?

Yeah, everybody is waiting for that.

Ronnie Romero: Yeah! Me too! [Laughs]




THE EARLY YEARS OF RONNIE ROMERO



Let's discuss next of your early life. You were born in Santiago, Chile. At which point you started your musician career? When did you first time began to sing or did you play some instruments in the beginning?

Ronnie Romero: I grew up in a family of musicians. My grandfather, he used to have, they call it a big band, an American big band. He was a saxophonist, and my father was a singer of that. My mother plays the guitar, and my brother plays the drums. So, you can imagine that I grew up with many instruments and all the family talking about music and listening to different styles of music. So, I grew up in that environment that everything is about music. So, I just started to sing in a gospel choir in a church when I was seven years old. Because my family they're Protestants. So, that was how I started with music and singing. Then I formed my first band when I was 14 with some mates in school and...

Was that in Spain or Chile?

Ronnie Romero: In Chile, it was in Chile. I just moved to Madrid about ten years ago. So, this was where I started to sing songs from Deep Purple, Rainbow and Led Zeppelin. All these classic bands.

I'm curious to know what kind of metal scene or rock scene is in Chile?

Ronnie Romero: There are a lot of metal and rocks bands there. But the metal scene, it's pretty underground. Because in every country in South America, the rock, and the metal scene, they need to fight against different kind of music which is in the mainstream there. I'm talking about Latin rhythms and American Pop and everything. So, it's pretty hard to get out, but there are a lot of metal and rock bands there.

Which are the most significant rock/metal bands or artists coming out in Chile?

Ronnie Romero: I'm not sure? Hmmm… Tom Araya from Slayer, he is originally a Chilean guy. And the bass player from Suicidal Tendencies, he's a Chilean guy too and so is the current Rainbow singer [Laughs] So, there you go [Laughs]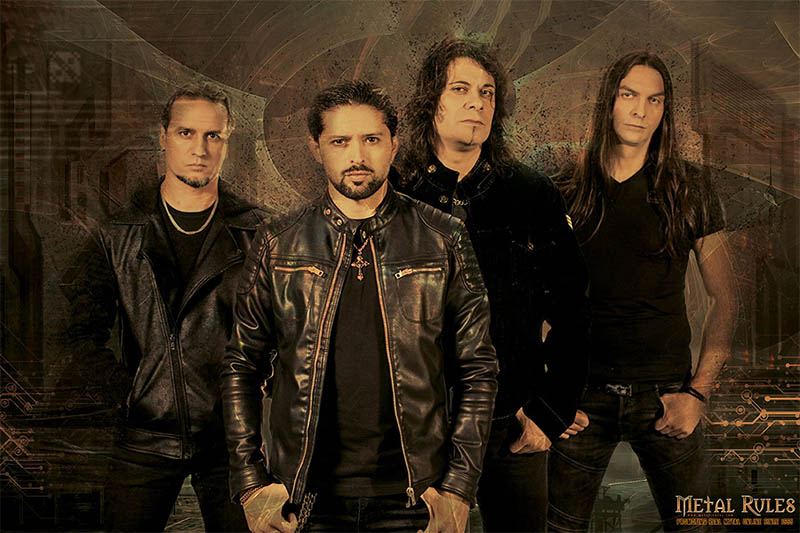 LORDS OF BLACK



Lords of Black was formed in 2014, and now the album number three is coming out in May. Most of the people in Finland have never heard about Lords of Black, so, let's start from the beginning. How did you end up in the band? I know that the guitarist, Tony Hernando, is a kind of veteran in the metal scene in Spain, so it was probably his idea to start the band together?

Ronnie Romero: Yes. I met Tony in a Dio tribute concert that he did in Madrid in 2013. At the time, I had already been in Madrid playing and singing with some semi-professional and amateur bands. So, Tony watched YouTube and saw some of my videos, where I was singing Rainbow songs and Dio songs. So, he just invited me to sing a couple of songs in that show. It was a Dio tribute show, and all the money income went for the Dio cancer Foundation. So, that's how we met each other, and we played a couple of Dio songs, and we professionally fell in love. Because, as you said, Tony is a veteran guy there, and he used to work with many international musicians already. So, he's a different kind of musician from the rest of the Spanish musicians. He is very professional. I love that kind of music and that kind of professional guys to work with. So, we decided to start working together and see what happens. In fact, Lords of Black was founded by Tony and me in 2013, and we began to work in his house. He already had some great ideas for the first album, and I remember that it took just one month to write all the songs for the first Lords of Black album. It was pretty intense work.

I remember actually when the first album came out and there was one review which said that the vocalist Ronnie Romero sounds like Ronnie James Dio in steroids [Laughs]

Ronnie Romero: Yeah, yeah.

The review also said that your voice is the element which makes the band different from other groups and I have to say that I agree with that.

Ronnie Romero: Thank you. Yeah, that's what we've been looking for. Obviously because on the metal scene, if you don't go to the extreme, it's really hard to put in the table something new. So obviously, Tony and I, we have these classic rock influences, because both are huge fans of those bands like Deep Purple and Rainbow and others like Journey, Kansas, the American classic bands and some more progressive bands like Queensryche and Dream Theater. But the most significant influence for us is Ronnie James Dio. So, if you put all these together, there you have the Lords of Black. That was the idea from the very beginning.




WORKING WITH ROLAND GRAPOW



One guy who has been working a lot with Lords of Black is the former Helloween and the current Masterplan guitarist Roland Grapow. How you started to work with him and how you will describe his role with the band?

Ronnie Romero: Yeah, yeah. Tony knows Roland since many years ago, because Roland, he was producing Tony's solo albums. I'm talking about things which happened maybe 15 years ago. So, we decided to ask him about, if he would be able to be the producer of Lords of Black. So actually, Roland for us, he is a kind of the fifth member of the band. He's the music producer, and he is mixing and mastering the albums. He always has his voice to decide what songs are going to be on the records. We have a highly confident on him because he's a veteran musician and he played with Helloween and Masterplan. And Masterplan is one of my favourite bands too. So, he's a fifth member of the group for us. So yeah. We love to work with Roland and the results have been excellent.




THE NEW LORDS OF BLACK ALBUM



Let's discuss next the new album THE ICONS OF THE NEW DAYS. I have only heard the singles and based on those two; the band now sounded like less power metal but more traditional metal. But how is the rest of the album? Is it the same formula what you have used before?

Ronnie Romero: Yeah. It's pretty much the same formula, like both singles that are already released: "Icons of The New Days" and "World Gone Mad." We've been looking for obviously something different from the first two albums. We already have this Lords of Black sound, and we have a lot of followers, but the thing is, that now we've been looking for something different. I think that the first two albums are completely different from each other, but there are a lot of things which still sound pretty similar. So, I told Tony, I said, we need to do something completely different. It needs to have the Lords of Black sound, but something more. So, there was a couple of songs on the second album that the people really loved, and those are the melodic ones. So, we thought that maybe we could go more on that way. I would say that on the third album, we have still the Lords of Black sound, which is a kind of mix of power metal and classic heavy metal like Judas Priest and Helloween. But the choruses of the songs are now more melodic. We've been looking for lyrics that the people can sing on the shows with us. So, it's more melodic and commercial in a way.

That's not a wrong thing to do [Laughs]

Ronnie Romero: No, isn't.

After this Rainbow tour is over, what kind of touring plans do you have with Lords of Black?

Ronnie Romero: Obviously, we need to tour and support the album. So, we're planning probably to tour after the summer, because of the label, they delayed their release. Originally, the release was scheduled for December and January, but I don't know why they decide to postpone until May.

And that time the festivals are already booked, right?

Ronnie Romero: Yeah. So it was a kind of a big mistake. So, unfortunately, we lost all these summer festival slots. But we're going to do a couple of festivals that and we're also going to play some support shows with Ozzy Osbourne and Judas Priest. Then we'll probably do some shows with the Scorpions; we are going to do four to five shows with the Scorpions around Europe. Then we're going to go touring across Europe at the beginning of the autumn or even winter. I'm talking about September and November.

Do you have plans for Scandinavia as well?

Ronnie Romero: We should do it. We already know that we have fans here in Scandinavia.

Yeah. And if you add the text: "Lords of Black featuring Rainbow vocalist" on the poster, that will help the sales [Laughs]

Ronnie Romero: That's a good idea [Laughs]




THE OTHER PROJECTS



You have Lords of Black and Rainbow but you've also worked on several other projects, and many of those are related to Frontiers records.

Ronnie Romero: Yeah, kind of, yes.

First, you did the Ferrymen project, and now you have the band Coreleoni with Leo Leoni. The label is known that they quickly put together all-star line-ups which then releases albums. In most cases, those are not real bands, but Coreleoni seems to be a different story because you're doing shows every then and now with the band.

Ronnie Romero: Yeah, it's different. Because that idea started without Frontiers, it's completely different. We had to go with Frontiers because I have an exclusivity agreement with Frontiers because I am in a lot of the bands. So, the only thing that they did it was the Ferrymen thing. I was pretty available to do it, because first of all, I had the opportunity to work with Magnus Karlsson who is one of my favourite musicians in the actual metal scene. I love his work with Primal Fear and Allen/Lande projects. So, when they told me about, we want you to make a record with Magnus Karlsson. I said, yes. I want to. Then the communication is entirely different, because Leo Leon from Gotthard, he put contact to me, to talk to me about this Coreleoni idea, which was to re-record some old Gotthard songs and I said, yes. I'd love to work on some projects, which are different from Lords of Black. It's not heavy metal. It's not power metal. So, I thought, I wanted to do it. So, we recorded the album, and then I had a meeting with the Frontiers guys I said; Hey, I just recorded something with Leo Leoni, and they want to release it. They said, you have an exclusivity agreement with Frontiers so, they need to pay. Thus, the only way that Leo and the rest of the guys from Coreleoni, they don't need to pay was to release the album with Frontiers. So that's the deal. But anyway, they, Frontiers, treat Lords of Black, really well and they gave us confidence from the very beginning.

Our time seems to be up now. Thanks for your time Ronnie and see you on the tour soon.

Ronnie Romero: Thank you, Marko.


© Marko Syrjälä, Metal Rules - May 18, 2018