Ronnie Romero

Interview La Revista de Valdemoro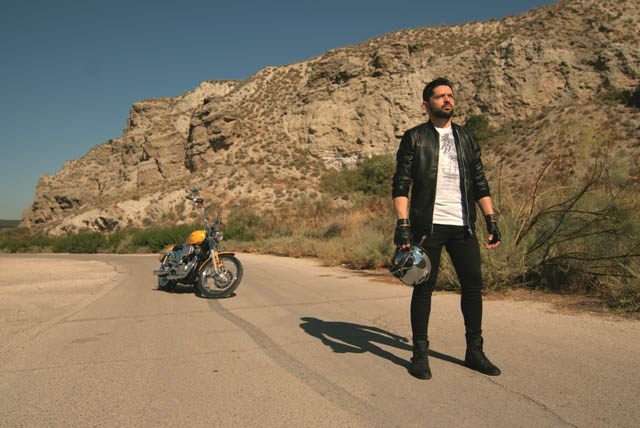 Imagine the world as a huge puzzle of innumerable pieces arranged on an almost infinite surface. In that world that I conceive, there is a place for each one of us. A place where each one of us feels good, finds his place, finds his raison d'être and even exists. A place where we shine more than anywhere else. A place where we fit perfectly with the other pieces of the puzzle that are placed around us. A beautiful location within this huge puzzle where our only mission is to insert ourselves without friction and without fissures. Some will think that we are entering the world of magic.

We must thank the global village connected through new technologies for many advantages. Thanks to the virtual field that projects on a screen, it can help us to find, more easily, the coordinates of our place in the puzzle. This was the case of Ronnie Romero, to whom Facebook, YouTube and Twitter have helped him find his place in the world. Living in his native Chile, he met Emilia, a girl from Madrid, thanks to Facebook. They connected. Emi traveled to Santiago de Chile and, after a while, decided to come to Spain and live in Valdemoro. Ronnie Romero remembers the exact date of his arrival in our town: May 2, 2009.

What did you think of Valdemoro when you arrived?

Living in the center of Madrid has its advantages, having everything so close, but I like quiet places, like Valdemoro. It reminds me of my hometown, Talagante, also south of the capital of Chile, some 35 kilometers away, and with a population similar to that of Valdemoro, some 65,000 inhabitants. There are two cities, Valdemoro and Talagante, well connected with the capital. Since I arrived here I found myself super comfortable because, physically, the two cities are very similar and because the way of behaving of the Spaniards and the Chileans is very similar. In Valdemoro, they have always treated me very well since my arrival.

When do you start singing?

I started very small, I come from a family with a musical tradition. My grandfather had a big band , they do not see much anymore. He was a saxophonist. Well, he was a multi-instrumentalist, but in the orchestra he played the saxophone. My father was the singer. On the other hand, my mother sang and played the guitar too ... My older brother played drums. I grew up, then, surrounded by all those instruments at home, in my room ... My parents were evangelical Christians and music is important in religious ceremonies. I started singing in the church, with 6 or 7 years.

Did you learn to play any of those instruments?

I played them all a little bit. When it comes to writing, it always helps to know to support you on an instrument, but I never specialized in any of them because, from the first moment, I concentrated on singing. I remember with affection the transverse flute that my grandfather gave me. It was, perhaps, the instrument that worked the most.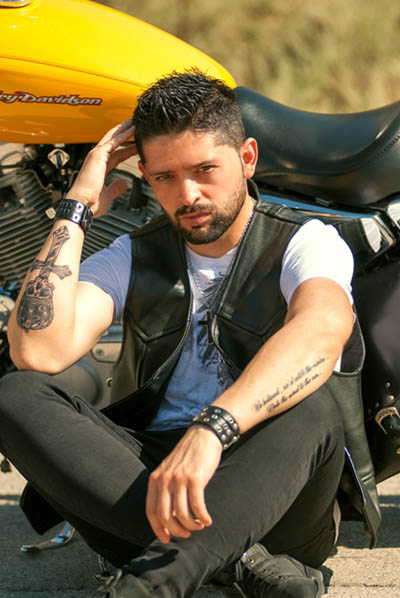 When do you form your first band?

I think he was about 14 years old. My best friend at school was to learn to play the guitar. And it turns out that his father was a big fan of classic rock. Every time we went to my friend's house, his father would come with a song, an album or a group for us to listen to. "Listen to this," he told us. So we met Kansas, Pink Floyd, Toto, Journey... Deep Purple, of course, Rainbow, the classic bands of the seventies and the eighties. I remember we listened a lot to Red Baron.

When my friend started playing the guitar, we started playing songs from those groups to try. We started making versions of Whitesnake, for example. It so happened that his brother played the drums and his cousin, the bass. So we started rehearsing and playing songs by Jimi Hendrix, Led Zeppelin... Soon after, another classmate from the school joined us, who also played the guitar and I remember we played in an auditorium in front of more than five hundred people. I think we were called Barracuda. Then we got to call Bucéfalo. Sound names for a band, but that, with time and thanks to the Internet, we discovered that other groups had chosen before us.

I see that music has always been part of your life.

Yes, but, until I came to Spain, music was secondary to me, a good excuse to get together with friends on weekends. Maybe we would get a gig to play all night in one place and they would pay us 20 or 30 euros, or they would pay for our beers... With 17, 18 and 19 years old, we thought we were real rock stars: we played in seedy clubs and they paid us for the beers to touch. The people applauded and it was good.

But the family does not let you continue. The family does not say to you: "Yes, yes, you dedicate yourself to rock music and continue doing concerts like the ones you do". No, the family knows that you will not be able to live on that. So I started studying Forestry Engineering and then I started working. I did everything except jobs related to my engineering... I worked mowing the lawn, I worked in a butcher shop, carrying sandbars in a construction site, whatever... I was 22 years old, had a son and had to look for a living. You start to leave the world of music because you are not having time for that hobby anymore. We were satisfied with being able to get together on the premises for a weekend and rehearse a couple of topics.

When you arrived in Spain, did you intend to dedicate yourself to music?

Not at all. I came here to find my life. In Chile, I had a good job, but I came here to be with Emi. I brought some savings, but I came to work on what came out. I worked as a commercial, painting floors and a lot of other things. I kept doing some music on the weekends but nothing serious. Thanks to the videos that I posted on Youtube, they began to contact me to sing more professionally. Although I was working with him for a short time, one of the first people who called me to work was Jero Ramiro, who played with Saratoga, Ñu and Santa.

And, suddenly, you find yourself working with Armando de Castro, the mythical guitarist of Barón Rojo. We decided to form a Rainbow tribute band, play concerts with their songs and earn money. I called the drummer of my group, Lords of Black, and one day they told us: "We already have a guitarplayer". I remember that day perfectly. We stayed in the rehearsal room and when I arrived I found there with Armando de Castro. When I was a child I only listened to two bands in Spanish: Barón Rojo, from Spain and Rata Blanca, a group from Argentina. For us, as young people, listening to rock in Spanish was always very strange, but Barón Rojo was special. I remember that the first album that I bought with my money was "Brutal Volume" of Red Baron.

So I arrive at the rehearsal room and I meet one of my idols. And I was lucky enough to work with him in this tribute band to Rainbow for two years. Armando did it great because he has a very Ritchie Blackmore sound. We started this tribute project, which was called Rising, and we played at important festivals, in different venues in Madrid. People liked him a lot. They said that my voice was very similar to that of Ronnie James Dio. I think we had a fairly faithful sound to the Rainbow of the first years. Until Ritchie called me...

I had to tell them that I could not sing with them at the next planned concerts with the band, but I could not tell them why.




Tell us how Ritchie Blackmore, the legendary guitarist of Deep Purple, and the creator of the band Rainbow contacted you.

It was 8.30 in the morning and I was doing an internship in the Youth Council, here in Valdemoro. I had my mobile phone on the side. Suddenly, I get a Twitter notification. It says: "Candice Night follows you on Twitter". The name already sounded familiar to me. I looked at her profile and saw that, in effect, she was Ritchie Blackmore's wife. I thought it would be someone else with a fake account or something like that. And, after five minutes, I get a private message from her. Hi, I'm Candice Night, Ritchie Blackmore's wife. Do you know who it is? We've been watching your videos on YouTube playing Rainbow songs and we're pretty impressed. Ritchie will be in touch in a little while. He would like to talk to you."

I remember that the first thing I did was call Emilia and look around me. I thought that everything was a joke and that they were filming me for a television show or something like that. I started looking to see if I saw any hidden camera.

This was in May 2015.

Yes. After a while, he wrote me a message... Ritchie Blackmore. Candice has come to tell me that Ritchie had almost abandoned the idea of continuing his Rainbow project because they could not find the right singer. But she kept looking around until she found the videos that I had posted on YouTube. It was a very special project for both Ritchie and Candice. So Ritchie contacted me in May and they invited me to dinner together in June.

Where is Ritchie Blackmore's dinner for a situation like this?

It was funny. He told me that we should meet in Munich, in Germany. I had never been there before, with what I saw on the Internet places to visit, since I was going to be there a few days. I arrived at the airport and they came to pick me up in a van. We left Munich, an hour and a half or so. All this with strangers, without any trace of Ritchie. They took me to a place lost in the mountains until we came to a castle of the fifteenth century, now converted into a hotel.

I got out of the van like a child going to school for the first time. Excited Nervous. Until then, everything could still be a joke. And just at that moment, I hear a whistle. I look up and, in the window of one of the towers, I see Ritchie Blackmore. "Okay, it's him," I told myself, "for the moment, we're doing well." They took me to my room and, right away, he knocked on the door and introduced himself. He knocked on the door, I opened it and I remember that the first thing he said was "you got it". He introduced me to his wife, to his mother-in-law, to the children, to the whole family that was there. Half an hour later, we were downstairs for dinner. During dinner he told me his plans regarding Rainbow.

Nothing else to dine, we went up to the room to touch some subjects. That was quite stressful for me. He was going to sing some songs composed by Ritchie Blackmore and played on guitar by himself. I could not afford to make a mistake or invent the letter. I couldn't afford to sing wrong in the structure of the songs, because he knows them better than anyone else. And, suddenly, he starts playing 'Perfect Strangers' of Deep Purple. And I'm a little confused. And, politely, I say: "I think that's not the tone of that song. On the disc it is recorded in another key". And he was also surprised. He looked at me and said: "In what key is it recorded?" I started singing as I thought it should be and he was immediately hooked and it was great. At the end he says: "It's been a long time without touching this song ..."

Maybe he was testing you ...

Could be. We played about five songs together. We did 'Man on the Silver Mountain', 'I Surrender' and some more. And then we did a couple of Queen songs. He told me that he liked Queen a lot and that my voice reminded him a lot of Freddie Mercury. I remember we played 'Who Wants to Live Forever'.

We did the songs sitting next to a table, he with the guitar and I singing. Candice, his wife, was sitting by the window, looking outside, but listening to our songs. Ritchie gave me the OK. He turned to Candice and asked his opinion. She smiled and raised her thumb. Ritchie turned to me again and said, "If she smiles, everything is right." He told me that his mother-in-law, who is also his manager, would contact me and send me the contract to sign it. Since then, communication with them has been fantastic. They are very affectionate people, very attentive and they have been constantly informing me about everything.

Still, it was a difficult month. From June to November 2015, I had to endure without saying anything until the news was officially published.

How did you rehearse for the concerts?

We did two rounds of rehearsals in New York, which is where he lives. One round in November and another one in April. It was not necessary to rehearse much because all the musicians were very well prepared. He was thinking about some changed to the songs and we tried to follow him. Even during concerts, proposed changes in songs.

Have you learned a lot?

Very much. I have learned the best, for me. Not only in the musical section. I have also learned how the business is run, how you can work at a high professional level. I have been pointing to everything.

Tell us about the concerts in which you have participated as the new Rainbow singer.

There have been three concerts. There have been two in Germany, as part of two rock festivals in that country. The third concert has been in Birmingham, in England. The latter was only us. For this concert, the tickets were sold out two or three hours after being put on sale. There would be about 18,000 spectators. Rainbow had not played in England for twenty-five years. In the encores, Ritchie started playing a song, 'Burn', of the Deep Purple, which we had not rehearsed, which was part of the expected repertoire but which, for one reason or another, we had not rehearsed. Everything went very well.

I am sure that having been part of Rainbow has been a real gift, a reward for all your years of work. However, your current professional career is focused on Lords of Black.

We formed the group in 2013. Tony Hernando called me, who had left Saratoga and had a project for a new band. We connect very well from the beginning. We recorded an album and it was very well received. For people from outside, especially, because we make heavy power metal in English. Many people follow us in Germany, Russia, Great Britain. And, from that moment, I thought we could dedicate ourselves to this.

Also, when the news comes out that I'm going to sing with Rainbow, all eyes are focused on me and Lords of Black, of which I'm the singer. That has given us a lot of popularity. The Italian record label Frontiers Records contacted us and offered to record an album. They started calling us to play everywhere. We play at several festivals in Europe. In October we go to Japan. Everything has been going so fast.

The mini-tour with Rainbow in Europe was very good and there could be more concerts in the not too distant future. Lords of Black and Ronnie Romero will read this interview from Japan. Emilia, Ronnie and I have met around an Indian meal cooked in Valdemoro. I get the feeling that this new global village is going to allow many Valdemoreños to find their place in the world in different corners of the planet and it gives me the feeling, too, that Valdemoreños born in other places of this world that revolves around the sun. They are going to reach our town looking to fit into this particular section of the human puzzle.


© Fernando Martín Pescador, La Revista de Valdemoro - October 17, 2016 / Photography by Ncuadres