Rainbow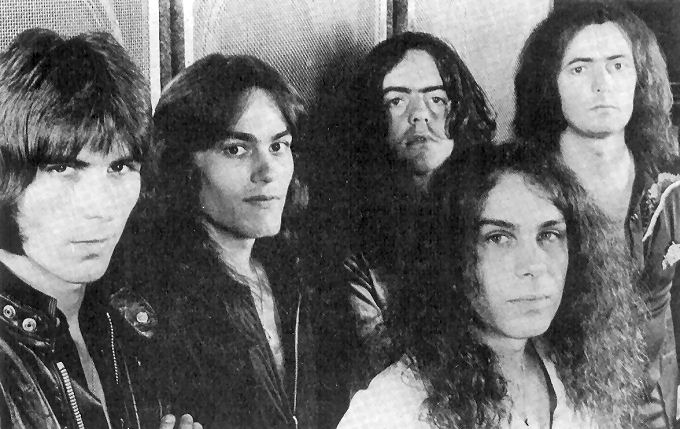 WHEN RITCHIE BLACKMORE LEFT DEEP PURPLE IN 1975, HE FORMED A NEW BAND WHO QUICKLY PROVED THEMSELVES TO BE ONE OF THE HOTTEST HARD ROCK BANDS IN THE COUNTRY

In the euphoria surrounding Deep Purple's reformation and world tour in 1984/85, it was easy to forget that for over a decade the individual members of the band had been striving, with varying degrees of success, to establish their own bands. The vinyl legacy of these projects has to some extent been overshadowed by the rarities thrown up by the reunion, but such is Deep Purple's following that anything relating to the individual members of the band will always command attention.

Perhaps this is truer of Ritchie Blackmore than anyone else. Blackmore finally bowed out of Purple in around April 1975 to form his own band - Rainbow. Embittered by Deep Purple's rejection of some material he had put forward for their last studio album, "Stormbringer", he decided to record a couple of the tracks as a solo single. It was this project which turned first into a solo LP, and then a new group, when Blackmore rediscovered the musical satisfaction which had been lacking from Deep Purple's latter-day work. Much of his pleasure in the project came from a songwriting partnership he formed with vocalist Ronnie Dio. Dio had been fronting a bar band called Elf, when Deep Purple members Roger Glover and Ian Paice spotted them, and offered their support by producing their debut album and getting them onto Purple's tours in 1973 and 1974. It was there that Blackmore first met Dio, and recognised his potential; and eventually he asked him to participate in his solo project at the end of 1974. Short of other musicians, Blackmore asked the rest of Elf to join Dio for these sessions, and when Blackmore decided to quit Purple early in 1975, it was these musicians who formed the line-up of his new group.




OYSTER



Rainbow didn't have to go far for a contract. Still signed to Deep Purple's management, they formed a new label called Oyster Records, primarily for Rainbow's releases. Their first album, entitled "Ritchie Blackmore's Rainbow", was issued by Oyster in the summer of 1975. Rather than go for the guitar showcase which many fans had hoped for, Blackmore opted instead for a low-key role in what was a good solid rock album. What guitar there was had been strangled in the mix - often, it was hinted, at the man's own request!

Oyster Records were distributed by EMI, and carried an attractive oyster shell design on the label. Before long, Blackmore decided to leave his old management, and a deal was struck whereby the Oyster name was transferred to Polydor, who reissued Rainbow's first album soon afterwards with their standard red label, making other minor changes to the gatefold sleeve in the process. The original Oyster edition is therefore slightly more collectable.

In recent months, Polydor have been moving much of their back catalogue into their budget series, and the album's gatefold sleeve has now disappeared altogether, in favour of a cheaper single sleeve - a process we shall see repeated with most of their other albums. EMI had made a vague gesture towards a single by issuing "Man On The Silver Mountain"/"Snake Charmer" from the LP, again using the coloured Oyster label, but lacking a special sleeve. Today, demo copies are more common than normal versions, which indicates very poor sales.

At this point, Blackmore took stock of the situation, decided that the musicians from Elf were not up to standard, and set about forming a new line-up around himself and Ronnie Dio. He recruited Cozy Powell on drums, Tony Carey on keyboards, and Jimmy Bain on bass. Rainbow made their debut tour with this line-up at the tail end of 1975, and then set about recording another album.




SORCERY



"Rainbow Rising" was issued in July 1976 prior to their U.K. stage debut, resplendent in a moody black-and-white sleeve which was fronted by a 'sword and sorcery' illustration that echoed the material inside. For example, the second side featured just two epic tracks, and one of these - "Stargazer" - rightly became an acknowledged Rainbow classic.

The Polydor gatefold cover remained for several years before being replaced by the budget edition, so it will be some time before it appreciates much in value. Polydor decided not to waste much time issuing a single from the album, a wise move in view of the upheavals in the music scene which were making bands like Rainbow increasingly unfashionable.

The U.K. tour was magnificent, and for a time it looked as if the band had really created something new to work on. They carried on around the world and promptly issued the obligatory live double album. The Japanese had already begun work on one for their own market, but Polydor decided to issue it worldwide, adding snippets from shows in other countries in order to widen it's appeal.

The end result, "Rainbow On Stage", was widely condemned for the tatty gatefold sleeve, extremely short running times, an inflated retail price and suspect editing. Nevertheless, there was some good, varied guitarwork, but overall the package was a disappointment. The record bags were decorated with colour photos which have been deleted on the recent reissue, though the gatefold cover remains.




BOOTLEGS



Despite the existence of over thirty bootlegs, "On Stage" remains the band's only official live release. Polydor opted for an EP of edited tracks in a picture bag, rather than a normal single, and this sold quite well. To encourage airplay there was also a special radio promo album, containing several edited tracks interspersed with chat from Dio and Blackmore. Such radio albums are fairly common in America (where they had issued a similar interview LP to go with the first Rainbow album), but less so in Europe, especially from such an early date. In a nice title sleeve, and inside a special red wallet with bio and pits, this is easily Rainbow's most collectable European release to date.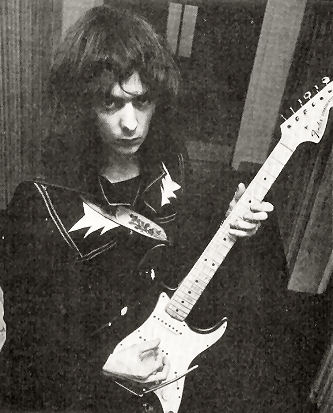 Recordings for the next studio album were interrupted by another European tour, and "Long Live Rock'n'Roll", which also saw the debut of bassist Bob Daisley, finally emerged in 1978. It coupled the more traditional Rainbow style, on tracks like "Gates Of Babylon", with a newer commercial edge, heard on the title song and elsewhere. The gatefold sleeve lost only a photo of the crowd when it was recently reduced to a single sleeve.

Polydor were able to issue some of the catchier tracks as singles, first of all releasing "Long Live Rock'n'Roll" in an art sleeve, and following this near-hit with "L.A. Connection" in red vinyl. At this point, we should point out that Polydor reissued most of these early Rainbow singles some years later, supposedly in their original covers. There were some differences, however, as we shall see. "Long Live Rock'n'Roll" actually came with a completely new cover, with a drawing of the band, when it was reissued; while "L.A. Connection" carried a glossy version of the original textured cover, and came only in black vinyl.

Back in the band, personal disagreements continued as they tried to reconcile their musical direction with the pressing need for some solid commercial success. Eventually, three of the band left, but it was singer Ronnie Dio's departure which caused the real heartaches. Blackmore eventually contacted his former Deep Purple writing partner Roger Glover, who came in to help pick up the pieces. Don Airey joined on keyboards, and the new album was assembled with Graham Bonnet recruited in time to sing over the completed backing tracks.

Glover's production expertise gave their 1979 album "Down To Earth" a very fashionable AOR sound, and a couple of respectable rockers rubbed shoulders with some out-andout commercial winners. Rainbow's survival was ensured with two international hits, "Since You Been Gone" and "All Night Long". The album was first issued in clear vinyl, now quite scarce, and the two singles both had non-album flipsides.

Those of us unable to cope with "All Night Long" could lose ourselves in the haunting guitar on the instrumental "Weiss Heim". The reissues of both singles are almost impossible to tell apart from the originals unless you see them side by side.

This drive for success was not achieved without problems, and when the band returned to the U.K. to headline the first annual Monsters Of Rock festival at Donnington Park, Cozy Powell announced his departure. Graham Bonnet quickly followed. A live compilation from the festival was released, with two Rainbow tracks included. Roger Glover mixed these over in Sweden in a break from the sessions for the next LP.

The new album, "Difficult To Cure", featured singer Joe Lynn Turner, and Bobby Rondinelli. While the material followed a familiar path, Turner's vocals were a lot more acceptable to Rainbow devotees. The album provided another hit single, "I Surrender", again from the prolific pen of Russ Ballard. Polydor followed that with "Can't Happen Here", backing it with a promising non-album cut, "Jealous Lover". This had been taped in a church hall during a break from touring, and it showed that away from the pressures of producing albums to schedule, Blackmore was still able to turn in attractive numbers - even if this one did owe more than a little to one of his favourite groups, Free. In its nice picture bag, this deleted single may well prove to be one of the band's rarer items, as it failed to sell well.

On stage, as the band's 1981 U.K. tour proved, Blackmore was more than able to make up for his recent shortcomings on vinyl. After the tour, the band released "Straight Between The Eyes", an album which at last saw Blackmore letting loose some good solos. It produced another hit single, "Stone Cold", which did well on both sides of the Atlantic. The album is still on catalogue today, but the 12" version of the single is extremely hard to find, even if the supposedly extended A-side turned out to be shorter than the 7"!

Naturally, the album would not have been complete without a personnel change: this time, Dave Rosenthal replaced Don Airey, who was bound for Ozzy Osbourne's band. The tour to promote the album actually ignored the U.K. altogether, and Rainbow did not play again in this country until the end of 1983. By this time they had another studio album in the stores - "Bent Out Of Shape" (and there should be a prize for anyone who can tell us how that cover photo was taken!).

For this release, former Brand X drummer Chuck Burgi was behind the kit, and things sounded a lot livelier, Blackmore having found a recording studio that he liked. He even had the band record a beautiful version of "Snowman", the same tune which became a 1985 Christmas hit for Aled Jones.

The album again sold well, but for once the singles failed to emulate it. "Street Of Dreams" achieved a certain notoriety when MTV in America banned it for demonstrating hypnosis; it was issued here first as a 7", then as a 12" with a different sleeve and with an extra track on the flip (actually taken from the soundtrack of their live videocassette), and finally as a 7" picture disc of which only 2,000 copies were pressed, making it their rarest 45 to date.




RAMBLING



The tour saw the band axing most of the long rambling numbers and going instead for shorter, sharper material, most of it from the new album; gone were the days when a short novel was necessary to keep you awake during the drum solo! Polydor made another stab at the singles charts soon after the tour was over by issuing "Can't Let You Go", backing it with two tracks recorded during the U.K. tour. On these versions of "All Night Long" and "Stranded", the band sounded 100% better than they had done for a long time. The 7" omitted one of these extra tracks, as did the rather nice guitar-shaped picture disc which was issued as a limited edition at the same time. As it missed the charts, copies of both the picture disc and the 12" are becoming hard to find, and even the ordinary 7" version turns up much less frequently than some of the older hits.

While this feature concentrates on the band's U.K. output, it is perhaps worth mentioning that quite interesting variations to many of the band's albums exist abroad. "OnStage" sports an entirely different cover photo in Argentina; "Long Live Rock'n'Roll" came in a pale cream sleeve in Greece; "Down To Earth" gained a gatefold cover in Australasia; "Difficult To Cure" used a slightly different transparency for the cover photo in some countries; and "Bent Out Of Shape" lost the green border altogether when it was issued in Germany.

Apart from these, America has seen at least two high quality live radio transcription albums (one of them a four-album set!), not available anywhere else. Add to these an enormous variety of foreign 7" and 12" single releases, official and promotional, and you'll see that Rainbow collectors have had quite a task over the years. All these items tend to fetch considerably more than their U.K. counterparts when they turn up for sale.

Rainbow's career was now drawing to a close, and the promise that was shown on the live tracks on that final single was not allowed to develop. Early the following year, approaches were made to both Ritchie Blackmore and Roger Glover about the possibility of reforming Deep Purple, and by the time Rainbow toured Japan in March 1984, the reunion had been agreed. Always unpredictable, Rainbow's final dates saw them on stage with a Japanese symphony orchestra!

That is almost the end of the story. Neither of the compilation albums listed in the discography held anything new for the collector, and even their sleeves were quite dull. As for the reissue of the singles, this occurred in July 1981 when Polydor put out their first six releases. The first three are easy to spot as they carry the new 'POSP' prefix to the catalogue numbers, and one of the sleeves was redesigned, as mentioned earlier. The other three are less easy to distinguish, except for slight variations in colour and sleeve construction, and they fetch about the same price as the originals in any case.




CONFLICT



Polydor might have lost Rainbow when they split up, but they went one better by signing the reformed Deep Purple, and to avoid a conflict of interests, the company did not flood the market with posthumous Rainbow releases. (It's a pity EMI couldn't have shown the same restraint with their Deep Purple back catalogue!) However, some two years on, and with Deep Purple taking a break, the go-ahead was recently given for a double album of old Rainbow material.

"Finyl Vinyl" is perhaps not everything it night have been, but it is still a reasonable attempt to present Rainbow fans with new material - of the fourteen tracks on offer, most of which are live recordings, only four have been released on record before. The sleeve follows the tried and trusted 'photo album' look, and includes only basic line-up information for the tracks, so perhaps it's worth noting the actual dates for the live naterial.

There are four tracks from Rainbow's final tour in Japan, which date from March 13th or 14th 1984. One of these contains Blackmore's version of Beethoven's Ninth, complete with he symphony orchestra. The concerts were actually issued on a videocassette, but only in Japan, and these tracks come from the soundtrack of the video.

We've no exact date for the Nassau Coliseum track, but it must have been recorded around March or April 1981. On the same side is another recording from the band's show at the first Monsters Of Rock festival (August 16th 1980), to add to the two already issued on the various artists compilation mentioned above.

The videocassette of the band in action in America in 1982, titled "Live Between The Eyes", is the source of three songs on this new retrospective, and these tracks were recorded on August 18th that year. One of them, "Power", has already surfaced on the flipside of a 12" single in this country.

Most of the album features the band's last singer, Joe Lynn Turner, and I suspect that many Rainbow fans will be disappointed to find only two numbers featuring their original vocalist, Ronnie Dio. These come from a show recorded in Atlanta, Georgia, on June 24th 1978. Interestingly, the concert was subsequently sent over to be mixed and edited at the BBC, who then shipped it back to America to be aired as one of their Rock-Hour presentations! Needless to say, it was never broadcast in Britain.

To be fair to the compilers of the set, Roger Glover (who did the mixing chores) says that they were simply unable to locate any earlier tapes of the band. This is probably because the package was put together in America, and a lot of recordings from 1976/7 which were done for the "On-Stage" double lie in vaults in this country.

Mainly for the benefit of American fans, the set also includes a couple of less common tracks, "Bad Girls", "Weiss Heim" and "Jealous Lover" - all non-album B-sides, although I believe that Polydor will be putting two out again as a single in America to publicise the album. Finally, the cassette version of the album contains the obligatory extra track, a live version of "Street Of Dreams". It will be interesting to see just how well the set does, though I think many people would have preferred to see a few unreleased studio items rather than live recordings. And if you thought I was being unfair about the ridiculous price of "On-Stage" when it was first issued, this new album is in most stores at £6.49 - exactly the price of that live double set nine years ago!




COMPLETE RAINBOW UK DISCOGRAPHY




| | | |
| --- | --- | --- |
| | SINGLES | |
| | | |
| Cat. No. | Title | Current Mint Value |
| Oyster OYR 103 | MAN ON THE SILVER MOUNTAIN/SNAKE CHARMER (10/75) | £ 2.50 |
| Polydor 2066 845 | KILL THE KING/MAN ON THE SILVER MOUNTAIN/MISTREATED (August 1977, picture sleeve) | £ 3.00 |
| Polydor 2066 913 | LONG LIVE ROCK'N'ROLL/SENSITIVE TO LIGHT (March 1978, art sl.) | £ 4.00 |
| Polydor 2066 968 | L.A. CONNECTION/LADY OF THE LAKE (September 1978, art sleeve, red vinyl) | £ 4.00 |
| Polydor POSP 70 | SINCE YOU BEEN GONE/BAD GIRLS (August 1979, art sleeve) | £ 3.00 |
| Polydor POSP 104 | ALL NIGHT LONG/WEISS HEIM (February 1980, picture sleeve) | £ 3.00 |
| Polydor POSP 221 | I SURRENDER/MAYBE NEXT TIME (January 1981, art sleeve) | £ 2.50 |
| Polydor POSP 251 | CAN'T HAPPEN HERE/JEALOUS LOVER (June 1981, picture sleeve) | £ 3.00 |
| Polydor POSP 274 | KILL THE KING/MAN ON THE SILVER MOUNTAIN/MISTREATED (July 1981, picture sleeve) | £ 2.50 |
| Polydor POSP 275 | L.A. CONNECTION/LADY OF THE LAKE (July 1981, art sleeve) | £ 2.50 |
| Polydor POSP 276 | LONG LIVE ROCK'N'ROLL/SENSITIVE TO LIGHT (July 1981, art sleeve) | £ 2.50 |
| Polydor POSP 70 | SINCE YOU BEEN GONE/BAD GIRLS (July 1981, art sleeve) | £ 3.00 |
| Polydor POSP 104 | ALL NIGHT LONG/WEISS HEIM (July 1981, picture sleeve) | £ 3.00 |
| Polydor POSP 221 | I SURRENDER/MAYBE NEXT TIME (July 1981, art sleeve) | £ 2.50 |
| Polydor POSP 421 | STONE COLD/ROCK FEVER (April 1982, picture sleeve) | £ 3.00 |
| Polydor POSPX 421 | STONE COLD/ROCK FEVER (April 1982,12", picture sleeve) | £ 5.00 |
| Polydor POSP 631 | STREET OF DREAMS/ANYBODY THERE (August 1983, pic. sleeve) | £ 2.50 |
| Polydor POSPP 631 | STREET OF DREAMS/ANYBODY THERE (August 1983, picture disc) | £ 8.00 |
| Polydor POSPX 631 | STREET OF DREAMS/ANYBODY THERE/POWER (live) (August 1983, 12", picture sleeve) | £ 6.00 |
| Polydor POSP 654 | CAN'T LET YOU GO/ALL NIGHT LONG (live) (October 1983, pic. sl.) | £ 2.50 |
| Polydor POSPP 654 | CAN'T LET YOU GO/ALL NIGHT LONG (live) (October 1983, shaped picture disc) | £ 5.00 |
| Polydor POSPX 654 | CAN'T LET YOU GO/ALL NIGHT LONG (live)/STRANDED (live) (October 1983, 12", pic.sl.) | £ 4.00 |
| | | |
| | ALBUMS | |
| Oyster OYA 2001 | RITCHIE BLACKMORE'S RAINBOW (August 1975, gatefold sleeve) | £ 8.00 |
| Polydor 2490 137 | RAINBOW RISING (July 1976, gatefold sleeve) | £ 6.00 |
| Polydor 2675 016 | RAINBOW ON-STAGE (July 1977, gatefold sleeve) | £ 7.00 |
| Polydor 2490 141 | RITCHIE BLACKMORE'S RAINBOW (February 1978, gatefold sleeve) | £ 6.00 |
| Polydor POLD 5002 | LONG LIVE ROCK'N'ROLL (April 1978, gatefold sleeve) | £ 6.00 |
| Polydor 2683 078 | RITCHIE BLACKMORE'S RAINBOW/RAINBOW RISING (September 1978, Back To Back double album) | £ 5.00 |
| Polydor POLD 5023 | DOWN TO EARTH (August 1979, clear vinyl) | £ 8.00 |
| Polydor POLD 5023 | DOWN TO EARTH (August 1979, black vinyl) | £ 6.00 |
| Polydor 2488 810 | MONSTERS OF ROCK (Various artists LP with two Rainbow tracks; Oct.'80) | £ 6.00 |
| Polydor POLD 5036 | DIFFICULT TO CURE (February 1981, with inner sleeve) | £ 5.00 |
| Polydor PODV 2 | THE BEST OF RAINBOW (November 1981, double album, gatefold sleeve) | £ 7.00 |
| Polydor POLD 5056 | STRAIGHT BETWEEN THE EYES (June 1982, with inner sleeve) | £ 5.00 |
| Polydor SPELP 7 | RITCHIE BLACKMORE'S RAINBOW (August 1983) | £ 3.00 |
| Polydor SPELP 34 | LONG LIVE ROCK'N'ROLL (August 1983) | £ 3.00 |
| Polydor SPELP 35 | RAINBOW RISING (August 1983) | £ 3.00 |
| Polydor POLD 5116 | BENT OUT OF SHAPE (September 1983, with inner sleeve) | £ 5.00 |
| Polydor SPDLP 6 | RAINBOW ON-STAGE (January 1984, gatefold sleeve) | £ 6.00 |
| Polydor SPELP 69 | DOWN TO EARTH (April 1984) | £ 3.00 |
| Polydor SPELP 76 | DIFFICULT TO CURE (August 1984) | £ 3.00 |
| Polydor PODV 8 | FINYL VINYL (February 1986, with Family Tree) | £ 6.50 |
| | | |
| | COMPACT DISCS | |
| Polydor 815 305-2 | BENT OUT OF SHAPE (September 1983) | £ 8.50 |
| Polydor 800 074-2 | THE BEST OF RAINBOW (September 1983) | £17.00 |
| Polydor 800 028-2 | STRAIGHT BETWEEN THE EYES (September 1983) | £ 8.50 |
| Polydor 800 018.2 | DIFFICULT TO CURE (March 1985) | £ 8.50 |
Simon Robinson, Record Collector May 1, 1986