RAINBOW

IN THE STUDIO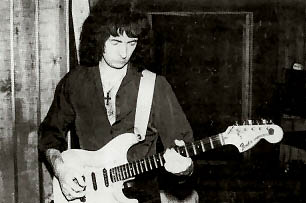 The scene was somewhat reminiscent of a grand family feast, as Rainbow and the staff of Copenhagen's Sweet Silence studio had gathered around a huge table for their evening meal. I'd just flown in from London on this damp September evening for a rendezvous with Ritchie Blackmore with the news that he'd just been voted number one guitarist in the 1980 Melody Maker readers' poll. Graham Bonnet, Roger Glover and Don Airey had all featured in their respective categories and Cozy Powell took the number two slot for best drummer, although his position in the band had now been taken over by American Bobby Rondinelli.

Therefore everyone was in good spirits at the dinner table that night during the brief break from recording. However as soon as eating had finished Roger Glover went straight back to the mixing desk to work on another backing track. At this juncture Rainbow were at the half-way stage of recording the new album, their first studio product since the Down to Earth L.P. having started several days after the mammoth outdoor extravaganza at Castle Donnington.

That night Ritchie and I headed off to one of Copenhagen's nightspots and he explained to me that the reason for choosing Sweet Silence studios had resulted from the recording of the instrumental tune 'Weiss Heim' during the last set of Scandanavian dates. 'Weiss Heim' emerged on the B side of the 'All Night Long' single and was a track dominated by solo guitar work from Ritchie; it was the strong guitar sound he attained at Sweet Silence that had persuaded him to return there. From our conversation it was clear that Ritchie was extremely happy with the way new drummer Bobby was fitting in so quickly, and upon hearing several of the backing tracks I concluded that the band had gone for a strong John Bonham-type sound. It was somewhat ironical that upon leaving Denmark the following day I arrived back in London to discover the tragic news that Bonzo had died.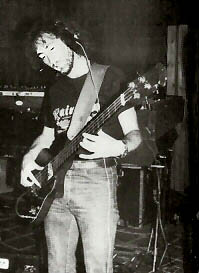 That had been my initial taste of Rainbow's latest work but when I went back to Copenhagen during the week before Christmas affairs were a lot more interesting since the album was practically finished. I'd learnt about a change in the Rainbow line-up a week or two before going over to Denmark and was intrigued to discover how the new man had worked out. Information about him had been limited to the fact that he was twenty-eight, hailing from New Jersey with a voice that was comparable to Lou Gramm from Foreigner - an interesting prospect indeed.

Things seemed to have quietened down considerably in the Danish city and by now the only members of the Rainbow entourage there were Ritchie, Roger, tour manager Colin Hart and Ritchie's personal assistant Ian Broad. Blackmore and I rendezvoused in the bar of the Hotel Scandanavia and over a few drinks chatted about Japan, from where I had recently returned after the Girl tour.

We agreed that it was an enjoyable place to visit and Ritchie stressed that he was very much looking forward to going back in the new year.

Rainbow's 1981 World Tour begins in January when they travel across America before playing Japan, Australia, Europe and England. The rest of the night was occupied by a club crawl through various nightspots as we endeavoured to find fun on a Monday night - it was a tough task. By the early hours after a lengthy drinking schedule it was time for bed with the prospect of listening to the new album the following afternoon.

While we'd been out the night before Roger Glover had been hard at work putting the final touches to the album. There is an immense amount of pressure on Roger since he not only handles bass and the lyrics, but also has the added burden of taking care of production. In Sweet Silence he was sitting anxiously at the desk while 'I Surrender' the Russ Ballard tune that Rainbow have covered blasted out from the studio speakers. Blackmore was equally pensive as he sipped a beer whilst listening to the new product. It's curious how the two former Deep Purple members have got back to working together once again and there can be little doubt that they are the two most important in Rainbow. Both men appeared content that their task had finally been completed, although naturally there were a few doubts as to whether everything was quite right. Mind you, it was a little late to start contemplating dramatic changes since studio time had reached its end and airline tickets back home had been booked. Ritchie and Roger agreed that they could go on forever making minor alterations and still never be totally satisfied. But judging from the exclusive preview I was given they need not worry unduly since 'Difficult to Cure' as it has tentatively been titled, must rate as Rainbow's strongest album to date. 'Down to Earth' was an excellent L.P. but its few weaknesses have definitely been corrected this time around and it has been surpassed in quality by the new one.

It's always enjoyable to listen to a playback of an album in a recording studio since the quality of sound is infinitely better than most home stereo systems and so it was with great relish that I sat back to the aural delights of Rainbow's fresh product. What follows is a brief run down of the nine songs that make up the album. 'I Surrender' was the first track and immediately one was aware of the change in the overall sound brought about by the presence of the new lead singer. Joe Lynn Turner has an extremely powerful set of vocal chords and his style seems to add a lot more aggression to the music. Like 'Since You've Been Gone' the opening cut was written by Russ Ballard and it has a distinct US airplay sound. There are plenty of strong vocal harmonies and I'm sure it will give the band a hit when it comes out as a single.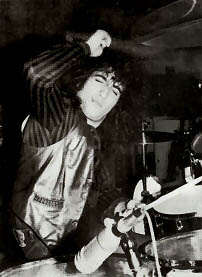 Next up is 'Spotlight Kid' which deals with the attraction of being up there on stage in the brightlights before the audience. Don Airey chips in with a powerful keyboard break and the tune gets underway with some sparkling lead guitar from Ritchie. Then comes 'No Release' which has evident hints of Led Zeppelin round the time of their 'Presence' album. It features a brilliant section of solo work from Ritchie and builds to a climatic ending.

The only other non-original band composition featured is 'Magic' whit written by a friend of Ritchie's in Long Island. It's a lot less riotous than the previous cut and once again is ideal for the American radio market. I also predict that this would make a fine single.

The final piece on the first side is a gem and contains some delightfully melodic guitar from the man in black. The English translation of the title is 'Maybe Next Time' but when the album comes out these words will appear in German. Like 'Weiss Heim' it is a slow instrumental and in fact the effect it has on the listener is quite depressing. Everyone seems on the verge of bursting into tears when they hear this one. Ritchie had warned me. Although I didn't get tearful I was very moved by the number as it drifted along with its beautiful guitar playing.

'Can't Happen Here' kicks off the second side in a bouncing manner. There are hints of 'All Night Long' in the riff and when I mentioned this to Roger he agreed and told me that the working title had read something along the lines of 'Smoking all night long on the silver mountain.' It moves at a fast pace and the lyrics deal with the subject of nuclear fears amongst other things. Roger Glover has come up with an excellent set of lyrics and he mentioned that singer Joe had contributed on a couple of numbers. Once again one is strongly aware of the freshness the vocalist has added to the overall sound.

Further hints of Led Zeppelin re-echoed during 'Freedom Fighter' which features a thunderous intro section. At this point it occurred to me how much better this new Rainbow was flowing compared with 'Down to Earth'. The pace lowers on 'Midtown Tunnel Vision', which upon my first hearing struck me as being the album's winner. This is a very raw tune in the 'Loves No Friend' vein which has a strong New York feel and again includes ace guitar from the master.

The whole package finally draws to a close with the track 'Difficult to Cure' which is loosely based around Beethoven's 9th Symphony. Those who have seen Rainbow in concert will doubtless remember that the band featured a small section of this in the live show. It is a lengthy instrumental item that is dominated by Don Airey's keyboards and Ritchie's Fender stratocaster, along with Bobby Rondinelli's pulsating drum attack. It provides the group with a dramatic ending to a brilliant album but Ritchie is convinced that most music critics will criticise him for it saying 'How could he do that to Beethoven?' To these ears, its inclusion is quite valid and a touch of humour is added by the sounds of hysterical laughter right at the end. Fantics may be keen to know that the howling laughter comes courtesy of the late Oliver Hardy from one of those vintage Laurel and Hardy comedies.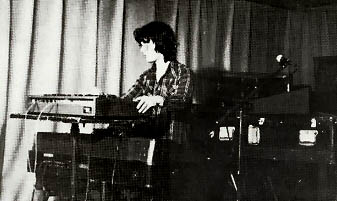 So another Rainbow album has been completed and the group can well afford to look upon the product with total satisfaction. One of the disappointing factors about past efforts has been the lack of guitar lead breaks but this time Blackmore shines and I'm convinced that he is playing better than he has done for a long time - not that the guitarist ever really drops below par. He must be very pleased with the way both Bobby and Joe have slotted into the outfit. The whole album took about four months to record, and bearing in mind that during that period a member of the band left one can hardly accuse Rainbow of wasting time.

As we left Sweet Silence, which Ritchie plans to use again in the future, the man I felt particularly sympathetic towards was Roger Glover. The poor man hadn't slept for three nights in order to finish the production and he looked as though he thoroughly deserved the break that was to follow over the Christmas period.

To tell the truth he looked shattered and the next afternoon as he and I prepared to fly back to England he told me: 'It wasn't a hard album to make in terms of mental pressure but physically it was tough working day after day. We may have finished in the studio but thoughts are still going to be ticking over in my brain as to whether things are right. But right now all I want to concentrate on is getting some sleep'.


Steve Gett, for the Rainbow Official UK Fanclub Magazine 2nd edition 1981