RAINBOW
TOUR PROGRAM 1977
Rainbow Introduction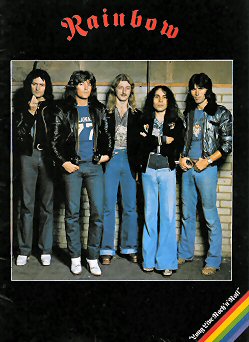 Welcome to one of the most exciting events in rock music today. This is not simply another travelling show. It is a spectacular of light and music. Rainbow's 100,000 dollar computerised 'firework machine' brings a new dimension to the concert stage.

Last year, Rainbow played to over 250,000 people around the world. This autumn, they kicked off their 1977-1978 World Tour. It will take them through Europe, Britain, Australia, New Zealand, Indonesia, Malaysia, Japan and the U.S.A.

It takes a skilled team of 28 professionals to keep this ambitious show on the road. The expense of the operation cuts deep into the band's profit margin, but they do not choose to dwell on that subject. They know their show is special. Unique. That's what counts.

Visually, it is stunning. Musically, it weaves through every emotion. But the emphasis, on this tour, is on excitement. The material will be drawn from the band's three excellent albums. Following on the heels of the Ritchie Blackmore's Rainbow and Rainbow Rising album. On Stage captured the power, range and subtlety of the band's music.

Cozy Powell's tight, punching drums. Ritchie Blackmore's flowing guitar. Ronnie James Dio's vocal gymnastics. And now there is the solid bass of Bob Daisley and keyboard flair of David Stone to complete the picture.

Early '78 will see the release of Rainbow's next album. "It's just brilliant, honestly," says Ronnie. "I can't wait for the world to hear it."

Something to savour. But that's in the future. For tonight, get loose and get ready to have a real good time. That's what Rainbow concerts are all about. They feed on the energy that comes up from their audience. It's going to be something special.

"If anyone has come for a nice, quiet night," smiles Cozy Powell, "they'd better head for the Exit. If we don't burst your ears, we'll blind your eyes."




Ritchie Blackmore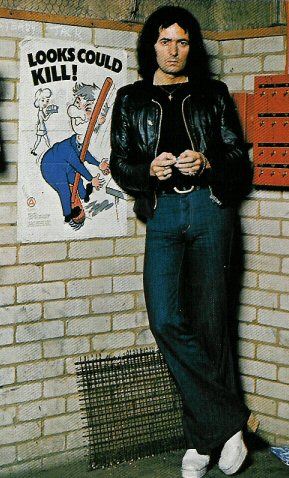 The show is less than an hour away.

Backstage, Ritchie Blackmore sits alone in a darkened room, playing guitar. As a musician, he is rated among the world's best. As a man, he remains an enigma.

Nobody really knows him. He is a private person, who turns away from the obvious trappings of success, in an attempt to retain some sense of anonymity.

Talk to him on many subjects, and he can prove evasive. But two facts emerge, crystal clear. He loves to play guitar and he believes in his band.

Rainbow really matters.

"I left Deep Purple because they were very much into the soul side of things," he explains. "They were becoming very cool and collected. Very composed. Everything had to be just right. There were no chances being taken and to me, the music was becoming very boring. That's why I got out of it. It was all too neat and tidy and nice."

"I don't like making nice little LPs, regardless of whether they sell or not. I like outlandish LPs."

Ritchie could have stayed in that lucrative groove, but sheer financial gain has never been his driving force.

"Ritchie is not a money man," explains Ronnie James Dio. "Of course he knows it can do a little for him here and there, but it's not that important. What he is really concerned with is the music. He wants to progress all the time, hence the advent of Rainbow. This band has become an extension of Ritchie's inner thoughts and feelings."

Although he is often painted as a brooding, insular figure, Ritchie does have a fine sense of humour. This cuts through as he explains why he wanted Ronnie in his band.

"Ronnie had been on tour, supporting Deep Purple with his band Elf, on about six occasions. I'd noticed him and thought he looked the type of guy who couldn't sing, so when I went out on my own, I immediately got hold of him.. and sure enough, he couldn't sing," he laughs.

In fact, Ritchie and Ronnie soon developed into an imaginative songwriting team, drawing on their mutual interest in medieval and classical musical forms and blending these into a rock format.

The next step was to find an outstanding drummer.

"I called Cozy early in 1975 and asked him to come to Los Angeles and try out for the band," says Ritchie. "We had already auditioned 12 drummers and none of them were right. Cozy came in, played for 20 minutes and became the third member of Rainbow. His sense of timing is perfect."


At that time, I really wasn't thinking about joining a band, " Cozy explains. "But when Ritchie phoned, I was interested. I had already worked with Jeff Beck and the opportunity of playing with another of the world's top guitarists appealed to me. I knew Ritchie's music and I also knew about his professional attitude. He wants the best from his musicians and in return, he gives his best."

In spring 1975, the band went into the Musicland Studio in Munich and cut their debut album, Ritchie Blackmore's Rainbow.

"I was really excited making the LP, Ritchie says. "There were none of those egos flying around .. 'I'm not playing this, I'm not playing that'. I criticise my own work pretty harshly, but I felt this was some of the best music I'd ever been a part of."

Since then, Rainbow have made their mark on the rock world. Personal sacrifices have been made. At this time, Ritchie, Ronnie and Cozy have no permanent home base - a direct result of international tax laws and the pressures of touring. They are, in effect, rock & roll gypsies.

Paul Simon once defined the international rock circuit as an endless stream of cigarettes and magazines. Add to that the early morning flights, the car rides through unknown cities and the faceless hotels and you have the complete picture.

Ritchie copes with the strain in his own way. He likes to have time alone. He stores his energy through the long, blurred days. The concert is all-important. As soon as he steps on to the stage, he is transformed. The introvert becomes a showman. His keen sense of professional pride does not allow him to soft-peddle through a concert. When the bright lights are shining, he pushes himself. Hard.

Experience has taught him the need to pace himself through a long tour. But this careful planning has been misinterpreted. Because he is distant and withdrawn, he has been called sullen and moody.

"Ritchie has his moods like anyone else," says Ronnie, "but the reason he doesn't like to be bothered too much on tour is that his mind is always spinning with music, music, music. I don't think stardom is too important to him. He cares about the fans, he likes to know what they think of the band. But he's not very happy signing a pile of autograph books. He leaves that to Cozy and me!

Some critics claim that Ritchie has deliberately cultivated a mean and moody image, but those close to him say he is a naturally private person.

"I don't think he gives his trust easily. He tests people out before he accepts them," Ronnie explains. "But as Cozy and I know, he can be a very good friend once you are accepted. Strangers don't see the warm side of his character. He can be very funny."

He can be a difficult man to work with. He sets the highest standards for himself and those around him. But who can argue with his approach? He has proved himself to be an outstanding musician and showman. More than that, he has the indefinable charisma that rock heroes are made of.

Intense. Moody. Warm. Humorous. The pieces are all there, but how do they fit together? As I said at the outset, the man remains an enigma.

There may be grey areas, but when he's on stage with Rainbow, the band he believes in ... . it's special.




Ronnie James Dio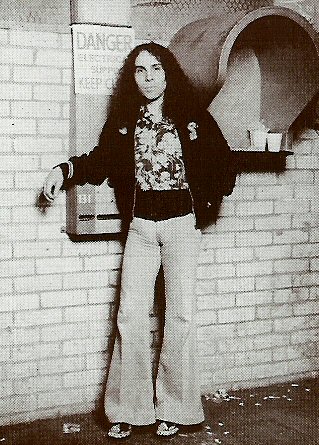 The show has started.

The band is on stage. Ritchie Blackmore and friends kick off up the Yellow Brick Road with a little Judy Garland music. Somewhere over the rainbow, bluebirds fly ...

And in the wings, tense and waiting, stands lead singer, Ronnie James Dio.

"At that moment I'm always reminded of the times I stood and watched Deep Purple from the other side of the stage, " he smiles. I toured with their support group and I never missed a show. We'd finish our set, get changed in a hurry and get back for Purple's first song.

"even then, it was always Ritchie who had the magic. It's the same now. I think his magic has spread right through the band. I stand in the wings, listening to the first bars of our set, and I almost forget I'm part of it. I'm like a fan, feeling the magic. I have to snap out of it and say: `Hey, it's your turn. Get out there and sing.'

"The band whack into Kill The King and I'm moving out towards the mike. The minute I step on the stage, I can feel that special electric charge in the air. Like all bands, we've had bad gigs. But when an audience is pulling with us, we make their evening special. It's difficult to define in words, but there's a very close link between this band and the audience. We feel the energy coming up from them in peaks and waves and we feed off it."

Ronnie admits to being schizoid. Offstage, he is generally quietly-spoken, polite and charming. He also produces a nice line in dry, ironic humour .... "I keep getting the feeling a giant cigar is going to fall from the sky and put itself out on my head. Maybe that's because my accountant smokes big cigars. He's always got some bad news. Everyone thinks I'm rich. My accountant knows better. No wonder I hate cigars!"

Onstage, the subtle humour is kicked aside by a clenched fist of coiled energy.

"Once I'm out there, I'm a different person, " says Ronnie. "music is the most important thing in my life. I started out playing trumpet when I was a kid. Then, one day, I heard Elvis singing Hound Dog and from that moment I knew what I wanted to do. I've never taken a regular job. I never will. Singing is the only thing I do well.

"That may sound arrogant, but when you go out to entertain a concert hall full of people, you've got to have selfconfidence. I believe in myself, but most of all I believe in the guys in the band. They're all excellent musicians and I think of my voice as another instrument."

When he was a kid, Ronnie worked on developing his voice. Now he has a wide vocal range and he can sing with power at either end of the scale. He seems to get inside a song and project the lyrics with rare feeling. Ritchie Blackmore once said: "If I was a singer, I'd want to sing like Ronnie." That's praise indeed.

"When I was working my way through early groups, back home in Cortland, which is a small town about 240 miles from New York, I used to get a little annoyed by the guys who would brag about being in a band. They took the easy way out. They didn't work at their music. You've got to push yourself, if you want to achieve anything. The rock business is highly competitive. "

Ronnie has won through, not only because he is a good singer. He is also a fighter. He's 5' 3" tall. It's no hang-up .... "I was in a band called Elf. We were all tiny. The only band in the world smaller than the Samll faces! ".... But he's never let anyone push him around.

"As far as music is concerned, I've always been ambitious," he says. "I was ready to face up to the competition. Maybe that is all part of the 'little guy syndrome'. I don't really know. But when I was at school, I got into plenty of fights. Big kids would try to bully me, but I hit them back. I wasn't afraid of anyone. I don't get into many fights now, but that basic outlook has stayed with me."

Now he has climbed to the top of the rock pile and he chooses to skip the trap of being too complacent. Every show matters. Every audience is important. His time onstage is magic.

"Whatever problems or pressures have come before a show, I forget them all the minute I start to sing. If somebody informed me of some tragic personal news minutes before I was due to go onstage, I know I could lose the pain and become totally immersed in the music. I'm sure that would go for the others too. That's the kind of commitment we have to the music we're making."

So he burns tension during Rainbow's set?

"No, that's not quite it," he replies. "I don't take the tension out in singing. That's not my way of releasing tension. The tension actually starts when I get onstage. I become that coil of electricity. I feel that way. Like a bolt of lightning that wants to punch and whack and hit with the ability that I've been given. So, I become more tense during our set, but it's a positive tension. A feeling of power and energy."

It's no Fort Knox secret that some top rock singers are on a high-riding ego trip. But Ronnie isn't one of them.

"I don't have any gimmicks," he explains. "I move around the stage, but it's a natural thing. I'm not too interested in being a star. I want to be accepted as a good singer. I used to think I wanted the mobbing fans, but it happened in Japan and I realised then how much my privacy meant to me."

"I like the relationship we have with our fans in Britain. I think the British are the best rock audience there is. And I'm not just saying that because we're touring right now.I respect the British because they know their music. They appreciate you if you are good and if you are bad, they tell you not to waste their time. It's an honest reaction. I like that."

Ronnie James Dio lives for his music. He'll never quit.

"I'll never take a regular job," he says. "I know I couldn't settle down to a nine-to-five. When I'm 50, you'll find me, singing in some downtown bar .... having a real good time."!




Daisley/Stone Pen Portrait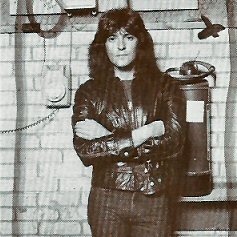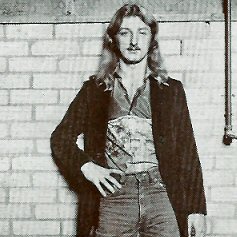 Australian bass guitarist, Bob Daisley, came to Britain six years ago. His roots are in rock and blues and he 'paid his dues' on the road with Chicken Shack, before joining Widowmaker.

He has now formed a solid partnership with Cozy Powell. Together they lay down a thick, punchy rhythm section. Bob's direct, 'no frills' style of bass playing is ideally suited to the band.

Rainbow rate him highly.

Canadian David Stone plays keyboards and synthesiser on Rainbow's current tour.

He studied classical music until the age of 14. Later musical influences ranged from The Beatles and Brian Auger to Paul Butterfield, Jimmy Smith and Keith Emerson.

His distinctive style adds colour and texture to Rainbow's stage performance.




Cozy Powell



The show is over.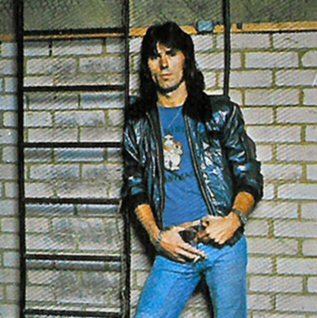 And at the theatre, Cozy Powell is slumped in a corner of the dressing room. A sweat-stained shirt lies crumpled at his feet. His long, dark hair hangs in wet rat's-tails. He has lost 10 pounds in weight, during Rainbow's set.

It's been quite a night.

"How do I feel now?" he says, with an easy smile. "Shattered. That's the way it should be. I like to feel exhausted. The way I see it, the people who come to see us have worked their balls off to buy their ticket. So, I aim to give them a good show.

"We can be onstage for two hours at a stretch. My solo always comes towards the end of the act. That just about finishes me. As you've seen, when we finish I just want to collapse in the dressing room. I may be drained, but it's a satisfying feeling to know you've given the audience what they came to see."

Cozy's involvement with Rainbow is total.
"I really believe in this band," he explains. "I think the music is strong and I feel we're progressing all the time. If we ever started to stagnate, I'd turn it in. Not just this band. The whole music business. When I finish with Rainbow, I'll move into another area. I won't be coming back." He is disillusioned with the rock circus in general.

"It leaves a very sour taste in my mouth. What's wrong? The businessmen have taken over from the musicians. The guys who are interested in the quick buck are running things now. There's a lot of falseness around. The superficial smiles. The back-slappers with their phony talk. I'm not very good at playing those games. I just walk away and let them get on with it."

Outside of music, his main interest is motor racing. In 1975, he seemed to be heading towards a career as a professional driver, but when Ritchie Blackmore asked him to join Rainbow, he changed tracks.

"I've got a pretty direct approach to life," says Cozy. "It shows in my drumming ... in everything I do. That's why I'm happy with Rainbow. It's an honest band. If you've got something on your mind, you say it. I like that."

Musically, he lays the stylish, rhythmic foundations for Rainbow. Lyrically and melodically, the band take you through many changes, but get down to the roots of every track and you will find Powell pumping busily in the boiler room. His role takes more physical effort than any other.

"On a tour, you have to keep fit. I'm feeling good for this tour. We did two months rehearsal in Los Angeles, before coming to Europe, so I'm ready. We tend to be on the road a lot, but when we get a break, I don't like sitting around. I play football, go running, cut down trees.. anything. I keep busy.

"I still drive when I can and that helps too. It's surprising how much strength you need in your arms and shoulders if you're going to handle a powerful car in a race."

This high energy keeps him slim, despite the fact that he eats like a horse. "On tour I'm eating all the time. Not 'junk' foods. I have a lot of steak and fresh salads and vegetables. Plenty of sweet tea too. Keeps up your energy."

At one time, you could have added a lot of booze to that daily intake. He was drinking heavily.

"It was getting a bit out of hand, about three years ago," he admits. "In the end, I tried to sort myself out and I found I was drinking too much because I wasn't happy with the music. There was no real satisfaction. That's when I decided to concentrate on motor racing. I gave up booze all together."

Being back in the music world hasn't tempted him to turn to the bottle again. This time around, he's really into what he is playing. Previously, his most successful times were with Jeff Beck, who he joined in 1970, and Mickie Most, who produced his million-selling drumbeat single, "Dance With The Devil", in 1973.

With Rainbow, he is known as the ace practical joker. He has been known to scale the outside of German hotels, leave bedrooms neatly coated with fire extinguisher spray and generally add to the popular theory that all drummers have a crazy streak. In fact, his stunts are a direct result of the boredom and routine that travel with every band on those "Glamorous" tours.

"Yea," he grins, "people really think it's glamorous, don't they? Well, the time you spend onstage is great. But the rest of it is a bore. The routine can make you edgy. Whenever possible, I drive myself from town to town. I use my BMW 1000 cc motorbike, or the Ferari. Depends on what the weather's like. If it's dry, I take the bike."

None of the group has ever ridden with Powell. Manager Bruce Payne has travelled with him in the car, but he draws the line at riding pillion on the BMW.

I enjoy those rides. I can burn up my inhibitions behind the wheel. I drive fast, whether I'm on two wheels or four. On the racetrack, I'm not frightened. In a strange way, I like to get close to danger. Maybe I've got some kind of death wish. I don't know."

Cozy Powell is a complex man. He is full of restless energy. He doesn't live life. He attacks it. He gets bored and impatient when the pulse slips. That's why he's happy onstage. He drives himself. Burns off that pumping energy.

Then he can sit back, after the show, wipe the sweat from his face ... and feel easy.

"I still think the music world is a mess," he says, finally, "But I've found a corner of it that works for me. With Rainbow, it's the music that count. That's the way it should be ..."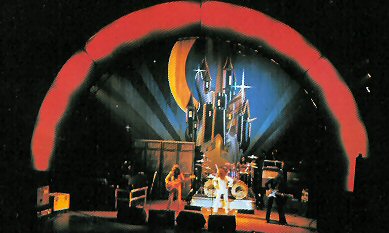 The Rainbow
40ft Span Across The Stage, 29ft High (in the Middle) made from 4 Sections
4ft Wide x 4ft Deep x l5ft Long. 3000 Light Bulbs are used, each Colour Band is 1 ft across.
Operated by a Portable Digital Computer. The First One of Its Kind in the World.
Two Back Drops - One of the First Album Cover and One of the Second.
The Rainbow (Designed and Constructed by See Factor, N.Y.) and Took Six Months from Design to Delivery.
Rainbow's Equipment
6 Crown DC 300A Power Amps
3 Wired Amp Racks
3 Crown VFX-2 Electric Crossovers
4 JBL 2300 Horn Boxes. 2482 Drivers
Custom Built Marshalls
4 Bass Bins 4 Gauss Speakers
4 Mid Bins 8 Gauss Speakers
1 JBL 5306 Mixer with Urie 5273 Equalizer
1 Fender Telecaster Bass Guitar
1 Gibson Reverb Firebird Bass Guitar
1 Fender Precision Bass Guitar
1 Yamaha 16/4
1 Mavis 15/4
1 Midas Mixer 328/2
3 Mini Moogs Model D
2 Stands for Mini Moogs
1 3 In 1 Keyboard Stand
1 Arp String Ensemble with Pedal Series 28
Polyphonic Ochestron with Pedal
2 Hohner Clavinettes Model D-6
1 Cut Down Hammond B-3 Organ with Pedals
1 Aluminium Stand For Organ
Shure Mike 58's AKG Mikes
Beyer Dynamic Specials Customized Ludwig Red Sparkle
2 x 26" x 20" Bass Drums
2 x 14" x 10" Top Toms-Toms
2 x 16" x 16" Floor Toms-Toms
1 x 16½" x 14" Metal Symphonic Snare
6 x Ludwig Heavyweight Cymbal Stands
1 x Slingerland Hi-Hat Pedal
2 x Premier 250 B/D Pedals with Wood Beaters
Cymbals by Paiste 1 x 18 " China Type
1 x 24" Ride Formula 602
1 x 20" Ride
1 x 18" Crash/Ride
1 x 18" Crash
2 x 16" Crash
1 x 15" Crash
1 Pair 15" Hi-Hats
1 x 6" Splash Sticks Ludwig 35
2 Dry Ice Machines
1 Midas 32 Channel Audio Console
1 Gelf 16 Channel Monitoring Mixing Console
16 Martin Cabinets
16 JBL Model 4560 Cabinets
16 Martin Low Mid Range Cabinets
24 JBL Model 2350/2482 Mid Range Radial Horns
24 JBL Model 2345/2440 High Range Radial Horns
12 Model DJW 700A Stereo Power Amplifiers
22 Model Crown DC 300A Stereo Power Amplifiers
1 Tasco Active Stage Box System 32 Channel
1 Digital Delay Lines Modes 1745M
1 Eventide Clockworks Harmoniser
4 'Urei' Model 527A Graphic Equal aser
2 'DBX' Limiters
1 Tasco 4 Way Variable Stereo Crossover
1 Orban Stereo Parametric Equaliser
Rainbow - The Team
Sound
Tasco Inc.
Trucking & Crew Coach
M.L. Executives
Ritchie Blackmore's Equipment
Fergie
Drums & Pyrotechnics
David Needle
Bass Equipment & Stage Manager
Thee Ox
Keyboard's Equipment
Raymond D'Addario
Mixer
Davie Kirkwood
Monitor
Fergus Newland
Stage
Ashley Williams
Brian Zellis
Lights & Lighting Director
Tony Mazzuchi
Rainbow Op.
John Moore
Stage
Nick Kotos
Irish John
Group Management
Bruce Payne
Tour Managers
Colin Hart
Bob Adcock
Special Thanks
Harvey Goldsmith Inc.
Tasco L.A. & London for Production Co-ordination
Jennie Halsall for Public Relations & Co-ordination
Programme Writer: Tony Norman, Produced by Concert Publishing Co. 01 -253 9605