Difficult To Cure
Tour Program Europe - U.K. 1981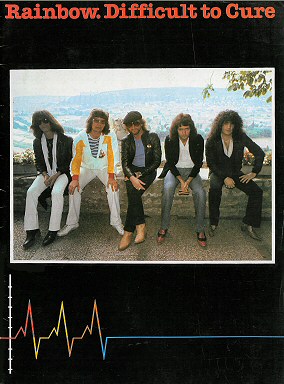 Black (blak) adj - of the very darkest colour or approaching this; dark, sombre; malignant, deadly, sinister; wicked; infamous; threatening, sullen, angry.

More (mawr) adj - greater in quality, degree, extent, etc.

What's in a name? Well, if everything you've ever heard about Ritchie Blackmore was true then those dictionary definitions would appear to suggest that there is just about everything in a name.

Ritchie is said to be moody, hard-bitten, mean. Most rock critics seem to go out of their way to centre on that side of his character - as they see it - without looking at the immense number of positive attributes the man has.

For a start he's one of the best hard rock guitarist - hell, one of the best guitarist full stop - that the music business has ever seen. In addition, what could be seen as stubbornness and moodiness on one side might well be read as honisty and purity of motive from another. Blackmore has remained true to his own ideals and his own idea of music from just about the first time he played guitar professionally back in the Sixties.

From then until the present day Blackmore has refused to dilute his music and his attitude has always seemed to be "If you don't like it - well, tough."
Stubborn? Probably. Difficult? It's possible. Single-minded? Undoubtedly. Talented? Immensly.

It would be difficult to imagine that there is anyone on this planet who hasn't heard of Rainbow. Since Ritchie Blackmore left Deep Purple in 1975 to form a new band - a remarkably brave step considering the stature of the Purple people - it's easy to suppose that the success of Rainbow has been beyond just about everybody's wildest dreams.

Mind you, it's been a bit of a bumpy ride in the process to arrive at the Rainbow of today - Blackmore on guitar and charisma, Roger Glover on bass and equanimity, Joe Lynn Turner on vocals and sheer naked power, Bobby Rondinelli on drums and agression and Don Airey on keyboards and style.
The first edition of Rainbow lasted from may 1975, to September of that same year and featured Blackmore, Ronnie James Dio on vocals, Craig Gruber on bass, Mickey Lee Soule playing keyboards and Gary Driscoll preched on the drum stool.

Blackmore had basically taken a New York band called Elf and slotted them in and around himself. They recorded the band's first album "Ritchie Blackmore's Rainbow" which was released in July 1975 on the Polydor Label.

Interestingly enough, while there were the cynics in the corner waiting for Ritchie to write himself off our man had no qualms about chopping and changing the line-up of his band. A lesser talent might have felt it would be wise to stick to whatever line-up he hadchosen and just keep working until they gelled together. However, Blackmore knew what he wanted and, while he professional himself satisfied with the recorded results of this first aggregation, he knew in his heart of hearts that they weren't quite the right musicians for him and his music.

So, in September 1975 - a scant month, remember, after the band's first album had been released - Ritchie started the first of his many switch rounds in the Rainbow set-up. Out went bass player Gruber, drummer Driscoll and keyboard player Soule.

To replace the he brought in Cozy Powell on drums, Jimmy Bain on bass and Tony Carey on keyboards. A powerful combination.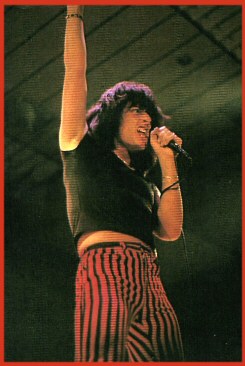 At the time Cozy was - and for that matter still is - one of the most respected and sought after drummers in british rock. Like Ritchie he had been a veteran of the notorious nightclub circuit in Germany in the Sixties. His route to Rainbow took him through session music playing with producer Mickie Most and artists Donovan and Tony Joe White, a stint with the almost legendary Jeff Beck Group and his own bands, such as Hammer and Bedlam.

Bass guitarist Jimmy Bain had been a stalwart of the British Columbia music scene in Canada - his parents having moved there from Scotland when Jimmy was in his early twenties. He returned to Britain to join a band called Harlot where he had come to Blackmore's attention.

And Tony Carey, the demon keyboard player. A native of California he first learned to play string bass before switching to piano as a youngster. "I came to a point", he once said "when I had to choose between going to a conservatory or playing rock and roll. I decided a symphony was pretty dull". Though a chance meeting with bain at a Los Angeles recording studio brought Carey the gig with Rainbow.

That line-up lasted from September 1975 through January 1977. Together they toured North America, Europe and the Far East. In that latter area of the world they recorded the double live album Ín Stage"which was released during the summer of 1977. Preciously, of course, they had made the seminal "Rainbow Rising"- a classic album which had the stamp of Ritchie Blackmore all over it. It was a startling combination of the rabble-rousing, blood-boiling heavy metal side of Ritchie's character and the incredibly mellow, classically influenced almost medieval slant that he can take. The Munich Philharmonic Orchestra was brought in to help out, most effectively on "Stargazer"and probably with the release of this album that people realised that Ritchie Blackmore and Rainbow were here to stay. And they had the potential to be as big, if not bigger, than Blackmore's previous vehicle, the superlative Deep Purple.

The beginning of 1977 saw Ritchie's quest for musical and personal perfection carry on, regardless of anyone else's opinions. Out went bass player Jimmy Bain, who was later to team up with former Thin Lizyy lead guitarist Brian Robertson to form Wild Horses. Ritchie found himself Mark Clarke to come in on bass guitar. Unfortunately this blend didn't work to Balckmore's satisfaction either. Clarke, formerly with Uriah Heep and Coloseum among others soon found himself an ex-member of Rainbow too. At the same time - the summer of 1977 - Tony carey was out of the band too.

In August 1977, Bob Daisley was brought in on bass, David Stone was recruited on keyboards. Daisley had been in Widowmaker while Stone, from Canada, was chosen at an audition session which also boasted the hopeful talents of Matthew Fisher, Mark Stein and Eddie Jobson.

Thus constituted, Rainbow recorded "Long Live Rock'N'Roll" in Paris before going on to tour Japan and the States. Needless to say - almost inevitably, really - Ritchie's desperate need for perfection saw the dissolation of this band too. But radically. it was goodbye to Ronnie James Dio, who was later to join Black Sabbath, replacing Ozzy Osbourne. Out too went Bob Daisley and David Stone. With the new men that he found Blackmore came closer than before in finding the ideal line-up.

On bass guitar Blackmore reunited himself with his old Deep Purple colleague Roger Glover. The latter had busied himself in production since the end of his tenure with Purple and it became perhaps, as something of a surprise to see him back treading the boards.

Despite his work on albums for people like Status Quo, Ian Gillan, Nazareth and Judas Priest, Glover had always made it clear that he wouldn't be unwilling to get back into a regular band if the right one came along. It speaks volumes for the mutual respect that Glover and Blackmore have for each other that once the idea of their reuniting was mooted it took no time at all for Glover to say yes.

As the new lead singer Ritchie Blackmore made what at the time seemed a curious choice - Graham Bonnet. A sometime film actor Bonnet had also been a member of a band called Marbles who had enjoyed a massive worldwide hit with the emotion-charged single "Only One Woman". He camre to Blackmore's attention through his solo work and it was the task of but a moment to get in touch with him and get him into the band.

For his new keyboard player Blackmore chose the startlingly talented Don Airey. He had been with Coliseum II for around three years and had played on three of that band's albums, displaying a taste and finesse which few could equal. In addition Airey had also been a respected and in-demand session player. One of his other gigs had been with Cozy Powell as a member of that man's band Hammer. At the time of his joining up with Rainbow Airey said "I'veadmired Ritchie and Cozy for a long time. I wanted to get into playing some heavy rock and roll and Rainbow are the best band around to do that with".

That edition of Rainbow came together in April, 1979, and in June of that year the band came up with the extraordinary "Down To Earth" album.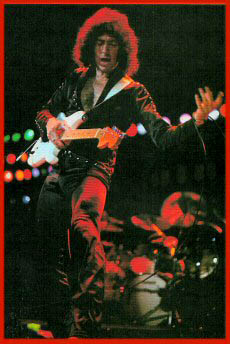 Recorded in Paris that album saw a new and significant departure for Blackmore's and Rainbow musical style. This music was, of course, as strong and impressive as ever, but with Roger Glover adding his incomparably deft touches on the mixing desk and in addition his ability as a composer and arranger aligned with Blackmore's undoubted multi-talentsRainbow blossomed into a new band. Melody and a new kind of accessibility existed alongside the same tough and powerful approach. The best example of that stage of Ritchie's career was the classic single "Since You've Been Gone". A massive hit worldwide it convinced any doubters - could there still have been any? - that Rainbow were one of the top bands in the world. the band followed that 45rpm extravaganza with two more blockbusters - "All Night Long" and "I Surrender". With three massive hits in a row that was surely Rainbow at its height. Surely they couldn't dwarf these archievements.

Well, in Auh=gust 1980 the band reached what was probably one of the great moments in any band's career when they headlined the Castle Donington Monsters of Rock Festival in the Midlands of England. The show was unbelievable. Superlatives like stunning, spectacular, astonishing and so on just don't even begin to tell the half of it. The band played and sang like men possessed and this, allied to a remarkable example of state of the rock and roll art visuals ensured that none of the massive crowd went home without being astounded by the strength and depth of Rainbow.

The event was made all the more poignant, however, by the announcement on the very eve of the gig that Cozy Powell intended to leave Rainbow.

The split was probably inevitable. Blackmore himself said that it was probably down to his own mercurial character and Powell's strong personality. Whatever the reason Cozy went on to join the Michael Schenker Band. And rainbow was set to enter yet another phase of existence.

As a matter of fact the Cozy departure came as no real surprise to Ritchie. The two had sorted things out long before Cozy had actually left. It had given Ritchie time to find a replacement and the man in black came with the hitherto relatively unknown Bobby Rondinelli.

Hailing from New York Rondinelli was still only 25 when Ritchie recruited him into the band in 1980. Blackmore had met up with him in Long Island where Rondinelli had a reputation for being one of the best drummers around but who had concentrated mainly on teaching other people how to play.

Blackmore said it was Rondinelli's combination of technique and animal instinct that made him the right choice for the band.

Soon after Powell's leaving Graham Bonnet was soon to follow, decided to call it a day to pursue a solo career. Ritchie Blackmore brought in singer Joe Lynn Turner. Again a relatively unknown figure it looks as though Turner is another one of Ritchie's classic finds. Blackmore met up with him in the States, knowing first of Turner's reputation. It might be said, judging by Turner's performance that he too, like Rondinelli, has both technique and animal instinct.

This latest reincarnation of rainbow recorded the band's latest album "Difficult To Cure". Could this be regarded as their best yet? Obviously only time will really tell for sure but it's safe to say that on initial hearings it came across as a blockbuster.

Both Rondinelli and Turner both demonstrated that if they were daunted at the prospect of teaming up with Blackmore, Glover and Airey they certainly weren't going to let it show.

In fact they displayed unparalleled confidence and skill. But then when you're in a band led by Ritchie Blackmore there's no way that you can get away with anything but your best.

So that's Rainbow: the story so far. With Ritchie at the helm, a genius guitarist, a mercurial man and a towering talent it seems that rainbow will never be far from the pinnacle of rock and roll success.


Credits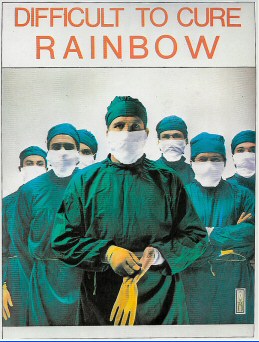 Bruce Payne, Thames Talent
Colin Hart
Ian Broad
Raymond D'Addario
Davey Kirkwood
Cookie Crawford
Bogie Crandell
Charlie Lewis
Timmy Kelly
Mazzuch
Sound
Trucking

Promotors
Management
Tourmanager
Personal
Production Manager
Sound Engineer
Guitar Technician
Bass Technician
Keyboards Technician
Drum Technician
See Factor
Tasco
Keedwell

Kiltorch LTD
Paul Loasby
Dot O'Rourke
Paul Scarbrow
Rainbow Tour Program 1981