Rainbow

Tour Program 1980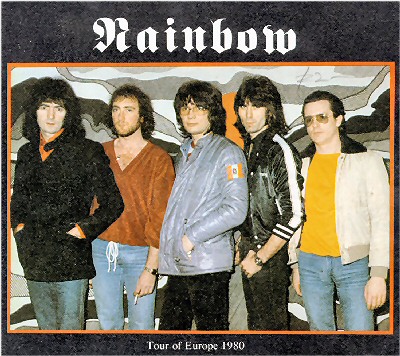 We're in Philadelphia and inside the massive Spectrum auditorium fifteen thousand rock fans are screaming madly. Suddenly the houselights are dimmed and a taped introduction of Pomp & Circumstance booms out from the PA system. The cheering reaches a deafening crescendo until at last Rainbow hit the stage. Ritchie runs out brandishing his axe and lauches into the opening chords of "Eyes Of The World".

Cozy Powell is hammering away fiercely behind his drumkit, with keyboardplayer Don Airey and bassist Roger Glover joining the attack. Graham Bonnet emerges in suave jacket and shades to let out the opening line of the song. The show has begun and for the next 90 minutes there's no looking back as Rainbow assume complete control. Banners are held high above the crowd bearing slogans like "Blackmore Is God". Ritchie soon rewards his ardent followers by unleashing the first of a series of solo outbursts.

As the number draws to a close Rainbow waste little time before hitting out - below the belt, naturally - with "Love's No Friend". Then comes "All Night Long" during which even Ritchie stands back to marvel at the singer's incredible vocal range. Graham reaches spome tremendous notes and the effect he creates with this song is spine-chilling. Don Airey and Cozy Powell deliver mindblowing solo spots and eventually Rainbow close their main set with the electric "Lost In Hollywood".

Inevitably they are summoned for an encore and return with an agressive rendition of "Long Live Rock 'N' Roll". By now the audience is wild with excitement and Blackmore offers his ultimate sacriface by dramatically smashing his axe. And while kids fight among themselves for a piece of the guitar, Rainbow leave the stage in a blaze of glory - another city conquered!

The gig in Philadelphia took place in October last year when Rainbow made their comeback to live performances after a year's absence. But never have they shone so brightly in the sky than at this present moment in time as they revisit Britain for the first engagement since November '77.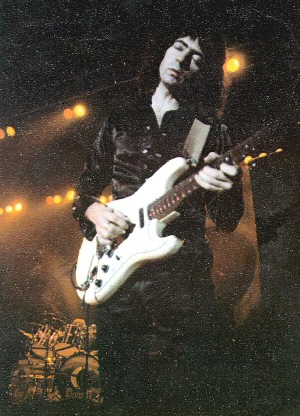 For the recent months they have triumphed in America on both the East and West coasts, as well as in Europe. Since the last visit to this country, Rainbow have been active in the recording field, issuing two new albums "Long Live Rock 'N' Roll""followed recently by the supreme "Down To Earth". There have of course been numerous changes in personnel and the brand new line-up features Don Airey, Graham Bonnet and Roger Glover. Happily Ritchie and Cozy Powell managed to stick together through allof the previous traumas.

Since, dear reader, you are at a Rainbow concert it is hardly necessary to inform you that the band was initially formed by Ritchie Blackmore after his departure from the legendary Deep Purple. And nor, quite clearly, do I need to tell you that the group has since released five albums. More interesting perhaps is an account of what happened to Rainbow since they were last in Britain.

During 1978 Rainbow returned to the States and Japan for further tours and "Long Live Rock 'N' Roll" was released. However there were constant reshuffles going on in the band and ultimately Bob Daisley and David Stone, who had originally been enlisted as replacements for Jimmy Bain and Tony Carey, parted company with Rainbow.

It was once predicted that "There'll always be a Rainbow, as long as there's Ritchie, Ronnie and Cozy" so when the news came through that lead vocalist Ronnie James Dio had left, many speculated that this might be the beginning of the end of the group. So indeed dit Ritchie and Cozy!

As soons as Ronnie had gone, a quest for a new singer was instituted but it took quite a long time before Rainbow found one. The first of the new members to join was Don Airey, Colliseum II's keyboard player, who had formerly played with Cozy in Hammer. They experimented with various bass players but things didn't work out too well.

In the meantime Roger Glover who had played alongside Ritchie in Deep Purple was brought in as producer. He and Ritchie subsequently began writing together and in due course it seemed logical that he should become the new bass player. Apparently it wasn't simply Roger's talent as a musician that won him the job for it appears that in his capacity as a producer he was extremely beneficial in getting the band together.

"When we were at the Chateau recording "Long Live Rock 'N' Roll" we found that after six weeks we'd done hardly anything" revealed Ritchie when I spoke to him on the American tour. "Basically we're really lazy and if we can find a good excuse for not recording we do. This time around, we had Roger with us and he's so good at getting people together that we got on with things. I find Roger excellent as a catalyst."

Roger Glover also aided Ritchie in finding a new vocalist after Rainbow had auditioned about fifty aspiring singers. The two musicians were chatting one day when the guitarist asked him if he remembered who had sung on The Marbles' "Only One Woman" single back in 1968. It then transpired that Roger had once done a session with the artist in question and he was able to reveal Graham's name to Ritchie, who hitherto had tried in vain to discover it.

At the time Graham was living in London and Ritchie and Roger set about contacting him through his management. The result was that he accepted an invitation to come for an audition and, after knocking Blackmore and Co. out with an impressive performance to "Mistreated", was offered the gig. Wisely, and to Ritchie's relief, he agreed to join them.

Subsequently "Down To Earth" was recorded, and released in the summer of last year. Graham's vocal performance delighted Rainbow fans who had mourned over the departure of Ronnie Dio, and the album itself was a sharp poke in the eye to all of the cynics who had claimed that Rainbow had little more to offer. Few could complain about the sheer excellence of such cuts as "Eyes Of The World", "Lost In Hollywood" and "Love's No Friend."

"Down To Earth" also marked Rainbow's first venture towards commercialism when they recorded Russ Ballard's "Since You've Been Gone". Many felt that the band had sold out by doing a tune like this but even Ritchie was the first to admit that it had commercial overtones. Cozy, according to Blackmore, hated it and when I spoke to him on the phone just prior to the European tour he told me: "Whether we'll be playing it live depends on whether Ritchie and I have an argument. The trouble is though that we only talk after a bout! But seriously, the reason that I'm not too keen on it is that I just don't think that it's heavy enough for Rainbow."

Some Rainbow fans agree with Cozy no doubt, but overall I think it merited inclusion on the album as a means of attracting a wider audience. This it surely did having hit the Top Ten when released as a single. There are probably some here tonight who were not acquainted with anything that the band had previously done but were drawn to Rainbow after hearing "Since You've Been Gone". And even more metallically minded fans like myself can surely accept one lighter song amongst a collection of red hot rockers.

At the outset, I recalled Rainbow's gig i Philadelphia last October and perhaps some of you were wondering what had happened to some of the band's earlier classics. Have no fear because both Cozy and Ritchie told me that the likes of "Man On The Silver Mountain" will not be overlooked on the British tour.

However Cozy also added: "We will definitely feature songs from "Down To Earth" - in fact we'll probably do most of them as well as well as a few older standards."

Chances are that you may be reading this on your way home from one of the concerts and if that's the case I'm sure you won't have been disappointed by the show. On the other hand if you're reading this before the band go on stage, instead of having a drink at the bar, I guarantee that the 1980 Rainbow will knock you out.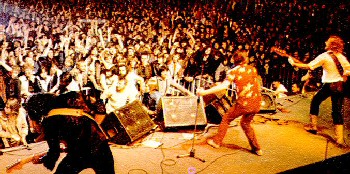 This time around Rainbow are playing in some of the country's larger venues, among them Wembley Arena and Stafford Bingley Hall, and understandably there has been some concern that they may lose some of the intimacy associated with smaller halls. However Cozy wishes to assure fans: "Rainbow are probably one of the few bands who manage to get across in the large venues.

Most of the places we play in the States are huge and so the few larger gigs that we are playing in Britain shouldn't be too much trouble. We've a brand new PA and light show so I'm sure we'll be able to get through to even those at the very back."

On tour Cozy will naturally be playing the custom made drum kit which was built for him by Yamaha after the last Japanese trek. It will also be the first time that Roger Glover has played in this country since the Purple days and Graham Bonnet's last stagework before he joined Rainbow was back in the sixties with The Marbles. Having seen them in concert, I can state that Rainbow have never been better. And, of course, Ritchie himself will continue to leave audiences gasping as he delivers spell-binding axe, smashing a few en route.

Quite a lot has happened since Ritchie first formed Rainbow. For them. Fort all of us. But whether you're an old Rainbow fanatic from way-back-when, or a brand new recruit to the cause, rainbow wish you well - and they thank you very much for coming.


Steve Gett (Melody Maker)
Rainbow Tourprogram 1979 - 1980