RAINBOW
TOUR PROGRAM 1983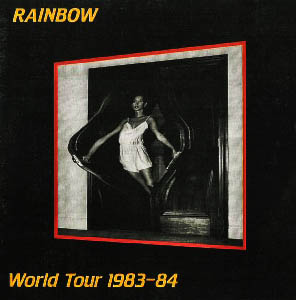 Having spent much of 1983 hard at work in the studios, Rainbow are finally back on the road with the brand new 'Bent Out Of Shape' LP, which is by far their strongest album to date and proves beyond all doubt that they're still one of the major forces in the rock world. While cuts like 'Stranded', 'Desperate Heart' and 'Fool For The Night' affirm that Blackmore and his band can still rock with a vengeance, cleverly worked tunes like 'Street of Dreams' and 'Can't Let You Go' show that there's definitety more to their music than your basic straightforward "crash-bang-wallop" heayy metal.

Let's face it, though, Rainbow has never been just another HM group, as anyone who has listened to their records over the years will surely attest.

For the uninitiated the band's history actually dates back to 1975, when Ritchie Blackmore parted company with Deep Purple in order to pursue a solo career with his own outfit Rainbow. There have since been numerous changes in the personnel surrounding the man in black, but rathter than bore you with any kind of in-depth documentary of past events, I'd suggest you take a swift glance through the albums if you need to know who's come and gone in Rainbow.

What's important right now is the present and the future, and so therefore let's concentrate on 'Bent Out Of Shape' and allow bassist/producer Roger Glover provide us with a little insight into how the album was put together...

"We finished touring in December '82 and then we spent the first couple of months of the new year getting initial ideas for the new record together. In March we started rehearsing for a couple of months and during those rehearsals most of the ideas took shape. In fact I think this is the first album where we've gone into the studio quite so prepared. Usually, a lot of stuff gets written in the studio. But I think beeing prepared worked quite well because it allowed us to concentrate more on performance rather than writing.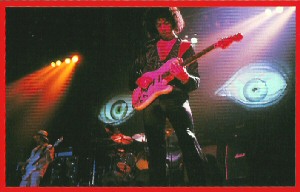 "We started recording at Sweet Silence studios in Copenhagen at the beginning of May. Originally we'd planned to go back to Le Studio in Canada, where we did 'Straight Between The Eyes', but unfortunately that was booked. So rather than face somewhere we hadn't been before we decided to go to a place that we knew. ('Difficult To Cure' was recorded at Sweet Silence in 1980.) And Copenhagen is especially good for Ritchie and also the drum sound - but, more importantly, for Ritchie.

"When he sets his amp up in a studio and they put mikes in front of it, it either works or it doesn't. You have to fight to get his natural sound in the control room. But Sweet Silence is one of those studios where it always sounds great. The guitar seems to sing there. Every room has its own kind of characteristics and that one is particularly good for guitar.

"I think possibly the emergence of Joe as a writer within the group was the biggest difference on this album. In fact I did no writing whatsoever. I concentrated solely on production. Not that I don't like writing, it's just the way it turned out. Ritchie came up with his ideas and Joe already had his own to match them. On 'Straight Between The Eyes' Joe started to emerge and now he's come forward as a major songwriting force within Rainbow.

"I personally consider 'Bent Out Of Shape' as being very much a progression for Rainbow and I think it's also important to mention the arrival of Chuck Burgi (ex-Hall & Oates, Balance, and Aldo Nova) on drums. To me, the whole thing has a much more modern approach. It sounds like an 80's album as opposed to a throwback to the 70's kind of heavy metal thing. There'll always be an element of that because Ritchie's basically a heavy metal guitarist, and he'll always write music in a certain way, but I think the songs are evolving in a much more modern manner.

"I don't think Ritchie's changed much at all over the years though and in fact I think he's very much the same as when I first met him. He's demanding, but he's no more demanding on anyone else, than he is on himself, which is why he'll always get more respect. And I think it's good to be demanding. Nothing comes easy, and if making an album was easy I don't think it would be worth doing."

The bottom line is that 'Bent Out Of Shape' is a damn good rock album, and if you've still not got hold of a copy then I strongly recommend you buy, beg, borrow or steal one as soon as possible - you'll not be disappointed."



Steve Gett - August 1983
Rainbow Tourbook 1983 - 1984