Fathers Son
Jürgen Blackmore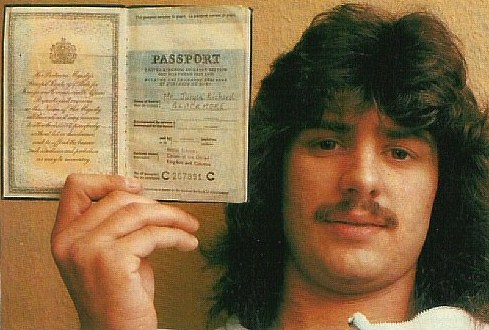 There's often anger at concerts, when I want to my dad backstage. Then it's the same comments by the security people like: "And I'm the son of Paul McCartney!" It's logical, fans do find the most impossible stories, so they see their stars in their eyes or whatever else. And when then someone turns up and tells: "Let me in, I am the son of old Blackmore", what do you expect then? It's the truth though, one look in the British passport shows it all: This character is named Jürgen Richard Blackmore and is born on 7 October 1964 in Chiswick, Great Britain. Only that is not a Crash-Story worth, but that the son follows in the footsteps of his father, makes it interesting. His occupation is trained guitarbuilder, but now Blackmore II goes in the footsteps of his procreator. He's going to be earning his first spurs in the heavy metal branch.

Let's go back to the early 60's. Then there was a young guitarplayer named Ritchie Blackmore, born on the 14th of April 1945. He was about 15 when his professional career started, played among other things with the today legendarily Screaming Lord Sutch. Sometime then he got to know a girl from Hamburg, they got married and got a son, and named him Jürgen Richard. Till his third birthday, they lived in England, before the Blackmore family moved to Germany - the "Starclub" was calling. Their house was direct next to it, in the Großen Freiheit. The family happiness didn't took long, Ritchie turned his back on Hamburg, wife and son. His look was totally focused on America, because there Ritchie Blackmore is going to be what he always wanted to be: a superstar. With the first hit "Hush" in 1968 it's then the beginning of a continuous rise of the biggest Hardrock band of all time: Deep Purple.

It wasn't itching then for the little Jürgen, and there was hardly contact with his famous father. Still it should have giving an itchy feelin' in his fingers: "When I wasn't aware who my father was, I got to a guitarshop with my mum. Curiously it was the shop in which I later done my education. In the shop window was a concertguitar, it was priced 50 German Marks and I have been naggin' that long till my mother bought it for me."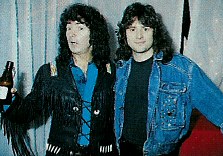 You can imagine how things went on - but it was nothing like that, no sign of a wonderkid. The guitar ended soon in a corner, and when the little son for the first time a Purple disk heard, he must have left the room crying. Since 72/73 there was a more regularly contact with his father: "In the holidays I went then always to my grandmother in England and got to see my dad also more frequently."

At that time Blackmore-Junior got slowly a clear picture of what his father was doing. At school classmates started asking him for autographs but there was not too much attention for the name Blackmore: "The disco wave just started, and I think, most of them didn't know who Deep Purple and Ritchie Blackmore were. For me it's only good it went like this. When I go somewhere and somebody says: 'Ey, that's the son of Ritchie Blackmore', it makes me feel uncomfortable. For me he's my father, not a rockidol."

At the age of 10 or 11 then finally the bequeathed talent came through, and he started to found the pleasure of playing guitar. A guitar course didn't felt on fertile ground though: "I could play all of that already, and when the others didn't know something, it was always: Jürgen, show us how you do this!" The proud father then gave his son for the first time a genuine instrument, he couldn't do much more with the 50 Marks guitar. Instead he now - what else - got a Fender Strat, black-red sunburst, on which the master himself had played the strings. Since then there are sessions at every meeting on the program: "When I meet him, he first pushes a guitar in my hands, and then we play like others buy a round of drinks."

All too often you're not meeting - like common with Music Pro's. When one is here, the other is somewhere else and vice versa. They mostly see each other when his daddy is on tour in Europe or in the studio. Jürgen have been in front of the stage and backstage about every tour since Rainbow started in 1975, he was ofcourse present at the Deep Purple Tour and also in Copenhagen and Hamburg when their last album was produced. At that time it also came for the first time to a professional cooperation of both the Blackmore generations: "In Hamburg during the mixing he knocked about his Marshall Box. I then put down my own for him to use." Case of respect.

But both not only share this passion: Beside playing guitar is soccer the big theme, and when last year Deep Purple had a match against their recordcompany, it became a smooth 3:1 victory against the office boys. Father Blackmore got the right wing, the son took the counterpart on the left side in the arena.

It's no secret that Blackmore, the aged, not always a guarantee is for a bit of sunshine. You see him on photos most of the time as a moper, react in nature also not as you would like: roughly and at times don't say hardly anything. Ofcourse we want to know, what the son thinks of this image. He only can laugh about that: "I enjoy myself always, when my dad in the press is portrayed like this. In real he is an unreal friendly, amusing character and when we are together we have always a great time. He really has a sense of humor. Things like he rings at the door, I get down, answer the door and no one is there. I get up again, it rings again, I get down again, and once more again the same routine and all of a sudden my father jumps before my nose - he just had hide himself behind the door. And he says: "Hello, I just come from America and wanted to drop by."

That Ritchie apart from his family often is seen as a bad tempered, grumpy person, his son can understand: I have experienced it, how it goes in interviews. You can't find a word back in the papers of what is actually said. When you're shot ten times, you are not in the mood when you get to the eleventh time. And when at that moment someone gets involved at the moment you can imagine things will be a little bit different." That Ritchie Blackmore also is seen to be despotic and domineering against colleague bandmembers, is for Junior richly exaggerated: "I never got the story why the people in Rainbow always got fired, but in Deep Purple they all having equal rights. I experienced that in the Studio. Ian Paice arrives and says: "Make my drums louder!" Then Gillan comes: "I can't hear myself", Glover then complains that his bass is too soft. And then my father says: "From the guitar I really can't hear a thing", and Jon Lord thinks the keyboards are not good in it. And then Paice comes again and say: "Where have my drums gone to?" It goes on and on, till the producer gets the hump and throw all of them out. Then nobody is any longer on the foreground."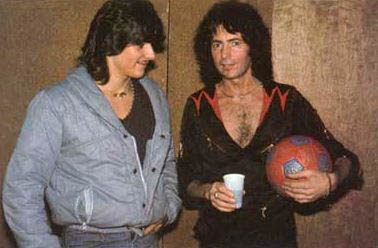 And so we get back to the legends, who shout to Jürgen's father: How is it with your sympathies for black magic? "Nonsense!" defends his son, "we agreed that there are extrasensory powers. It's exciting.

There was once a story, that I started to tell him, he couldn't know anything about that for sure. All of a sudden he stopped me and told himself the rest of the story. But this has nothing to do with black magic." I remember a story that a wellknown German guitarist told me years ago. He was support act for Rainbow.

There was some trouble and he was quite sure about it that Blackmore them with his look somehow had banned or hypnotized, so that backstage everything went wrong for them. Jürgen laughs: "My father and the evil look? That's really cobblers. Yes, you're right he can look often rigorously, but when people get annoyed about it, then that's their problem. My father won't do something like what that person told you." Probably that's true, but a few mythics - without it rock'n'roll isn't exciting....

Jürgen Blackmore has got a clear target, the same as his father twenty years ago: success! "Like Deep Purple in 1985 again played for 100.000 people in Nürnberg, that's what I also wanna do. I'm prepared to offer a lot for that. Main thing is it will happen. I play improbably with pleasure guitar; and having fans, who also enjoy it, what I do, that's more important than money without an end." An idea, that also the old Blackmore brought to the end of doom: main point, it works out, money doesn't play a role. I have to ask this last question - how many brothers and sisters do you think you have. "Brothers and sisters?" asks Jürgen a bit irritated, "What do you mean, brothers and sisters? I don't have any brothers and sisters." But then he smiles again, when he notice I only give a hint at the fertile heritage all over the world of his father. "I'm the only one anyhow, with who it's like it should be between a father and son - completely normal..."


Andreas Hub, Crash, Germany, June 1986 [translated from German language]