Joe Lynn Turner missed the memo.

The missive instructed all frontmen to go grunge and fly the flannel. It promised big bucks for faux angst, payoff for selling off. But Turner drew the line.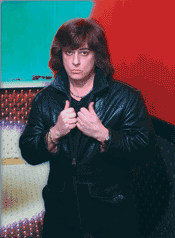 "I could never understand why some of the great vocalists chased that trend," says Turner.

Of course, the aforementioned memo never existed. But it may as well have. The quest for relevance has led countless crooners to disavow hard rock in the pursuit of profit. What they failed to consider was the fleeting nature of pop culture. Today's Radiohead is tomorrow's Right Said Fred.

"Great rock and roll is timeless," says Turner, whose storied career is legend. Plucked from obscurity to front Rainbow in 1980, Turner left an already successful Fandango. The Jersey act released four albums and packed clubs at the snap of its fingers. But a single phone call changed everything.

"When Ritchie Blackmore calls, you don't hang up," laughs Turner, whose seductive singing reshaped Rainbow's epic metal. Gone was Ronnie James Dio's mystic melodrama; in its place were gritty vignettes of everyday life - odes to wine, women and song that, while radio-friendly, retained street cred.

"The music still rocked, but in a different way," says Turner, who recorded three studio releases before the ride screeched to a halt when Rainbow disbanded in 1984.

"It was an opportunity in disguise," says Turner. Free to pursue his muse, Turner teamed up with producer Roy Thomas Baker (Queen, The Cars) and recorded the first of 10 solo records.

Yet solo success wasn't enough. So Turner pursued other projects, laying down vocals for myriad artists. From Billy Joel and Don Johnson to Bonnie Tyler and Lita Ford, Turner burned through more than 50 records through the '80s and '90s.

Arguably his finest hours came with Yngwie J. Malmsteen's Odyssey and Deep Purple's Slaves & Masters, released in 1988 and 1990, respectively.

In Malmsteen, Turner found a perfect writing partner. Sparks flew when the duo collaborated - and fought. "Yngwie's an incredible musician, but he's very set on how he wants things done," says Turner, chuckling at the understatement.

"People call Ritchie temperamental. They haven't met Yngwie."

Despite pushing the Swede to top-40 acclaim with "Heaven Tonight," Turner's involvement lasted only one studio album and Trial By Fire: Live In Leningrad, capturing one of 10 sold-out Russian performances.

Turner would scale those heights again when Deep Purple reformed in 1990. Slaves & Masters yielded the AOR classic "King of Dreams," but it also marked the end of Turner's Purple experience.

Label weasels persuaded Blackmore to rehire original vocalist Ian Gillan and Turner was out on his Fandango fanny. But he wasted no time in resuming a successful solo career. He also paid the rent shilling for Gatorade, Domino's Pizza and other products. "That's where the money's really at!" he declares unapologetically.

Still not artistically fulfilled, Turner joined Brazen Abbot featuring Bulgarian guitar virtuoso Nicolo Kotzev. And that's only a glimpse of a triple-decade career that shows no signs of slowing.

These days, nothing gets Turner's heart pumping like Hughes Turner Project. Glenn Hughes is every bit Turner's equal. Whether in Black Sabbath, Deep Purple or his own solo repertoire, Hughes possesses one of rock's most distinct voices. Paired with Turner's pipes, the man is unstoppable. So is Turner.

"This stuff just kicks ass," says Turner. The duo's 2002 debut struck like a meteor, sending Japanese audiences into a frenzy. Thanks to Shrapnel Records impresario Mike Varney, the disc - and subsequent Live In Tokyo - finally enjoy U.S. distribution.

"I've gotta hand it to Mike," says Turner. "He really supports what he likes. Now anyone can buy our stuff without import prices."

Also set for re-release are Eye Of The Storm and Bad Religion, Brazen Abbot discs featuring songs written and performed by Turner.

Standing out among Kotzev and his Brazen buddies would intimidate most vocalists, but not Turner. His vocals outshine the most accomplished musicians, making Hughes Turner Project an even richer tapestry.

"Hughes Turner Project is killer, just straight-up rocking stuff," beams Turner. "It stands up to anything out there."

Bold words, yes, but entirely justified judging from the band's eponymous debut and Live in Tokyo.

Having returned from a whirlwind Brazen Abbot tour, Turner relaxes at home. But restlessness sets in. He can't wait for Hughes Turner Project's II to slam in September.

Until then, Turner revels in the simple things: taking out the trash, cooking dinner, laughing with his daughter - rare pleasures for a man accustomed to room service and starstruck fans.

"I like being home, but the road's cool, too. Right now, I'm just happy to kick back for a bit."

Let's catch up with the "Spotlight Kid," whose life went black for a few historic hours this month.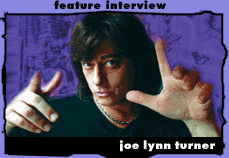 Where were you when the blackout struck?

In New York City. My wife and I were going to dinner and we turned around right when it happened. We were on 85th and 5th in Central Park and actually saw the traffic lights go out. We went, "Uh oh, this is bad. We had better not do this." So we went around onto the Henry Hudson Parkway.

Then we called our neighbors to let them know we were OK. We stopped by a friend's place when my sister called me on her cell phone. She was moving into a new condo and asked me to help. She had power. It was crazy. After that, we went back home, and it's me and the wife having tuna fish by candlelight. We were only without power for an hour or so.

You lucked out.

Yeah, But here's the funny thing. I asked her to tell me when the power came back on. I said you'll know when the refrigerator starts making noises. Then, it actually comes back on! Right at that moment! And she says, "You mean like that?"

Wow. Sounds like quite an adventure. But let's talk music. Ten solo albums, each as good as the last. What's your secret?

Thanks. Just hard work. I try to retain the integrity of everything I do. I'm listening to the new stuff by some of my friends and heroes lately: the Dokkens, the Coverdales, and I just don't get it. There's one or two good songs and the rest just don't do it. Nevermind the bullseye; just hit the target!

You mean Long Way Home?

That's the new Dokken?

Yeah.

If it's the new stuff, yeah. Kelly Keeling wrote with him (Don Dokken). Kelly's great and all, but...

It just isn't Dokken. It's more like a Don Dokken solo project.

Yep. Exactly. Just isn't the same.

You're obviously not too happy with the direction some musicians of your generation have taken. What are they doing differently?

Trying to use all the half steps the kids use today. I could go there, but it would be a betrayal to who I am. These guys didn't invent it (nu metal), didn't grow up with it, didn't feel the angst, the pain.

So you've stuck to your guns.

I can't see myself losing my way. But I can try different things because I've written tracks for other people. But it wouldn't be right on my own stuff. It wouldn't be true to me.

Your fans seem more upbeat, at least in my experience.

There are quite a few fans coming up from despair to hopeful despair (laughs). I just got back from playing Eastern Europe - 2,000 to 3,000 kids a night. It was great.

Who were you playing with?

I was out with Brazen Abbot. They fans were amazing. These kids were singing along to all the songs. I'm talking Rainbow and Purple and all that. A third of our set was Brazen Abbot.

How would you compare working with Nicolo Kotzev in Brazen Abbot with Hughes Turner Project or your new solo material?

Wow. It's almost a mix of everything thereof. But mixed heavy on the classical. (Kotzev) is very orchestrated and you can always identify his sound. The background vocals he uses, and the incredible amount of orchestrated layering. The tracks are quite complicated.

You've played with many virtuoso musicians, but do you find vocalists overshadowed by sharing stages with the Ritchie Blackmores and Yngwie Malmsteens of the world? It can't be easy wrapping lyrics around those time changes and instrumental breaks.

Yeah, but my new solo album's a return to hard rock blues. I tried to make a good, positive vibe on the album that's true to myself. It's the first time that (Classic Rock magazine writer) Dave Ling gave me four-and-a-half stars.

Blackmore once told me if you believe a good review, you've got to believe the bad review. So what's the point? I can't be making music for myself alone. That would be masturbatory. I make music for the people.

So it's making music for fans while remaining true to yourself?

Exactly.

Let's talk Rainbow. What made Ritchie pick you? Up to that point, Rainbow as a dark, gothic metal band with Ronnie James Dio on vocals.

Ritchie was after a different sound. I tried to inject my bluesy vocal style over the heavy riffs. Not only with Ritchie, but with Yngwie, too, who's a bit more studied. You got this marriage when "Stone Cold" came out. The reaction was, "Wow, here's a soulful rock band but harder than Bad Company, more commercial than Foreigner," etc.

Did you fight with Ritchie to recast the band with a more straightforward rock sound?

No, not at all. Listen to the Down To Earth album. "Since You've Been Gone" was really bluesy. Then when I joined, you had "I Surrender." Russ Ballard wrote some great stuff, so to make a long story short, they were looking for a more commercial sound. Graham (Bonnet) had a more commercial voice, anyway (than Dio). So Ritchie was looking for a more commercial sound by the time he found me.

If you listen to Straight Between The Eyes and Bent Out Of Shape and ... the one before Straight Between The Eyes...

Difficult To Cure.

Yeah.

Difficult To Remember?

(laughs) But my point is that you'll hear it sounds a lot more rock, but it's commercial at the same time.

That style doesn't fly anymore, at least in the states. It seems like so-called AOR or classic hard rock has a rather limited audience here.

It's terrible. Not only is it limited, it's dead. The classic rock stations just play a handful of songs. And there's a couple stations that only play the stuff a couple hours a week.

And all they play is classic bands' old catalog.

Yeah. All they play is Skynyrd, Sabbath, Zeppelin. What happened to the hair bands? That's classic rock.

Not only do a handful of bands get endless rotation, but the deep tracks get ignored. I mean, Zeppelin is more than "Stairway To Heaven."

Yeah, but that is a two-edged sword. I agree somewhat, but you've got to get the cornerstones out of the way, too, make sure you play the hits.

What drives me nuts are classic rock stations that play only vintage material and ignore the new stuff. Styx and Journey may be classic rock, but they're still releasing new stuff. Cyclorama was great.

I saw Journey, Styx and REO (Speedwagon) in LA and it was a nice nostalgia show. But understand that fans pay to hear the hits. Like I said, it's a double-edged sword.

Let's talk Hughes Turner. What took you guys so long to collaborate? Your voices are a natural combination.

Thanks. It couldn't have happened with any two other singers. We'd tried to get together for 20 years and the opportunity just came up. So this time, how it started was I called Glenn to do a solo tour of Japan. He said yes, which was really generous of him. I said as long as we're touring, why not do a short set of your own? He said, "Are you sure?" I said, "Yeah. Then we'll get on stage together and do 'Burn' and the other Purple songs and just kill 'em."

After the last show in Tokyo, (record label) Pony Canyon saw us and asked if we'd like to collaborate. They really support our music.

The lineup is interesting. Not many bands have Japanese musicians jamming with American and British rock legends.

The days of being able to afford a full-time band are out the window. When we tour, we use locally available musicians. There's not enough places to play. When we toured Europe with Hughes Turner Project, we used Swedish guys for keyboards and drums and (guitarist) J.J. Marsh, too. Some of these guys are playing with Malmsteen now. We're not using shit people, but you can't afford the same guys on a full-time basis. This is Hughes Turner and we write killer songs. We need people who are reliable.

But do you have a core band for your solo material?

We have a solo band out in LA. I got out to LA to do Hughes Turner because Glenn needs to stay around there for personal reasons more than I need to stay on the East Coast. So I have Shane Gaalass and others in my solo band. Al Pitrelli played on the album. Killer guitarist.

So what's the new Hughes Turner material sound like? The first disc was great.

The new stuff is Led Zeppelin meets The Beatles. Double harmonies like Lennon and McCartney used to do. When I first heard it, my jaw dropped. It could fit in with some of the grungier stuff yet remain in the classic realm. We used a core of musicians, but then Steve Vai came in and we had Chad Smith from the Chili Peppers, too. They played on a cut called "Losing My Head." It's a monster.

Wow, Vai and Chad Smith. Sounds like an unusual combination.

Yeah, and the Japanese band is just phenomenal, as evidenced by the Hughes Turner live disc.

Which brings me to ask why most of the disc is Rainbow material.

There you go. Between Glenn and myself, by the time you play the cornerstone songs of your career, you're already out of time. I'm saying on the first tour, we needed to establish Glenn and myself on stage to show fans where we were coming from. I think this time, we have to do something other than that.

We have two Hughes Turner Project albums now and they rock. But we'll still play "Burn" and stuff like that. These people pay to see you and you must play that stuff.

How would you compare Hughes Turner to your solo material?

It's completely different. When I was writing the JLT record, I knew exactly what Hughes Turner was going to sound like, and it was very different than what I was writing. I don't believe people should buy the same record twice.

I went completely roots rock as opposed to Slam, the dark stuff. It was a pretty good record, but it was pretty negative. This time, I decided to put the world out of my head and make a fun record. It's hard because we're the same people. There's so much inside of us and there is an entity called Hughes Turner Project that stands on its own.

Well, the first disc certainly had its share of killer guest guitarists: Paul Gilbert, John Sykes...

Thanks. Hughes Turner is still making great music. I'm not trying to be arrogant or humble either, but we're kicking. I'm looking at my peers and I'm listening to their records, and I'm not hearing it.

Let's go back to the beginning. You fronted Fandango and had quite a solid following. What led to the Rainbow gig?

Ritchie heard of me through the Fandango records. A friend of his did, actually. He turned him onto Fandango and Ritchie was listening to "Blame It On The Night" off the Cadillac record. They called me up when I was down on my luck. I was living in this studio apartment with a mattress on the floor, the whole bit. I had a guitar strapped to my back. I play guitar, but I've played with the biggest guitarists in the world. I am the only guitarist ever to play with Ritchie Blackmore on stage so I have that claim to fame.

So how did you get the gig?

I got this phone call. I said, "Is this the I.R.S.?" This guy says, "My name's Barry, and I'm standing next to Ritchie Blackmore and he wants to talk to you." I said, "Yeah, right. Put him on then." So he puts him on: (performing a performs Blackmore impression) "Hello, mate! This is Ritchie. What's up?"

Great impression!

Yeah. He says, "I'm a fan of yours." I said, "I'm a fan of yours!" So he says he wants me to audition for Rainbow. I said I thought Dio was singing. The next thing you know, I'm going down to Long Island and singing "I Surrender" and that was it.

Was it a shock when Rainbow broke up in the mid-'80s?

Not at all. I knew they (Deep Purple) were putting together the Perfect Strangers record. You have to understand that Deep Purple was my favorite band in the world. I also love Free and Bad Company, not so much Sabbath. Ozzy's not that great a singer.

I knew that (the Deep Purple reunion) was happening, and I was on my way out but with the promise to reform after a Purple record or two. Then the shit hit the fan with them. We reformed and the jealousy started with the other guys. The other guys wanted Gillan and Ritchie wanted me.

So why the separation?

The label told Ritchie they'd give him $1 million to get Gillan back and finish this record.

Ritchie sold you out?

I said, "No problem." I was ready to quit.

How did working with Ritchie compare with working with Yngwie?

Ritchie is a song guy. He only plays leads because he has to. He only plays music because he wants to play soccer (laughs). But he wrote songs. Not to say I didn't write songs with Yngwie. We were a fantastic combination.

I agree. Odyssey had it all: heavy rockers, ballads, instrumentals. It was really underrated, yet it got all this criticism.

I know. If it was criticized, it was criticized because it broke him in the states and in a style he's been trying to follow ever since. He recorded some cheap imitation albums. The thing is that Yngwie is for Yngwie. He only writes these songs so they're a vehicle for the solo. Ritchie's the opposite.

In terms of personality, were there any problems with Yngwie?

I laugh! As a person, he's got to grow up. He's a megalomaniac. Let me preface this by saying he's brilliant - borderline, if not genius. He really does get blueprints for songs in his head. I've witnessed all this magic that happens, but he needs to evolve as a person. I think he somewhat has with the baby and the marriage.

Do you still talk?

No, we pass messages. But we used to butt heads. We were like two bulls in a china shop. He needs people he can push around.

Back to your solo stuff. Can fans expect a JLT tour?

No, I don't really plan on touring my solo stuff. However, Glenn gets antsy and he wants to do an eight-date tour through Spain and England. He'll perform the Songs In The Key Of Rock record as well as Purple and Sabbath stuff. He tends to want to do that. But I went out just as Brazen Abbot. No, I won't tour Joe Lynn Turner, but yes to Hughes Turner.

I've always wanted to ask what led you to sing commercials. What led a Rainbow singer to shill for Gatorade?!

Michael Bolton! I was doing his Hunger record and we were out at a bar, and he said, "You've got to do these jingles." He'd just got off the Budweiser campaign and said, "Let me introduce you to my manager." I was like, "Whoa. OK." She says, "We're doing a Miller commercial and we need you to do it."

Next thing I know, I'm in a room with Will Lee, Paul Schaffer, Bernie Worrell and all these great musicians. I said, "This is what it's like to do jingles? All these heavy cats?" She said, "Do it." So I did it, and got it. I won it.

What was the payoff?

I was like, "I sing 15 minutes, and I made all this money?"

Did the commercials air in the states?

Oh yeah. There was a huge Domino's (Pizza) campaign for the NFL: "We Will Rock You." (starts singing) "When it's gotta be real and it's gotta be right, gotta be." That was me! I was singing for Budweiser, Miller, and Mennen and Gillette, Gatorade.

Are you still doing it?

Yeah, like Asahi beer in Japan. What they did was put my name in the bottom corner of the screen and (viewers) knew it was me, and they wanted to buy this record. So we had to make a full song out of it.

We did a Bon Jovi tour called "Challenge Them All." Because we had the number-one rock song in Japan, when Hughes Turner went over there, I had to do it.

Japan loves you. Europe loves you. Why live in America?

I was born in New Jersey. I've lived in Copenhagen, Los Angeles, New York, etc. I've lived everywhere. But Jersey's home.

Yeah, I imagine a sense of home and family is important when you're on the road so much.

The higher you fly, you've really got to stay grounded and the family grounds you. Taking out the garbage, walking the dog. You start to get your humanity back being the dad.

Can fans expect a Hughes Turner tour?

We'd love to play the states, possibly an East and West Coast tour. Major cities. A limited tour, only major cities.

Well, Joe, thanks for your time. Anything you want to tell your fans?

I want to make sure they know about my Web site, www.joelynnturner.com. It's constantly updated and has all the news on where to buy the CDs. Mike Varney allowed us to get distribution on Songs in the Key of Rock and JLT, too. You can buy 'em in Virgin and Tower, etc.

A. Lee Graham, The Electric Basement 26 August 2003
Photo by Chris Marksbury