JOE LYNN TURNER

DME Music Site Interview 1999




You are just back from Finland? What you did there? BRAZEN ABBOT, yes?

JLT: I was in Aland with Nikolo Kotzev recording "Nostradamus". It's a rock opera of sorts but only better. Glenn Hughes, Bruce Dickinson, Doogie White and more are contributing.

In Soviet times it was not easy to buy good records as rock was officially prohibited. Some years ago I managed to buy at the fair "The Last Kiss" LP by FANDANGO. It was very cheap, as it was qualified not interesting. I have the contrary opinion: the band with its jazzier sound was a little ahead of its time and really underestimated. Am I right or wrong? And have you ever heard of DEEP PURPLE's Nick Simper's FANDANGO?

JLT: FANDANGO was ahead of its time. No one understood. Never heard of Simper's.

Why did you leave FANDANGO? How did Blackmore track you down?

JLT: We broke up due to bad luck. We were robbed. No label support. All that. Ritchie called me in New York. I auditioned. The rest is history.

Wasn't it funny to change your guitar player/writing partner from Rick Blakemore to Ritchie Blackmore - from the point of the names' sounding?

JLT: Rick Blakemore was my mentor. Great player & writer. He died in a tragic car accident. I miss him.

As I know when you started singing with RAINBOW, Graham Bonnet was still the member of the band. What were your feelings being invited in the band with the singer in the line up? What were (and are) your relations with Graham? What material was written before you joined?

JLT: I never knew Graham. Like his voice though. I just did what I could in the studio and Ritchie wanted me. Material was mostly written but I did more as we went on. I think that's partly the reason I got the job.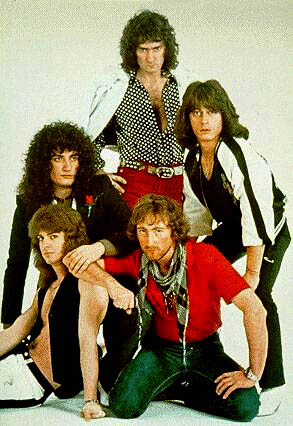 Joe, how can you explain the fact that so many RAINBOW musicians were of Italian stock?

JLT: Italians were and are great talents. Must be the gypsy in me. Also there's a lot living in New York.

Everybody knows how it's hard to play with Ritchie. You are the only one singer who worked with him and parted company in peaceful way. Why is it so?

JLT: Ritchie is a perfectionist. I understand him. We respect each other.

You seem to be the 1st musician who dared to play guitar on stage together with Blackmore (Difficult To Cure). What was his reaction? And why do so rarely play guitar on the records?

JLT: Ritchie let me play guitar because he respects my playing. I should play on my stuff. But usually I get such great GTR players that I think why bother. But I will in the future. It's time.

Did you feel a little betrayed when Blackmore decided to disband RAINBOW?

JLT: No. It was a mutual decision. I went solo with "Rescue You".

When you knew that Blackmore left DEEP PURPLE and form a new RAINBOW line up, did you expect to be invited?

JLT: No. Ritchie likes new blood.

Why do all your solo efforts have such a moderate success? Lack of advertisement?

JLT: Lack of promo, support, change in styles of music, some fans are just discovering my web site. They ask "Where have you been, can we buy the CD, where?"

Tell me, please, of the circumstances that "Rescue you" came about? How did you get Al Greenwood of FOREIGNER fame to work for you? Do you know him from Mick Jones' album? Why there's so strong FOREIGNER influence on your work since "Difficult To Cure"?

JLT: Al Greenwood and I were writing together, I knew Mick from the clubs. Jamming and all. Lou Gramm has got a great voice. I had a similar style back then. I'm still developing my style.

In your opinion how seminal was your role in writing RAINBOW material - it changed musically in 1982?

JLT: Writing for RAINBOW I had a big influence. We sold more records than any previous RAINBOW.

Do you think it was right step "to get americanized' on "Straight Between The Eyes"?

JLT: Yes. The US is a big market. We wanted to be there. The tours were a big success.

How did it come to work with Yngwie? Is it because he's a Blackmore's fan? What do you think of the two?

JLT: Jim Lewis, manager & record co. VP introduced us. We hit it off, both good and bad. "Odyssey" is a great record. That came out of it.

What are your memories of Russian tour with Malmsteen?

JLT: Russia was cold. And sobering. It opened my eyes to a lot of shit going on. The shows were great. Killer audience. 22 shows in all. 15,000 people every night. It was amazing.

Why there are only two songs from "Odyssey" on "Live in Leningrad" album?

JLT: 2 songs because of Yngwie, his set, his show, his ego.

After "Slaves And Masters" you started writing material for the next DEEP PURPLE album. How much was made when they fire you? Some songs from "The Battle Rages On" seem to suit better your voice rather then that of Gillan.

JLT: PURPLE had almost everything written, it was great. Then Rog, Jon, and Ian started getting insecure. Ritchie and Joe. DEEP RAINBOW and all that shit. Then we had words and trouble happened. The real story is unbelievable. Ritchie quit in the end, didn't he?

What's the story with "Too Much Is Not Enough" - the first song not written by the band since "Come Taste The Band"? You brought the song into DEEP PURPLE and then re-recorded it on "Hurry Up And Wait". When it was written?

JLT: Al Greenwood and I wrote "Too Much". Ritchie loved it. I never liked PURPLE's version. So I re-did it.

Do you know that it's DEEP PURPLE with you in line up that made one of the most sought after DP rarities with 'Fire, Ice & Dynamite' soundtrack? How did DP make to the movie?

JLT: "Fire Ice & Dynamite" was written specifically for the movie, we skied and so did the producer of the movie. We met him in Switzerland.

"Slow Down Sister" is one of the greatest DEEP PURPLE tracks so why it didn't make it to the album?

JLT: Politics. Some liked it, some not. Bullshit really.

How long do you know Bob Daisley? Since Rainbow days? How did it come to work with him?

JLT: Daisley and I were in RISING FORCE at one point. "Odyssey", Bob plays bass on some tracks.

It's very interesting that you decided to remake on "Undercover 1 & 2" old tunes of your own. What was the reason for the decision? As for me I love the new "The Race Is On" the best.

JLT: I like to update old songs. "Undercover" gives me that opportunity.



Dmitry M. Epstein, DME Music Site, September 1999