JOE LYNN TURNER

Backtracking: Straight Between The Eyes




As the daughter of a retired former football coach, sports analogies come easy to me. My Dad and I always seem to relate everything to football around this time of the year.

As I was gearing up for a talk with Joe Lynn Turner about the making of Rainbow's "Straight Between The Eyes," I reflected on the impact that Joe had on the band during its history.

Before Joe joined (former Deep Purple) guitarist Ritchie Blackmore and company, Rainbow enjoyed a dramatic "dungeons and dragons" vibe in the "Ronnie James Dio" days and a bit of playfulness in the "Graham Bonnet" era. While both singers gave Rainbow a great sound, I always likened them to the "drop-back pass"-type quarterbacks in football---they can be VERY effective at times but also one-dimensional.

When "JLT" joined Rainbow in the early 80s, it was clear that he was more of the "option QB" singer/songwriter. He was the type that could give the "defense" (fans, in this case) different "looks" and ideas that they had not seen before. He could sing a ballad as well as a burning rocker; his voice belted out the bluesier-type rock songs better than his predecessors. His songwriting was also a bit more accessible to a wider variety of people. As a result of his joining the team, Rainbow expanded its already-strong fan base.

Off the album "Straight Between The Eyes" came Rainbow's first Top 40 hit, "Stone Cold" (co-written by Turner. To this day the song enjoys steady airplay on AOR and Classic Rock radio all over the country.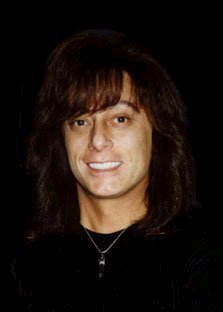 To an outsider looking in, this may seem like it was a big break for Turner, but it was not without its concerns. Joe reflects on what it was like for him to join Rainbow after the band had already been through 2 lead singers in less than a decade, "The press either loved me or hated me at first.

With 'Difficult To Cure' (the album before 'Straight Between The Eyes') many of the tracks had been recorded already." He goes on to explain that, "with 'Straight Between The Eyes' I had a chance to be a part of what was happening in advance."

Joe also had a greater writing role on "Straight Between The Eyes, " and it was not like he was spoon-fed super-slick, perfect "songs" to simply match lyrics with! He explains that "Ritchie (Blackmore) would often play bass pedals and chords for hours. There was always brilliant stuff, but I had to go through tapes that were sometimes 2 hours long to find cool riffs and piece together parts that would make for a great song."

"Straight Between The Eyes" was the result of a memorable recording session in Montreal's Le Studio---both in the control room and behind-the-scenes! To hear Joe reminisce of his early days with Rainbow and the experiences he had making this album is truly a treat.

In person, he weaves in and out of dialects, accents and impersonations of former co-workers and friends with so much ease that most of the entertainment value will truly be "lost" in this "written" article. Perhaps some day you will be able to hear Joe tell these "tales" in his own voice. Meanwhile, we'll backtrack with Joe as he talks about what it was like to record this classic Rainbow album.

The Le Studio environment made an impact right away. Joe explained that The Police had just finished their "Ghost In The Machine" album, there. The environment was also notable...with a beautiful "band house" on the property...maids, fine amenities, beautiful surroundings including a frozen lake where the band enjoyed scenic inspiration and played hockey. Joe remembers one night when he and Roger Glover were a little "over" confident. He said, "Roger and I decided that it would be a great night to take a walk on the frozen lake. After getting almost halfway across we started to hear the 'crack crack' of the ice below us. Luckily we laid down, and started crawling back to the shore. We were lucky we didn't fall in the lake!"


It's a little known fact to many but some Rainbow fans know that the wintery world surrounding Le Studio helped set the mood for the recording of "Stone Cold." Joe says that as he was laying down his vocal tracks, there was a "blizzard raging outside." He even attributes the ad lib in the song, "you've put me in a deep freeze" to the environment during the session.

The original title of the song came from a conversation he had had with Glover, earlier. Glover had talked about his "Ex" who had "left him stone cold." Joe's reaction? "GREAT song title!"

"Death Ally Driver" also received some MTV and radio airplay. Joe explains that the song is based in reality. In New Jersey, there is a stretch of highway where routes 1 and 9 come together. It was a popular "drug run." The song is about people such as "dealers, those who abuse drugs or anyone who is on the way to killing themselves or others and not seeing the stop sign."

A girl named Erica inspired the haunting "Eyes of Fire." Joe saw Erica in a Montreal bar. He remembers her looking at him through a mirror. After they talked, he had thought she had "eyes of fire"---that bewitching sort of "siren" type look. That meeting inspired the lyrics and mood of the song.

Joe describes "Tearing Out My Heart" is your "typical lost love ballad and 'Tight Squeeze' is more about the sensual side of a relationship. 'Power' is a bit of a philosophical anthem relating that someone only has as much power as one is willing to give them. 'Miss Mistreated' is about the question that many couples ask themselves when they break up...who has REALLY hurt who?"

Joe admits that he is an "emotional vampire" even though many of his songs are written about personal experiences had by himself or others. He revealed that he sometimes feels he needs to "create" a situation to get a good song out of it. In fact, he said that Glen Frey had once said that a songwriter may write from 25 years of experience for the first album and then has less time to draw from thereafter. Joe agrees and says, "You have to create situations to see what comes out of it...force the hand. You are constantly walking on the edge, sometimes living dangerously."

By the time "Straight Between The Eyes" was being made at Le Studio, Joe was a bonified member of "the band" that was Rainbow. Sure, he faced some "hazing" the year before as "the new guy" (more on that, later!) but for this session he was not as "green" as some of the other members...especially keyboardist David Rosenthal. As Joe said "If someone (in the band) screwed up or was off-kilter, they would 'get it'." While David was a very seasoned, educated and experienced musician, he had never quite dealt with a personality like Ritchie Blackmore. Ritchie's friends (including Joe) will tell you that Ritchie has a penchant for elaborate practical jokes and he decided to make Dave his "target" during the "Straight Between The Eyes" sessions!

Joe explains that Rosenthal and Blackmore had a little misunderstanding with regard to a fugue-like portion of "Miss Mistreated" that David had improvised. Apparently, Ritchie received a legal-type letter informing him that Dave deserved some writing credit. Shortly after, the band was having a nice, candlelit dinner in the "band house" adjacent to Le Studio. On one end of the dining room were large glass doors. The band was sipping wine and in the midst of the conversation, Ritchie casually mentioned the letter to Dave and asked one of the band's technicians to "hit the patio lights" beyond the glass doors. On the patio was everything that Dave had previously had in his bedroom...lamps, table,bed, even his shoes had been neatly placed on the snow-covered patio! This was Ritchie's "subtle" way of telling Dave how he felt about that letter!

Joe also mused that Ritchie enjoyed using his technical skills to play practical jokes on the "innocent." Blackmore would record tapes of intermittent scary sounds and have them piped through very small speakers. Joe said, "The sounds would go on for about a minute and then stop for several more. This made the sounds seem more realistic...and made it difficult for the "victim" to get any sleep!"

Now let it be known that when Joe talks about Blackmore, he does it with a bit of affection---much in the same way a student might talk about a teacher that they admired or learned from but was not necessarily an "easy grader." As someone who has met both Blackmore and Turner, I can safely say that it seems there was always enough tension between the two to produce dynamic music as well as a great deal of mutual respect for one another. After all, Ritchie or the other members of Deep Purple would never have hired Joe to be their lead singer back in the early 90s if they did not have admiration for his skills.

Now all this does not mean that Joe escaped the "new guy" initiations, himself. Give Joe a "minute" and he has plenty of stories, much like a former "frat guy" at a college reunion!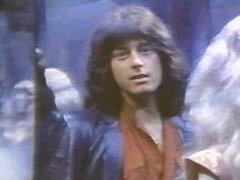 Turner remembers one night in Japan during his early days with the band. He had come back after a little "partying," very tired and climbed into his hotel bed. He recalled that it was very "slimy" feeling but smelled pleasant. He realized that Ritchie had "shampooed the bed." The veteran members of Rainbow also liked to superglue the door locks of unsuspecting victims and in his younger days with the band, Joe had to deal with this on a few occasions.

He remembers one incident with the late legendary drummer Cozy Powell. Cozy wanted to "do Roger's room" as a joke. Cozy and Turner (who is afraid of heights) found themselves scaling the scaffolding on the roof of a Holiday Inn. Cozy let loose a fire extinguisher in a room that he thought was Glover's.

It turned out ot be that of an asthematic businessman! Needless to say, the guy was not amused but Roger's room was spared that night. These incidents were minor compared to what Joe faced during his first "official" hazing as a member of Rainbow.

Joe recalls that memorable night at the SAS Hotel in Copenhagen. Joe had gone out for a few hours and came back to his room with some people he had met that night. He was minding his own business, entertaining his guests in his room when there was a knock on the door. It was Blackmore's roadie, also known as "Hurricane." He'd claimed he'd left his passport in a jacket that was in Joe's room.

Hurricane was getting quite belligerent, so Joe felt obligated to open the door to let him in. When he did, Richie and other band members as well as a few "groupies" paraded into his room. Turner was still "the new guy" and was not sure what to make of all this. It was slightly amusing until Blackmore and his cohorts started throwing everything in Turner's hotel room out the window. The window only opened to a 45 degree angle, so Joe admits they "had a tough time with the TV," but when they finished, the room was pretty much stripped!

They even took the mattress off Joe's bed. Joe remembers holding on to it, all while being dragged down a carpeted hallway (yes, he even admitted to suffering severe rug burns from his efforts). When Joe met Don Airey at breakfast the next morning, Don remarked about how "things kept flying" past his window all night. Joe remembers the hotel manager accompanying him to his room to assess the damage with a very grave, worried look on his face. The manager admitted that the room "was not so bad" that "Bob Marley had left a more disgusting mess" and finally revealed that "Ritchie Blackmore has paid for it all" with the message(to Joe)..."welcome to the band!"

It is hard to believe that it has been almost 20 years since "Straight Between The Eyes" was released. Certainly, great songs like "Stone Cold" have stood the test of time. In fact, some of the readers of this site may already know (from my previous article) that "Stone Cold" was the very first song I had ever announced as a "professional" radio personality. It still gives me goose bumps when I hear it; not so much because of the significance it played in my career but more because of how it was written, structured, recorded and SUNG!

"Straight Between The Eyes" is a classic rock album that has enough variety without being too ecclectic, is hard-edged without being caustic, more mass-appeal then previous Rainbow albums without being too cliche. Joe Lynn Turner was a pivitol part of Rainbow's success in the early 80s and he continued to captivate Deep Purple fans nearly a decade later. Audiences still enjoy his incredible voice on the many solo CDs he has released since then and live in-concert with the Voices of Classic Rock.


Lisa Eichholzer-Walker, Rock Forever 2001