JOE LYNN TURNER




Joe Lynn Turner has been one of the premiere vocalists in hard rock music for over 2 decades. He garnered his first major thrust of attention as the lead vocalist for RAINBOW from 1981 till 1984. During that period fronting guitarist Ritchie Blackmore's band, he helped create classic tracks and hit singles such as "Surrender", "Can't Happen Here", "Stone Cold", "Power" and "Street of Dreams." In 1990 he served a stint with Deep Purple, who Blackmore had returned to 5 years earlier after splitting up Rainbow.

Slaves and Masters yielded the minor hit "King of Dreams". The musical chairs of Deep Purple, rarely warm for long, found early front man Ian Gillan returning to the band, with Turner pursuing a solo career. Over the years Turner had cranked out several solo albums, including his latest Holy Man, plus guested on prominent tribute albums to Deep Purple and AC/DC among others. His current project will be a collaboration with one time Deep Purple and Trapeze throat Glenn Hughes. Turner generously chatted with us about all these aspects of his career.

BRIAN COLES: I have been a big fan of your work for years and years, yet I didn't know till recently that you were an English teacher at one time!

JOE LYNN TURNER: I did teach, but it wasn't like I had any type of big career or anything. I was a substitute teacher for awhile and then I was on my way to tenure and I thought, "I don't want to do this." I got an opportunity to just do the music and I went, "Screw this, I'll take my chances."

BC: I heard you're gonna be working with Glenn Hughes. How'd that develop?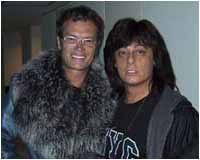 JLT: Glenn and I have known each other for a long time, throughout the years...throughout the good times and bad times...crazy times. We've always had a mutual admiration and respect for each other. Recently, before the Holy Man tour in Japan, I needed a bass player.

I was gonna use three of the guys from Japan - Akira Kaijyama on guitar and two other guys from these big rock bands in Japan on drums and keyboards. So normally I get Greg Smith whose a good old friend of mine... plays great... sings great.

So when I was visiting Tokyo on this promo tour, trying to put this other tour together in a couple months, I mentioned to the record company and promoters, "What about Glenn Hughes?" And they all went, "That's impossible.

He'll never do it." So I said well, let me try. So I gave him a call and he went, "Absolutely. For you, I'll do it. Nobody else." And I was very honored. So we went over there and to make a long story short, we kicked ass. Glenn is just amazing. He's always been an idol of mine, a hero...as far as singing and writing and playing. It was just fantastic because he played bass and sang. And people went so crazy over it, we looked at each and said, "Let's do a CD. Let's recapture the old [Deep] Purple days, nobody's doing that." There's nobody out there now, including Deep Purple or whatever you want to call them now, Dixie Dregs or something. The Deep Dregs...

BC: (Laughs) Yea, there's definitely a stylistic change there...

JLT: If you ask me...I got all the records and stuff, either by accident or fan clubs and stuff like that...and I just don't find the point. It's like yea, there's a couple of good songs here and there, but I don't know who they are.

BC: Speaking of Purple, do you and Glenn share stories?

JLT: Yea, like we were in the same band together but not at the same time? (laughs). He went through the Coverdale and Bolin era and I went through the MK V era. It's pretty much the same people who pull out there knives and all that other stuff. I mean, a leopard doesn't change his spots. We kind of shared all that and had that in common. As far as stylistically, we both love that kind of stuff... bluesed based hard rock... melodic... and we figured we'd do a CD like that.

BC: What musician's will you use on the collaboration with Glenn?

JLT: We'll probably use Akira Kaijyama on guitar...because he's got that whole Yngwie-Blackmore thing down. And we toured with him and Glenn loves him.

BC: How will the vocal duties be structured...like Coverdale and Hughes did? With Glenn slappin' bass and used more in the background?

JLT: Nah, I think we got to balance that out a little better...our approach to writing and performance. I want people to get enough of Glenn as well. We'll share the duties so it will be a little less one sided. We'll probably try and invent things where the two of us can harmonize or do something interesting together.

BC: Will you be doing any covers on the album?

JLT: I don't know yet. He may have something up his sleeve. Glenn is incredibly prolific with all that stuff, so if he turns around and says I got a great idea for this one will work it up.

BC: You've done a lot of covers over the last few years. You did some for a couple Deep Purple tributes and then a cover of "Back In Black" for an AC/DC tribute. Your vocals on that blew me away. I remember my friends hearing that for the first time and going , "That's Joe Lynn Turner?!?!?"

JLT: Yea, people don't know. They really don't know what you're about. People just think I'm locked into one thing. I thought I did a pretty decent job. And plus putting my own self in it. I knew that one would be a lot of fun because it would make people scratch their heads.

BC: Have you found your voice getting bluesier over the years?

JLT: Well, I am allowed to because I am my own boss. Back when I was in Rainbow with Ritchie... Ritchie wanted me to do a certain thing... and he wanted that very clean, pointed voice...

BC: Do you think that was why Ritchie would often say he didn't like Ian Gillan's voice? Ritchie seemed pretty particular. In Rainbow, you had the quite a long stay, relatively speaking.

JLT: There was a lot of mutual respect and all that. I think we wrote some great songs together and I think we understood what we were trying to do. To put it mildly, I guess I'm an armchair psychologist...it's all politics with people and trying to get along. Just don't fuck Ritchie around and just tell him the truth no matter how good or bad it is and he'll have respect for you. But anyway, I am allowed now to get gritty and all that because nobody is telling me not to.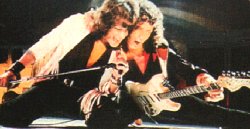 BC: What did ya think of the remastering jobs Polygram did on the Rainbow albums?

JLT: Well, they're selling the catalog...but yea, better. I really don't get too thrilled with all this crap unless it's a leap and a jump.

BC: You'd think they'd want to spend the money to remix them a bit instead instead of just remaster them? Not that they sound that bad...

JLT: Oh, I'd love to remix stuff. I'd love to have the budget to mix them properly to begin with. I mean, nowadays, you're not getting that much money for the albums and we're squeaking them out. One thing that I make sure I do is always spend the money on the recordings. These guys, they pocket half of the money and it starts sounding like an ADAT, which usually they use. I've always said I wanted my stuff to last in some time capsule. You know, the drums sound like drums...

BC: Have you imposed a time frame for getting the project with Glenn going?

JLT: I am supposed to go out there [L.A.] March 9th and start some writing for about ten days. And then I've got other things happening here with the Voices of Classic Rock. You can go to rockforever.com and check that out. Basically that's Bobby Campbell from Toto, Mike Reno from Loverboy, Jimmy Jameson from Survivor, Micky Thomas from Starship, me...we've got everybody from Edgar Winter to Leslie West from Mountain. It's like a traveling circus. It's got all the real vocalists and all the tunes from "Rosanna" to "Eye of the Tiger". And it's a great show. We'll be going down to South America again... we just got back before the holidays...

BC: Does it ever blow you away that your music is heard on different continents?

JLT: It's kind of mind boggling. It never used to be but then I started thinking, this is international, global shit.

BC: Tell us your thoughts on American labels and there lack of support for rock music?

JLT: ...I've lived all over the place, and America just a completely different animal. It's all about corporate greed. I mean, things just change at the drop of a hat. I mean, there's millions and millions of rock fans out there that the record companies turn there back on. I mean as soon as Nirvana, it was like, you know, "fuck the hard rock groups...fuck Van Halen...here's where we're goin'. We're goin' Nirvana, Creed and all these bands." It was like the music died. I got that sinking feeling in my stomach..."Rock'n'roll is over."

BC: I remember that feeling too...

JLT: It's the corporate powers...they do not nurture. They do not develop bands any more like they used to in the 60s and 70s and even part of the 80s. Thank God I lived in the 80s, the height of the "hair bands"...the whole thing...it was just fantastic.

BC: Do you think the net has kept rock alive?

JLT: Yea it has. I am talking to you now! At least [the net] is a bastion to go to where all else fails. At least there's some place to go. I remember a few years ago when there was no place to go. I am just happy there are some people around that are showing some interest in it.

BC: Right on! Thanks for doing this!

JLT: Thank you!


Source: Electric Basement 16/02/2001