Craig Gruber

A Very Candid Conversation with Craig Gruber



Jeff Cramer did recently a candid conversation with Craig Gruber, the bassplayer on the "Ritchie Blackmore's Rainbow" album. Craig's days with Elf, Rainbow, Sabbath, and Gary Moore were covered. They also talked about a rare band he was in, Bible Black. Craig formed Bible Black with Elf/Rainbow drummer Gary Driscoll and Jesus Christ Superstar lead Jeff Fenholt. They talked about his plans with his new bass company Infinite Metal Werkz and of course, since Craig spent a lot time on the road, he shares some wild road stories.

Here are some excerpts of this excellent interview:

Jeff Cramer: How did this whole Rainbow thing come up?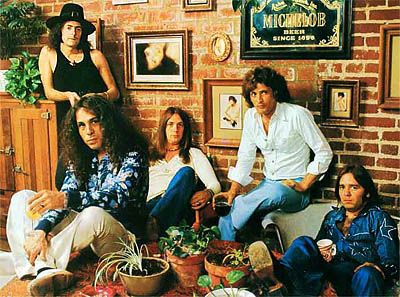 Craig Gruber: We went to this kind of shitty, crummy studio, downtown Cleveland, and Ritchie comes in, starts playing this riff. All right- he's smiling, he's kind of really super friendly, and it's really out of character for him. Ronnie said, "We wrote this song, Craig. It's called "16th Century Greensleeves", which is one Ritchie and I had been working on. And we're just going to put out as a single, and it's going to be on Ritchie's solo album," and I went, "Wow, that's fucking amazing. We're going to back Ritchie Blackmore." We knocked it out in about an hour. It came out great. There's some really cool stuff in it. That was actually the beginning of Ritchie Blackmore's Rainbow....

Jeff Cramer: I also heard that you were rehired in 1977.

Craig Gruber: Yeah, they threw Jimmy Bain out and they brought in Mark Clarke from this band called Tempest. Mark Clarke is like a jazz fusion bassist. He's kind of like a metal version of Stanley Clarke but Ritchie hated him because he played a lot of notes. So anyways, Ronnie calls me back in '77 and said, "Listen, you know, we've gone through some bassists and we realize that you were the founding member. You've got a fucking great groove. The band hasn't felt the same since you left. It would be great to have a friend in the band. Would you like to come back?" So I flew back out and rehearsed with them. It's like dating a crack head- it just doesn't change. Ritchie's pulling the same shit. Ronnie and Ritchie are in different dressing rooms. This fucking temperamental bullshit. I was bringing in a lot of musical ideas and directions that Ritchie didn't want to know about. Automatically I started to get constantly fucking hit on. It was like, "Look, Roger wouldn't play it that way. Roger this, Roger that." I said, "Well, go fucking hire Roger." It was great though playing with Cozy because Cozy was an animal.

Jeff Cramer: Anything else we can expect from you?

Craig Gruber: I think we're going to do an Elf reunion album. I really think that's in the works. David ["Rock" Feinstein] went off to see Ronnie. I think it was in June. He stayed two weeks out there with Ronnie and they were writing stuff. David came back and said, "You know what, Ronnie brought it up. I think it would be the best time to do this. The music industry is right for that kind of music, and we're all still alive, thank God, and it might be something we want to really consider." Mickey Lee's back in town, back in New York, and he was speaking with Ronnie. I think 2010 might see David Feinstein, me, Ronnie Dio and Mickey Lee back together again as Elf and we'll find a drummer.