Roger Glover

Straight From The Eyes of Rainbow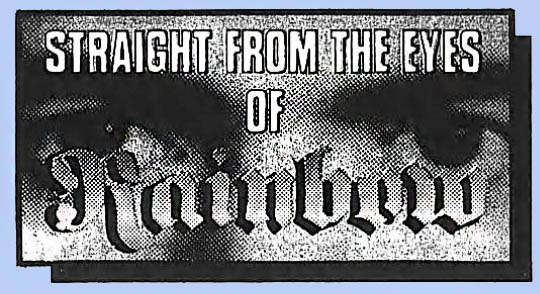 There are plenty of rock fans that consider Rainbow as being just a Latter Day Deep Purple. What with it originally monikered "Ritchie Blackmore's Rainbow," the band was stigmatized with the Ritchie Blackmore's Next Group Syndrome, thereby being compared to Purple at every turn. Once they had dropped Blackmore's name from the billing, things started taking a turn for the better.

Part of the problem was the constant reshuffling of the band's lineup, which led to an identity problem with the record buying public. Rainbow's latest album, STRAIGHT BETWEEN THE EYES, finds Blackmore and Company — bassist Roger Glover, drummer Bob Rondinelli, lead vocalist Joe Lynn Turner and keyboardist David Rosenthal — at a crucial juncture in the band's career. Roger Glover, who played bass in Deep Purple until 1973 when he left to pursue a career as a producer, has handled the band's production chores of late and sees this album as being their best yet.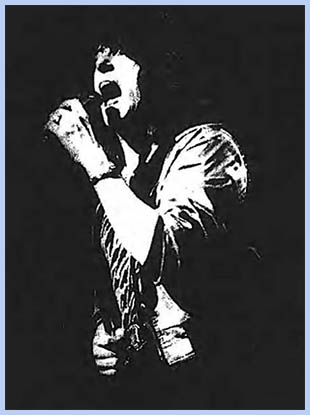 "I'm still proud of DOWN TO EARTH and DIFFICULT TO CURE (the group's last two studio albums — Ed.), Glover says via telephone from Flint, Michigan where they were to play with .38 Special that night, but they didn't have a certain sparkle that this one does. Part of the reason for that is both the previous two albums were started and more or less completed before we even got a singer. There were singer changes on both of them. With DOWN TO EARTH, we'd already recorded all the backing tracks before we'd found Graham Bonnet, so he kind of added his voice to backing tracks over the top. With DIFFICULT TO CURE, we wrote all the tracks with Graham in mind, and they were recorded at the time Graham left. So when we found Joe Lynn we had more or less the same situation. I think Joe did a great job, but that sparkle wasn't there.

"This album is the first time we've actually started and finished with the same five people," Glover continues. "We were writing for Joe's voice, which I think is very important."

As for the Revolving Door Policy in recent years, Glover feels that those days are finally over. "It's always difficult to come up with the right combinations of musicians, especially in a band like Rainbow," Glover admits. "They have a reputation of going through musicians like other people go through marriages.

"Actually," Glover continues obviously pleased at his discovery of the parallel between rock groups and marriages, "the only thing that's easier is that there's no sex between us, at least as far as I know."

Having worked with Ritchie Blackmore on and off over the past twelve years, Glover maintains professional respect and admiration for the ofttimes moody guitarist. "Ritchie's a wonderful player," Glover declares. "He's been playing about 25 years. He's a genius on the guitar.

"I think a lot of the changes going on with the band are because he hasn't found the kind of band he wants to work with live," Glover continues. "You can have a good player, but that doesn't say he's gonna fit well in the band.

Ritchie demands a certain feedback. He's excellent himself, and he expects excellence from his players. Finding that right bunch of people is difficult, but I think we're pretty close to it right now."

Gone are the days when Blackmore would piss off audiences by refusing to play his older Deep Purple songs, and although they are not an integral part of Rainbow's set, they are, at least, not as taboo as they used to be.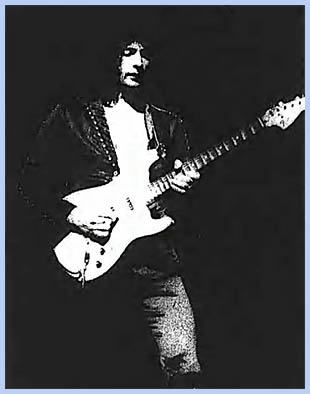 "I remember the first tour I did with Rainbow," Glover recalls. "Ritchie absolutely refused to do any Deep Purple songs. Then I think it was the last tour, we brought it up in rehearsals, and he said, 'No.' Then one night in Denver he suddenly started playing it. I think the reason he decided to do it was that Rainbow had become enough of a separate entity where the two didn't combine."

While on the subject of Blackmore's unpredictability, I ventured to inquire about his reputation for playing behind his amps as he did a couple of years ago at the Coliseum.

"That's not the first time that's happened," Glover recalls. "I remember in the fairly early Deep Purple days in 1969 we played a club in London called "Eel Pie Island," a very famous breeding ground for bands like The Yardbirds, The Who and others. Ritchie didn't like the sound, the buzz, the audience, I can't remember what. The dressing room was right next to the stage, and he had a long guitar lead and sat in the dressing room and played the whole set sitting in the dressing room looking in a mirror.

"Ritchie's unpredictable," Glover continues. "When he's good, he's out of this world. He's brilliant, but when he's bad, people call him 'moody' and 'weird.' He's not really. He's a very straightforward guy — a very nice guy. He believes in what he believes. That's the strength of his success 'cos he believes so much in what he does. If something's gone wrong with the sound or in his head or with the audience he does things about it."

As for Blackmore and Glover's affiliation with the legendary Deep Purple, the latter looks back with pride on his time spent with that group. "Joining Deep Purple was the greatest thing that ever happened to me," Glover confesses. "I'm proud to have been with that band. The first two and a half years or so was a magic era, but then it started to get a little tedious. We worked and worked. We had management that was far more interested in getting their percentage than in the needs of the band, and consequently, they just worked us to death.

"I remember getting on stage in front of 20,000 people and going through the motions, not really having my heart and soul into it. That's so wrong. I blame myself for that. The ironic part is the bigger we got in Amercia, the further apart we got as people, to the point that in 1973 we sold more records than anybody. We got Billboard #1 plaques. We sold more than the Beatles and the Stones. That was the year I left. You can't do everything for money. There's got to be something else."


© Marc Holan, Ceveland Scene - May 20, 1982 / Photos: Linda Woods