Roger Glover

Interview Aardschok - Hilton Hotel, Rotterdam November 1982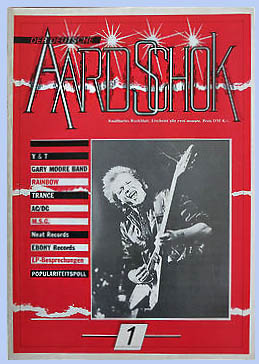 Do you remember the Deep Purple concert in January 1973 in Amsterdam. What happened that night?

The dressing room was awful. There was no fire, no food, and nothing to drink. And everyone hated it. The fans then reacted to Deep Purple.

How did you get into Deep Purple?

Ritchie knew Mick Underwood and Mick knew Ian Gillan and me again. That's how we came to Deep Purple.

Between 1973 and 1979 you produced some records. How did you become a producer?

It started in the Deep Purple period. After Deep Purple I jokingly produced Nazareth and it was a success. Then more groups followed.

One of your latest products is the Michael Schenker Group. What was it like working with Michael Schenker?

Very good. Michael Schenker was clean, no dope or booze and he no longer smoked. He played very well and we became good friends.

You joined Rainbow in 1979. Ritchie Blackmore asked you?

First I came as a producer, but he couldn't find a bass player. Then he asked me to play bass and then I just stayed.

Is it true when I say that Rainbow has become an American band (musically)?

Yes, half of the band is Americans. It has become less heavy now, but we still play hard rock. Ritchie came to me in 1979 to make a more commercial product. Because otherwise it would have been the end for Rainbow. The old fans are disappointed, but we also have a lot of new fans.

The last tour through America has been a great success, is that right?

This album has been the highest in the charts of all Rainbow albums. So more people came to our concerts.

You also played in Japan, were there any good supporting acts in Japan?

The Kotomo band was very good and the group Loudness asked me to produce their next LP.

A Dutch television guide stated that you and J.L Turner had left the band. Where do those rumours come from?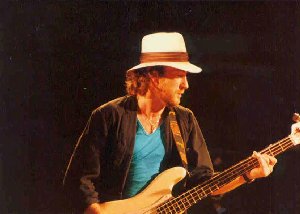 If you're famous, those stories will soon be in the air. As you can see tonight, there are no problems. For example, two years ago there was a man who said his name was Ritchie Blackmore and he booked hotels and meals under that name. Soon the police came to Ritchie's door to ask where he had been that day.

What will happen after the tour?

We're going to take it easy for a while. In April/May we will record a new album.

No live album?

There are no plans for a live album yet.

During this concert you gave a short bass solo. You've never done that before?

That's right. About a month ago it suddenly came to mind and we let it in.

Why did Don Airey leave or did Ritchie kick him out?

No, Ritchie didn't kick him out, you just have to ask Don himself why he left.

Are you going to produce anything in the near future?

As I have already said, maybe a Loudness LP. And of course the new Rainbow. Unfortunately I don't have time for other products.

You haven't had another band after Deep Purple?

After Deep Purple I didn't want to form another band. Then it would become the Roger Glover Band and that should be better than Deep Purple and that is not feasible.


Dick Stam, Aardschok - January 1983

Thanks to Tonny Steenhagen for the scan