Roger Glover

Rainbow in full swing

With Roger Glover the rainbow looks 'Purple' again

It took some work for Rainbow to get back up and running again, but their tour has proven that Blackmore and Co are far from being written off. Even though the group has gone through its umpteenth line-up change and only guitarist Ritchie Blackmore and drummer Cozy Powell remain together as old faithfuls.




POSTPONED FOR THREE YEARS



But the three others may well be there. Singer Graham Bonnet is a 1960s routier, who really shouldn't be judged on his one-hit "Only one woman" with the Marbles. Keyboard player Don Airey played with Jon Hiseman's Colosseum II and also accompanied Cozy Powell in his group Hammer. But the man who gave many Deep Purple and thus Rainbow fans a happy feeling with his return is bassist Roger Glover. With the exception of Glenn Hughes, all the Purple members of the heyday have now found refuge in the Rainbow, Whitesnake and Gillan split-offs.

It is quite coincidental that Roger's arrival coincided with the departure of the previous singer Ronnie Dio, because he became famous for Rogers project 'Butterfly Ball' and the resulting hit "Love is all". By the way, it was came close that Roger and Ronnie ended up at Rainbow together...

"Ritchie already asked me to write material with him and Dio about three years ago. I accepted but after all it didn't happen. When the group split last year, he asked me again. Ritchie writes music fluently, but he's not that strong on the lyrics field. Ronnie Dio used to help him with that but his replacement Graham had no aspirations in that area. So I did it and since there was no bass player anymore, they asked me to play on the record. It took me about three weeks to master the instrument again, as I had not used it very much in recent years. It was obvious that they would ask me to join the group and that happened too."




PURPLE REUNION POSSIBLE, BUT...




Roger also plans to stay with Rainbow for the time being. He immediately denies that his departure from Deep Purple in 1973 was due to Ritchie Blackmore.

"When Ian Gillan and I left Purple, it wasn't because there was an argument with the others. Besides, Ritchie and I wrote most of the songs for Purple. In that group there was no one in charge. Rainbow, however, is Ritchie's group and if if you cannot comply with that, then you should go.

I am creative, but not a managerial tip. My job as a producer is to advise when the song is ready in its raw form. Here some choirs, there a violet, that sort of thing. If Ritchie does not agree, his opinion is decisive."

Now that Roger is also closer to making active music again, it is logical that the rumors about a possible Deep Purple reunion resurface, even if only for a benefit concert somewhere.

"Of course it is possible", says Roger, "and I would like it too. But don't set your expectations too high. I think you should leave Purple, the past is dead. Purple was big and we probably would raise high expectations. Although I am sure we could make a lot of money and apologize that we want to please a lot of fans, which would not even be a lie."

"No plans, intentions yes, but for the moment I'm too busy with Rainbow to think about anything else. If you asked me what kind of music would be on that record, I can't even answer you. It would be a bit more commercial, but the main idea will still depend on my state of mind when I start doing it. "




ADMIT TO BUSINESS



Roger also admits that he has grown up a lot. He would prefer to forget the superstar ways of Deep Purple.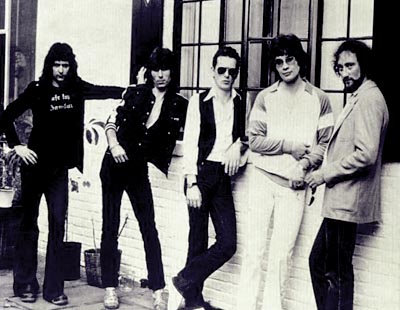 "When I used to stand in front of such a cheering crowd, I thought they were my fans and that kind of bothered me a bit. You stood there like 'here I am and I'll show you all'. Now I am aware that the fans don't come for me but for the music, their music. I just play their music and don't feel a bit more important than any fan."

Is there any other noticeable difference between the time of Deep Purple and now?

"I do notice that it has now become more of a business world", Roger grins. "Then we just played what we wanted. We had no intention in the least to be commercial, and yet we were successful.

With Deep Purple we would never have done a song like "Since you've been gone". Now it is, because the public opts more for disco or new wave. We must therefore try to attract the public to the halls with more commercial means and to conquer a position."

If Roger ever quits Rainbow, will he continue performing or will he continue to perform only?


"I don't know", is the answer. "I will probably always be busy with music, but who says that I will not be deaf within ten years? Then maybe I can concentrate more on painting, a second hobby of mine, because I still do not consider performances and such as a job. I have not yet sold canvases or held an exhibition, but that might happen once in the future. I paint quite impressionistic, although I also do landscapes and seagulls, animals... that is what I love very much. It may sound quite idiosyncratic, but I hope that Gillian, my three-year-old daughter, will not start a group later. I wish she would do something like ballet, for example."


Joepie nr 313, Belgium - March 16, 1980

Thanks to Tonny Steenhagen for the scan