ROGER GLOVER
DEEP PURPLE: GOD HAS LEFT AGAIN






THE COMPLETE STORY



In 1993 Deep Purple celebrated its 25th anniversary with a new CD and a reunion tour. What should have been a nostalgic party turned into a nightmare, not least thanks to guitar god Ritchie Blackmore who left his buddies in the middle of the tour. His -temporary- replacement may at least be called surprising: guitar prince Joe Satriani. That unexpected collaboration went so well that Deep Purple will be doing the reunion tour again this spring. Purple purists hold their hearts, but Ian Gillan, Roger Glover, Ian Paice and Jon Lord are determined to silence the critics. It is therefore high time to take a closer look at that binding history of over 25 years. From "The Band That Could Change People's Lives," to "We've Got to Be Careful Not to Become Parodies of Ourselves," This is Deep Purple, The Complete Story.

It was in the summer of 1976 that I was initiated into the world of Deep Purple. Neighbor boy René, about seven years older than myself, could call himself the proud chairman of the official Dutch Deep Purple fan club. A beautiful summer evening in June, after that day my life would never be the same. René showed me the song Space Truckin ', side four of the live album Made In Japan and it was like seeing water burn.

"That is real hard rock", René spoke in a conspiratorial tone and took a big drag from his extra heavy cigarette. As a barely 13 year old, I could hardly comprehend that five earthly mortals could produce such a racket. Until then Status Quo had been my favorite group, but the simple boogie-woogie of Francis Rossi and co paled against the wonderful sounds of Lazy, Strange Kind Of Woman and Speed King. While enjoying a glass of Coke, I flipped through the Book Of Taliesyn, the stencilled fan club magazine. René told me about the intrigues between Ian Gillan and the genius Ritchie Blackmore, about the classically trained Jon Lord, the ever-taciturn Ian Paice and the inscrutable Welshman Roger Glover. "Mark 2 Deep Purple, the best band that ever existed", said René. No, Deep Purple no longer existed. The band's latest incarnation, featuring vocalist David Coverdale, guitarist Tommy Bolin and bassist Glenn Hughes, had recently thrown in the towel. "But the music lives on," said my neighbor in his immeasurable wisdom. To add weight to his words, he played me the song Stargazer from the group Ritchie Blackmore's Rainbow, followed by Love Is All, from Roger Glover's Butterfly Ball. Yes, I knew that last song, that movie with that frog had been shown on (Dutch TV program) Toppop for weeks.

Oh boy, what a musicians. And what a fascinating music. That summer I visited René as often as I could. I hung on every word about Ian Gillan's drunken frills, or Ritchie Blackmore's unruly tricks. At home I nagged until I got thirty guilders from my mother to buy Made In Japan. With that gem in my possession I locked myself up in my boy's room and dreamed away with Child In Time and Smoke On The Water. The name Deep Purple was in cool letters on my school bag and everyone should know: from now on I was a hard rocker.

"Yes, we are the founders of the hardrock."
Ian Gillan, 1993

"In fact it was just popmusic, done in a different way."
Roger Glover, 1994

"Hardrock? Heavy metal? Bah, stupid words. No, that's more like Black Sabbath."
Jon Lord, 1989

"I'm the drummer of a hardrockband, what's special about that?"

Ian Paice, 1984

"From Elvis till Beethoven, we got our influences from everywhere. We just fooled around."
Ritchie Blackmore, 1985

Five comments, recorded at five different times, from five different mouths. In all five cases they were asked about the musical essence of Deep Purple. The five men who gave their opinion were jointly responsible for a golden period in the history of rock music, but each had a different view. Is it still strange that Ian Gillan, Roger Glover, Jon Lord, Ian Paice and Ritchie Blackmore were only rarely 100 percent on the same wavelength and that even the personal experience of more than 25 years of Deep Purple yields completely different stories. Each and every one of them has pledged their hearts to Mark 2, Deep Purple's renowned second line-up, which flourished between July 1969 and June 1973, yielding classic albums such as In Rock, Fireball, Machine Head and, last but not least, Made In Japan. Twice the quintet has made a serious attempt to revive the magic of yesteryear, on two occasions they have not, or only partially, succeeded.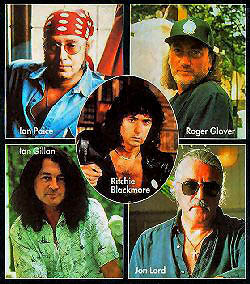 "Deep Purple is my life", sigh bassist/producer Roger Glover at the start of a new European tour. "The problem is we can't live but also not without each other." It's April 1994 and Roger Glover, Ian Gillan, Jon Lord and Ian Paice wake up after a short hibernation. In a few weeks time the foursome are expected to be filling ten European halls.

And that with an album (The Battle Rages On), that hasn't scored any hits and, said careful, got only a lukewarm response. Deep Purple tries to blow a new life into the magic from the old days without Ritchie Blackmore. Because God got fed up and left the band because he "couldn't face up that rotten head of Ian Gillan." God's temporary replacement is a real guitarprince: Joe Satriani. A man of noble class, but not a Saint, like his predecessor.

Roger Glover remembers his first meeting with Ritchie Blackmore like it was yesterday: "It was 1969, an exciting, wild time. Together with Ian Gillan I played in a band called Episode Six. We were poor as churchrats, but we were on what could be on the eve of a modest breakthrough.

One night we played the Little Boy's Club in Woodford and at a certain moment one Ritchie Blackmore walked on stage to jam with us. I don't remember much of that jam, but I do remember visiting the pub after the gig. It was there that I met Blackmore and Jon Lord, who didn't made a secret of it they were after Ian Gillan. Lord and Blackmore looked like real rockstars. They had expensive clothes, dark sunglasses, and the story goes they dyed their hair pitch-black. The two were loudly, arrogant and conceited, I beared from that first moment an antipathie against them.

Besides they came to buy away my singer, I wasn't too pleased about that. Their band was named Deep Purple and Ian [Gillan] had told me about them before. They already had 3 albums, a couple worldtours and a top 5 hit in the States (Hush, a cover of the old Billy Joe Royal song, JV). But, honestly I never heard of them, and I didn't liked those two at all. In fact I was extremely lookin' up to them. I was always shy and out of money. Ian and I lived together on a small flat and shared everything, it was mere need. We even had one pair of jeans which we were wearing by turns. And here we got two rockstars, who spend a lot of money and had a lot of clothes. What a pair of show-offs...."

Ian Gillan left Episode Six and Roger Glover was more resolute than ever before to be successful with his band. A request of Jon Lord to join Deep Purple he refused decisively: "Gillan ask me a favour: if I would be so kind to gave some of my songs free for Deep Purple. You know, also Ian was a weird person in those days. He called me a stinkin' hippy and played himself the macho. Writing songs he never did, that was for sissies. Only this time he had a problem. Because one of the reasons Deep Purple wanted him was the songmaterial of Episode Six.

So I was called upon to go to Jon Lord's house -a bizar flat in Southeast London- to write a song with them. Then they asked me if I wanted to be their new bassist. I said: "No thank you, I don't like the idea," but they kept nagging me. That night, I stayed at Gillan's place, who had a place of his own by then. I still remember how I was thinking almost all night about the sense of life. I had enough of the poverty and the heavy weight on my shoulders to be the responsible person in Episode Six. I was ready for a new adventure and although it hurted me, I took that night the decision to put my ideals aside and to go for a well payed job as bassist in Deep Purple, a band with musicians I hated."

And thus the famous 'Mark 2' composition of Deep Purple came about: Ian Gillan vocals, Ritchie Blackmore guitar, Roger Glover bass, Jon Lord keys and Ian Paice drums. Deep Purple had been around for a number of years now and enjoyed quite a live reputation, especially on the European continent and in the US. Only homeland England did not want to know about the bombastic rock 'n roll of the five macho men. It was keyboardist Jon Lord who was initially considered the driving force behind Deep Purple. The former conservatory student had been known for quite some time, first with the band The Artwoods (in which capacity he must have bumped into Ritchie Blackmore, but perhaps also Ian Gillan and Roger Glover, because it is a coincidence that the foursome made the clubs of Hamburg unsafe for a long time with their respective bands, but this aside) and later with The Flowerpot Men, a combo that actually scored a few minor hits.

His desire for serious recognition drove him into the arms of the erratic Ritchie Blackmore (who in turn must have known Ian Gillan, as both were cradles in the same London borough - Hounslow - but this aside too) who did an equally excellent job. had a reputation as a guitarist who, like Jon Lord, had a strong predilection for classical music. Yet in the beginning Deep Purple was nothing more than a mediocre pop band, with Nick Simper on bass and Rod Evans on vocals.

A juicy anecdote from the very beginning of Deep Purple illustrates the intrigues, lies and double bottom that characterize the careers of the 'founders of hard rock': Deep Purple had already worn out several drummers in a short time. Last in line was one Bobby Woodman, the first to play with a double bass drum in those days. On the day that singer Rod Evans comes to audition, he takes another drummer: Ian Paice. After a short consultation between Lord, Blackmore and Evans, Woodman is sent away with an excuse ("Go get a pack of cigarettes") and when he returns Ian Paice has settled comfortably behind the drum kit; Bobby Woodman exit.

The pop sound of Deep Purple is gradually provided with heavy rhythms and dazzling guitar licks, while Jon Lord is also not indifferent with his heavy Hammond sound. The first album Shades Of Deep Purple is released in 1968 and actually delivered a big hit: Hush. However, two albums later - Book Of Taliesyn and Deep Purple, both released in '69 - Blackmore and Lord in particular get the feeling that they have reached a dead end. We have to change course, preferably with new musicians and new ideas. Evans and Simper are given their congé, only Ian Paice, the taciturn drummer from Oxford, can stay seated. A mutual friend - drummer Mick Underwood, a childhood friend of Ritchie from Hounslow and at the time a drummer for Gillan and Glover in Episode Six - puts Deep Purple on the trail of Ian Gillan who, as mentioned, takes Roger Glover in his wake.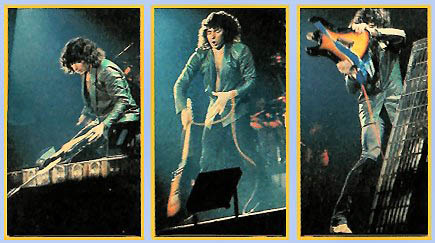 It's in those days that the word chemistry gets a new meaning. "Right away during the first rehearsals I got the feeling that it was going to work", says Ian Gillan. He don't make a secret of the fact that after his very first Deep Purple gig in the London Speakeasy Club, he was cryin' that night in his bed.

"That was an unbelievable experience. I don't know what it was, maybe it was the adrenaline that was streaming through my blood, or the pressure that felt off me.... I was cryin' in bed. I saw my life passing by. All the pieces of this difficult jigsaw fitted all of a sudden. Ritchie, Roger, Jon, Ian and I..... it was like coming home for the first time in my life."

It is still Jon Lord who rules. A classic project from his sleeve will be the first job for newcomers Glover and Gillan.

As a classically trained musician it is mainly the lack of artistic recognition that plays tricks on Lord. Hence his ambition to have a classical piece composed by him performed by Deep Purple and the London Philharmonic Orchestra. Place of action: the prestigious Royal Albert Hall in the heart of London. The result can be found on the album Concerto For Group And Orchestra and anyone who listens objectively will hear that the attempt to bring rock and classical closer together gets bogged down in good intentions and pretentious messing around. Nevertheless, the experiment appears to have positive consequences. Not only is this collaboration the reason for the London Philharmonic to record rock hits in a classic guise years later (The Royal Philharmonic Plays Queen, etc ...), but Ritchie Blackmore also gets it on his hips. He is more than fed up with Jon Lord's fiddling and demands a radical change.

Roger Glover: "The public in England got a totally wrong picture of us. That turned sometimes into Spinal Tap-like situations. Still the first two years were matchless", Roger thinks back. "The togetherness was huge and we realised that we were writing history. Yes really, we were aware. Ritchie had a golden principle: If it don't give you a hard one, then it doesn't belong on the album. We kept us to that for two years."

Glover and Gillan provide the ideas for the songs, Blackmore and Lord turn them into virtuoso masterpieces. Roger Glover: "We had only one goal in mind; let people hear who we really were. Get rid of all that classic bullshit, it was time for a hard-hitting business card." The result is called Deep Purple In Rock and is still considered one of the five most influential hard rock albums of all time. In turn, Deep Purple plays borrowed with groups such as Vanilla Fudge and It's A Beautiful Day.

The legendary Child In Time, for example, is partly derived from the song Bombay Calling from It's A Beautiful Day.

Ian Gillan: "A fast, mostly instrumental song. We wanted that too. And in our hall in Hanwell, with great acoustics, Jon Lord played a variation on Bombay Calling. I spontaneously started to sing and scream, mainly because of that gift. acoustics. And that's how Child In Time was born."

Nicked or not, In Rock is rock solid and Deep Purple's popularity skyrockets. "In Rock is the album where everything fell into place," said Gillan. "A band that discovers its identity in a playful way. That is a dilemma that every band will encounter sooner or later; the moment your identity is established you cannot go anywhere. You feel that you are maneuvering yourself into a kind of straightjacket, but if you try to change too emphatically, the audience will turn away from you."

Yet Purple manages to hold on to the magic for quite some time; Fireball ('71) and Machine Head are also gems. "Those first two years are unparalleled", Glover recalls. "The togetherness was great and we realized that we were writing history. Yes, really, we knew that. Ritchie had a golden rule: if it doesn't give us a boner, then it shouldn't be on the record. we can stick to it for two years."

In the foreseeable future Deep Purple will be world famous. In Japan and Germany the band even surpasses all sales records and grows into the cash-cow of EMI. "1972 was our absolute top year," said Roger Glover. "We broke records, entered the Guinness Book Of Records as the hardest band in the world and won just about all the awards that could be won. There were tensions between Gillan and Blackmore from the outset, but the sudden success made much if not All right. Billboard officially declared us the best-selling band of 1972. Well, just keep your feet on the ground for once. " Tensions are mounting. The rock 'n roll lifestyle takes its toll and the success makes the egos of the five musicians larger than life.

Blackmore is God, but Gillan and Lord also believe they are out of this world. Only Ian Paice remains himself, hiding behind his drum kit and Roger Glover increasingly acts as an intermediary between ruffs Gillan and Blackmore. Glover: "Blackmore believed that we only owed our success to him. Actually, he is not even to blame, the man was surrounded by yes-men and slavish admirers who raved about him. I remember staying there. in an immense villa in Rome, to work on the album Who Do We Think We Are. Gillan and I were devastated by the arrogant attitude of Blackmore and Lord, success had gone to their heads. But also Ian [Gillan] was sometimes unmanageable. He was so much too much and was visibly unhappy. It took us three weeks to write one decent song, an unworkable situation."

It is now early 1973. The band is touring the world for the umpteenth time and is on its last legs. A break suggested by Glover is rejected by management, continue is the motto. Who Do We Think We Are sells significantly less than predecessor Machine Head and Ritchie Blackmore has indicated that he wants to leave. Gillan also wants to do something different and so it's up to Glover to keep things together. Events follow each other in rapid succession, the five band members hold several lectures, but what follows is a reconstruction of how it really must have been: one day Ian Paice lets slip that he and Ritchie are leaving the band to start a new trio with none other than Phil Lynott from Thin Lizzy.

A scuffle between Blackmore and Gillan is the direct cause for Blackmore's departure. But, Gillan also leaves, he is tired of the humiliations and believes that the time is right to stand on his own two feet. The management invites Paul Rodgers of the legendary formation Free to come and audition. It never clicks, but the management makes the ultimate appeal to Glover and Lord to comply with Blackmore's wishes and thus maintain the band.

Rodgers pulls out and Lynott also chooses his money (angry tongues even claim that there was a lump sum payment, but evidence for this seems difficult to find). Someone comes up with a tape by the completely unknown blues singer David Coverdale and Blackmore is persuaded to make a new Purple album. However, to show how far his power reaches, he unequivocally presents management with the choice: "Get Glover out, or I'll get out." Why does Roger have to leave? "Because I say so."

Lord and Paice feverishly search for a replacement for Glover. He knows nothing and is preparing for the upcoming Japanese tour, the last gigs also with Ian Gillan. A new bass player is found in the person of Glenn Hughes, who comes from the fairly successful formation Trapeze. Successively, the coming and going bassist give their vision: "Something was wrong, that much is certain. Everything had to be done in secret, Glover was not allowed to notice. Yes, I would also be the new singer. First together with Paul Rodgers. But he thought I could handle it on my own. Finally they chose a shy, insecure little man from Northern England: David Coverdale. He was terrified of me and like a Templar to dare with me Well, just listen to Burn, I sing him completely out of the studio ... "

Glover: "After a show in New York Ritchie had the nerve to introduce me to Glenn Hughes. I smelled trouble, knew something was wrong. The others ignored me, yes also Lord and Paicey, people I thought I could trust. Not long after that the management told me I was no longer in the band. Yes, the same managers who tried to keep the band together.... After the last show in Japan Ritchie came to me and only said five words: 'It is not meant personally...' I have at home a picture on the wall from that period, the fear and misery speaks clearly from my eyes. When I feel down I only have to see that photo to know I never felt worse than that moment.... "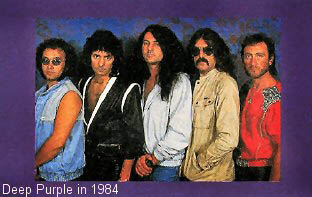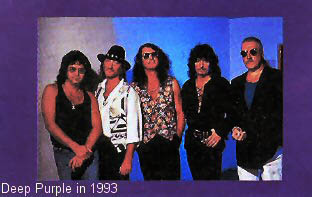 Interesting detail: those last Mark 2 shows in Japan, four in number, afterwards yield the possibly best Purple LP of all time: Made In Japan, released to give the new lineup time to get used to each other and a new record. Yet it will never be the same as before, not even for Blackmore, Lord and Paice. The album Burn ('74) is perfectly fine, but the magic of yesteryear is missing. This is also the case with Stormbringer ('74), where newcomers Coverdale and Hughes appear to be in control.

On April 7, 1975, after a performance at the Paris Olympia, Ritchie Blackmore turned his back on Deep Purple, but not after appointing his successor himself: Tommy Bolin. A gifted guitarist, but Come Taste The Band ('75), the last studio record from those illustrious days, is a far cry from the band that once released classics like Child In Time, Smoke On The Water and Highway Star. After a moderately successful tour in the spring of 1976, Deep Purple ceases to exist. Tommy Bolin makes another solo album -Private Eyes- and dies at the end of 1976 after an overdose of heroin.

Glenn Hughes -also hit the dope during his stay in Purple- also goes solo and later turns up with Black Sabbath and Gary Moore. Paice and Lord form a short-lived trio with guitarist Tony Ashton and later turn up with Whitesnake, the band with which David Coverdale conquers the world. Gillan, Glover and Blackmore are not standing still either. Gillan has been on the fringes as a solo artist for years and makes himself immortally ridiculous with Black Sabbath on the album Born Again. Glover scores success with his Butterfly Ball project and focuses more and more on the producer's profession. Yes, and he discovers a certain Ronnie James Dio, who shortly afterwards is recruited by Blackmore for his new formation Rainbow. When Glover finally joins the same band in 1979, the circle is almost complete.

In 1983 it is buzzing with rumors. Various Deep Purple members of the second hour (Mark 2) are again seen in each other's company and multinational Polygram is said to have made the legendary five-piece a million offer. After months of speculation, BBC disc jockey Tommy Vance has officially released the news: Deep Purple is back together. Indeed, it is April 1984 and the blades are being sharpened again. Blackmore, Gillan, Glover, Lord and Paice call their managers together to draw up the contracts and after a fun game of football and a successful practice session, the whole world can know: Purple is back. All old pain now seems to have disappeared, but there is no doubt that it took some very tough and penetrating conversations.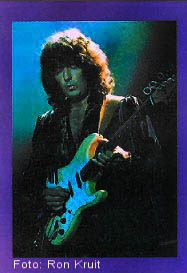 Perfect Strangers is a come-back CD that Deep Purple can be very proud of. Even the biggest critic must admit that the magic of yesteryear is revived in songs like Knockin 'At Your Backdoor, Wasted Sunsets and the title song. The tour, which starts in New Zealand and takes the band to countless corners of the world, except the Netherlands, is a success. And although Ritchie Blackmore is again regularly bothering and imposes his iron will on the others, the various platinum awards that the band receive make up for a lot, if not everything.

In January 1987 The House Of Blue Light is released and a month later Deep Purple plays two consecutive nights in a sold out Ahoy 'in Rotterdam. Overall, the album is quite disappointing, but the tour makes up for it. Behind the scenes, however, it is once again bumblebee. In the town of Stowe, Vermont, Blackmore orders a practice session without Gillan.

The latter drinks too much and often makes himself impossible. And in the same Stowe, where Perfect Strangers was so successfully tinkered with four years earlier, Blackmore convenes a meeting in which he and manager Bruce Payne demand the departure of Ian Gillan. The others back down and drop their friend Gillan. Glover in particular has a hard time with it: "But Ian was really unmanageable.

At that time it seemed the best solution for all parties if Gillan would leave. What I didn't realize, however, was that Ritchie just wanted to make it a second Rainbow. I was firmly against the arrival of [former Rainbow singer] Joe Lynn Turner, but I was powerless."

Exit Ian Gillan. Manager Bruce Payne gives the band a lucrative contract with BMG and Roger Glover produces the album Slaves & Masters. Glover: "That is the strength of Blackmore, eh. He gives you just enough freedom, so that you just don't get out. I was allowed to write the songs and produce the album. And then I was allowed to speak to the press, because according to Blackmore was mostly my record. Could I go and lie about how crazy it was that we had Turner in the ranks. I can tell you, it was anything but crazy. And the tour we did was already No fun. Blackmore determined everything. The communication between him and the rest of the band went through Bruce, our manager. An absurd situation."

In 1993 Deep Purple exists 25 years. That joyous event should be celebrated with a new CD and tour. Roger Glover again writes most of the material and does so with Ian Gillan's voice in mind. Joe Lynn Turner's vocal range is not built for this. As far as Glover is concerned, the somewhat effeminate American may leave anyway, Turner has nothing to do with this anniversary. Only after many five and sixes Blackmore tackles. Gillan is an asshole, but Slaves & Masters was a flop, and an anniversary without Gillan is really impossible. Why Gillan is persuaded to confront Blackmore for the third time will always remain a mystery. We don't get much wiser from The Battle Rages On either. No, Purple does not make a big impression, the album certainly has its moments, but the magic of yesteryear is never revived. Glover's production is perfectly fine, the band makes music at a high level, but sparks don't fly off.

Nevertheless, Ahoy (Rotterdam) was again completely sold out on 27 November 1993. Tour manager Colin Hart gets the laughs on his hand when he casually reports that the gentlemen photographers must be about 30 meters from the stage, so that they cannot catch Blackmore and Gillan in one shot. A strange logic and once again proof that it is once again bumblebees in the Deep Purple home. A few weeks later, in Prague, the bomb burst: Blackmore leaves. The other four go ahead and hire guitar hero Joe Satriani to act as a stand-in on a Japanese tour. Purple purists frown, as Roger Glover also knows: "You are right, we have to be careful not to become a parody of ourselves. I do do that.

Yet that fear of making a fool of ourselves is not as great as the urge to prove that we are not worn out yet. Coincidentally, I was on the phone with Ian [Gillan] for a few hours a few days ago. He also looks back with pleasure on the performances with Joe in Japan and is looking forward to the upcoming Euro tour. I experience this period without Ritchie as a rebirth. I have effaced and denied myself all these years, that time is finally over. And should Ritchie ever return, it's on our terms, and not his... We don't know yet if Joe will stay with us, but Deep Purple will definitely remain, if only so that Ritchie can't say later "You see, they won't make it without me." And none of us grant him that satisfaction... "

Then follows a personal observation from Glover that we certainly do not want to keep from the reader: "Ritchie Blackmore is the most intriguing personality I have ever met. A man with two faces. On the one hand a great artist, on the other a puny person. he has you in his power, everything is going well. As soon as he loses his grip his dark side comes to the surface. I've seen it up close, several times. I remember a practice session with Rainbow. Our drummer Bobby Rondinelli was on and was replaced by a guy named Chuck Burgi. A cheerful, enthusiastic boy from New York. Tidy and confident, you know those types. Within a few days that kid had turned into a human wreck.

Ritchie wasted no time at all to bring him down spiritually, and only so that the novice would submit to his authority. I don't know what Chuck Burgi is doing these days, but in a few days I watched that guy turn from a happy, high-spirited young man to a pathetic pile of misery; incredible ... And yet ... Despite everything, I have a deep admiration for Ritchie Blackmore. The man is a genius. Anyone who has ever seen him up close will have to acknowledge that. It has the aura of a star, as I have seen it in only a few people. Frank Sinatra has it, Ray Charles has it, and so has Ritchie Blackmore. Compared to his personality and talent, we are all just insignificant passers-by. Myself and Gillan, including Lord and Paice. He's crazy, he's unruly and cold, but when push comes to shove, we can thank God on our bare knees for ever being allowed to work with him..."

Summer 1993, Ian Gillan speaks: "My love for Deep Purple is greater than my feelings of hatred for Ritchie Blackmore. I still feel honored to have seen up close how our music changed people's lives. Mark 2 Deep Purple is by far the best line-up the band has ever known. And that's why I'm here again, not a hundred Ritchie Blackmore's can change that."

The tape recorder has been switched off for a few minutes, but Ian Gillan thinks he has to put in an extra contribution. And only now does he manage to convince me. For the past hour, we've been discussing the how and why of the Deep Purple Reunion. "... how our music changed people's lives", says Gillan, and I think back to that summer of 1976, when boy next door René solemnly initiated me in that almost secret guild of hard rockers. From that moment on, I have continued to follow Deep Purple's career closely. Mark 2's accomplishments were my special interest, bands and projects like Rainbow, Dio, Black Sabbath, Whitesnake, Gary Moore Band and Gillan either stemmed from Deep Purple, or at some point became intertwined with Deep Purple history.

The men who were once part of my childhood sweetheart can be heard together on about 150 different albums. Those albums differ in structure, sound and quality, that goes without saying. But they are now almost all 150 in my record cabinet. Because music could change a human life, my human life. And that's why I'm going to check again when Gillan, Glover, Paice and Lord come to play, I will take Satriani for granted. The last word goes to Roger Glover, the shy son of a Welsh bar owner: "It's impossible to ever regain my objectivity again; once hit by Deep Purple you're sentenced to life..."

DISCOGRAPHY:
Shades Of Deep Purple (1969) - Mark I
Book Of Taliesyn (1969) - Mark I
Deep Purple (1969) - Mark I
Concerto For Group And Orchestra (1970) - Mark II
In Rock (1970) - Mark II
Fireball (1971) - Mark II
Machine Head (1972) - Mark II
Who Do We Think We Are? (1973) - Mark II
Made In Japan (1973) - Mark II
Burn (1974) - Mark III
Stormbringer (1974) - Mark III
Come Taste The Band (1975) - Mark IV
Made In Europe (1976) - Mark III
Last Concert In Japan (1977) - Mark IV
Perfect Strangers (1984) - Mark II
The House Of Blue Light (1987) - Mark II
Nobody's Perfect (1988) - Mark II
Slaves & Masters (1990) - Mark V
The Battle Rages On (1993) - Mark II

Mark I:
Rod Evans - Nick Simper - Ritchie Blackmore - Jon Lord - Ian Paice

Mark II:
Ian Gillan - Roger Glover - Ritchie Blackmore - Jon Lord - Ian Paice

Mark III:
David Coverdale - Glenn Hughes - Ritchie Blackmore - Jon Lord - Ian Paice

Mark IV:
David Coverdale - Glenn Hughes - Tommy Bolin - Jon Lord - Ian Paice

Mark V:
Joe Lynn Turner - Roger Glover - Ritchie Blackmore - Jon Lord - Ian Paice

Mark VI:
Ian Gillan - Roger Glover - Joe Satriani - Jon Lord - Ian Paice


© Johan Vosmeyer, WATT, Holland - June 1994