JOHN O.REILLY

Rainbow Fanclan Legacy Exclusive Interview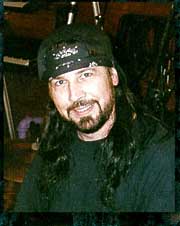 When and why did you start playing the drums?

I started playing drums on my 10th birthday, and we can blame that on Hal Blaine.

You first bands were R&B and Jazz orientated, when and how did you become a rock drummer?

When I realized that I couldn't make a proper living as a jazz drummer. It was very difficult in the 1970s to make a living playing jazz, and then fusion really started to take hold. And that lead me right to rock!

In 1995 you played on Joe Lynn Turner's "Nothing Changed" album. How did you join Joe's band?

I met Joe when he was hired to do a tour with C.P.R. Which was Randy Coven, Al Pitrelli and myself. The band was on the way out, so Joe asked me if I would come on board, and I jumped on it.

I believe at that time Joe played live quite some Rainbow songs. You and Greg Smith did some live shows with Joe when you already were a member of Rainbow?

Yes we did hand full shows with Joe while we were in Rainbow.

How did you become a member of Rainbow's "Stranger In Us All" Line-up?

I was in the right place, at the right time, doing the right thing. I was playing a gig with Joe in N.Y.C. when I was spotted by Ritchie's personal assistant at the time. He asked me if I'd like to have a go at it. Then I got the call.

Was you familiar with the band, I mean did you know the albums Rainbow did in the 70's/80's? If so, which one(s) did you like best?

Rainbow Rising and Difficult to Cure.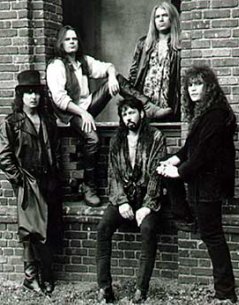 Rob di Martino was at first the bassplayer in that Rainbow line-up. After he was fired Greg Smith joined. Did you, as you played with him in Joe Lynn Turner's band, suggested Greg?

Actually Rob resigned, and Ritchie asked me who I could recommend. So Greg was in without hesitation.

Ritchie is known for his practical jokes on new bandmembers. Where you also a victim of his pranks?

He did get me one time!!!

What is your favorite track on the "Stranger In Us All" album and why?

Black Masquerade, because it has that classic Rainbow vibe, and I love Ritchie's solo.

After the album was recorded, you got injured just before Rainbow was going to start the European Tour. What happened?

I think it's about time to time put this story to rest. It was a combination of factors that led to my being replaced. It's true that I was injured, but that was a full year earlier during rehearsals for the album.

Ritchie's management at the time was having a problem with my attorney so they decided to have a little fun at my expense. So when Ritchie called them to make sure everybody had signed on, he was told that I had not and that I was probably holding out for more money to go on the road. THIS WAS A TOTAL LIE! Ritchie was furious to say the least!!

I tried to get to the bottom of this, but to no avail. That set the stage for my dismissal. The second part was musical in that Ritchie preferred to have tempos significantly faster live than on the recordings. I was not prepared for this, plain and simple. Put these two factors together and you get the Boot!!

You were right away replaced by Chuck Burgi and that was your end in Rainbow. Was there any chance of a return to the band or was it right away end of story?

It was over for sure, Chuck had left Blue Oyster Cult to replace me, then B.O.C called me to replace him.

What were you're feelings it ended this way?

At the time I was pretty pissed off indeed.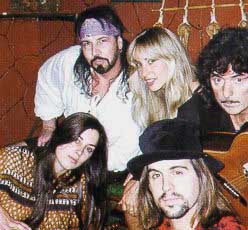 When Blackmore's Night did their first tour in Japan and Europe late 1997 you were the drummer. How came that about?

This goes back to Christmas of 1995. While on a break from B.O.C I received an invitation to Ritchie's annual Christmas party, so I decided to take him up on it and see what he had to say. I'm glad that I went, we discussed many things. And I did get to the bottom of my dismissal... I'm very happy to call Ritchie Blackmore my friend. On Christmas night 1996 both Ritchie and Candace asked me to join Blackmore's Night. And of course I said yes!

It's quite a change in music from Rainbow to Blackmore's Night, although at that time Ritchie still did a couple of Rainbow songs in the Blackmore's Night set. How did that tour went?

I had a fabulous time on that tour. It was an excellent band and I got to stay at some really great castles.

Did Ritchie fire you after this tour?

Absolutely!! (laughter)

After that you did -what I believe was supposed to be a one off project- Westworld which turned out to be working so good that you continued, did some more albums and resulted in last years excellent "Cyberdreams" album. On that last one you did a great cover of Black Sabbath's "Neon Knights". Can you tell us some more about the band and why did you cover this song?

Westworld is a very loose knit band, in other words we get together every year and make a record along with a few live shows. I'm very privileged and honored to be able to play with Tony, Mark and Bruno. I take full responsibility for bullying them into doing Neon Nights, it is a killer track.

You recently recorded the new Joe Lynn Turner solo album "JLT" which is supposed to be out in a couple of months. What can the fans expect?

They can expect ripping vocals from Joe and some slamming tracks from the band of course!!

I just found your Original Drummers Mentor website, what's it all about?

Mentoring is something I've been doing for awhile now. It is a way to shorten the learning curve of this business. And you better be prepared for what it has in store for you. A key lesson is to learn how to live with a high degree of uncertany, and what to accept as the truth.

Have you got any other projects lined up for the near future?

Yes I do, I'm involved with several throughout the year. O.2'L is a band with Al and Jane Pitrelli, I'll also be in the studio with the Trans Siberian Orchestra, as well as another original band "The Hole in the Wall Gang". Just hunt around the internet and you'll find them.

Do you have a message for all the Rainbow fans that are still around?

Just this... Keep the faith, for you never know what the Man in Black will do next!!


© Rainbow Fanclan Legacy 2003