JOE LYNN TURNER

Rainbow Fanclan Legacy Exclusive Interview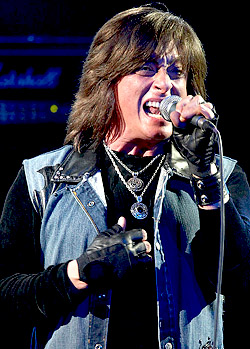 Last April Joe Lynn Turner released his latest solo CD called "Second Hand Life". Mario de Riso of Frontiers Records was so kind not only to send a review copy but he also offered us to do an interview with JLT. Because of JLT's busy time schedule it took a little while for him to find time to answer all the questions. We asked him quite some questions about all the things he was involved in the last year or so. So here you've got another exclusive Rainbow Fanclan Legacy interview.

You played a handful shows as co-headliner in Japan. The other co-headlining act was Graham Bonnet & Alcatrazz. Where did this great idea came from? Was it a promoter in Japan who put this bill together?

JLT: Yes and I think it was a brilliant idea. The tour went well... sold out shows... great fans. I am looking forward to another trek with Bonnet in Finland. It's so incredibly cool to have 2 of us Rainbow singers on the same bill!

Are there any other plans to take this exciting package to other places in the world?

JLT: Yes! Finland! Check out my website in the Europe Tour Dates section for the details. I know there was a date or venue change also so be sure to check local club listings as well.

Did you have met Graham before? Or did you have had any contact with him about this tour?

JLT: No absolutely not! Graham and I laughed about that on the phone. We never even bumped into each other! But he's great and it was a blast in Japan! I also want to add that Bonnet's fans are very gracious people. It was nice to meet them also.

Japan always comes up with great things like this. Last August you did also in Japan a very special show together with the New Japan Philharmonic to do a Tribute to Rainbow concert. That must have been a great experience. You sang some Rainbow songs at that show you never did before I believe, Eyes of the world & Rainbow eyes. Where did that idea to play these songs come from?

JLT: It was absolutely an amazing experience. The producer of the show came up with the setlist. He loved certain songs since it was his brainchild I had no problem going along with the plan. Those are great songs.

The orchestra also played an instrumental version of Gates of Babylon. Why where there no vocals on that song?

JLT: That was the producer's choice. I respected his choice and had no problem with it.

I heard a recording of the event and it sounds like you had to sing the songs in a different way because it was only you and the orchestra. Was a (rock)band playing together with the orchestra not considered?

JLT: Yes you are correct about the singing aspect. I felt I had to be a bit more operatic... LOL... but it felt natural to go that way. No rock band was considered as far as I know.

Only the orchestra and your voice gave a total different dimension to the songs. It sounds like the arrangements were played slower than the rockversions. Is this so and was it more difficult to sing the songs this way?

JLT: Maybe a little more of a challenge... yes. I adjusted to the tempo and timbre. This is something all professional singers should be able to do in several situations. It's part of the job... part of being a "pro".

Maybe the questions don't show it but I just wanna tell you I think it sounded bloody brilliant!

JLT: Thank you! It was a life changing experience.

How is the contact with Glenn Hughes these days. Seems like he's very busy too these days. Is there a chance we ever see a third HTP studio album? Or are you guys just too busy?

JLT: We are really focused on our other projects now. It's nothing personal. I love Glenn, he's a "brother." I would welcome the chance to do another HTP album if the situation was right for both of us.

Another thing you did years ago were two excellent Undercover albums. Any change we might see an Undercover 3 album one day?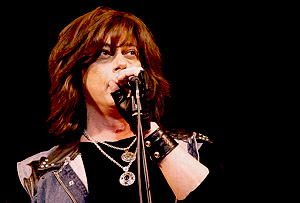 JLT: Who knows... it's possible... but I have no plans now to do a third one.

You did a tour in Turkey with guitarist Cem Koksal. I believe it was quite a big tour for large audiences. How did you look back on that tour?

JLT: Another life changing experience. I really enjoying being part of the Turkish culture and really being into the moment... into "the now". Working with all of the artists was a growth experience for me as well and playing those huge crowds was a big "rush." After all, the song "Blood Red Sky" was inspired by that tour. I wrote most of it when I was in Turkey.

You've done before live gigs with several great guitarists like for example Nik Kotzev. And always several Rainbow songs are on the setlist. Is this because you still like to play them or is the demand from the audience that big for them?


JLT: It is because the audience demands it and expects it. I try and comply and please the audience in this situation. Sure, I like to play the songs as well. They were a great part of my past. But, the Brazen Abbot material is also brilliant.

Talking about doing Rainbow songs live, there are so many Rainbow and Deep Purple tribute bands around. What do you think of these kinda bands?

JLT: It is inevidible that these bands would crop up over the years. Musicians naturally try and emulate their heroes. It's very flattering to me.

On your new album there's the much talked about track "Stroke of Midnight". Ritchie Blackmore gave his blessing to record it. It also was co-written by Roger Glover. Did he also gave his blessing to record it for this CD?

JLT: Yes he gave me his blessing for me to do the song closer to the original way it was written before it became "One Man's Meat."

Stroke of Midnight has a great bluesy feel. Was the follow up of Slaves and Masters meant to be a bit more bluesier?

JLT: In some areas it may have been but I would not say one song is indicative of the whole album.

Was the titletrack Second Hand Life also written for Deep Purple or was it just an idea from that time that got developed into a total new track?

JLT: It was never intended for Deep Purple but was an idea at the time that was developed. I dusted it off and brought it out for this new record. I am glad I was finally able to release it. It has a very important lyrical message.

How is your contact with both Ritchie and Roger anyway?

JLT: Ritchie has been in touch mostly by email and messages back and forth and has been very respectful and cordial. With Roger, it's been only at shows but he is always friendly... everyone in DP is friendly to me it's like a family.

On your new album you're also doing 'Sweet Obsession'. The song became populair in the 80's by Bonfire from Germany. It's credited on their albums as written by Bonfire/Turner/Ponti. Did you write it together with them or did they changed the song a bit so they credited themselves as well?

JLT: No they never wrote the song. However, maybe they felt that their arrangement warranted writing credit. I had no problem with that.

Can I say that Blood Red Sky has a superb Blackmore/Rainbow feel, guitarsolo of the Eyes of Fire type. I think that Rainbow fans will adore this track. Don't you think so?

JLT: I agree 100% and it seems this may be the fan's fave track on the whole album. It's got a lot of passion and variety. It's also great to do live.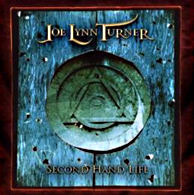 What can you tell about the cover art of Second Hand Life? What's the meaning of the sign?

JLT: I am a student of symbolism and there are shapes and forms that leave much to interpretation... they are abstract... not overly "literal." I would rather people do their own research into the symbols and then come to their own conclusions... personal meanings for them. Art, songs, lyrics all have personal meaning to all of us. Sometimes it is not so important what the creator meant when he or she did the art or song it's how it is interpreted by the person who hears or views it.

You have been involved in so many albums the last few years. Do you get so many offers you have to pass interesting projects as well?

JLT: Yes, I have to pass on several things because my schedule is often booked months in advance.

The Second Hand Life CD got released some time ago. I wonder when a new CD is out, are you now already again busy with ideas for a new album? Or do you take a rest first and don't wanna be bothered with things like this for a while?

JLT: I never take a rest... LOL! I am always creating, always writing! I observe life constantly and life feeds me ideas. As that happens, I write and then when I have to make a new album or contribute to another person's record, I have a bunch of ideas. Ritchie Blackmore used to call it my "magic book."

Alright last question. People often ask you what's your best song or album. Now something different, what's the worst song you ever recorded. Is there a song that give you bad memories or you think you really never should have recorded?

JLT: I don't know... you tell me... LOL! Some songs do not always come out as I like but they are not terrible either. I am sure the fans have their ideas and opinions, though, LOL and that is OK.

Thank you very much for your time and all the very best from the Netherlands.

JLT: Thank you for your time as well. You have an awesome website! Thank you for keeping people in touch with the Rainbow "family tree."

--

A special thanks to Lisa Walker (JLT Virtual Assistant and Media Relations) and Mario de Riso (Frontiers Records) for all the help.


© Rainbow Fanclan Legacy 2007