JOE LYNN TURNER

Rainbow Fanclan Legacy Exclusive Interview [Part 2]




Some time ago the visitors of the Rainbow Fanclan Legacy Forum were given the opportunity to ask questions to Joe Lynn Turner. Some time ago we'd part one, now here's the second & final part of these questions answered by Joe.


Can you tell us something about the guy, Brian Moran, who wrote "Magic" for the Difficult To Cure album?

I wish I could tell you more. He is from Long Island, NY USA. As far as I know he is no longer in the business of writing songs full time but I think that "Magic" was a great song and I believe he wrote some other good ones as well.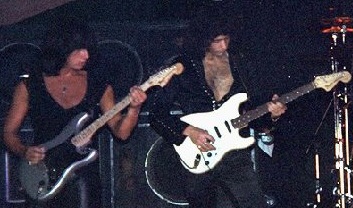 You played guitar on stage in Difficult To Cure, how does that idea happened. Was it rehearsed or was it spontanious one night and kept in the show after that?

It was Ritchie's idea. He wanted me to play a specific part that he couldn't double on. He respects my chops and it evolved from there. I went on to play guitar in many shows after that.

Tell us about some pranks Ritchie played on you on the stage during concerts?

The pranks he played off stage were actually funnier and make for better stories. He once put human excrement (slang in USA="shit") on the light bulb so when I would bring some guests back to the room, I would turn on the light and as it heated up the room smelled like shit.

He would place a dead fish behind the radiator in the hotel. There was one time where I came back from partying a bit much and got into bed. I did not realize for a long time that he had shampooed the bed. Onstage he once had a bunch of ping pong balls dropped on the band and food thrown at me.

Can you remember you're very first time on stage with Ritchie Blackmore. How did you felt during the very first song?

Speaking of pranks at the first real gig they had the deli tray thrown at me. But actually, it was a great time. We played JB Scotts in Albany... it either used to be a bowling alley or skating rink. I remember there were these big posts in the way. It was a real barn type place. It was like a rehearsal with an audience... a fun, paid rehearsal. It felt great!

Who's idea was it to use the Laurel & hardy bit at the end of the difficult to cure track on the LP?

It was Ritchie's. He taped it off the TV and came in studio, pushed the button on the recording and we all agreed that it should be end of the album. We all saw the irreverent humor in it.

Paul Morris, John O'Reilly & Greg Smith were in your band. Did Ritchie stole your band in 1995? And why were you not the vocalist for that line up.

He did not steal it... he more or less borrowed it... LOL! They were some of the best on East Coast (USA). They asked me first if I would mind if they worked with Ritchie. I had no qualms. I think Ritchie wanted to work with Dougie not only because he is a great singer but because Ritchie seems to always like "new blood" in his projects. I think he made a great choice with Dougie and I had no hard feelings at all.

What are the plans for the new HTP tour? Which parts of the world will you tour?

It is too early (May 2004) to be talking about the next HTP tour. Of course, we had an amazing time on the road this past Spring and Glenn and I always look forward to seeing our fans overseas.

Think we better change this question in "How was the HTP Tour?" (this question was added because the HTP tour had just finished in the mean time, ed.)

It was great! The shows were well-attended, the crowds sprited…especially in the countries that we were unable to play in the first HTP tour. I noticed a lot more younger people in the audience…teenagers and 20-something year olds. It was great to see them so turned on by our music. To all the fans who supported the shows or bought the CDs…I am very grateful and thank you very much.

What is your favorite track of the new solo album JLT? Why?

I have no favorites track. They are all like children. I do not love any one more than another. Although it was great to have a couple totally self-penned songs on the CD. It was personally very rewarding. I had not used any self-penned songs in the past on my albums…had always preferred to use ones that I wrote with others.

What is your worst memory of Ritchie Blackmore?

The good memories far outweighed the bad ones and I have pretty much forgotten the bad memories. Working with Ritchie was one of the highlights of my musical career and life, in general. If there were any bad memories I was able to gain valuable life lessons from them. Ritchie taught me a lot both personally and professionally.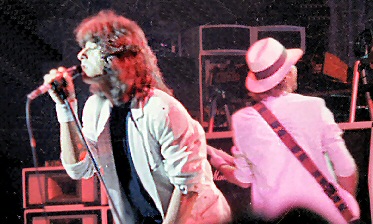 What are your fave songs? What are your fave songs from your own albums?

Sorry to give you the same answer as I did earlier but I have no real favorites. It's always a great feeling to see the audiences react when you play the big hits, though. Even though I have sung the songs many times I never get tired of hearing the audience sing along or appreciate the hits.

What would be your ideal band to back you up (guitar, bass, drums, keyboards)?

I have no "dream band" or "ideal band." Why? Because you have to take people's personalities into consideration. No band is dream or ideal because there are always egos and bad habits that come out after awhile. Pardon me for avoiding this question but I have given you an honest answer.

Can you tell a bit about your Fandango years. You guys did some records but did you tour a lot. We're you guys big or was it just a clubband, etc etc...

We made several albums for a major record label in the USA---RCA. We did tour a lot and were especially popular in the Northeastern part of the USA. We had some great, eclectic songs. The sound of Fandango was very different from Rainbow or Deep Purple but on some tracks you can hear the influence. We had one track called "Rock and Roll You" and a fan once told me she thought that was a Rainbow song. But, the songs of Fandango varied from having a southern rock style to a very jazzy-improv type sound. You can still purchase a "Greatest Hits" CD online through big outlets like Amazon and others. But, I believe it is a Japanese import.

How was the recent tour with Brazen Abbot. Any more touring plans with Nikolov?

It was awesome! No particulars have been discussed for another tour but if he asked me I would love to do it!

You tried to approach Ritchie Blackmore for the HTP album. Will you ever try it again to get him to play on one of your future records?

Of course! I have recently been in touch with Carol Stevens, Ritchie and Candace but the last time we talked it was about the Blackmore's Night project. I would love to work with Ritchie again.

You, like so many other singers these days, do so many "side-projects" like commercials, tribute albums, guest performances, etc. Do you keep track of it all or are you just havin' a good time enjoying yourself or perhaps are you doing this because it brings some cash on the hip?

Like anything in the music business, some of the projects are more lucrative than others. I am a singer and I love to sing. If I can continue to get paid for doing what I love how bad can that be?

Can you react in a few words on the following names:

Ritchie Blackmore
one of my favorite guitar players; consummate pro

Blackmore's Night
A project Ritchie obviously loves and the type of music he has been wanting to make for years.

Yngwie Malmsteen
brilliant guitarist

Glenn Hughes
phenomenal singer, bassist, writer!

Deep Purple
my fave rock band!

Bobby Rondinelli
killer drummer and funny guy!

Chuck Burgi
another great drummer, total pro!

Stuart Smith
I love his "Heaven and Earth" album and the songs we did together for it!

Ronnie James Dio
great singer and real gentleman

Graham Bonnet
good singer also! Part of Rainbow's history!

Doogie White
good friend, singer and we have similar patterns.

Roger Glover
a philosopher, great producer, bassist and thinker!

Don Airey
killer musician…legendary on keyboards!

David Rosenthal
another consummate pro keyboard player


Thanks Joe! And thanks to Lisa Walker who made this interview possible.


© Rainbow Fanclan, May 2004