JOE LYNN TURNER

Rainbow Fanclan Legacy Exclusive Interview




Hi Joe, we've got 10 questions for you, except for the first one all on the subject Rainbow.


1. What are you doing on the moment? Any album releases in the near future?

A FEW MONTHS AGO MY NEW CD WAS RELEASED...ITS TITLE IS "SLAM" AND IT SOUNDS LIKE A RAINBOW /DEEP PURPLE STYLE...

2. What's your favorite Rainbow song?

WELL...THERE ARE SO MANY....BUT I THINK " SPOTLIGHT KID" OR "I CANT LET YOU GO"...WAS ONE OF RITCHIE AND MY FAVS....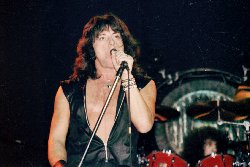 3. What's your favorite Rainbow album?

STRAIGHT BETWEEN THE EYES...

4. Which Rainbow live gig you did was the best one (if you can remember)?

MADISON SQUARE GARDEN, NEW YORK CITY, JUNE 19, 1982

5. Are you still in contact with any other ex-Rainbow members?

YES..DAVE...CHUCK...SOMETIMES BOBBY....ROGER AND I EXCHANGE CHRISTMAS CARDS

6. What's your opinion on a Rainbow reunion

IT WOULD BE GREAT...WE TRIED LAST YEAR BUT WE WERE STOPPED BY RITCHIES MANAGER

7. If it was going to happen, what would be your ideal line-up?

OF COURSE MYSELF...CHUCK..DAVE...GREG SMITH... RITCHIE...

8. How about Blackmore's Night? Do you like what's Ritchie doing these days?

I THINK ITS MORE IMPORTANT THAT RITCHIE LIKES IT....HE ALWAYS SAID HE WAS BORN OUT OF TIME...HE'S TRULY A RENAISSANCE MAN....BUT YES I LIKE IT...CHECK OUT STUART SMITHS CD " HEAVEN AND EARTH" AND A SONG CALLED "SHADOW OF THE TYBORN TREE"...I SANG AND CO-WROTE IT...

9. Please tell us a nice or funny story that happened during your Rainbow days?

WELL...THERE ARE SO MANY....AND THEY ARE LONG WINDED....WAIT TILL THE BOOK COMES OUT...

10. Do you have a message for the many Rainbow fans that are still around?

YES...PUT THE PRESSURE ON FOR US TO REFORM ...ONE MORE TOUR....AND CHECK OUT MY WEB SITE FOR CURRENT INFO...WWW.JOELYNNTURNER.COM..ALSO...."SLAM" WILL TAKE YOU BACK TO THE RAINBOW DAYS ...AND SO WILL A NEW PROJECT I HAVE WITH GLENN HUGHES...ITS CALLED "HTP"... HUGHES TURNER PROJECT...IT'S JUST BEEN RELEASED....

OK Joe, thanks very much!

TALK TO YOU LATER AND THANKS FOR KEEPING THE LEGEND ALIVE!!!

CHEERS....JLT


© Rainbow Fanclan Legacy 2002