JAN HOLBERG

"Less Is More" Part 1

An Exclusive Look At The Jan Holberg Project featuring Joe Lynn Turner



The following is an exclusive behind the music interview with two of the artist's (bassist Jan Holberg and former Rainbow vocalist Joe Lynn Turner) who were apart of creating a "listening masterpiece" on the debut album entitled - The Jan Holberg Project featuring Joe Lynn Turner. This is Part One. Early May the Second Part with Joe Lynn Turner will be published on this site.

Until recently, my limited knowledge of what kind of pop/hard rock music came out of Norway was based on two things: a 2005 heavy metal documentary film entitled, "Metal: A Headbanger's Journey", and various studio recordings graced by "The Norse God of Metal", Jørn Lande. All that changed this past March 28th, when Sense Of Time, the debut recording of "The Jan Holberg Project", featuring Joe Lynn Turner, (which is available on iTunes, Amazon.com and CDON.COM in Europe) arrived in my post mailbox.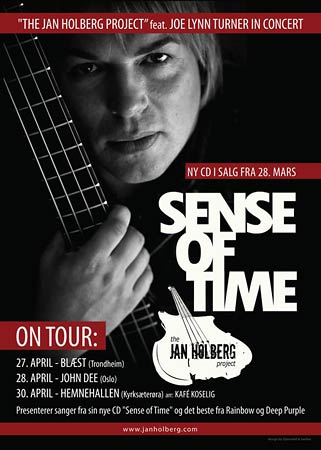 What I was treated to was a recording to which Turner described (in a recent interview I had with him shortly after this recording was released) as being "melodic... but not hard" and clocking in at just over 31 minutes! Stating the time element in another way, I bought into the "Less Is More" concept Jan had labeled for his debut album on both the liner notes of the CD and on his website. And within a week of listening to this CD, was deeply inspired to promptly write to the newest "Norwegian prodigy" and request an interview. Here's what transpired...

First of all, thank you Jan for taking time out of your busy schedule to answer a few questions for our readers.

- Before I had heard of this project, the only artist I knew who hailed from Norway was hard rocker vocalist Jørn Lande. Then I received this album (by mail), heard it and discovered that this album was totally different from not only the style of music coming from the aforementioned Lande and bands from your region, but also from the kind of music I am used to hearing from your featured artist on this album. So forgive me by asking this, but who is Jan Holberg? Where do you hail from and where do reside now?

I am a Norwegian musician now residing in a small village called Malvik, 15 minutes outside the city of Trondheim, Norway. I grew up in an even smaller village called Kyrksæterøra, which is about 1 ½ drive from the city of Trondheim.

- What is the instrument you play? And why?

I am a bass player. I started out as a drummer in a band when I was about 14, but stopped after a few years since I didn't enjoy it too much, and I wanted to become a soccer pro :). A few years after quitting the drums, another band needed a bass player and I thought, why not... so I started to learn the bass guitar...

- Do you play other instruments?

Yes, I do play acoustic guitar and a bit of drums. I find the acoustic great for songwriting so I am happy I am able to play it... but, most of the songs on the new album are written on the bass guitar...

- When did you first begin to play your main instrument? And, how long have you been playing?

I was around 19 years old I guess; so about 25 years I have been playing it.

- What does your instrument set up consist of (including monitors and effects pedals used)?

Ok, my main bass guitar is a custom made X-Factor Kubicki. This bass guitar was built by Phil Kubicki, and it's a fantastic instrument. I have been playing those basses since 1993, and my backup bass is also an X-Factor. I use Hartke LH1000 head, and 2 Hartke 4X10 Hydrive Cabinets, I just got this and will take it on the tour which starts 27th April.* I normally don't use effects, but I will on this tour be bringing the EBS Microbass 2 preamp. It's a nice little box that has an A/B switch, so I can connect both basses at the same time, and it also has the Direct Output so it will be easy for the sound engineer the access my bass sound.

Monitors are always supplied by others...

- So, what kind of music did you like to listen to as a kid growing up?

The Beatles. I was hooked when I was 10 years old; I will never forget it. I was in my Grandmama's kitchen when suddenly I heard Ob-La-di-Ob-La-Da on the radio and I instantly became a fan. I have been a huge Beatles fan all my life, and I even lived in Liverpool for 3 years studying music at Paul McCartney's old school, now named "The Liverpool Institute for Performing Arts".

- Your website and the CD liner notes mention that you were a session musician. Can you describe what that was like and what is it that finally prompted you to later venture out on your own and create a project like this?

Well, I practiced a lot and really wanted to make it as a session bass player. Mainly it was in England and Norway, but (I) had some stuff going on in Germany and Switzerland as well. I never did any major stuff, but when living in England I recorded a lot for students and musicians in Liverpool. I guess the biggest thing I did (at that time) was performing "Come Together" by The Beatles on German TV!

When I came home to Norway 2001, I tried to get into the scene, but there was not much work and I got a bit frustrated. Then it came to the point that I thought that I should start writing my own stuff, and create a project myself instead.

- On your website, you mentioned briefly that the artist's who aided you in the recording of this particular album also influenced you growing up. Who are they and why?

I remember hearing Joe Lynn Turner for the first time. It was the song "Street of Dreams" from "Bent out of Shape". I have never heard such an incredible voice before, and the song was just fantastic. I bought the album and became a huge and devoted Rainbow fan.

Almost the same happened when I heard bands like Level 42 and Mezzoforte. I have 5 bands that I really love and they are Rainbow, Deep Purple, Level 42, Mezzoforte and the Beatles. These bands have all influenced me big time as a musician, and I guess you can hear that on my new album.

- Okay, so you mention that two of your musicians came from Mezzoforte. What is the history of that band and had you met them through your previous session work?

The band "Mezzoforte" is a famous band in the jazz/fusion world of music. They have had big hits and are amazing musicians. The band is from Iceland and had in the 80's a huge hit with the song "Garden Party". I had never met them before I started this project, but I have heard many of their concerts and of course knew the quality of them as musicians.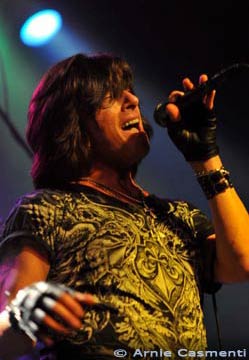 - How were then you able to get into contact with, and secure the services of, a highly sought after vocal legend like Joe Lynn Turner for this record? Did the same hold true for the rest of the musicians?

I recorded a demo with "Heart of Summer", "Invincible" and "Mesmerized" here in Trondheim. I thought to myself, why not try to get some of my favorite musicians to participate on this project? So I started off by contacting my favorite drummer from Mezzoforte, Gulli Briem. He listened to the songs and said yes, so did Eythor Gunnarsson, the keyboardist in the same band. I needed a singer and the crazy idea came to my mind…lets contact Joe Lynn Turner!!!!!

I sent (in) the demo, and after some weeks, I got an answer from JLT's manager that he wanted to sing on my album. Later JLT said to me that he really liked the demo... the songs were a bit different and he really liked that. Now that the album is done, I realize that JLT was perfect for the songs, taking them to a new level!

- Who then is the other main lyricist on this record?

His name is Vegar Nesset and we met in Liverpool. He is a musician as well, and for a while, we did a lot of gigs together. He is a great writer and I needed help so it felt natural for me to ask him to write some lyrics for the album.

- So when did you first write the material to what ended up being on the final recording?

The first song I wrote that ended up on the album was "Mesmerized", this was late December 2008, just before Christmas. So, then I just went on from there basically.

- What can you tell me the inspiration behind, and perhaps meaning of, the tracks that are included on this album:

- "Sense Of Time"

Originally this was a song that was written to "fill up" the album. The idea of the song was pretty basic and I did not think it would end up like it did. I will never forget the first time I heard JLT sing it, he made this song sound amazing :)

- "Mesmerized"

This one has a funky groove like Mezzoforte and Level 42, it also has a 7/8 solo section in there that makes this song a bit advanced I guess. It's a fun song to play, and lyrics are quite serious as well. Its about the urge to drink alcohol to achieve your goals you know, and in the end you will realize that drinking didn't help you at all...

- "Sorry"

OK, the ballad on the album. The song is about myself to be honest. A few years back I was hit by a "burn-out" syndrome, and this was the start of a terrible time for me. I was depressed and really hard to be with. Now, a few years later I have recovered and I wrote this song to say I am sorry to the people I hurt during this terrible period...to all my friends and family, it's a very personal song....

- "Heart Of Summer"

I had an instrumental song with the same chord progression as Heart of Summer. I really liked the chords and took away the original melody and started to make a new one. It worked out perfectly; it's a feel good song about thinking of summer, and the good times during this time of year :)

- "Invincible"

A funky shuffle groove on this one, a great song to perform. The song is about taking control over your life and if you want something you should go for it, never stop believing in your dreams :)

- "Vision Of Lust"

I like to refer to this as the Bon Jovi track...I am a big fan of Bon Jovi, and wanted to make a song in their "style" if you understand what I mean. It turned out to be a groovy song with a melodic chorus, and I am really happy about the result of this song.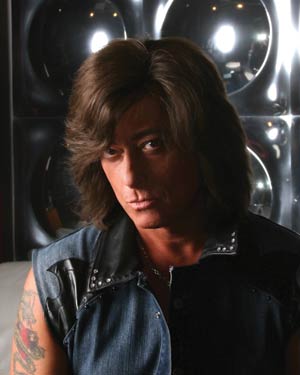 - "Come Rain Come Shine"?

This song was also a song I thought would be one of those that would fill up the album. But you know so much happens to a song when we start to record, and again JLT's voice made this song sound great. A lot of people have this one as their favorite; it's a straightforward song with a catchy chorus. I guess less is more is the thing here.....

And finally, what about the instrumentals: "Wild Eyes", "The Meadow", and "Mother Nature"?

I have always liked instrumentals. Wild Eyes is just an intro to "The Meadow", that is a tribute to my childhood, and a meadow we used to play soccer on at Hitra. Mother Nature is a tribute to the Norwegian fjords and mountains surrounding the places a grew up, this is the island Hitra and Kyrksæterøra.

- Other than the melodic rock/pop/funk genres to which you categorize this recording (in both the liner notes and on your site), would it be fair to say that your recording also incorporates a little jazz (especially apparent on the three instrumentals, as well as "Invincible" and 'Mesmerized") too? Can I also make the assertion that your album, overall, is just a well-rounded, modern, sophisticated, adult contemporary type of album?

I think you are totally right. I like so many different styles of music, and to me musical categories don't exist. I can easily listen to Beethoven's "Moonlight Sonata", and in the next minute jump around to "Master of Puppets" by Metallica. I think as long as there is a good melody I like it. On the new album you can hear some jazzy stuff, rock, pop and funk…that's me you know!

Thanks again to Jan Holberg for his exclusive interview!

Julie Barela Mills, Rainbow Fanclan

*(Writer's note: the tour Jan spoke of in an earlier paragraph, commences on 27 April and runs through 1 May 2011 in Trondheim, Oslo, Jan's hometown of Kyrksæterøra and Levanger, Norway).