IAIN ASHLEY HERSEY

Rainbow Fanclan Legacy Exclusive Interview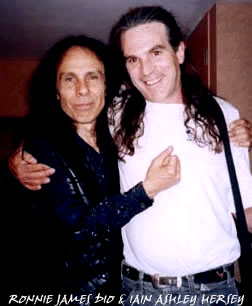 RFC: How did you start your musical career?

IAH: On the piano actually. I hated the lessons so when I was twelve I started taking guitar lessons. By the time I was 15 I was playing in bands locally. By the time I got out of High School I was playing all over the New England area. From there I moved to Boston and went to Berklee College of Music. It just kind of went on from there.

RFC: Is it a deliberate choice to use more than one singer on your albums?

IAH: No, not really. I basically used who was available at the particular time. I actually was hoping to have one line up for this CD and starting working with 'Swan'. But he is a very busy person so eventually due to his time restrictions I started working with other people.

RFC: What is your favorite track of The Holy Grail CD?

IAH: Auf Wiedersehen followed by the Holy Grail.

RFC: Why did it take so long to do a second CD (as your first CD was released already 6 years ago)?

IAH: Strictly due to financial restrictions. Both CDs were self financed so if you're not independently wealthy, it can take time. One has to ask a lot of favors and wait for people to have the time and availability.

RFC: Will we have to wait again several years for your next CD?

IAH: No thank God. My situation is now a bit more solid so should be able to knock something out much quicker. Actually I have enough instrumental tracks from both of the CDs that I could now put out an all instrumental one, which is something I really want to do.

RFC: Were did you find all those excellent singers?

IAH: 'Swan' I heard locally doing his original thing which is very cool. It's not rock but has a very strong Celtic overtones. I thought he sounded great and had a great vibe on stage so I asked him if he would consider working with me on a few things.

Randy Williams was recommended to me from someone in Las Vegas, where he lived. Great singer but a little too AOR, pretty sounding for me. I like vocalists that have a bit more edge.

Carsten and I had been in touch with for a number of years via the internet and we had always been in communication about doing something. When it was obvious that 'Swan' really didn't have the time, I asked Carsten.

With Graham it was just timing. I had three vocal tracks left to do and now Carsten was going to be tied up with some other projects for a while. So after a show that Graham did here in LA…I simply went up and asked him if he would be interested and available.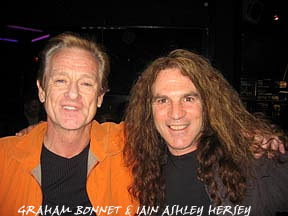 RFC: How about Graham Bonnet? Why him?

IAH: I had been talking to Joe Lynn Turner about doing these last three tracks or at least Going Down as we had jammed on it at a club and he liked the version I was doing of it. But at the end of the day his management felt he might be on too many other projects at that time. When I saw Graham, the light bulb went on and thought why not. He's a great vocalist and as it turns out was available to do it.

RFC: Was it easy to get hold of Graham to sing on your CD?

IAH: Maybe it was luck but certainly good timing but I found Graham very accessible as well as a very easy guy to work with.

RFC: Any plans to record again with Graham Bonnet in the future?

IAH: I think he would be open to it.

RFC: The launch party for the CD was in March, the CD only was just a week ago released. Why took it so long to get the CD released?

IAH: Even though the CD was a finished product in March, there still was licensing to work out, contracts to sift through and details to go back and forth on, etc. After that it was out of my hands and up to Lion.

RFC: You were recently for some months in Europe. What have you been doing over here?

IAH: Actually working with some other people over there as well as assembling musicians and doing rehearsals with them for my project so I would have a European band ready to go. I also did some visiting. Managed to hook up with Carsten at some shows he was doing with Evidence One opening for Alice Cooper. Also managed to get down to Switzerland and spent some time visiting with Oni Logan and throwing some ideas around.

RFC: Do you have any plans for live shows? Maybe also in Europe?

IAH: That's actually the next order of business. I do have plans for at least some LA, Southern California shows. But I'd really like to get over to Japan. I mentioned it to Graham and he was receptive. Definitely want to get back to Europe early next year and do some shows. What would really be helpful is to have booking agents in both places to facilitate this, which is what I'm working on now.


RFC: what's the connection with Stuart Smith?

IAH: Stuart and I go way back and are basically good friends. We actually used to live just around the corner from each other in Hollywood when he was recording the Heaven and Earth CD. Now he's out in Woodland Hills which is a bit of a hike for me so don't see him as much. But sometimes we meet in the middle.

RFC: I've bumped into a picture of you on the internet with the "Stone Cold Strat" (the Strat Ritchie Blackmore used for the "Stone Cold" video). I believe Stuart Smith owns (or owned) it. What's the story behind it?

IAH: It was Stuart's at the time. If I remember right Ritchie gave it to Stuart but you'll need to ask him to get the whole scoop. I'm pretty sure though that he no longer has it.

RFC: Was Ritchie Blackmore a big influence for you?

IAH: Kind of obvious isn't it! Yeah, during my High School years I was a Blackmore junkie. People started calling me Ritchie Junior, which made me realize I really needed to break out of that. What made him what he was is that he had his own sound and style. So I spent years purposely trying not sound like him but when it's ingrained in you it's not easy.

At this point I'm actually more into Jeff Beck, Alan Holdsworth and Scott Henderson. Not so much the actual licks or notes they play but their phrasing and delivery. I'm very into great phrasing and tone.

RFC: Which period of Ritchie did you like most?

IAH: Early on, Deep Purple Mach II with Gillan and Mach III with Coverdale and Hughes. Later I was really into his early Rainbow stuff with Dio.

It's interesting because now when I listen to his playing from the early 'Purple' days and compare it to his Rainbow days; I can see how he grew as a player.

RFC: What are your favorite Ritchie Blackmore songs?

IAH: Highway Star, Burn, Silver Mountain, Kill the King, Jealous Lover, Perfect Strangers, I Surrender. I could go on but that's some of them.

RFC: What do you think of his present work with Blackmore's Night?

IAH: It's different and he seems very happy with it. His playing is good and it's nice for a change of pace but it's not really me.

Actually, I really do like the instrumental pieces and wish he'd do a whole album of that. I find the vocals give it a different vibe and for me, a bit distracting.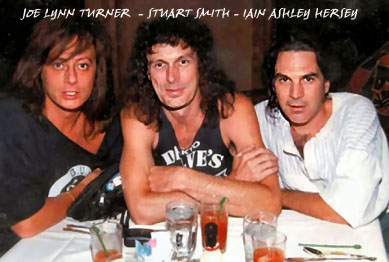 RFC: You have some nice pics on your site with a lot of Ritchie Blackmore's former singers (apart from Graham Bonnet, there are Ronnie James Dio, Joe Lynn Turner & Glenn Hughes). Any chance of seeing yourself hooking up with any of them to record songs or play live?

IAH: Well Graham as I mentioned but that would depend on bookings and money. Joe Lynn has expressed some interest in my writing as it sounds like he wants to get back into that bluesy overtone vibe. Glenn is doing what he likes and I think very happy with whom he's playing with and what he is doing. Ronnie is definitely into his own thing. I've bugged him enough over the years but he is very loyal to the people he is working with and I think too dedicated to what he's doing as a band to do anything else. Anyway I would love to work with any or all the above.

RFC: If you were asked for a major rock act, would you be interested or do you prefer to continue with your own thing?

IAH: Of course...it would do nothing but help my visibility. It would also depend on the band and or the money. Why...is 'Purple' looking?

RFC: What are your plans for the next year?

IAH: My main focus for this next year is to get out there and do some live playing which I love the best. That's what makes all the other stuff worth while. Know any good agents?


Thanks Iain! And thanks to Andy Craven (Lion Music PR) who made this interview possible.

© Rainbow Fanclan Legacy - November 2005

Photos (used with permission) from Iain Ashley Hersey's website