Doogie White
"The name RAINBOW still sells tickets"
Rainbow Fanclan Legacy Exclusive Interview 2011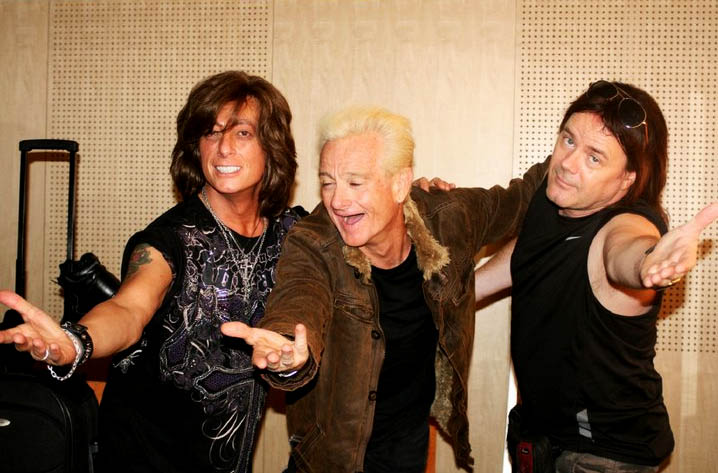 Doogie White has been very busy the last year. He was working on his solo album, did live shows with Deep Purple legends Jon Lord & Nick Simper, recorded and played live with TANK, Rata Blanca & Demon's Eye and played some shows in Japan that also had Joe Lynn Turner & Graham Bonnet on the same bill. So it's time to catch up with the singer of Rainbow's "Stranger In Us All" album.

- What's the latest news on your solo album?

The album has been finished for sometime now. We recorded 15 songs. Then I got involved with TANK and have put back the album release as there is no point in me competing with myself. There was also a good deal of touring last year so I never had the time to sit and get a plan together.

- Which musicians can we hear on the album?

Neil Murray, Greg Smith, Pontus Norgren, Phil Hilborne, Derek Sherinian and Tony Carey. And also Patrick Johanson, Mick Tucker, Thomas Broman, Marcus Jidell and on vocals Patti Russo.

- Melodic Rock released one of your songs called 'Times Like These' on one of their compilation albums. Reports said that the song was gonna be on your solo album but since it ended up on this compilation it's not. How and why did the song ended up on this compilation album?

Melodic Rock asked if they could have a song. I gave them one of the more "melodic" tunes. Melodic Rock give good coverage to many different artists, I am not really part of that scene but they have always been helpful... So its good to give a little back.

- It's a long time ago since we heard anything about Cornerstone? Is the band still alive? Can we expect a new album sometime in the (near) future?

The band is still alive but with everything else going for on everyone it has not been possible to find the right time to gather tunes for Cornerstone. Any new album must at least be as good as the last one and time has a way of slipping quickly by and before ya know it another year is gone. On my travels I was pleased to hear how many people really enjoy Cornerstone.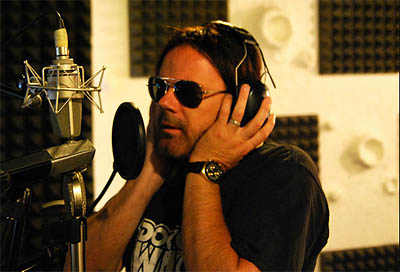 - You were very enthusiastic about Empire. There was talk about a possible tour. It seems not much happened after the release of the "Chasing Shadows" album. Where did it go wrong?

I love the album and working with Munkes was a joy. I don't know if anything went wrong. You need support from the record company to get on the road. Both CS tours lost money so unless we could get guarantees from the venues then it was not gonna happen. I was very disappointed not to have toured it.

- You sang on a track on Iain Ashley Hersey's latest album. The track was a cover of Rainbow's "L.A. Connection". How did you got in touch with Iain? Did he especially want you for this track? Didn't he asked you to sing more songs on his album?

Iain asked if I would sing the song I said yes... We never talked about me doing anymore.

- You've done some shows with some 'legendary' members of Deep Purple like Jon Lord and Nick Simper. How is it to work with these legendary members of Deep Purple? Can we expect more coorporations like these.

With Jon I was filling in for my mate Steve Balsamo who had other commitments for a couple of shows and recommended me. How could I refuse? Jon is the best hammond player and a jolly fine writer and lets face it, Jon was in Purple, PAL, and Whitesnake bloody hell... he is a legend. I have done only 3 shows with him and each one was rather different. But we had a wonderful time together.

I hope he enjoyed his time with me as much as I enjoyed singing with him. We played songs together in his dressing room just a pianoforte Jon and my voice... MAGIC. We did piano versions of so many songs. I saw him smiling and I was smiling as I opened the wine. We let the wine breathe till after the concert.

If Jon needs me he only has to pick up the phone and I will be on the plane. Truly working with Jon has been one of the highlights of my career...

We went to dinner and hung out with a very old man who was Hitlers favourite accordionist. He was very young when he played for him and told Jon and myself all about it.

- You played with Nick Simper in Brazil. How many gigs did you do over there?

We played 2 or 3 shows. Nick was brilliant and we got on like a house on fire. He is one hell of a player and a genuinely decent and lovely man. The shows made me appreciate MK1 all the more and I got to use my voice in different ways. We chatted for hours but he uses cockney slang so that may account for our long chats.

- You did a set on your own but also a Deep Purple Mk I set with Nick. How was it to do those old rare Purple songs? Are these songs easy to sing for you?

Well I had to find them first from the vaults and learn them. Rod Evans had a very rich voice and a subtle tone so I walked around my garden singing in a more Tom Jones/Engelbert Humperdinck way. It was great to use my voice this way and show that I am not only a rock sing but a singer who happens to sing rock.

- You did vocals on the English version of the Rata Blanca album "The Forgotten Kingdom". An excellent album that didn't got much press over here in Europe I think. What was the goal for Rata Blanca to do the English version. Are there plans to exploit the band in Europe?

Walter and I have spoken about doing an album since we met at a Rainbow show 96 and again with Yngwie in 2001. But our ships were always at sea at different times so we never hooked up.

I think Rata wanted to break into non Latin markets. I don't know why the album did not get press. These kinda things are for the "business" people. It was disappointing as the album was very good. But I have done a number of very good albums that did not get the exposure they deserved. We have talked about doing an album together again.

- You also did a short tour with Rata Blanca in Argentina. How does that went?

I did 5 shows with Rata and it was as I expected... Crazy. Rata are a very big deal in South America. The fans are very passionate about the music and performances. I would be having lunch and people would walk in and ask to have pictures taken, that kinda thing. The good people of Argentina are very passionate about the music. I love Buenos Aires always have always will.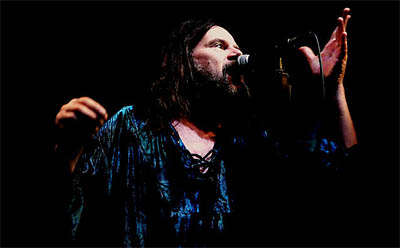 - It was around the time the world was shocked by the passing away of Ronnie James Dio. Did this news had an effect on the tour?

I had emailed with Ronnie just before I left for Argentina, he said he was looking forward to getting back on the road and I told him I would be in Dublin for the Maiden gig with Heaven and Hell for my free singing lesson. But it was not to be. With Rata we added Catch the Rainbow to the set and we all cried but gave thanks for the music Ronnie had given us over many years. He was a wonderful man and I loved him dearly as many did. The encouragement he gave me from the first day I met him to the last line in his final email to me will remain all my days.

- You did quite some Rainbow songs at those shows. Most surprising was I think you tackled a Graham Bonnet track. You did "Eyes of the World" live. In the past you said (if I remember well) that the Bonnet stuff was always too hard to sing.

It is very hard to sing and make it sound authentic but I am getting better with age. We did try Lost in Hollywood but it was beyond me. So maybe I am not as good as I thought after all.

Walter said we should try it, we did and it worked... really well actually. But don't forget we did a bunch of Rata songs from the album and also some Temple songs that were translated from English. So it was NOT a Rainbow tribute show.

- You also did a Tribute/Charity concert in Bochum, Germany with Axel Rudi Pell and many other German artists. How did that show went?

Axel asked me to come over and sing 4 songs. It was a wonderful evening. I don't generally get involved in these kind of events. Lots of musos pushing to the front of the stage, singing higher and louder and guitarists widdling till their fingers fall off. But it was in memory of Ronnie and Axel is very cool so I said yes. I think egos were left at home that night. And Doro is still a stunning woman and a lovely person.

- Last September you did a couple of shows in Japan together with Joe Lynn Turner and Graham Bonnet. How were these shows in Osaka, Nagoya & Tokyo?

3 sold out shows!! We all got on famously and watched each others shows every night. I did backing vocals for Joe rather than sit in the dressing room. I was surprised I remembered all the songs, words and harmonies better that I know my own songs. Japan still has a great respect for the Rainbow catalogue and what was cool was that a lot of young people turned up. The girls still love Joe, the guys love Graham and I was the curiosity.

- Is there any chance that this excellent package will tour other places in the future?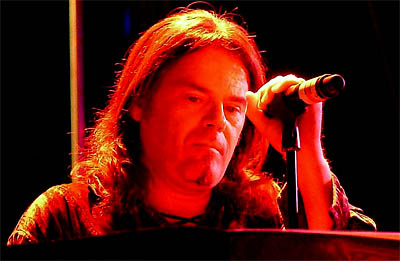 In the heat of battle is was mentioned but who can say? Maybe it will just remain a moment in time. That might be best.

- The tour was called "The voices of Rainbow". I bet that was an idea of the promoter. I can't imagine you, Joe or Graham would have come up with that?

The promoter called it THE VOICES OF RAINBOW... I asked to have "THE" removed, it made a difference. The name RAINBOW still sells tickets so that's what happened.

It was a celebration of the music, of the songs of the different eras and of Ronnie. During Temple of the King you could hear a pin drop and tears landing on the floor. Awesome simply awesome.

- What are your thoughts on Over the Rainbow featuring 4 ex-Rainbow members and Ritchie's son Jürgen?

The name RAINBOW still sells tickets. Until Ritchie decides to put all the dissenters firmly in their place, as he could, by picking up the Stratocaster and cranking the Marshall and putting his pointy boots on the BIG monitor again, people will go to hear these great songs played by in large, by people who worked on them and played on the albums. I don't have a problem with it.

- How did you got involved in TANK? Was it through Mick Tucker who will play on your solo album?

Yes. He mentioned that TANK had been offered some festival shows and would I be interested in doing them. I said yes if we could write a couple of songs for the shows. They agreed and we wrote Phoenix Rising and Great Expectations which we played to enthusiastic audiences. Its a great band and I am having a blast.

- TANK has been known in the 80's as a good NWOBHM kinda Motorhead type of band. Algy Ward was their main man. Have many things changed in the band now Algy is no longer with the band?

Vocally and melodically yes of course. The music still has the huge rapid fire guitars. I just had to weave what I do in with what they do and it was a witches brew I can tell you. The album is killer and the songs very powerful and emotive. Its high in the top 5 albums I have ever done.

- The "War Machine" album got many good reviews naming it a classic rock album in the Saxon/Maiden style. Do you agree with that?

The reviews have been very positive and that is great. It does not change my opinion of the album. I know its good. If people had said it was shite then they would have been wrong. But I don't follow reviews of albums or concerts, cause if you believe the good ones then it may follow that you treat the bad ones with the same respect. If people want to make comparisons then that's fine with me.

I don't really know any Saxon songs other than the hits. Twin guitars always elicit comparisons with Maiden especially in this style of metal. Tucker and Cliffy gave me the music I listened and did what I thought worked best both melodically and lyrically. More about Tank on: http://tankofficial.com.

- One of the tracks on the album is called "Judgement Day". I believe you did a demo with Rainbow for a song with the same title. Did you used anything from that song or is this a whole new one that just has the same title?

It is not the same song. Nothing came of Judgement Day in 94/95 so I kept the title. I used my melody and some of the lyrics on House of Nevermore from Cornerstones Human Stain.

But the title and melody for this Judgement Day predates Rainbow by a couple of years. So I took 2 old ideas and with the aid of Mick put them in the musical blender and this what came out.

- There have been reports of a worldtour for TANK including South America & the Far East. Is there already anything known about a tour?

Negotiations are underway.

- You've done a couple of times a few gigs with La Paz in Scotland. Is there a possibility other countries are going to see live shows by La Paz?

I doubt it. We did it for a charity that we are involved with.

- Is it true there is an album to be expected with new material by La Paz?

We are recording some of the old songs and 3 new ones. We used to record on 8 track back then and thought we could update the sounds using the technology of today.

ALL PROFITS will go to the charity: http://www.lapazrocks.com/la-paz-charity.asp

- What is the connection with the city La Paz in Mexico?

Chic McSherry has offices in Cabo and was shocked to see the conditions and lives the children were exposed to so he suggested that we reform LA PAZ to raise money.

All the band have remained great friends over the years so we did it for the fun as well.

- Another band you do live shows with once in a while is the German Deep Purple tribute Demon's Eye. How did you got in touch with them the first time?

Andree sent me a mail and asked if I could do 2 shows. I said yes. We did not rehearse. I got off the plane into the car and out the car onto the stage.

- You recorded an album with them, no covers but their own songs. Did you do any of the writing for the album?

The band wrote and recorded the songs and sent the ideas to me. I wrote several melodies and lyrics in Argentina when I was there with Rata Blanca but lost them on the way home. So I had to start from scratch. So in a hotel room in Buenos Aires there is a book of lyrics and a memory stick with the songs with different ideas. Cant imagine they are better than what's on the album "The Stranger Within".

I recorded my vocals in Germany in a studio with a couple of creep stories attached to the place. I sang 5 songs on the first day, 3 the second, 2 the third and 1 on the forth. The fifth day was spent checking and rechecking, eating and drinking. Great fun. We have tour dates in April so come along and rawk out. Check: http://www.demonseye.com/tsw/index_e.php.


© The Rainbow Fanclan Legacy - February 2011