DOOGIE WHITE

Rainbow Fanclan Legacy Exclusive Interview
How did you start, playing an instrument or right away as a singer?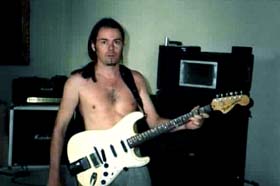 I started out wanting to be a drummer but quickly found out I have no rhythm or timing, a prerequisite of drumming and moved smartly to guitar. But there were so many good guitarists around and I could not compete. My friends said they needed a singer and would I learn 4/5 songs and give it a go (Easy Living, SOTW, Keep Yourself Alive, Gettin Tighter and Starstruck).

Mainly, I think they asked me to sing, more to stop me playing guitar than anything else! I still use the guitar to write with, but I have never really gotten better. Even Ritchie would get a look of despair on his face if I picked up a Strat. Yngwie encourages me, but knows that guitar playing is not for me.

Your bio tells that after a highschool band and the coverband Tryxter, La Paz was more or less your first serious band. You did two cassette albums. Are these ever released on vinyl or cd? Tell us some more about the music.

La Paz was my first proper band and we were on the verge of a couple of record deals in the late 80's. The music was guitar based melodic rock: Big riffs and bigger choruses. We were quite popular in Scotland but never really saw out our potential. Or maybe we did.... The tape albums sold several thousands of copies, but they were really just the demos we had done to try to secure a deal. Indeed, the boys have talked about going in and re-recording 10/12 of the best tunes and releasing it through a small independant label. Time permitting we might do this but everyone from La Paz is very busy and successful outside the rock n roll sphere.

The next band was Midnight Blue. In 1990 there was the release of the Surrender 4 track EP, but the album, Take The Money And Run, only was released in 1995. Was that a result of you joining Rainbow.

I think that played a big part in the album getting released. Also, Alex Dickson was in Bruce Dickinson's band and Jem Davis was in UFO and then FM at the time, so it probably seemed like a cool idea for the record companies. Again, these were just demos that we had. Like the La Paz stuff I don't have a copy of any of this. It was recorded in the bedroom of the house we shared in Chiswick, London. I did the vocals in the bathroom. Can you taste the glamour.?




I know you did a video for "Makin' Love" with Midnight Blue. How came that about? And did it help to have any success?

We had a publishing deal with Chrysalis and they put up the money for the video. We shot it in the Hippodrome in London and it looks like a Bon Jovi video with a full rig of lights. It never helped one bit in our quest for glory, just got us deeper into debt.

In 1991 you did a Japanese tour with Praying Mantis. The show in Kawasaki was filmed and aired in Europe as well. The first half of the show Chris & Tino Troy did the vocals and was without you. You only sung on the secondhalf of the show. Why?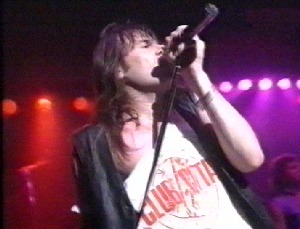 I was draughted in at 2 weeks notice to do the Mantis shows as their singer had quit. The guys in the band wanted me to sing about 10 songs and then they would do the rest. It was good fun, but we all fell out after too much JD one night and after a shocking performance at the Astoria in London we never spoke again till many years later. That's all behind us now, as they asked me to sing on their new album. They have some great songs and we had fun doing it. It also had one of my favorite singers on it, in John Sloman, so I just had to say yes.

Then there was Chain, You did one album, "Eros of Love and Destruction", can you tell some more about that band?

Chain was trying to capture where MB went wrong. It was for me, a costly venture, but I enjoyed the songs very much. Jem was there and Ashley Limer, (amazing writer and guitarist), remains a great friend. We never stood a chance, as MB had such a strong following on the live circuit and Chain just couldn't reach those levels.....drummers you see. Get a good one and you are laughing, get an average one and they drag you down.

In 1993 you did an audition for Iron Maiden. Although they didn't offer you the gig, it was a good move as people became interested in having you as their singer. One of the things you did were demos with Cozy Powell and Neil Murray. Which songs did you do? Any stuff that later ended on the "Especially For You" album which had Royal Hunt singer John West on vocals?

I was naturally disappointed not to get the Maiden gig. But Steve was kind enough to say good things to people about me and one of them contacted Cozy. I did sing 4/5 songs for that album. I cant tell you which ones as I don't have a copy of either the album or the demos. John played me a couple of the songs a few years back and he pretty much copied what I had done. I met Cozy and Neil a month before I got the gig with Rainbow and Cozy was the 3rd person I called to say I had the job. He was a very cool customer was Cozy and I liked him a lot. We should have just done the album anyway. The time between me joining Rainbow and starting work was some 4/5 months. So we could have done it, no problem.




In 1994 your big breakthrough came with joining Rainbow. In April you did the audition. Which songs had you to sing at the audition. I heard you mentioning before "Mistreated", "Man on the silver mountain" & "Long live rock'n'roll" but also songs by Jimi Hendrix & the Beatles. Which ones? And did you also do some Rainbow songs which never made it to the live set?

The first song we did was Rainbow Eyes, it sounded so smooth and the groove was exciting. From there we kind of eased ourselves into MOSM and Mistreated. We did Help, Yesterday and Hey Joe. We also did a thing called Goin Down. Then we jammed around some of Ritchie's riffs and came up with 3/4 ideas. Judgement Day was one. My melody just fitted over his music perfectly. He said he like the way I could jam things. I remember sitting at the airport on the way back with my walkman listening to the sessions and thinking "I really want this gig, this could be special". I think the tapes are in a box at my brothers house but I have not seen them for ages. When Greg auditioned, we did "I Surrender" which quickly became "Get the Beers in" and "Jealous Lover". We also did some Free and Bad Co.... just jammin round the songs and having fun. That night was very special.

When you joined the band there was another bassplayer Rob (do you know his surname?). Ever heard of him after he was fired?

Rob Di Martino, was his name. Great bass player. He actually recorded the first 8 track demos in Tahigwa. We had 5/6 songs. Don't know where they went. Then we move to 16 track and re-recorded a couple of these and the others got shelved. There was "Something in F" and "Wrong side of Morning" and the "So Infuriating". That title would become the opening line for "Stand and Fight"

Where there already songs finished when you came in the band?

No. We did it all from scatch. I had to record everything as it soon became apparent that great ideas were being played and then we couldn't remember them the next minute. So it became my job to sift through the hours of rehearsals and play the "Highlights of the Day Tape" to Ritchie. It was great fun and I spent ages making lists of counter numbers of where the interesting bits were. It was primitive by todays standards and I gave all the tapes back to Ritchie when we were done.

The recording of the SIUA album started at in january 1995. What happened in the months before it?

We had 6 weeks in Cold Spring NY during Sept/Oct. It was a blast. We set up in huge room and played for hours and hours. We played lots of football and annoyed the locals by taking over in pubs and playing for beers. You would think they would have been happy to hear Ritchie jammin in the bars but it was like an old western movie with the doors swinging and the locals staring!

When the album was recorded did you had the feeling it was going to be a real successful Rainbow album?

I can't remember if that was my thought. I was more interested to see what the fans made of it. As a fan of the earlier heavier era of Rainbow, I thought we had songs that were in that direction in Black Masquerade, Ariel and HOTMK with HH as an unusual song that was not like anything the band had done before. Ritchie wanted the more melodic side as well so we had TLFT and Emotional crime. I wanted to tip my hat to Mk3 Purple so Silence was there, albeit with the wrong chorus. Listening back now (and I haven't for years) it sounds very clinical and polished. I had hoped it would be a bit edgier, but we were after the American market and its a fine line between American radio friendly and that edgy rootsy British rock sound. I think we crossed the line. It sound as it was meant to sound. We once had a chat about doing the next album quicker and with a less polished sound to it.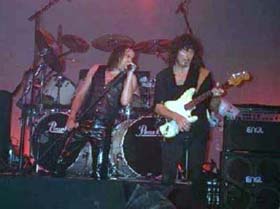 Who came up with the idea for the cover artwork of SIUA?

The picture was taken by Jim Mangard (Ritchie's then tech), on a hill adjacent to Long View Studios, close to the hut where Steven Tyler wrote the lyrics for "Get a Grip." I think the idea came from a St Patrick's Day cardboard leprechaun that Greg and I stole from a local ale house.

It had the little guy with a stowpipe hat in one hand and a gold beer jug in the other arms out stretched and a rainbow going between the hat and mug. I think it was the best Rainbow sleeve since "Rising "- very simple, very effective.

After the album came out the BMG press kit video was done in New York, as well as a long interview for Japanese TV (TVK Bang Up Rock). How was that to do? Did you then saw a different Ritchie Blackmore than the one you knew from the rehearsals & in the studio?

I don't have a problem with interviews and especially not when it was with regards to Rainbow. I was so excited and thrilled by the whole thing. Here was being flown around the world, staying in top class hotels to do interviews!!!! And...... I thought I knew what I was talking about. As for the boss, Ritchie is Ritchie. He can be a total professional or he can decide that he doesn't want to do it but has to and I think you can see that. It is difficult to answer the same question time after time and keep the answer interesting.

You then already did the "I belong to Glasgow", "Northern lights of Aberdeen" & the "Sad Alcoholic" tunes. Where did they arise from? Was it the result of the rehearsals before the album?

It goes back to us playing in the bars and pubs in 94/95. They were just for fun. Most nights at the shows we played everything we had and then threw in these "drinking songs". There was always an air of expectancy for me on that first tour. I never knew when Ritchie was going to say "you're on.." that was my cue to do whatever. Sometimes it was Rainbow Eyes or 16C.

You also played these quite regular in the live set. Another one was the "Hey Joe" version with the O.J Simpson lyrics. Great and funny version. Overhere in Europe there were not too many familiar with him but in the States he was a legend. You did this version also on the US tour in 1997. Did you ever got negative response to that?

We thought we might get in to bother in LA but everybody was singing along and howling with laughter, then Ritchie blasted in with the solo and we were back rockin as hard as ever.

Just before the tour in 1995 John O'Reilly got injured and was replaced by Chuck Burgi. Has there ever been talk about having John back in the band?

No! Chuck was the drummer for the band after John's accident. Chuck understood perfectly what Ritchie needed and gave it in droves.

On the European tour you announced Chuck often as "The Doctor". What's the story behind that?

I am sorry but that is a Rainbow secret I cannot reveal.

As the Rainbow fans are got used to, there where ofcourse again some shows where the band refused to come back to do an encore. Did you feel at those nights right about it or was it Ritchie's decision and that's all there to say to it.

Well, I think we only failed to play encores on 5 occasions, so it's a good average for TMIB. If he decides that he does not want to play anymore he cuts the show and that is that. It's part of "The Legend" and we all forgive him anyway... Do we not?

After the tour in Europe and Japan in 1995, the next tour was in the summer of 1996. What was going on in the first half of 1996?

We had worked for almost a year straight through from Jan 7th till late Nov, doing the album and the press and the rehearsals and tour. Couple that with Ritchie changing his management to Carole Stevens at Minstral Hall and the setting up of the South American and 2nd European tours and there you have it!

Then there was the South American and European tour in the summer and it became again quiet around the band. Was there any talk about doing another album or was it then already clear it was going to end in the near future?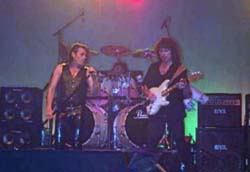 We were supposed to do the US tour in 96 but for whatever reason, whether it was the new management settling in or Ritchie finishing "Candy's album" as he called it, I dont know. But by the second European tour a certain amout of pettiness and unnecessary niggling crept in, (not between the guys in the band and Ritchie, I should add) and the vibe was never quite the same on tour again. It has been universally acknowledged that I, like my contemporaries, some subsequent people and indeed former band members, have had my share of run ins with his management. In essence it had gone from a professionally run band to a family business overnight. However, Ritchie and I did talk about a new album starting in early 97. But Ritchie was moving more towards BN as it had become by then and it was never mentioned again until the end of the US tour. Ritchie told me he would do this one BN album and tour and then we would start a new Rainbow record in 98. I started writing and gave him a tape of ideas at the last show in Denmark.

Early 1997 there was a small clubs US Tour. John Micelli was the new drummer. How did he came in the band. Where there rehearsals with other drummers?

We had been promised a lot of work in 96 by the management, I have signed contracts for tours that never came off. So Chuck took a good job with Enrique Inglesias that gave him work for 5 years. He recommended Micelli. We were going to try out Eric Singer but went for an east coast based drummer. John worked out really well, he was dumped in at the deep end and drove the band differently from Chuck. I liked him a lot.

After that tour it firstly looked like that was the end of it all. Then there where plans to do another European tour which in the end only ended up in one final show in Esjberg. Why did that gig happened while the rest of the tour was cancelled?

I could speculate about it. But the truth is I don't know. What I do know is that Carole wanted me to tour with Ritchie for no pay. She was trying to break long standing agreements I had with him and I thought that that was unacceptable. I did try to talk about the situation with Carole, the lawyer, the accountant, (Ritchie was in Europe promoting BN) at the time, but no one would take or return my calls. I felt I had no choice but to tender my resignation.

There where rumours that Ritchie was going to ask Cozy Powell who was also at that gig to join the band for a reunion including Ronnie James Dio as the singer. Did you ever noticed anything about that or was it just another rumour?

I believe it's true but our version of Rainbow was well over by then. My understanding is that it was a one of show in Japan to be broadcast and released as a DVD and live album. But you can't do that!! If you are going to immortalise such a band in this way you need to have few shows under the belt so it flows. Just look at Rockpalast from 95 and listen to the band some 10 days later.

There was also talks that Cozy was going to join you on stage in Esjberg for the encore but the promoter refused to let him go onstage because of the curfew. True?

I never heard a thing about it at the time. Indeed I don't even know if Cozy stayed to the end of the show. I heard it mentioned much later. An Urban Myth perhaps??

You handed in your notice some weeks later. What did you do after that?

It was not something I did lightly and it was not a petulent act. To be honest, it hurt for a while. I thought we could have run BN side by side with Rainbow. But we just ran out of time quicker than expected. It was not a good time for me. There were other things going on that were weighing me down. Add to that leaving the band that I loved.... It made 97 the most miserable year I can remember, not just for me but for those who had to be around me. Of course, I picked myself up and dusted myself down. No one likes a "Pity Party" host for long.

There were reports about a solo album. You wrote songs with Alex Dickson and Ashley Limer. Where these songs recorded and will they ever be released?

I hope to have the album released at some point. It needs mixing and a deal. I have had so much material coming out over the last while and also coming up that there is no need to release a solo album at the moment. It will keep till there is space for it. I had Arrival, Nostradamous, Human Stain, Attack, the new Mantis album and of course the next Cornerstone album. So it's not like I'm sitting not doing anything.

Then you did various stuff like Sack Trick and many tribute albums. From what I know at least one or more songs of the following bands Iron Maiden, Whitesnake, Thin Lizzy, ZZ Top, T Rex, UFO, Nazareth, Slade & Yes. Which one(s) did you like best?

Sacktrick is always a blast. Chris Dale is insane and comes up with these mad concepts. The songs are really cool and have a great energy www.sacktrick.com. Chris tries to get everybody involved in some way. Even Yngwie took part but not musically. Chris has a collection of pictures of "Rock Stars" and "Celebs" holding up a sign reading "I wish I was in Sacktrick". Its like Starbucks,.......taking over in Chiswick. As for the tributes I have only heard Maiden and Whitesnake. They sounded quite good. The added bonus was that I got to play with some superbe musicians like (Purple related) Mickey Moody, Neil Murray, Don Airey and Bernie Torme, amongst many others. Also the Maiden one gave others a chance to hear what I sounded like singing these songs, seeing as I did not get the gig in 93. Another good thing about them was that I started to work with Billy Liesegang.

In 1999 you did backing vocals on Joe Lynn Turner's "Hurry up and Wait" album. You did two tracks, "Too much is not enough" and "Freedoms Wings". The last one didn't made it to the album and on "Too much" you're hardly recognizable. Still this is a very interesting thing as Joe is also a former Rainbow singer. How did that all came about? Paul Morris and Greg Smith also played on this album. Was that the link?

I don't know what the link was, but I got involved when I went to stay with Greg for a while. He was working on Joe's new album and dragged me along. Joe and I eyed each other like a couple of old gunslingers, it was funny! We got on well and he asked if I would help with some BV's. I like Joe, he gets a rough ride from certain people but he is passionate about what he does and what he did with Rainbow. What people choose to forget is that Ritchie chose to work with Joe and also told me that Joe was his favorite singer to work with.

"Freedoms Wings" later was used on Joe Lynn's "Holy Man" album, Paul and Greg again played on this album, I guess it's not the version you did background vocals on?

I don't remember the song and I have never heard Holy Man, so I cant say.

Did you share some Rainbow stories with Joe Lynn Turner and that kinda things?

For a few minutes I suppose. With any of these old Rainbow guys, me included, when more than one gathers in any place, the name of that guitarist is spoken and tales of his deeds and misdeeds are told. He is a one off is old Ritchie and I hope he never changes or loses the edge and passion!!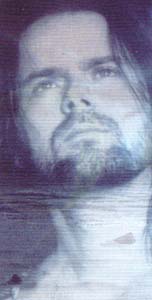 In 2000 you did the first Cornerstone album "Arrival". Steen Mogensen mentioned in interviews he was very impressed when he heard for the first time in 1995 a song from SIUA and that this was the reason to ask you for the Cornerstone thing. When you joined all the material was more or less finished. They even had done a 3 song demo with another singer, Henrik Brockman, and send it around to recordcompanies. Did you knew that?

Yes! I was aware of that and I think they got the deal on the strength of those demos. I was trying out for Royal Hunt and when I didn't get the job Steen offered me the chance to sing on his solo album. I think he is a splendid and exciting songwriter and he curbs my more extreme tendencies. So I took on the challenge and it's worked out well.

Was you satisfied with the material? I mean it's a excellent album but a lot darker and mysterious than the second album "Human Stain" in which you had a much bigger part.

Yes, I did it because I like the material. It was so different from anything I had ever sung before and I fancied the challenge it would bring. The success of Arrival meant that Steen was offered a 3 album deal and asked me to get involved for the 2nd of those albums. Steen has just left Chiswick after 3 days of completing the demos for the new album. Recording begins in mid March and we should be done and ready for release later in the year.

On both albums it says you and Steen are the musicians while the other are guest musicians. Will Cornerstone ever be a real band or will it continue as a recording project only?

I would like to take the band on the road. It is only a band when its road worthy. I think Kasper is an amazing talent on the guitar. An unsung hero really. People have been saying that Human Stain is the best album Rainbow never made, which is a compliment but is also misleading. For me Rainbow is defined by Ritchie. Kasper's guitar playing is nothing like Ritchie's. The overall vibe and energy of the songs may be similar and the arrangements may seem familiar. Allen on the drums is a monster player, so it would be good to see how it will work live. Perhaps we'll hit the road after the new album is released.

You only did one live show ever, a album launch party in Copenhagen, a kinda unplugged set. You then also included a version of "Hunting Humans" in the set. If you ever will do a tour with Cornerstone is there a change you'll do again SIUA material?

I dont know why we did HH at the gig. It sounded good though. I think by the time we hit the road we will have 3 albums and enough material to do our own songs. But you never know. Maybe we'll do an acoustic version of "Pagan Love Song" that TMIB and I wrote and recorded for SIUA but it didn't make it to the CD.

A third Cornerstone album is planned. Can you already tell anything about it?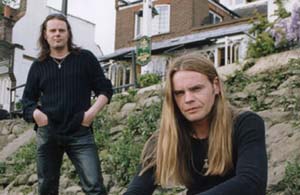 We have just finished writing and recording on the demos, just today. Again we have Allen and Kasper so it will continue to have that sound. There is a great variety in the arrangements and indeed the lyrics and melodies in the songs. We are going to try and do the album in the spring once Steen has time from RH and I from YJM. The songs are very very strong and we are beginning to have our style defined while throwing in some unusual ideas. I am more than happy with the 10 songs we have.

Inbetween the both Cornerstone albums you did the Nostradamus project by Nicolev Kotzev. An album that also featured Joe Lynn Turner and Glenn Hughes. How was that?

Great fun. I had never been asked to write like this before and the challenge will always get me going. It was good to be singing again and in such splendid company. It was a brave album for Nik to do. I enjoyed myself........I hope Nik can say the same.

There were reports on a simular project called "Once and Future King" in which you also would have a part. What are the plans for that one?

I don't know what the plans are. I did vocals on a couple of songs. I haven't heard anymore since.

Other reports mentioned an album with Bill Liesengang called "Visual Surrveillance of Extremities" and a finished solo album with the working title "Ice". Are these true? If so, any change of a release in the near future?

Bill and I are slowly working though the songs and should be done soon. Again it's another album that doesn't need to come out yet. There are a couple of demos from both these albums on my website.

Last year you joined Yngwie Malmsteen's band and did the "Attack" album. You went on tour late last year in Japan and Singapore. How did that tour go?

Yngwie is great to work with. I have the highest regard for his talent. He has a plan and sticks to it. It is about him and him alone and if you leave your ego at the door, you'll do just fine. I have no illusions that it could be a short run. He likes change. But we are getting on well and he allows me to do whatever I want on stage. The tour was fantastic. I enjoyed it almost as much as 95 with Rainbow and far more than Europe 96, thats for sure!!

I believe you also did a long version of "Mistreated".

Well, it was the same length Mistreated but with a huge long bluesy solo from Yngwie.He really plays the blues so well. He just started it; we had no idea that we would play it 3/4 times over the tour. It was fun to sing and it brought back happy memories.

There were reports about a live album recorded on that tour.

All the shows were recorded with the view to a live album but I have heard nothing more.It would be a shame not to release an album when the band is cookin so well.

The European Tour was originally scheduled for Jan/Feb but then was postponed for two months. Why and what can the fans expect to see on the tour which is planned now for March/April I believe? Any plans for more touring after that?

I don't know why the tour was resheduled, we singers are always the last know. From my end, I hope you get to see a high energy rock n roll show with some classics and some new songs and some never heard before songs. I think the plan is to tour South America and then the States and the home in time for tea and crumpets.

Last question, the cliche one everyone wants to know: Do you think Ritchie will be ever interested to do a Rainbow reunion?

It's a boring answer, but it is honest............. I DON'T KNOW.!!! Everytime the rumour pops up I get emails asking if its true and if I am involved. It's a nice thought, but Ritchie does what he wants, just now he wants to do BN. That is where his soul is at the moment. If he changes his mind, I am sure that if I am the singer he wants, he will call me and ask me.

RAWWWKKKK
Dougie


© Rainbow Fanclan Legacy 2003