BOB DAISLEY

Rainbow Fanclan Legacy Exclusive Interview
Bob Daisley was the bass player in Rainbow from August 1977 till August 1978. He did a world tour with the band and played bass on some tracks of the "Long Live Rock'n'Roll" album. Rainbow was his first major rock band and it opened the doors for him to join later other major acts including Ozzy Osbourne, Gary Moore, Black Sabbath, Uriah Heep, Yngwie Malmsteen, Mothers Army.

After Bob Daisley was voted as favourite bass player in Rainbow in the June poll on this website leaving Roger Glover & Jimmy Bain behind him, I asked him to do an interview by email. He replied "Yes, I'd be pleased to do an interview when this project is finished or at least under control".

So that gave me time to put a topic in the Rainbow Fanclan Forum and ask the visitors to come up with any questions as well. Some did that in the forum, others send their questions by email. All questions were included in this interview.

When I mailed Bob the questions, he was still busy recording 'this project' in Florida, then news reports came earlier this week that the recording sessions were finished. Only a few days later Bob has answered all the questions already, he did a splendid job and has shared a lot of facts from his Rainbow days with us. He told me: "Wish all the fans well for me and a special thanks to all those who voted for me in the poll."






The Interview




How did your musical career start? Did you start right away with the bass guitar?

Guitar class lessons at age 13. I took up bass guitar just over one year later after falling in love with the instrument. I have not played guitar since.

Your first bands, in the first half of the 70's included Chicken Shack and Widowmaker, how was that period?

Chicken Shack / Stan Webb was a good education in Blues music for me. Widowmaker was the first real democratic situation, band-wise. In different ways, I have enjoyed all the situations in which I have been.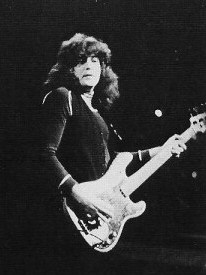 Then in 1977 you made the step up the ladder and joined Rainbow. Were you familiar with the band and their albums at the time?

I knew of Ritchie Blackmore's new band Rainbow from about 1975 when it formed. I wasn't totally familiar with the music but when I became more familiar with the music, I loved it.

Ritchie was known at the time to do auditions finding a new bassplayer by playing very fast and the bassplayer had to catch up with that. Was your audition also like that?

Ritchie particularly wanted a bass player that used a plectrum (pick) for the precision of the music (not to be confused with a Precision bass). Ritchie put me through the paces regarding this preciseness required and was very happy with my performances.

You got the gig and Rainbow had again a complete line-up. Then after rehearsals you did a European Tour to promote the 'On Stage' live album. Wasn't that a bit weird for you, and David Stone as well, promoting a live album you didn't was part of or did you saw it more as touring with your new band?

The European tour was as much a promotion of the band as any album being promoted - the new line-up was also being promoted / established.

It was the start of a, even for Rainbow standards, very memorable world tour. The tour should have started in Finland. But that first show was cancelled as customs stopped trucks for drug inspection and the gear arrived too late. Then the next show in Stockholm started with a delay of an hour or so. Was that your first show with the band (there are rumours of some try out shows before the tour started)?

No try-out shows. Stockholm was the first - I remember it well.

What did you think of this kinda false start at the time. You just joined this band and things didn't went too smoothly, many shows of that European tour were rescheduled one or two days earlier or later.

Having been in many bands over many years, re-scheduling and "hiccups" are nothing too unusual. Really it can happen in any situation.

Things finally went a bit smoother, although I think you did one of the shows (Oslo) without the electronic rainbow as it arrived too late from the previous gig. I saw you doing the show in The Hague, Holland which was to me a brilliant concert. And then there was another incident. Ritchie got arrested after the show in Vienna. What happened?

The hall manager for the show in Vienna was an arsehole and turned the house lights on during the show. He stood in front of Ritchie during that time and tried to grab Ritchie's leg on stage. Ritchie lashed out and kicked him in the jaw and broke it. After the show, Police with sniffer-dogs came in to arrest Ritchie. Ritchie was in a drum-case trying to be smuggled out. But they found him and arrested him and took him to prison where he spent two or three days.

After Ritchie was released on bail you did the famous Rockpalast show, the band arrived around midnight when a large part of the audience already had gone home and did an excellent show. The only one which was filmed from the 70's line-ups. Can you still remember that night?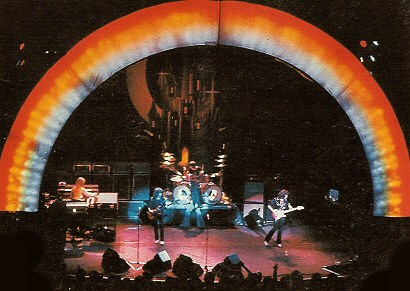 Yes, it was still a great show even though we went on late after waiting for Ritchie to arrive from Vienna. I think we actually went on stage around 11 o'clock and the show went very well. I think there are plans for the filming of this show to be released on DVD.

At the last night of the tour on the Continent you played Paris and you guys got a practical joke lined up for tourpromoter Eric Thompson. Tell us about that please?

The road crew made a harness for Eric, stripped him naked and hung him from the rainbow during the show! They let him down when he started going red in the face as they thought maybe the harness was too tight. When asked if he was ok, Eric said, "yes, I was just trying to take a shit on Cozy".

Is it true that Ritchie had a go at Eric Thompson all the time? There are some other stories known from later tours when you were no longer in the band.

Everybody played practical jokes on Eric Thompson, I mean, all the bands and acts that he was promotor for - it was just something that everybody did. I think Eric came to expect it.

A U.K tour followed, with only one accident. Ritchie smashed up his guitar in one of the boxes in Liverpool Empire Theatre and Rainbow got banned from that place for future gigs. It is said that the 2nd night at Manchester saw the finest Rainbow gig ever by any line-up. Do you have the feelin' that the band got used to each other and in better form then?

In the opinion of many people, that line-up of Rainbow was the best. By this stage it had really started to gel - that was a very happy time for me and I tend to agree with that opinion.

What was your bass and equipment set-up at the time?

My bass was a 1961 Fender Precicion, Picato strings and the amplification brand I can't remember. The amps belonged to the Rainbow organisation and I wasn't too keen on the sound as they were transistor / solid-state and not my favourite.

After the tour it was time to finish the "Long Live Rock'n'Roll" album. The band had been working on this before you were in the band. Ritchie played the bass on several tracks. Were there already tracks that were completely finished then?

I think some tracks were in the final stages whilst others hadn't been started. I would have preferred to have played on all tracks as, although Ritchie is one of the greats on guitar, I wouldn't call him a great bass-player - not many guitar players are.

On which songs did you play the bass?

Gates Of Babylon, Kill The King and Sensitive To Light.

On some of the LLR&R session reports there was a track listed called 'Night People', Cozy related how the 'track' was just a basic jam, do you recall this track, or any other work-in-progress from your time with the band?


Night People we used to do a bit of in a medley on stage but thats about all I recall of this song.

Ritchie have been telling in interviews that he wanted you in the band because you was able to write songs. Did you ever got the chance to write anything in Rainbow?

Not really. The stuff had already been written for LLR&R and Ritchie and Ronnie pretty much had a monopoly on song-writing.

There are some weird stories about séances Ritchie did during the recording of the album in France. Were you got involved in them? Are you open for these kinda things or was it more that you had to step into this because you were part of Ritchie's band?

We had many séances, not just there but in lots of places we stayed. Ritchie was very into this - I was interested but not as into it as Ritchie.

What about Baal, who was given a 'no thanks' on the credits of the album?

Baal was a negative spirit whom Ritcie contacted several times and was very disruptive during some of the recordings - recording equipment would stop working, lights would go out and during seances Baal would take credit for the disruption.

In January 1978 you started touring again, this time in Japan. Ritchie and Rainbow always have been extremely popular over there. How was that tour for you?

It was almost like being in The Beatles. Quite often in certain towns the hotel would be surrounded by fans and we couldn't get out of the hotel. This was a peak time for Rainbow in Japan and I think the album was number 1. I know we played three nights in the biggest venue in Japan, which was the Budokan.

Again it was a tour with an accident, a young female student was crushed to death in the crowd in Sapporo. That must have been shocking news when you heard about it. Was the band aware what happened during the show, or did you only found out after it?

During the show, when we first came on stage, the whole audience stampeded and rushed to the front of the stage. We were totally unaware that anyone had been seriously hurt. When I returned to my hotel room that night, I had left the TV on in my hotel room and upon returning to the room, I noticed that we had been filmed and were on the news and I wondered why. Soon after, I found out that a young girl of only 16 or 17 had been crushed between the metal seating when the audience rushed the stage. It was very sad and we were all shaken and felt very sorry for her and her family. I still feel sad when I think about this today.

Then the Long Live Rock'n'Roll album was finally released. As you only played bass in a couple of songs, were you proud of that album?

I'm proud of everything I've done and I was grateful to have at least been on some of the recording.

There are 3 videos of the LLRNR album, filmed for Don Kirschners Rock Concert. The vocals are live, but the rest is supposed to be mimed. What's the story behind that?

I really can't remember much about that.

There was the US leg to finish off the world tour. Rainbow started as support act for REO Speedwagon. There are some wild stories of Ritchie having fights with the REO crew as their manager switched on the houselights before the end of your set. Can you still remember what was going on?

REO Speedwagon had a hit record at the time but we were more of a credible, well-respected musical rock act and were going down very well. When we went even slightly over time during our set, the houselights came on, which Ritchie took as a personal lack of respect. I think what happened was during a scuffle backstage with REO's manager, Ritchie pushed him down the stairs - and rightly so.

At the end of the tour a few shows got cancelled; riots, interference between the electronic rainbow and the PA, tickets were refunded. Was it a misery in the end and was it all just bad luck or was there something else going on?

I think it was combination of Ritchie's frustration with the interference to sound equipment from the computerized Rainbow and the lights and his ongoing desire for yet another new version of Rainbow.

Do you remember what the last show was you did with Rainbow?

Yes. I think it was in New York and we'd had trouble with interference and noise through the amplification and Ritchie seemed very disenchanted and annoyed. I just wish it could have gone out on a better note.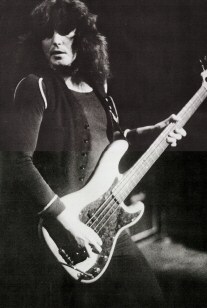 Ritchie is well known about his pranks and practical jokes. Have you been a victim of the "evil" Blackmore?

Not me personally although I have been an accomplice, haha!

Then after that your Rainbow days were over. Was that immediately after the tour finished?

Things hung in the air for a little while with a bit of uncertainty but soon after Ronnie and I talked about getting a band together.


For you Rainbow was more or less the start of a huge career, like so many people after they left the band, but not for David Stone. He's one of the few who seems to have vanished from the earth. There were some very minor things he did like joining Canadian Rockers Max Webster in the late 70's/early 80's. Did you ever heard anything from or about him?

I have not heard from or spoken to David Stone since 1978.

Well, after Rainbow you became one of the major household names of hardrock bassplayers. You were in bands like Ozzy Osbourne with the great Randy Rhoads, Uriah Heep, Gary Moore, Black Sabbath to name some of those big acts. Did you notice any difference between working in Rainbow and in the other bands?

Each band and situation was different in its own way but what I liked about Rainbow and the way Ritchie worked was the dedication and strict discipline in the music and presentation of the act.

Anyway before all those bands my collegue Gerrit from the fanclan had a chat with you in July 1979 in the Marquee club after an Ian Gillan concert there. You mentioned then that you were forming a new group with Ronnie Dio, Mark Nauseef and another ex-Rainbow member, Mickey Lee Soule. You told Ronnie was only a stand-in for Black Sabbath. Well we now know what happened, Ronnie joined the Sabs on a permanent base. How far were you with this supposed new band. Did you have a guitarplayer or a name for that band?

Ronnie and I had discussed the formation of this band over a period of time, which lasted months but the band did not get to materialize. It's almost ironic that after having waited to form this band with Ronnie I would end up forming a band with the person that Ronnie replaced, i.e. Ozzy Osbourne.

In 1989 you came into contact with another refugee from Rainbow, vocalist Joe Lynn Turner, as you both appeared on Yngwie Malmsteen's Odyssey album. Still considered as Yngwie's best by many fans. How was it to work with Joe & Yngwie?

Yngwie is a great player and asked me to join the band at the time but it just wasn't what I wanted to do at the time. Joe and I got on very well together and subsequently worked together again with Mother's Army. In actual fact, the period that I worked with Joe and Yngwie was towards the end of 1987 after a Gary Moore tour I did of the US.

Then you went back to Gary Moore and joined forces with Cozy Powell again. How was it to play with him again after more than 10 years?

I enjoyed working with Cozy as we got on very well together. For some reason I knew it wasn't going to work out musically between Cozy and Gary. Subsequently, the working relationship ended and Cozy was replaced with Chris Slade. During the recording time and rehearsals with Cozy it was an enjoyable time for me.

Cozy left but you continued, even when Gary choose to pack the hardrock in and go for the blues. Still after that you joined Mother's Army. Was this a musical choice. I mean to go for another hard rocking band again.

Although I played on parts of Gary's new Blues project (which was my suggestion/idea) my association with Rock was a little inappropriate for the Blues image of the new Gary Moore direction. The formation of Mother's Army came from an association I had with Carmine Appice from years earlier and his association with guitarist Jeff Watson. Soon after the formation of the band we asked Joe Lynn Turner to be the vocalist, who accepted. I guess it was an unconscious choice to stay with rock, although I have a great love for the blues.

All the people in Mothers Army were major names in rockmusic, so this should have been what is called so often 'a super group'. Still it didn't really got near the status of major rock act with selling millions of albums. What went wrong?

Lack of good management, lack of promotion, lack of a good record company and too many other projects going on for the members of the band.

In Mothers Army you teamed up with Joe Lynn Turner again, it's very noticeable you teamed up with various ex-Rainbow members through the years. Apart from Joe, there's ofcourse Cozy Powell, but also Don Airey (OZZY Osbourne, Gary Moore). And you also joined briefly Ronnie James Dio for a short European Tour late 1998. It looks like it's one big family. Is that true or do you have a completely different vision?

Throughout the rock family tree, there are many links between its many members, sometimes this business gets almost incestuous. Sometimes by choice, sometimes by the crossing of paths.

Then some years ago you went back to Australia, we saw you back last year in the Hoochie Coochie Men. Was this well considered choice to go back to the blues or was it something that just came on your way?

A little bit of both. I hooked up with a friend of mine, Tim Gaze, from a band very early on in my career called Kahvas Jute and he had a blues band. We began working together and recorded the album "The Hochie Coochie Men", which was totally in context for me due to my love of the blues.

The Hoochie Coochie Men did some shows with Jon Lord (which will be available on DVD in a couple of weeks). That raised some eyebrows all over the world. Jimmy Barnes also joined in on some songs. And now there are these rumours that there's a new supergroup on the way with you, Jon, Jimmy plus Lee Kerslake & Steve Morse. Can you tell us something about that?

The actual lineup is Steve Morse, Lee Kerslake, Jimmy Barnes and Don Airey on keyboards with yours truly on bass and co-production with Darren Schneider. We have completed the recording of an album, which went way better than even we had hoped for. Keep an eye on my website for updates and news on its release.

And -it looks like it never stops because- in September there's the release of the not so well known band Silver. You on bass and Don Airey on keyboards plus featuring rock icons Gary Barden and Bernie Torme. Is it worth to rush for the shops when it's coming out?

My participation in the Silver recording was just a session and I played on three tracks. I don't know who played bass on the other tracks or how much of the album Bernie played on. Whether you rush to the shop in curiosity or not is up to you. My bet is that it will be a good album.

As a bassist who's played with many excellent drummers, what considerations do you make in adapting your playing style to whoever you happen to be working with, (if any)?

Being a musician that has worked with many different drummers, normally I make suggestions to whatever drummer I'm working with and usually work things out together.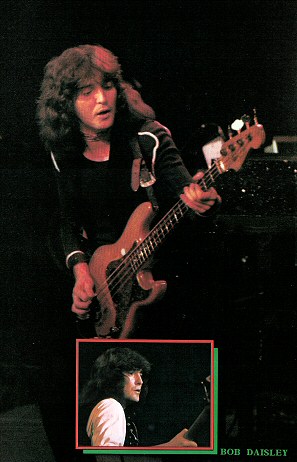 Do you believe that Rainbow will rise again? And if it so, will it have a success?

Being that Ritchie is no longer interested in playing rock music, I doubt very much that there would be a Rainbow reformation. If it could happen, I'm sure it would have success but I can't see this happening without Ritchie and without Cozy.

Just how close was the rumoured Rainbow reunion just prior to Cozy's untimely death?

I had spoken to Cozy regarding this several times and the idea was gaining momentum and looked seriously like it could happen and then the loss of Cozy seemed to stop it in its tracks.

What's your favorite Rainbow song?

The Gates Of Babylon - I love the keyboard intro and the middle section that David Stone wrote (uncredited) and the guitar solo is one of my all-time favourite of Ritchie's solos.

The last question is asked by 'Garth Rockett' on the Rainbow Fanclan Forum: Any message for Stan (the Man) Webb, as I see him around my (our) hometown here in the Midlands fairly often (Stan's Chicken Shack are still gigging regularly too- excellent shows!!)?

I talk to Stan from time to time myself on the phone as we have kept in touch all these years. If you do see him, wish him well for me and tell him, keep on tearing the arse out of all those gigs that he does. Bless him. And bless all the Rainbow fans that read this.

Thanks Bob! And thanks to Darrell Sensing who made this interview possible.


© Rainbow Fanclan, August 2003


All photos taken from the 1978 Rainbow Japan Tour Program.