Carsten 'Lizard' Schulz

Rainbow Fanclan Exclusive Interview



Last month we did an interview with Avi Rosenfeld, the guitarplayer from Israel who has released five volumes of an album that is titled "Very Heepy, Very Purple". On the first these volumes is a track that has been sung by Carsten 'Lizard' Schulz. After we published the interview with Avi right away Carsten contacted us and told us about his solo album and offered us to send a copy. The German vocalist is a household name in the international rock and metal scene with a career that lasts for more than 20 years. Besides he appears on some albums that also have contributions by ex-Rainbow singers Graham Bonnet and Doogie White, so it was obvious we ask him to do an interview with us.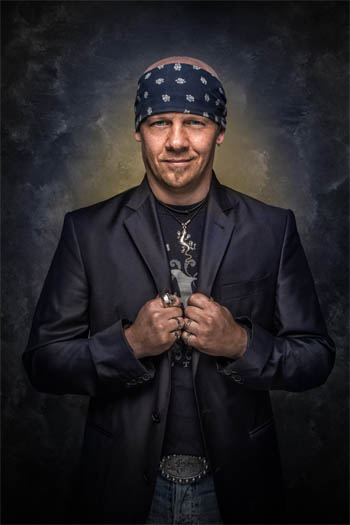 Carsten was so kind to send us his (first) solo album titled "The Day The Earth Stopped Turning" that was released in November 2015. As lead singer for acts like Domain, Evidence One, Code Of Perfection and Midnite Club in the first decade of the 2000's he has influenced the German hard rock scene like only a few other artists. His lead singing skills can be also enjoyed on more recent albums by Dead End Heroes, Lavalle, Rik Priem's Prime, Frozen Rain and many others and as a guest singer he can be heard on countless other releases. Carsten is also a highly sought-after songwriter. There are works out of his pen on albums by Russell Allen / Mat Sinner, Vengeance, Gary John Barden, and many more.

"The Day The Earth Stopped Turning" is a straight forward classic hard rock album. It grabs back to the good old 70's and 80's with a rockin' melodic sound with some blues and AOR influences but with a modern nowadays sound. All the classic ingredients are there like great guitarwork, a huge Hammond organ sound and a top class singer.

The first track of this album 'The Price is Shame' kicks off with an intro in the classic Deep Purple way and from there on it's 16 excellent tracks divided over two discs. The vocals by Carsten reminds of the likes of David Coverdale, Glenn Hughes and Joe Lynn Turner. The album is very much in the key of Deep Purple, Whitesnake and Rainbow but there ofcourse are much more influences.

There is a large number of well-known artists playing on this double album including Matteo Filipinni ('Black Water Soul'), Neil Murray & Erik Norlander ('Into The Blue') and Axel Rudi Pell ('Man In Flames'). Also Italian keyboard wizard Alessandro Del Vecchio who has worked with Joe Lynn Turner and Graham Bonnet is present on this album.

Carsten Lizard Schulz Syndicate "The Day The Earth Stopped Turning" is definitely worth checking out. You can listen to the full album and also buy it from this link.


At what age did you start with music?

Actually, at 2! My grandpa owned some recordings on his 2-track tape recorder with me singing Elvis tunes! Not kidding.

Have you always been a singer?

Yes! And always wanted to be nothing else.

Which singers and bands have been an influence for you?

Personally, I've always been into the Classic Rock guys, you know, those, that really knew, how to sing: Coverdale, Hughes, Turner, but also, I have to admit, Jon Bon Jovi in his haydays and for sure Sammy Hagar. But my alltime favourite vocalist will always be Ray Gillen (RIP)! There simply was no one better than him.

Domain was you first group with a big name. What did you do before that?

For a few years, I had my own band called MR.HATE, we even managed to get a deal back in the late Nineties. Apart from that, I was already doing session work for several acts.

Your first breakthrough was with Domain. What can you tell about that period. How was your time with Domain?

Lots of ups and downs, lots of struggles and fights, but I did learn a lot about music, my singing and the business. We managed to get on tour with every album, but it's always been a real tough ride, and as I said, a constant struggle. Good memories and not so good ones. In the end, I simply needed a change, because it was sucking way to much energy.

With Domain you also might have come for the first time to the attention of Rainbow fans since the band did a version of 'Stormbringer' on Blackmore's Castle volume 2. A tribute to Deep Purple and Rainbow that was released in 2005 by Lion Records from Finland. The song is also on the Domain compilation album "The Essence of Glory" that also was released that year. Was the song done especially for one of these two albums?

Especially for the Lion tribute, yes. We decided to put it on the compilation album as well, because we all liked it a lot!

Another band from that period is Evidence One. Were you the singer in both bands during the same period?

For a few years of course, but EVIDENCE ONE lasted a bit longer. In fact, we didn't expect the band to be that successful. Actually, it simply overtook DOMAIN easily, but my split didn't have anything to do with EVIDENCE ONE. EVIDENCE ONE in the beginning simply was different. We did, what we liked and there were people, that kind of liked it, too. We did some awesome tours, like supporting ALICE COOPER or SAXON, played all the major festivals. Unfortunately, business and line up problems in the end made it simply impossible to go on. But it was good times, and the band in its prime was simply unstoppable!

It seems that you have become through the years more and more a hired gun. I mean you have sung on so many albums and except for the years with Domain and Evidence One it seems it are mainly projects that only lasted one or sometimes two albums and session work.

Yes, I kind of found my own niche, so to speak.

One of these projects that Rainbow fans might know is your work with Iain Ashley Hersey. You sang just like Graham Bonnet on three songs on his album "The Holy Grail" which was released by Lion Records in 2005. We did an interview with Iain back in 2005 and he told us that he started working with David "Swan" Montgomery on this album but when he wasn't available all the time he brought in other singers. How did you got in touch with him?

Actually, I was auditioning for Stuart Smith's HEAVEN & EARTH, but when I was sending in a demo tape, he'd already found a new singer. Lucky me, he gave it to Iain, which then contacted me. I knew and liked his "Fallen Angel" album, so working for him was a no-brainer so to speak.

On Iain's next album, "Nomad", that was released in 2008 you not only sang on all songs except one (a cover of Rainbow's "L.A Connection" with Doogie White on vocals) but also wrote all the lyrics. What are your thoughts on that album.

I have mixed emotions about the record, because I love it so much. Not only did I co-write the tracks with him, I got all my friends in to play and produce the album, got him into contact with Doogie, we even recorded it in my studio. I was really happy with it, but much to my disappointment and against my advice, I have to say, he decided to sign to a label, which not only had no idea, who those European guys on the record were, they simply didn't know anything about Classic Rock! A Sleaze label! It took him a few years, until he did admit, that it wasn't his best business move… Fortunately, I could arrange to get him signed to a German label, which released a brilliant best-of compilation a few years later.

Did you also play some guitar on it? (since the album notes say Carsten 'Lizard' Schulz plays Framus Guitars).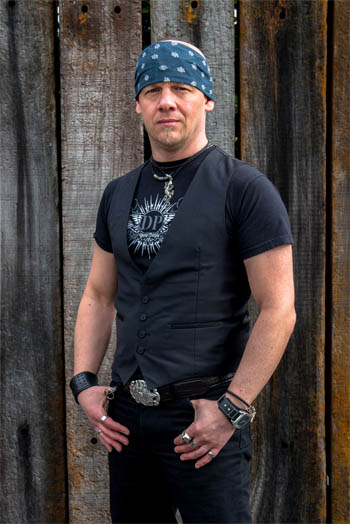 No, that was just to please my endorsement company... ;)

Did you ever perform live in concert with Iain?

Unfortunately not.

It must have been a shock when Iain died in November 2015.

I had no idea and found out days later! The tragic thing was, Iain co-wrote one track for my solo album, but passed away before it was actually out. I'm pretty sure, he would have been utterly proud, hearing Neil Murray play bass to his ultimately final composition.

Let's go back once again some ten years ago. Eden's Curse is one of the bands that you seems to have provided backing and some lead vocals on several recordings. Doogie White also sang on some tracks of those releases. Did you ever met him? Or did you guys record everything in your own or a local studio?

Unfortunately not, which is a real shame! Over the years, we've been on several songs together, but never actually met in person. Maybe I get a chance to finally talk to him on his solo tour, let's see.

You recorded an album with Paradise Inc in 2011. Again we see also Doogie White appear on one of the tracks. What happened with the band after this album?

To be honest, I'm not really sure. The guys wanted to have a steady line up, with which they could do some regular gigs, which I can truly understand. Due to the fact, that I'm living on the other side of the globe, I wasn't the one, they were looking for. As far as I know, they got Mark Boals in to record one song, but that one remained unreleased.

Have you done many live shows the last few years or is it mainly studio work these days?

Mainly studio work, which I enjoy very much! When I was a kid, I was a huge fan of guys like Jeff Scott Soto or Joe Lynn Turner, which were singing on tons of albums. I tried to get a hand on every release, those guys were own, because I knew, no matter what, I would like it. Secretly, I was hoping to become a studio or session singer like those guys one day, and, within my little world and on a by far smaller scale, I've made it. With EVIDENCE ONE we played a lot, and I did some shows here and there, mainly as sub singer, did some shows with IRON MASK for example, but the focus definitely was on my studio work.

One of your most recent albums is your own Carsten Lizard Schulz Syndicate titled "The Day The Earth Stopped Turning". It is a double album and has many musicians on it including Axel Rudi Pell, Mat Sinner, Neil Murray and Erik Norlander. It seems that you must have worked quite some time on this album...

Well, after recording for others for many years, I needed to do something for myself again. The CLSS album simply was a labour of love. Straight forward Classic Rock! HEEP, PURPLE, MANFRED MANN, WHITESNAKE… you name it! That's the sound, I love, and especially after working for Iain, I wanted to prove myself, that I can do such an album. Didn't care, if anyone liked it or not, was just doing it for me, sort of in my spare time. So, as you said, it took years to write and produce! Some musicians actually had completely forgotten, they'd contributed something to the album. I was lucky to get some people on board, which I am a fan of, like Axel Rudi Pell or Erik Norlander! I felt extremely honored, that they took part in it.

What is the meaning of the title "The Day The Earth Stopped Turning", what did you want to express with the title?

It's a bit of a sad one actually. While I was sitting in my office, writing down the first press info notes for the record, almost a year before its initial release, I got a call from my brother to rush to the hospital… my father died completely out of the blue at age 66. This really was "The Day The Earth Stopped Turning" for me...

How where the reviews and reactions on the album by the music press?

So and so. Some good, some mediocre, some full on rants. Some read, that they simply didn't expect a Classic Rock, Hammond driven album. This wasn't AOR, Power Metal or Melodic Rock, and they simply didn't get it. Sad, but as I said, the sole purpose for me was, to prove that I could do such a record. Classic 70s style, double album! I regularly listen to it and wouldn't change a thing, even if I could.

For more info about Carsten 'Lizard' Schulz check his website: www.carstenschulz.com