THE RAINBOW STORY

PART 3: RAINBOW'S HISTORY



It was Sounds' young Geoff Barton who first lifted the sound effect KERRANG! out of the comic books and into the world of metal reportage The date was Nov 1977 and he'd been covering a Rainbow tour Since then Kerrang! has become our only successful colour rock magazine and Blackmore was suitably honoured as Best Guitarist in the first readers poll So in this issue and the next two, we're going to try and track the lengthy career of Blackmore's Rainbow, a group who have been consistently successful despite making their way through umpteen different line-ups and over 16 different members (we're sticking to those who stayed long enough to have their photos taken!) These changes are now an accepted part of Rainbow and they stem (in part at least) from the dissatisfaction Ritchie often expresses about much of his studio work In fact, it was similar misgivings about his role in Deep Purple that led to the eventual formation of Rainbow But it was two other members of the band who unwittingly set the ball rolling almost 10 years ago

During 1972 Deep Purple made a total of four American tours, designed both to replace earlier cancellations and promote 'Machine Head' - the album that finally brought them the success they deserved On the first of these tours, during a night off, Roger Glover and Ian Paice happened to catch a show by local New York group called Elf Both Glover and Paice were impressed with what they later described as the "good-time basic boogie" music the band performed After the set they introduced themselves to Elf and offered to help the group out, primarily by producing an album for them.

So it was that in April, after the second US tour, Glover and Paice disappeared into a studio in Georgia with Elf The results were good enough to secure a deal with Epic Records who issued the album, called simply 'Elf' Shortly after it came out their singer, Ronald Padavona changed his name to the more widely known Ronnie Dio

Glover and Paice used their influence to get Elf onto many of the support dates of the remaining Deep Purple tours that year, and it was probably at this time that Ronnie Dio first came to Ritchie Blackmore's attention However, the progress of the group was halted during 1973: Deep Purple lost Ian Gillan and Roger Glover (who went into full time production work), and Elf too had some personnel changes which resulted in them expanding to a five piece consisting of: Ronnie Dio - vocals; Micky Lee Soule - keyboards; Steve Edwards - guitar; Gary Driscoll - drums; Craig Gruber - bass.

However, neither Purple or Glover abandoned them and Elf eventually came to Britain early in 1974 to enable Glover to produce their second album, and get them signed to Purple Records in Britain This second LP titled 'Carolina County Ball' ('LA 59' in America) came out in March that year and interestingly has a track on it titled 'Rainbow' Elf continued to tour with Deep Purple and so it was they had the unenviable task of supporting Purple's massive 1974 UK tour Despite Blackmore's unusual gesture of recommending the band in several interviews, Elf didn't really make much impact.

By the end of 1974 Deep Purple were over in Germany working on the 'Stormbringer' album Blackmore was keen to record an old Quatermass song 'Black Sheep Of The Family' but the rest of the group felt that Purple's days of doing cover versions had ended back in 1969 with Donovan's 'Lalena' and rejected the idea Undeterred by this, and unhappy with the somewhat funky approach that had crept in on 'Stormbringer', Blackmore decided to do the song anyway and issue it as a solo single Back in the States for a final burst of dates before Christmas, he seized the chance of a few days break from gigs to get into the studio and do the single.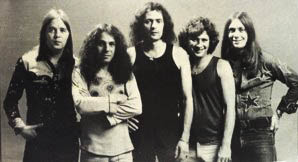 Lacking a vocalist and needing some lyrics for a B-side, he approached Ronnie Dio: 'He told me he had to go into the studio in a couple of days to lay down a track, and asked me if I could write a lyric for him by the following day' That lyric was 'Sixteenth Century Greensleeves' The two tracks were duly laid down by Ritchie with the help of Ronnie Dio and a few other friends including Hugh McDowell and Matthew Fischer.

He discovered that he and Ronnie had a lot in common musically and, after a while, decided to do an album that would allow him to get off his chest the ideas he hadn't been able to use on 'Stormbringer' Meanwhile, Ronnie returned to Elf who, now a six-piece with the addition of percussionist Mark Nauseef, were back in Britain to lay down tracks for their third album, taped in January 1975 and produced once more by Roger Glover.

The result was 'Trying To Burn The Sun', an excellent album by any standards, after which Ritchie and E1f departed for Musicland Studios in Germany where they stayed during February and into March recording Blackmore's LP He was tied to a tight schedule for Purple had a European tour beginning in March As things turned out the tour - documented on the live album 'Made In Europe' - proved to be Ritchie's last with Deep Purple.

He decided he wanted to leave as soon as his album was finished, and though he only told his manager, both the rest of the group, and indeed the audiences, could tell that something was wrong Blackmore's playing, though as brilliant as ever, seemed at odds with the group Materia1 he'd just taped for his album kept creeping into the act, causing the others to wonder what was going on After the last show in Paris on April 7 he called it a day.

Confusion reigned for the next two months but once Deep Purple had got over their surprise and decided not to call it a day, they agreed not to make any statements to the press until they'd picked a new guitarist This they did in May, signing a young American called Tommy Bolin The announcements came on June 1 - Ritchie Blackmore was to head a new group cal1ed Rainbow, the full line-up of which was:

Ritchie Blackmore - guitar; Ronnie Dio - vocals; Craig Gruber - bass; Micky Lee Souls - keyboards; Gary Driscoll - drums : RAINBOW Mk One

The name Rainbow had been taken from an American club which Ritchie frequented, but this first line-up never played a single live concert.

"We'll probably tear the band apart, throw a few people out, you know the scene!" joked Ritchie in July, and Gruber, reportedly unhappy at the way the Elf had ceased to exist, quit He was soon followed by both Driscoll and Lee Soule, and it became clear that Ritchie and Ronnie had decided to form a new band around their writing partnership In August the first replacement appeared in the shape of ex-Harlot bassist Jimmy Bain, who Ronnie had seen at London's Marquee club That same month, the long-awaited album appeared.

After everything that had been sacrificed to get it out, 'RITCHIE BLACKMORE'S RAINBOW' was something of a disappointment Most people expected or hoped for the killer guitar album that would finally close the mouths of Blackmore's critics once and for all This wasn't it Instead Ritchie chose to produce an album that played down the solo aspect as much as possible and established Rainbow as a band instead Some of the tracks are undeniably Purplesque and Ritchie later said that he had made the album as much to prove to himself that he could do it on his own as anything else What is showcased is the gentler side of Blackmore's playing, something that had rarely been exp1oited in Deep Purple Tracks like 'Catch The Rainbow' and 'Temple Of The King', although undoubtedly inspired by some of Hendrix's quieter moments are superb - feeling like, this just can't be copied from anyone.



While we were trying to fathom the album, the Rainbow trio had returned to LA to audition drummers Ritchie was searching for the sound that Beck had achieved on his old albums Auditions were simple - Blackmore set up a riff and the drummer had to keep up Eventually Ritchie gave up, and contacted Beck's old drummer himself Back in England Cozy Powell was on the verge of jacking in the music business altogether and returning instead to car racing Nevertheless he responded at once to the call and boarded a plane.

After the flight, he went straight into the studio and after just three numbers was offered the job Time was getting on It was now October, and live dates couldn't be delayed much longer The band continued rehearsing with a series of temporary keyboard players (including Eddie Jobson) until one day Blackmore, who was sneaking a listen to a Zeppelin rehearsal, heard weird noises coming from a nearby studio Investigating he discovered Tony Carey, practising with a country rock outfit called Blessings He was asked along for an audition and after half an hour got the job The new line-up was complete at last:

Ritchie Blackmore - guitar; Ronnie Dio - vocals; Cozy Powell - drums; Jimmy Bain - bass; Tony Carey - keyboards : RAINBOW Mk Two

The band had about a month to get their live act together and supervise the construction of some new lighting rigs Back in Purple, when they'd done the California Jam concert, the stage had been spanned by a large painted wooden rainbow For his new group, Ritchie wanted something similar to cross the front of the stage and the idea for an electric rainbow was born.

Warm-up dates were done in November (Philadelphia on the 15th is the earliest we know of) and, although the group settled in all right, the rainbow didn't With several thousand coloured bulbs illuminated in sequence by a computer to give the illusion of movement, an enormous amount of interference was generated, and this produced such a loud buzzing in the PA that some shows were delayed by several hours as roadies tried to overcome the problem Eventually things were cured by insulating much of the equipment, and the band's first proper tour took place on the east coast of America in December What news of these dates did reach Britain indicated an unbelievable show - and served only to increase our frustration! The waiting was far from over though.

February 1976 found Rainbow over at Musicland Studios once more, laying down the new album During the months of rehearsal Blackmore and Dio had written plenty of material (some new numbers had been in the December shows), so the album was done fairly quickly and the band returned to America for a long headlining tour running from May through to August Then at last it was our turn, with a full series of European dates, preceded by the new album.

'RAINBOW RISING' featured an almost totally black sleeve with the rainbow grasped by a fist proving the only relief Musically, it's dark, moody and heavy - oppressively so in places Side one weighs in with the excellent 'Tarot Woman', but it's side two that provides most of the highlights with the magnificent 'Stargazer' - almost the ultimate fusion of Ritchie's beloved classical themes and his passion for hard rock Midway he lets fly with a superb solo and ends it all by chucking in an orchestra for good measure This coupled with Dio's fantastic vocal performance, sends shivers down the spine There's barely time to catch the breath before Cozy piledrives his way into 'Light In The Black'.

By the time the side is over the listener is a feeble wreck (and so, by all accounts, was Cozy after they tried to do the whole side live in America!) Blackmore had decided what he wanted to do He had a band who could (and would) do it, and you could either like it or lump it The sellout British tour opened at the Bristol Hippodrome on August 31 and those lucky enough to catch it saw some of the best Rainbow gigs ever Taking tracks from both LP's, they weaved a show that veered between some of the heaviest rock you could ever want to some of the most beautiful guitar you will ever hear

Judy Garland opened the proceedings as the band took the stage Ritchie skipped on last, punching out 'Kill The King' riff to a massive roar of approval from fans who'd been waiting for this moment for over two and a half years Over their heads the rainbow burst into life and they were into 'Mistreated', before you knew where to look Colours swirling above, they launched into 'Sixteenth Century Greensleeves', 'Man On The Silver Mountain' and 'Catch The Rainbow' The latter really took people apart, and Ritchie's vision of what the group could achieve was clearly vindicated The song held audiences in a stunned and sometimes tearful silence As the last notes from Blackmore faded away a new backdrop rolled down and it was time for 'Stargazer', with some sonic brainblasting from Ritchie as he attacked the frets with his bottleneck before leading the attack on 'Still I'm Sad' playing fast and loose with the riff until Cozy Powell took over with his drumsolo, accompanied by the 1812 Overture (a routine he had perfected back in his days with Hammer, though it was new to most people).

Establishing a pattern that has become the subject of controversy at times, encores were by no means statutory, but when they did return it was for a deafening version of 'Do You Close Your Eyes' during which Ritchie initiated his guitar sacrifice to the crowd ("it's easy, I just pretend it's one of my old schoolteachers!") Often taking 10 minutes or more, this seemed a somewhat cynical trick to begin with but since the first tour it's become a not unenjoyable ritual which I guess Ritchie had envisaged right from the start.

If Blackmore was the star, Powell too won his fair share of applause while Dio, once he had settled down to British crowds, was an undoubted discovery and sang impressively Working with him Blackmore seemed happier than he'd been in many a year Carey also had undoubted ability, but was often inaudible to the audience and tended at times to upset Ritchie by drowning out quiet solos.

Leaving Britain, the group conquered Europe and Japan, but although many of the dates were taped they seemed to lack the tension that had produced such memorable UK Shows The resulting live album is not all it ought to be 'RAINBOW ON STAGE' comes in a tatty sleeve, has short running times and, initially at least, a high price tag However, it still contains enough to hint at what they were capable of, mainly during 'Catch The Rainbow', and there's some excellent guitar work - check out the stunning solo on 'Mistreated' Significantly the recording dates are not given and it transpired that some tracks were put together from more than one tape An edited single album called 'On-Stage Radio Special' is a much sought after promotional item, containing snippets of interviews between the tracks.

Both came out in 1977, but within the band itself changes were already taking place It was time for another album and more live dates - the endless routine of a rock band However, in February it was announced that Bain and Carey were leaving, having been given notice as soon as the world tour had ended Mark Clarke, ex-Uriah Heep and Tempest, was the new bassist but, unable to find a new keyboard player Carey was rehired:

Ritchie Blackmore - guitar; Ronnie Dio - vocals; Cozy Powell - drums; Tony Carey - keyboards; Mark Clarke - bass : RAINBOW Mk Three.

It was March already and the band booked into Le Chateau near Paris The sessions went badly Tracks were laid down, but Ritchie was unhappy with Clarke's playing and ended up re-doing the bass lines himself He also felt pressurised, unable to come up with new ideas and short of inspiration The tension eventually told and Clarke went, soon followed by Carey for whom it had all got too much.

It was now July The remaining trio posed for publicity shots and went off in search of new recruits These surfaced in August in the shape Of Bob Daisley from Widowmaker and David Stone from a terrible US pomp rock outfit called Symphonic Slam:

Ritchie Blackmore - guitar; Ronnie Dio - vocals; Cozy Powell - drums; Bob Daisley - bass; David Stone - keyboards : RAINBOW Mk Four.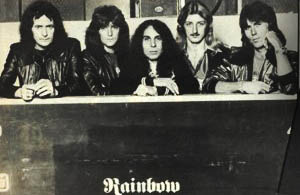 European dates were hurriedly arranged, promptly cancelled in favour of gigs in America that never materialised, then re-arranged Rainbow finally opened at Newcastle City Hall on October 31 for their second sold out tour Without a new album the set relied mainly on established material (though 'Stargazer' was sadly dropped), the only new song being, the infuriatingly-catchy 'Long Live Rock'n'Roll' Audiences generally took their cue from the 'On Stage' album, and few seemed interested in the subtler side of Ritchie's playing This set him some problems and the first few shows were inevitable erratic.

Things did pick up though, and at the Manchester Apollo on the second night they put on what is regarded by many Rainbow fans as their best show ever - the whole band clicked and the result was awesome The two new members did what was required though it was obvious they were just side-men, with Stone in particular even less audible than Carey Nevertheless they remained in the group as Rainbow returned to le Chateau after the British tour to complete the album.

The tour ended in Japan in February of the following year In many ways 1978 was the turning point for the band, the first signs of which came with the new album issue in April.

'LONG LIVE ROCK'N'ROLL' forsook much of the rough energy present on 'Rainbow Rising', and instead opted for a cleaner commercial studio sound - which at least meant we could hear Ritchie's playing properly However, it also bore testimony to the tensions that had delayed the album, and the struggle for inspiration It was no surprise to discover that the best cut on the album, 'Gates Of Babylon' was the most recent, recorded on the last visit to the studio in December 1977 As for the other tracks, many of them were merely competent, memorable only when Blackmore stretched himself, as with the excellent guitar work on 'Lady Of The Lake' Even the albums quiet spot 'Rainbow Eyes', seemed to overwork a nice idea in order to fill space.

In short the album seemed to sit uneasily between the sort of music Blackmore wanted to do and the sort of music he knew would make the commercial cross-over necessary if the group were to carry on The road-show they were supporting couldn't be financed from the money they earned in Europe and Japan, some in-roads had to be made over in America To this end the rainbow itself was symbolically ditched and they began a slog round the States from May until August Not only that, but they went out supporting more successful groups in order to reach the largest number of people possible.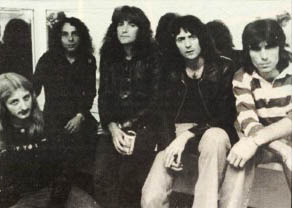 Once the tour was over, the anxieties Cozy had expressed before they'd set out were confirmed Not only were Stone and Daisley out but rumours were rife that Ronnie Dio would soon be joining them The facts were hidden amidst a stream of conflicting reports and it wasn't until January 1979 that Dio's departure was at last confirmed.

For many Rainbow fans it looked like the group had indeed reached the end of the road, and I suppose in many ways it was the end of a musical idea Blackmore had strived to build since 1975 He was faced with the prospect of a complete rethink.

It was obvious that if the band were to continue record sales would have to be much healthier Once Blackmore had accepted this, he realised he needed some help in order to achieve a more commercial sound in the studio Maybe he felt that with the vinyl side taken care of he could then forge ahead with what he wanted to do on stage, but whatever was going through his mind he began to cast glances at Roger Glover's extremely successful run as a producer.

Although Glover hadn't done much recording himself, he still retained a manager, who also handled Rainbow and it was through him that the former Purple bassist was invited to produce the next Rainbow album A meeting was arranged towards the end of the year (not, as Roger later confessed, without a certain amount of trepidation on his part) and Glover agreed not only to do the album but to help write as well.

Over Christmas, Blackmore returned to Britain where he checked out Cozy Powell's old Hammer keyboard player, Don Airey, and offered him the job in Rainbow Airey agreed, and Blackmore made an unsuccessful attempt to complete the new line-up by asking Ian Gillan to join Gillan declined and instead asked Ritchie to join his band Nothing came of that either but fans at London's Marquee club on Dec 27 had to blink and look again when Blackmore strode on for the encore of Gillan's set - Ritchie's only UK gig that year.

Rainbow began recording as a quartet in early 1979 but, following the departure of the bassist, Glover assumed that role as well The idea was to get as much of the album done as possible, so that when a vocalist was found it could be completed quickly After numerous auditions, the name of one-time Marbles singer Graham Bonnet came to the fore He was traced to London invited over and as a result of his tremendous range and power (rumours of mikes being set up fifteen feet away in the studio to record him are rife) given the job It was April, and the new line-up was announced at last:

Ritchie Blackmore - guitar; Cozy Powell - drums; Roger Glover - bass; Graham Bonnet - vocals; Don Airey - keyboards : RAINBOW Mk Five.

Glover had already penned some lyrics, so the vocals were done with a minimum of delay, and the new album was out in August 'DOWN TO EARTH' (with a limited edition in clear vinyl for collectors) turned out to be an apt title Gone were Dio's sword & sorcery lyrics, replaced by the more acceptable and supposedly tongue-in-cheek material of 'All Night Long' and 'Since You Been Gone', the latter, by Russ Ballard, giving Rainbow their first hit single Once Blackmore had done the basics, he allowed Glover a free reign with the end product, and the album was far more commercial than anything they'd recorded before Traditional numbers like 'Lost In Hollywood', and most people's favourite 'Eyes Of The World' kept older devotees happy, and the band had been given a new lease of life.

A European tour was arranged for the autumn and tickets printed in some places, but again this was cancelled in favour of promoting the album over in America, where it was achieving a measure of success Rainbow this time went out supporting Blue Oyster Cult, but once the tour was over they promptly re-visited many of the venues as headliners It was February 1980 before the group arrived in Britain and, helped by a second hit single ('All Night Long'), the tour sold out double-quick even though larger venues had been booked The shows themselves still had a hit and miss quality about them, however and the set seemed too broken up by long solos - even Blackmore's work which was as brilliant as ever In fact the best number was often the opener, 'Eyes Of The World', which the group really stormed into.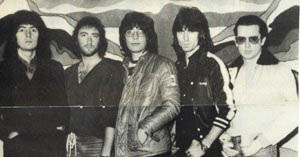 There seemed an over reliance on old material too, which proved unsuitable for Bonnet, who tended to shout rather than sing while Glover's return to live work was rather muted - he was content to remain an anchorman and touches of his bass magic were heard only fleetingly Airey proved more capable than his predecessor, even if his solos were rather tedious at times - which all left Blackmore free to play how and when he wanted, and there were some magnificent moments when he wou1d suddenly taken off into a world of his own At times like that you can almost understand the kids outside claiming they've seen God God he ain't but the best guitarist we have, yes In contrast to this came a poor show at Wembley and the much talked about riot when they didn't encore You'd have thought Blackmore fans would be used to that by now!

The 'will he - won't he' scene is much more fun than the usual encore predictability In May the band returned to Japan and already rumours about some of the group were beginning to fly, with Cozy Powell seen signing his autograph 'ex-Rainbow' Bonnet too caused some confusion in Japan where the girls like their rock singers to look the part! Bravely he stuck to his guns, or should that be beach shirts, and even when his stage clothes 'disappeared' refused to budge.

By the end of the summer Cozy's departure was just a poorly kept secret and he played his last Rainbow gig as they headlined the first Monsters Of Rock Festival on August 16 His main reason for leaving was the increasing commerciality of Rainbow for which he felt Blackmore had sacrificed too much and his replacement, an American called Bobby Rondinelli from an outfit by the name of Samantha actually came over for the Donington gig.

Bonnet went off, ostensibly to begin work on a solo album, while the others gathered at the Sweet Silence Studio in Copenhagen to get the next LP underway It came as little surprise to team that he would not be joining them after all and another US recruit by the name of Joe Lynn Turner would be taking his place The new look line-up ran:

Ritchie Blackmore - guitar; Roger Glover - bass; Don Airey - keyboards; Joe Lynn Turner - vocals; Bobby Rondinelli - drums : RAINBOW Mk Six.

It was now November and the group returned to the studio to complete the album Recordings of the Bonnet line-up had been made for a projected live album but this idea was shelved and instead two Rainbow tracks included on the 'Monsters Of Rock' compilation album, giving us all the chance to hear Bonnet struggle with 'Stargazer' which had been resurrected especially for the occasion Ritchie has spoken about taking an orchestra on the road to do an extended version of the track but this has yet to happen!

'DIFFICULT TO CURE' came out in February 1981 and the title was a cue for Hipgnosis to cover the sleeve etc in doctors and nurses; slicker than the last sleeve maybe, but rather empty nonetheless The music too seemed to lack energy and inspiration, just another 40 minutes to fill the airwaves of America Even the attractive instrumental 'Maybe Next Time' seemed just an imitation of 'Weiss Heim', a real gem that had surfaced as a B-side the previous year.

The band gave America another bash during March and April, sharing the billing with the Pat Travers Band Reports filtered back of some excellent shows but it seemed hard to believe after the album A short break in May gave Roger Glover the chance to begin a solo album before the European trek which reached the UK in July As a tour it was poorly organised (though the initial lack of London dates caused a smirk among fans elsewhere!) but musically it was a vast improvement on the previous years efforts.

Turner seemed to fit in well, actually making an effort to sing, while the group in general functioned as such Blackmore's playing was more inspired generally and he seemed to have greater confidence in this line-up than previous formations - in fact some of his best work came during the first couple of numbers, most notably on 'Love's No Friend' Rondinelli lacked Powell's sheer power, but it rarely mattered, and one of the rare dull moments was the Airey solo which he repeated almost note for note from the previous tour Some nights Ritchie even resurrected 'Smoke On The Water', and the shows ended with him laying waste to his guitar atop the PA columns.

Over in Japan, a pricey 'Best of' double album was put together for the tour, and Joe Lynn Turner's four albums with Fandango squeezed into one 'Best of' compilation The visit there ended the tour and Airey promptly handed in his notice, claiming he was fed-up playing all the old material (somewhat ironic in view of his live solo) So just when it seemed that Rainbow might achieve the impossible by recording two studio albums with the same line-up they found themselves auditioning once more This time they sent word ahead to the Lee Studio's in Montreal, and when they arrived there in October half a dozen recruits were waiting The job went to another American and the new line-up began recording in November:

Ritchie Blackmore - guitar; Roger Glover - bass; Joe Lynn Turner - vocals; Bobby Rondinelli - drums; Dave Rosenthal - keyboards : RAINBOW Mk Seven.

As Christmas approached, Polydor, aware of strong imports, put together their own 'BEST OF RAINBOW' in time for the festive season It was a poor money making exercise rather than a serious attempt to document the band We are now into 1982 The new album, 'STRAIGHT BETWEEN THE EYES' is upon us and it is interesting to see how they're shaping up now that Joe Lynn Turner's had time to establish himself If any of this article has seemed a little cynical, forgive me - old age you know As long as Ritchie is touring, I'll be crushed up against the crash barriers with the rest of you, though sadly there are no plans for a British tour this year.


Simon Robinson, Kerrang! April 1982