Doogie White



This is an interview Doogie White did for Blackmore's World.

1) Why did the band put the song "Stand and Fight" down of the setlist after the first night in Helsinki 1995?

We felt that while Stand and Fight was a good song, not a great song, that it was one song too long for the set list after we started to jam when we got to the live situation. I think it was the first song Ritchie and I ever wrote together. We rehearsed it for a few days but really there was no where to go with it.

2) Who had the idea to play songs like Waltzing Matilda or other drink songs on stage?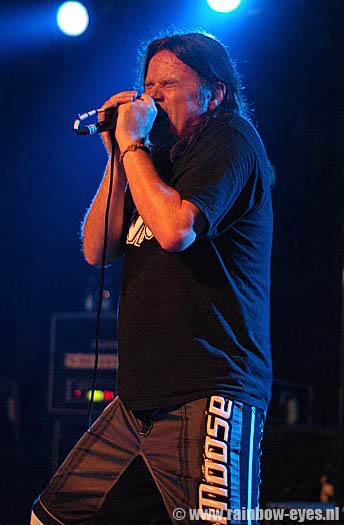 We used to go and play in bars when we were recording the album , No one knew us and we would get free beers and maybe fahitas or a burger, so that kept the wallets tight. Like Ritchie I can improvise and that's what we used to do. I believe that what Ritchie has done over the years is have fun. So that is what we did. We just had fun. Sometimes it worked . Other times it was better.. It was more showing off. Playing the same songs night after night the same way and in the same order is dull for the band and you donít get the best from them. In Purple he had Jon Lord to play off, we did not have that in Rainbow this time round so I became the foil for his fun. It was always a challenge when he said.. You are on and walked off the stage. Leaving me to do what needed to be done.

3) Is it true that Ritchie played this amazing gig in London because your parents were in the audience?

I think we ALL played that great show. Not just Ritchie... We played a lot of amazing shows. The band was really cooking in 95. The 1st London gig was long and experimental. We had been on the road for 6 weeks in Europe and we were heading off to Japan. My family and friends were there. After the show I went home to a mates house and watched Mike Tyson boxing.

4) In Hamburg the band played the shortest gig of the whole tour 1995. What was the matter for it? There is a romour that Ritchie didn't like the audience. Maybe Ritchie has talked with you about it after the gig?

I donít know what happened that night. I think that Hamburg has memories for Ritchie but I donít know.

5) Who had the idea to add vocals to Ritchie's Blues in Gothenburg 1996: http://www.youtube.com/watch?v=pTdSaB-7YoM ? It's a great version!

We did not always play the blues and sometimes Ritchie would signal to me that he wanted me to sing over it. I just made up whatever was in my head. I think if you really listen closely you will hear a Coverdale song in this version, not Whitesnake but a solo song..Just a few lines..I used to throw in little moments like that just to see if the diehard fans were paying attention. Obviously you were not.

6) In Bremen Ritchie has fallen down of stage. Can you tell us more about the whole thing?

During band member solos Ritchie would go behind the amps to have a sip of beer, tune up, that kinda thing. This time there was nothing behind the amps and he fell off the stage into the pit below. He never complained just dusted his good self down and had a small bandage and carried on..The Strat was still in tune.

7) In Yokohama and Tokyo (the last two gigs of the 95 - tour) Ritchie changed his outfit and wears a short t-shirt (can be seen in the video bootleg: http://www.youtube.com/watch?v=gLdpSl_Z5Fw ). Can you tell us more about that special outift and why he wears it?

I donít know that it was a special out fit. He gave away his Purple fringed jacket to the Hard Rock Cafť in Tokyo... Its still there framed I saw it last year. We had been to see the Eagles the night before and they came on dressed down and opened with Hotel California. So we did SOTW 3rd in the set the next night.... I missed the fringed jacket I must say.

8) Did Ritchie ever destroy a guitar again in the 95-97 period?

No. He only had 2 guitars on tour. New number 1 and number 2. There was a smasher in the guitar case but it is probably still there. That was the only disappointment for me in the 3 or so years I worked with him. That he never tried to bash a guitar over my head.

9) Do you have bootlegs of your Rainbow gigs (audio or videos..?!)? and do you listen to them or watch them?

I have a few board tapes. I made up a 4 hour video with footage from 94 to 97. Just for the guys in the band. I donít watch or listen to anything. I really should get all this stuff edited and on DVD for myself but I am too busy at the moment. Greg Smith and I had a magical time filming stuff. I donít have any off his stuff though...Must have a word.

10) Have you ever been to a BN concert and do you like the music Ritchie plays today?

I was invited and then uninvited to BN gig at Reading..So no I have never seen them. I liked the first album very much. Haven't really heard anything since. He appears to be having fun and that's great. You know when he plays electric people want hear his acoustic and vice versa. Poor bloke cant win.

© TheBlackBoots