Doogie White

Rainbow Back Again
[translated from German language]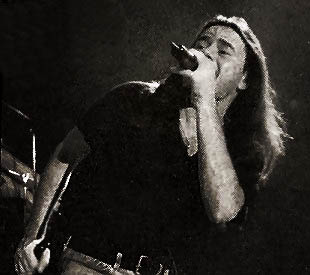 Who does not know him, the legendary, old person of the hardrock history. Sometimes they disappear some time, without really coming into oblivion, and then they come back with the impact of a heavy hit on the bass drum. To these bands we also can count RITCHIE BLACKMORE'S RAINBOW.

Ritchie Blackmore has in the meantime a call, which one cannot understand. He is one of the first Hardrock/Heavy Metal guitarists, if not even the most important, and his skills and infuences on the scene are undisputed. At the same time known for his ego clashs with DEEP PURPLE singer Ian Gillan.

Such a clash was also the decisive factor for a new RAINBOW project. Of a reunion one cannot speak in this case, since from the ex-RAINBOW-members only Ritchie is present. Whether "Stranger In Us All" a good addition is, about that the experts argue, but it became a classical hardrock album, as they do not come out too often lately. Musically there are no doubts, and also singer Doogie White, my interview partner, did his thing very good. The rest you can read yourself now.

How did you actually came to RAINBOW? You were nevertheless also with PINK CREAM 69 talking at the time.

I'ld have loved to record a few songs with the blokes of PINK CREAM 69, but when I came home and read the message of Ritchie, I couldn't refuse. With PINK CREAM it was already an amusing thing; I said to them, I need a little time to think about it. And they immediately communicated to the press, that I was in the band, without me saying yes. I'ld love to hear their new album sometime, because it interests me whether they used songs, which I recorded with them as demo. I liked the material very much, although I never heard it before.

When one hears the first time that Ritchie RAINBOW was bringing back to life again, many people have shaken their heads and expected not a good album. But all critics to the defiance one of the best RAINBOW cd's have been the result. Did you expected, that the criticisms and reactions to the album could be so well?

The reactions to the album were brilliant, and probably the reason for that is that on the album no song was planned. There was a very good enthusiasm in the band, with Ritchie, me and all the others. We were on a farm somewhere in the center of Massachusettes in the middle in the winter, and there was nothing, really nothing, the total end. The only thing we could do, was make music, we have continuously played. All Songs are developed from that, while we were jamming. A further advantage was producer Pat Regan; he had very good ideas, how we should sound. The keyboards for example we did not do the eighties style this time. Instead we doubled Ritchie's guitars, there are many guitars on the album, and that is very, very good. It is a completely new band, except for Ritchie ofcourse, he thinks in a special way. He is always very concentrated with this thing, and he thinks at present only of RAINBOW and not of DEEP PURPLE.

I personally think "Stranger In Us All" is a development. No new paths were taken musically, but hardrock has not been offered perfectly often in such a manner. Widening development in this way, like how the music is played - the sensitive guitar playing of Ritchie, is better than everything in this day and age. Only a few will have been expecting this.

Ritchie has an unbelievable wealth of experience. He has many classical ideas and connects these with things completely new. The Song "Hunting Humans (In-Satiable) is an example of this, a song, which is different. I was very much surprised, how well this song live sounds and how well it is accepted. Each musician stands on his own legs and knows, what he can do, so the quality of the songs not get lost.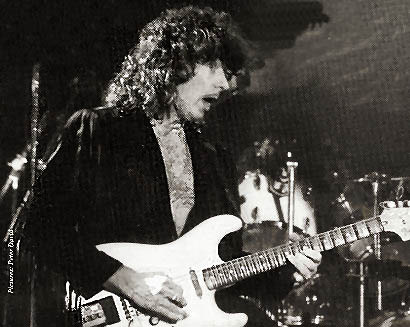 You are one of the younger generation of musicians, and I believe, for you a dream came true, when Ritchie ask you to come and sing with RAINBOW.

That was unbelievably, simply unbelievable. I was shocked after his call. That evening, when he called me, I just came straight back home of the audition with PINK CREAM 69 and could hardly believe it. That he gave me a call and invited me. I am a fan of Ritchie for many years, and there I stood now in the Rehearsalstudio, with my leather trousers etc., I looked like an insane Rock God, when Ritchie came in his short trousers and footballshirt into the studio.

He really likes to play football, or not?

He loves football very much, but he still loves more to play the guitar. Which you could see on the tour.

Mad thing, I would have liked a show to have seen by you, but the nice German Federal Armed Forces messed things up for me.

You have really missed something, we played always 1500 - 6000 people, and sometimes up to 130 minutes long. The entire band is well taken by the fans, and it's fun to play.

We come again to the new album. When did you got the idea for the cover and where did you do the photo shoot?

Very simply: We did not know exactly what to do with the cover. We'd discussions for a long time, and one morning stood Ritchie above on the mountain in the neighbourhood of the studios and got the idea. It is a quite high mountain, where rather much Paragliding is done. A frosty morning then Ritchie with his guitar went himself there, and that was photographed. My opinion is, it fits very well to the album title. I want to say, beside RAINBOW "Rising" this is the best RAINBOW Artwork.

One says, that Ritchie has a very big ego and wants to do everything alone. Nevertheless you wrote a big part of all the lyrics. Was it heavy to co-operate with him or was it a relaxing atmosphere?

Ritchie is a hard working star, but he encourages also others very well. At first I felt myself treated a bit in an unfair way, since our producer Pat was very critical to me. But I believe, because of this criticism, we delivered such good work. It calmed me down every time that Ritchie with his calm mood was in the neighbourhood, when I was close to a rage. He contributed to the success of the album with more than playing only guitar.

Nice words about Ritchie Blackmore, rarely heard lately, but they sound honest. I believe, that RAINBOW will be in this scene for a long time.


Claudio Flunkert, Horror Infernal December 1995/January 1996
Photos: Peter David