DOOGIE WHITE





Doogie White got famous in 1994 when Ritchie Blackmore had recruited the strong-voiced singer for his revitalised RAINBOW. Since then, White has been on the musical surface having not only received plaudits for his part in the studio project CORNERSTONE, but also for touring with another guitar great, Yngwie Malmsteen. Still, Doogie's biographu isn't only three mentioned stints, so talking to him was both funny (y'know, this Scottish accent) and interesting.


- Doogie, how could you define your position? Who do you think you are: a solo artist, a singer with a band, or who?

I'm a singer who needs to work. I'm a part of CORNERSTONE, which is a recording project where other half is Steen [Mogensen] from ROYAL HUNT. I'm in the middle of doing a solo album also. And also I'm hoping to do an album later with Yngwie Malmsteen. It's very very tough in a rock business for the kind of rock music that I'm involved with, and in order to keep working - because we don't tour anymore as touring is so expensive - it's an opportunity to work on more albums, which I really enjoy. And because I don't get tours as much it gives me more time to do that.

- Look, there's not so many singers of your class, and you seem to not find a proper job for yourself.

It's kind of you to say that. I think, if I was based in Los Angeles or New York, or somewhere in America, I would maybe work more. I was glad to tour with Yngwie in South America last year, and it was a great opportunity. When last week you find that VAN HALEN have been dropped after twenty-odd years with their record label it just lets you know the state of the music industry of hard rock music. There's no doubt, if I could get a job with a band and do an album and then go and tour for some three months, I would be very happy, which is what I'm earning for with Yngwie Malmsteen.

- Are there plans laid yet for a recording with Yngwie?

I spoke with Yngwie other weekend, and we're looking towards getting together in March to start work on the new album.

- How much time did you spend with Malmsteen?

Six weeks. I flew over to Miami where we rehearsed for ten days, but it was a time when all the madness was going on in America with World Trade Center and the like, so a tour was put back ten days, and then we had a month touring in South America: Brazil, Argentina, Chili, Colombia and Mexico.

- Well, you seem to be following in the wake of Joe Lynn Turner. Both of you worked with RAINBOW and Yngwie...

(Laughs.) And also Graham Bonnet! Because Graham Bonnet did that great RAINBOW album "Down To Earth" and then he formed a band called ALCATRAZZ which Yngwie had for a start. I have no problems with that, I'm ten or fifteen years younger than Joe, so if the guitar players and the musicians that he worked with in the past want to work with me - now and in the future - than I'm perfectly happy to do that. The RAINBOW thing was ten years after Joe had been in the band, and it was very much a fresh approach musically.

- When invited by Ritchie Blackmore, was there any fear of both Ritchie as a person and taking a challenge of being a singer with RAINBOW?

When I first heard Ritchie I was fourteen or fifteen years old and, to be absolutely honest with you, I looked towards getting a job with Ritchie at some point, that was my dream. That was my passion, to work with Ritchie though I didn't think that I would ever work with him in DEEP PURPLE. So I wouldn't say it was fear, it was excitement because I knew every single song he did, absolutely everything, so I was very very well prepared for that. More so than if I had gone off and work with Jimmy Page or Tony Iommi. I knew every song Ritchie had done, every lick, all of the singers that had worked with him from Ian Gillan right to Joe were guys that I admired and listened to. I learnt my vocal chops, if you like, from listening to those guys.

- OK, if you say you know every Ritchie's song, then let's do a kind of quiz: what about "Fire, Ice And Dynamite"?

"Fire, Ice And Dynamite" was a B-side that they did for a movie, wasn't it? That was with Joe Lynn Turner, a DEEP PURPLE song.

- You've done it!

(A burst of laughter.)

- Were you the first to join the new RAINBOW or other guys had joined previously?

In the band we had Paul Morris the keyboard player, who was in. We had a different bass player whose name I can't remember, but he was replaced by Greg Smith. And John Reilly had joined two days before I joined, he was the drummer who played on the "Stranger In Us All" album but John didn't make the tour. They had a singer and he was very good. Before I joined, Ritchie wanted a kind of Bryan Adams approach, he liked that raspy sound, and the guy they had was very much in that style. But the problem was that he didn't understand Ritchie's music and he didn't understand the process of just jamming and coming up with ideas as he jammed along. Of course, I knew exactly what to expect. As soon as Ritchie fired off a riff I let him play around a few times with a band and I heard what music was going, and then in the first two days of rehearsals, before I even had the gig, we had three songs written because we just clicked together very well.

- What period RAINBOW and Malmsteen you found it hardest to sing?

I think, Yngwie's material is much tougher to sing just because of the range that he expects his vocalists to use. You know, he had the guys like Mark Boals, and Mark's is a classically trained opera singer and he has a tremendous range and a tremendous edge to his voice, and Yngwie really liked that. So though my range is big that was not particularly comfortable range for me to be working in, and I'm looking for this next album I'm doing with Yngwie to make it slightly different because there's no point in having me doing exactly the same that he had with Mark Boals do. The idea is to have me involved, to bring my own personal brand of vocals to the album. Oh, I'd be happy just to try and trust this formula. I have no idea for we haven't reached the recording stage yet.

With Ritchie, when we sat down in the end of our first day of rehearsals Ritchie asked me what kind of album I wanted to make, and I said I wanted to make a cross between DEEP PURPLE's "Burn" and "Rainbow Rising", and he seemed very pleased with that. As for songs, I think Graham Bonnet's vocals were the most difficult, in fact we didn't actually do any Graham Bonnet song: for me to sing them genuine was very difficult, again because of the range that he was using and the power that he had. 'Cause Graham's a very powerful singer, very loud singer, and for me to reach those heights in his songs like "Eyes Of The World" and "Lost In Hollywood" and make them sound convincing just didn't seem right.

- I see the point but have you heard Joe Lynn Turner's "Undercover" albums?

No, I haven't.

- On the second one Joe does "Lost In Hollywood" and, frankly, I never thought he'd be able to sing that song.

There's a big difference between being able to reproduce something in the studio and being able to do that live night after night. I mean, you could go to the studio and re-cut the vocals because you have the time and you have the energy but to perform even "All Night Long" night after night would be very difficult. Even Graham found that difficult.

- Your work with RAINBOW was very convincing but don't you think that your approach was a bit "metallic"? Live, it was a bit like Bruce Dickinson?

That's how I perform live, that's how I sing live. And to be compared to Bruce, I take it as a compliment because Bruce is the one of the greatest British singers we've ever had. But I've always been like that, I've always moved around the stage, always tried to bring the audience to a frenzy. Rock'n'roll is not supposed to be mellow, I wanted to take it away from the more showbiz-ey angle that they had when Joe was in the band - the clothes and the smoothness, so I wanted to give it an edge. I wasn't trying to copy Joe or Ronnie [Dio], or Graham, I was trying to stamp my own brand of stage performance within the confines of RAINBOW.

- What, in my opinion, fell out of the RAINBOW style was a song called "Silence".

I did't listen to the album for a long time but I like the song. Ritchie took the idea from the classical theatre piece called "The Man With A Golden Arm" and he wanted to have a sort of CREAM approach on it, like with Jack Bruce and Eric Clapton. But I actually saw that as Coverdale-Hughes thing, so I did the double vocal harmony just to make it a bit different, to give it a different slant. I'm pleased with the song, we tried it a couple of times on rehearsals, and Greg Smith's harmonies on it were superb. Live, we just decided we didn't want to do it. We were doing six songs off the new album anyway and we didn't feel there was a room for another one.

- Regarding classical, was it fun for you to sing Grieg's piece?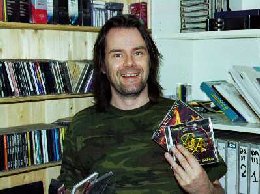 No, that was a treat for me! It was another heavy rock approach, more metal on the vocals and I liked that. There was a difference between something like "Silence", "Cold Hearted Woman" and "Hall Of The Mountain King", it's three different types of songs and I like to approach each song that I do slightly differently because there are many colours to the voice - to mine and to the other people's - and I like to try and show that off. There's nothing infuriates me more than get an album from a singer whom I really admire and to know exactly what's he going to do next.

We've get locked in a certain vocals style and don't change that while I like to be able to re-arrange my voice. I'll approach one day like David Bowie would approach, or Mick Jagger would approach it, or Ronnie Dio or whatever; but it's my voice that's doing it and that's just an approach and the approach's different. It's the same with a guitar player like Ritchie would approach an acoustic playing differently from his slide playing but you still know who's doing it.

- So with "Still I'm Sad" you oriented to Dio's version or to THE YARDBIRDS' original?

I never heard THE YARDBIRDS' original, so I don't know. (Laughs.) Maybe, that wasn't such a clever idea but it ended up on the album and it was kind of linking the tour together. In hindsight, I'd preferred it left off and done something else 'cause we did other strong songs.

- When I first read that Ritchie would form a new band, the band was said to be called RAINBOW MOON and singer was defined like Doogie White from PINK CREAM 69...

(Laughs.) RAINBOW MOON was what Ritchie wanted to call it as he didn't particularly want it to be RAINBOW because he knew that it would hark back to the Dio days and Joe Lynn Turner days and whatever. And Moon was his grandmother's maiden name so he wanted to state it again by that, but the record company put the foot down and said, "No! It's got to be RAINBOW!" And I was very happy to be a part of RAINBOW. I just was back from auditioning for PINK CREAM 69 when Ritchie called me. It looked as if I was going to go off and joined them and I wanted to take a week to come back and talk with my family and see if I was gonna record in Germany, but Ritchie decided that for me by asking me to join RAINBOW.

- There were rumours of you and Ritchie doing a medieval album together.

There was nothing done, and that was probably on one night over a beer. He wanted to do a medieval album very much and I would be very happy to do it with him. But by the time we got ready to record the RAINBOW album, which was a nine-month period between when I auditioned for the band and we actually stuffed in on the record, he had already stuff he was writing with Candice. So he had already planned to do this medieval Renaissance album after a RAINBOW album, and Candice was going to be the singer.

- You somehow mentioned you like Rory Gallagher, Robin Trower and Bernie Torme. If so, why don't you explore the bluesier side of hard rock?

I think that blues had dulled. Those guys have done it and they've done it superbly but I'm not really interested in that blues side of rock music, I like the harder edge of it. I don't mind listening to it but I certainly don't want to go there and perform it. The blues are for guys like Paul Rodgers and that type of singers. I don't feel that's where I really want to go at the moment.

- Off the guitarists, who was harder to work with, Ritchie or Yngwie?

I never had any problems working with Ritchie and I don't have any problems working with Yngwie. I only worked with Yngwie for five or six weeks and we got on well. I got on well with Ritchie for three years and then we just didn't get on, but that was more to do with outside influence. Actually, him and I were sitting down and discussing things but he was kind of shepherded away from the band and became more and more difficult to communicate with. If you have something to say to me just say it! You know, I speak English, I'll understand.

- About two weeks ago I talked to Bernie Marsden, and we talked about a band called SAINTS AND SINNERS that he was going to form with Neil Murray and Cozy Powell. You did some work for Cozy and Neil too, so was it the same project?

No, it was Cozy's solo album. He was doing a solo album for a Japanese record label, and they had Neil Murray and a guitar player called Mike Caswell. I did some demos for them but then I joined RAINBOW and, of course, couldn't do the album either. And it ended up with a guy called John West, who sings now with ROYAL HUNT and another band, ARTENSION.

- Well, Bernie also talked about John West!

Oh really?! I didn't have anything to do with Bernie on the record. He may have written a couple of songs - I never heard the album, so I don't know. Maybe, that's right.

- You worked with guitarists and now, with a bass player. Is approach any different?

I've always got on with bass players than anybody else, in any band I've ever worked with. Guitar players are frontmen and songwriters and they have their way of dealing with musicians and things while bass players are easier to work with. Musicians seem to go towards an instrument to accent their personality, and guitar players are a sort of frantic and bass players are very laid-back. My best friends in bands are normally the bass players. Greg Smith, Steen, Neil Murray, Gary Liedeman, any of those guys, they're all the bass players and they're all my dear friends.

- Let's talk now about the new one, CORNERSTONE's "Human Stain". What do you mutter in the very beginning of "Some People Fly"?

To be honestly, I haven't heard the record yet, I don't have a copy of it! (Laughs.) Steen made it and I have no idea on what's on there at all!

- There's a song on it called "Midnight In Tokyo". On the Joe Lynn Turner's "Holy Man" album is a song "Midnight In Tokyo" too...

You're kidding! (Burst of laughter.)> Then I'll send some royalty check! I didn't know that! That's great!

- Tokyo seems to be a very interesting place to sing in.

It could have been anywhere, really. Tokyo just seems a lot cooler than Croydon or Glasgow.

- Why do you always talk about Croydon? My first association is FREE and Paul Kossoff gigs in Croydon.

(Even more laughter.) I just always remember when there was Dave Lee Roth busking over here with VAN HALEN in the late Seventies and he jumped on-stage and said, "Croydon! The rock'n'roll capital of the world!" And it's always been a standing joke that Croydon is not the rock'n'roll capital of the world.

- Then what about song "Forever Young"? It has the same rhythm as ZEPPELIN's "Kashmir".

I'm sure, there is. It has a kind of Eastern rhythm to it but I loved the music and thought it was very sinister. I'd been so long thinking of an idea to do that and I'm always late: there was a film from the Twenties or Thirties called "A Portrait Of Dorian Gray", and although I have seen the movie once it was very haunting. So I started writing this song, and it's kind of about Ritchie because I've known Ritchie for awhile and he never changes, he never looks any different, he always looks the same. I was wondering, maybe there's an attic in his house, maybe there is a portrait of himself.

- How do you relate to the subject of this songs? You're not in your twenties too.

Of course, of course! If you want to work in rock'n'roll business you still have to have a young attitude. And I look at my friends - not so much my friends but people that I know and used to go to school with - and they're old men! They're in their late thirties now, and they're old men! I don't want to be like that so rock'n'roll does keep me young. Whether it'll keep me forever young, I don't know, but it certainly keeps you young, keeps your attitude young and keeps you fresh, and you can enjoy it.

- Still, there are some odd points in you career. For instance, backing Emma Bunton.

I was asked to do that! I was asked to go and do some backing vocals for Emma. As we talked early on, I like to sing in different styles, so I walked in and they said to me, "OK, you're not black," and I said, "No." And they said, "You're not a girl," and I said, "No." So they said, "Could you try and sing like a black girl choir?" and I said, "Yeah, of course." Then I spent three hours doing vocals and it ended up sounding like a black girl choir. (Laughs.) It was a song called "Sunshine On A Rainy Day".

- Then, tribute albums. I can understand you covering ZZ TOP, MAIDEN and WHITESNAKE, but T.REX?

I was a big T.REX fan when I was a boy, when I was ten, eleven years old, and Marc Bolan was very very cool. But I haven't heard that album either [T.REX tribute]! And I did a SLADE one which I haven't heard and I did a YES one which I haven't heard. With YES, I just liked to sing the song they asked me to sing on. If it doesn't interfere with way to do a living, then, of course, I'm going to go and sing because it gives me more strength to my vocal and lets me hear and add something to whatever project. And I love that.

- Which song of YES did you sing?

Absolutely no idea! I can't tell you, I'd never heard it before in my life, I'm not a YES fan, but Adam Wakeman phoned me and asked if I can do some vocals on one track eighteen month ago. [It was "Awaken". - DME]

- What about work with Billy Liesegang?

That's going very well, I was up on Friday doing vocals at Bill's and I'll be going off again this Friday to do more vocals, and we'll have fifteen songs off which we'll choose twelve that we like the most and we'll start recording them properly depending on when I manage to get my time schedule from Yngwie.

- I liked the first Liesegang album. There were Glenn Hughes and John Wetton singing.

He's a great guitar player and a great writer as well, and him and I have just clicked very well and enjoy working with him.

- How did you get in touch?

I did a [NAZARETH] tribute album and he played guitar on a song called "Love Hurts" that I sang, and he phoned me afterwards and asked if I would like to do a heavy metal album with him. And I said, "Yes, I would." So we've been exchanging ideas now for about five, six months, and we've finally got, as I said, fifteen songs and we'll record them and then take it to record companies to see if anyone's interested.

- Back to CORNERSTONE, there are great keyboards on the album. Is it Steen playing? Strange, then, as he works in ROYAL HUNT, the keyboardist's band.

Steen plays guitar, bass and keyboards but his main instrument is bass. He can play backing keyboards, like pads and things, he can't do the fast runs and solos. And again, I've no idea as to who played keyboards on the album. I know that Steen did some of them, so I think maybe Andre [Andersen, of ROYAL HUNT, - DME] has played some, and we had a Danish guy called Rune.

- I loved those Hammond parts and Moog parts.

I'd love to hear them too! I'm still waiting for the record company to send me a copy. (Laughing.) I'm doing all these interviews and people asking me questions but what can I tell them if I haven't heard that?!

- OK, this one you can answer: why many of your songs are based on books?

Well, "Forever Young" is a sort of note to the picture of Dorian Gray. "Wounded Land" is the title that came from a book by Stephen Donaldson but it's actually nothing to do with the book. Still, it was a good title, and I think we should get credits for them, I don't think that I should see "Wounded Land" like something I did on my own because I didn't. That was a title that worked well with idea of what song was about - it was about the red Indians, the American Indians and their land and how it was wounded and destroyed by the white man and taken away from them. So I wanted to give a note to Stephen Donaldson and say I'm indebted a title to him.

- So we see here another links between you and Bruce Dickinson as he uses ideas from books as well and MAIDEN's "Run To The Hills" is about the Indians too.

Oh my dear goodness!!! May I be careful then?! (Burst of laughter.) I'll need to by him a pint! I'll be seeing him tonight so I'll by a pint for that.

- Why in "Resurrection Sympathy" you used an effect on vocals?

That was a tough song to do and Steen and I couldn't agree on what to do with it. I wanted to have a kind of megaphonic sound on it, and that must be sound - again, I haven't heard it but Steen might have done that. I liked the music and I liked the lyrics but we couldn't agree on the melody so we were both compromising on it. I thought that the vocals melody sounded too clean, it's the aggressive song and it wouldn't sound aggressive enough if I sang it the way Steen wanted me to sing it. That's why I asked him to put an effect on it.

- But how did you get in touch with Steen?

I auditioned for ROYAL HUNT after D.C. Cooper had left and they decided to choose John West instead of me, but Steen was doing a solo album so he did contact me and asked if I would do this.

- Why, then, you didn't stay in PRAYING MANTIS when were given a chance?

I was never a member of PRAYING MANTIS, I was asked to do a Japanese tour with them and that was that - I had no intention of staying with PRAYING MANTIS. They'd lost their singer two or three weeks before they were to do a Japanese tour and they asked if I would fill in for him. They also asked me to say that I was a part of the band so the record company wouldn't go upset but I was never a part of PRAYING MANTIS.

- So would you like to be a part of real band in the end?

I like to be a part of the band, I like the camaraderie of the band and I like the fun of it. But it's very difficult to have a band of the people because you can't tour - it's so expensive these days to tour. I'm hoping to be a part of the Yngwie Malmsteen band and see how that works. I enjoyed being a part of RAINBOW, and CORNERSTONE... If we could raise the funds to take CORNERSTONE on the road I'd be very happy.

- Will there be more from CORNERSTONE?

We have one more album to do, according contract. I'm sure when all the excitement of this new album has died, Steen and I will decide to start writing together again.

- And will we hear this long-talked-about solo album from you?

Oh, it's been an absolute nightmare. Most people have a difficult second album but I'm having a difficult first album with lots of problems of gathering the people I want to play on the record, together. Alex Dickson and Ashley [Limer]- it's been very difficult to get them all together, but I'm not very happy with the way the whole project is being run. I kind of lost control of it in the last year and I've lost enthusiasm for it at the moment. I might go back and re-do the whole thing, it's half done but I'm not happy with the way it's been approached by the producer, the way the whole project has been dealt with. In fact, I just wasted money on it, I might go back to join RAINBOW to start again.

- I heard it'll be out on Frontiers Records?

I don't know if it'll be Frontiers, I haven't had any communication with anybody at the present time. There's a couple of labels in Germany interested and one interested over here but I need to wait and see. I have a CORNERSTONE album out and an Yngwie album to do, a Bill Liesegang album going on, so my solo album can sit for the next eighteen months or two years. I'm not going to be rushing on at the moment, there's no need.

- What about "Nostradamus" project?

That was fun, I enjoyed that a lot. I haven't spoken to Nik [Kotzev, "Nostradamus" mastermind, - DME] for a while but it was an ambitious project for him to take on. I'm not saying that it was his life's work but it certainly consumed him for a long time. Trying to do something as ambitious as that, not so cliched, it's easy to not see the wood for the trees.

- Don't you think that yours and Goran Edman's parts were not as bright as Hughes' and Turner's and even Jorn Lande's?

Nik gave us the music and every vocalist got to write their own lyrics and melodies so I wrote the melodies and lyrics for the four or five songs that I did - as did everybody else. I think my vocals are a bit swallowed in the mix, they don't come across as well as they could have done. Joe and Glenn didn't necessarily have to fight against so much dramatic as I feel I had to fight against. You know, Glenn is singing, (sings) "In the forest..." over a nice background, so his voice is very strong and comes across very well while I fight against orchestra, guitar, keyboards - the whole lot. I think, Nik got everybody to be slightly different so it would give it light and shade, would give autumn and spring feel to all the different periods to all the different songs and all the different characters rather than having us all singing the same. We all pretty much could do whatever we wanted within the structure of whatever character was allowed, so Goran chose to go down that road as did Jorn, as did Joe Lynn, as did I - it's like an Indian meal, it's got a lot of good different flavours to it. Some of them you like, some of then you don't.

- Now, could you give a tentative plan or schedule of releases with you on?

I'm waiting to hear from Yngwie as to when he wants me to go to Miami to start work on his next album. After that, I'll be recording with Billy Liesegang if time allows. Then I hope to go on the road for ten months with Yngwie promoting his album because he likes to tour for a long time. I hope it goes like this.


Dmitry M. Epstein, DME Music Site, March 2002