DOOGIE WHITE




Couple words about the new solo album? (Many people asked about ...)

The album is well under way now and I hope to be done sometime in March. I`ve written many songs for the album and had a hard time choosing which songs to record. I finally settled on songs of a heavier vein than before. The songs touch on a much darker side of my personality. Most of the songs were written in the dark days after I left Rainbow. Listening now it surprised me the anger/sadness/dispair of those days. Their are some amazing performances on the album from the musicians.

Have You any plans about touring with solo project? (Ivan, Minsk, Belarus)

Hi Ivan. Depending on how well the album sells will determine whether I get to tour it. It would be my idea to tour for a few months of the year. Unfortunately its very expensive.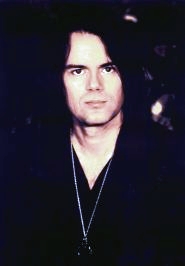 Doogie, it looks like your work on Cornerstone is fairly well known in Russia. How did you get the idea for this project? (Igor, Ivanovo, Russia)

Hi Igor. Cornerstone was Steen Mogensen's idea. He wrote/produced the whole project. While he was in Japan touring with ROYAL HUNT he heard me singing with Rainbow. He spent some time tracking me down and phoned me to ask if I'd be interested in singing on his album. I flew to Copenhagen and sang for 3 days. We have done one acoustic gig as a promotion to launch the album. The albums reception has been very good and the record company has asked us to record 2 more.

Have You any proposals to work with other bands? (...)

At the moment I am busy with Cornerstone and my solo material. However there is always room for more. Any Ideas??????

Your favorite guitar player, bass player, singer, drummer? (...)

What's wrong don't you guys like keyboard players? Far too difficult to answer. I am listening to James Taylor at the moment and the Tea Party. Put Deep Purple's Made in Japan on there is your answer...

What band in hard rock have beautiful lyrics with deep meaning, what is the best band in this way? (Evgeny, St.Peterbourg, Russia)

Evgeny, you and all your friends should listen to... The Tea Party... Canadians - blinding tunes Sound Garden...Great band

It is not a secret that Doogie was a huge Deep Purple and Rainbow fan. What is his favorite Deep Purple line up? (Sasha, Melbourne, Australia)

Sasha, all the Purple line ups had something special for me. I agree that line up changes can be annoying but look at the creativity that came from those guys. My first Purple album was Come Taste the Band. I loved the vocals of Coverdale and Hughes. So I got Burn and was blown away with the guitarist and the interplay between the keys and guitar along with the best drumming I'd heard. So it was back to MIJ. Every musician should strive to be that good, that inventive.

What is your favorite Deep Purple and Rainbow song? (Alexey, Kishinev, Moldova)

Wow, you guys ask sweeping questions!!!!! Alexey, I`ll say Mistreated coz sometimes we all get to feel like that. Child in Time was a pleasant little tune, I thought. Honestly, there are so many great moments from both bands. I'm not going to incure the wrath of anyone by picking anything.

Where and how did you meet R. Blackmore for the very first time? Any particular memories? (Andrei, Moscow, Russia)

I met Ritchie in a rehearsal studio on Long Island USA. I was jamming with the band when he came in dressed in a German soccer tracksuit. We had a brief chat and got down to rocking for a few hours. We jammed - Rainbow Eyes and MOSM plus some Beatles and Hendrix. It was a great evening.

During recording/writing sessions, does Ritchie go for others' ideas at the expense of his own or he never changes his mind? (Dima, Ivanovo, Russia)

The song ideas originate from Ritchie and develop with the band jamming through them. He never worked on anybody else's idea. I was left to my own devices with regards to melodies and lyrics. There were certain things he wouldn't have me sing about though.

What was the exact role of Carole Stevens in managing Rainbow? Did she really have any particular role? (Andrei, Moscow)

OH Andrei, are you trying to get me shot?! According to Ritchie, Carole looked after his money better than anyone else had. All I ever saw her do was piss people off and make life difficult for everyone. Further than that, I cannot say...

Does Ritchie judge the lyrics written for him or he's concerned on the instrumental side only? (Dima, Ivanovo, Russia)

He has special words themes he likes to include and wants lyrics that girls can relate to, or so he told me, but mostly he concerns himself with the musical side of things.

Your most memorable gig with Ritchie Blackmore? (Irina, Rostov, Russia)

Many gigs were special. Hammersmith (1st night). The first gig in Helsinki. Far too many to mention. The worst was an open air festival in Denmark where he and I almost came to blows. I let myself down that day and things were never the same.

What's your favorite live number? (Andrei, Moscow, Russia)

From the Album I recorded it was Ariel and Black Masquerade.

Was it your idea to turn "Greensleeves" into "Wir sind alle Alcoholiker" during '95 tour or was it Ritchie's? (Pavel, Odintzovo, Russia)



Yes we used to play gigs when we were doing the album and I would make up silly lyrics about the day and they kinda stuck. It was fun. It was his idea to include these in the set though.

Did Blackmore or BMG ever had any plan for a live album at the moment you were in Rainbow? (Antony, Kiev, Ukraine)

My understanding is that there is a video and a live album from LA in the can but there was some dispute over somethings with Carole and they never made an appearance.

Why Chuck Burgi left "Rainbow" during last tour? Was it Ritchie's decision or his own? (Dima, Ivanovo, Russia)

Carole called me to tell me he was leaving. I spoke to him and fully understood his position. Since the new management had been in place things had gone slightly haphazzard and work that had be agreed failed to happen. Chuck was offered a great gig and regular work and felt that he had to take it. I was pleased for him. We got in John Miceli, I thought he was great and he is a good friend.

Where and how did you get the new about disbanding Rainbow? (Andrei, Moscow, Russia)

I called Carole and handed in my notice. There were certain business agreements that Carole was trying to change; I felt taken advantage of. So I got all my 'toys and threw them out of the pram'. I think its was dying before that though. He was already in BN mode by that point but we could have run the bands side by side or in rotation. One Rainbow One BN. Seems logical to me...

Doogie, from the SIUA TV interviews it looks like you had a really good rapport with Ritchie. At what point in the life of the last Rainbow incarnation did you realize that he's not interested in rock'n'roll any more and it won't going to last much longer? (Nick, Ottawa, Canada)

I did have a great rapport with Ritchie. We were never best buddies, but life's too short to 'dance on eggshells' around someone else's perceived ideas that you may be up to something. I did what was asked of me and enjoyed going the 'extra mile'. We jelled onstage and in the studio - where it mattered. When there were no destractions around we got on well, including socially. I think he will make another rock record and sooner rather than later. If I'm part of it great, if not I will wish homever he choses and himself all the luck.

Have You any connections with your ex-Rainbow mates? (Dima, Ivanovo)

Greg Smith is a great friend, as is Miceli.

What's your favorite drink? Stas, Vladivostok (Russia)

Water, London Pride (which is a beer) or Jack Daniels. Or Whatever you are buying me!

Brilliant questions. Some of the answers are lighthearted after all its only Rock'n'roll but I like it

Cheers, Dougie


DPRU, Februari 2001