DOOGIE WHITE





Australians are often the last to hear of music related news. Can you tell the people down under what you have been up to in the years since Rainbow disbanded up untill present?

DW: When I quit Rainbow I went down to the pub for a few ales. After the hangover wore off , I gathered a few friends together and we relocated to the Kings Head pub in Fulham ,West London and jammed and rocked for a few days. Then, feeling better I got down to serious business writing with guitar player Alex Dickson, who was in Bruce Dickinson's band. We wrote a lot, recorded a lot. Al was then asked to join Robbie Williams` band, so I got together with Ashley Limer and wrote even more songs.

So I had a large amount of demoed songs and started looking for a record deal. I am in the process of recording my first solo album at the moment and its sounding superb. I have Ash and Al as well as my old mate Chic McSherry, who was the guy who started me on this crazy rocknroll road in La Paz. I`m actually working with an Aussie guy called Jack Guy who is recording and engineering the record. He's a good lad and is getting splendid results and performances from everyone. In the past Jack has worked with GUN and INXS.

I'm hoping the album will be released later in the year. So at the moment on the album we have Guitars.... Ashley Limer, Alex Dickson, Chic McSherry Bass.........Gary Liedeman (Adrian Smith Band Lou Reed) Neil Murray (Whitesnake, Sabbath) Drums F. Benjamin Reid 3rd. (Ted Nugent, Kick) Keys Jem Davis (UFO, FM).


Other Stuff....... I went to New York to look at studios to do my album in and ended up singing backing vocals on a Joe Lynn Turner album. We got on very well. He is a good guy. We worked together again on Nik Kotzev's album "Nostradamos" with Glenn Hughes and a few others. That was a blast. Writing and working on this piece of rock theatre. Then there is the "Chain" album "Eros of Love and Destruction". An eclectic collections of rock songs that some friends and I wrote over a period of time a couple of years ago and, when news of the demos was common knowledge we had many requests to release them. So we did. Its available if limited. Details can be found on my website.

More recently I recorded an album with Steen Mogensen from Royal Hunt. He had heard me in Rainbow and was planning a solo album and wanted me to sing on it. He tracked me down and we recorded the Cornerstone album album "Arrival". Its doing well and we have been asked to record 3 more, which is amazing. We are busy exchanging ideas at the moment. Details on Cornerstone can be found at www.cornerstone.subnet.dk

Who were your musical influences when you were growing up, and what made you decide to dedicate your life to music?

DW: Bowie... I loved the music. How could I not relate to a man who could dress up in pyjamas, wear ladies highheel red boots, write great songs (Queen Bitch, Drive in Saturday). He painted pictures with words. Every line was boiled down to mean something. I`ve since stopped wearing women's clothing and make up but you had to in them days. Thank God for Deep Purple. My first real experience of big rock guitars. No it wasn't Ritchie but Tommy Bolin. From that there was no return. Angus, Rory Gallagher, Robin Trower, Bernie Torme. I was going to be a guitarist and rock the world. Only trouble was I was shit. No rhythm, timing nor understanding of the instrument. Even Ritchie was dismayed at my prowess over the fretboard. "Good job you can sing" he mocked one night as I tried to play Kill the King.

How did you become the 4th vocalist for Rainbow? Obviously Ritchie was impressed with your vocal abilities.

DW: In 1990 I had the opportunity to get a tape passed to Ritchie via Colin Hart (tour manager). Now Ritchie takes up the story. "I needed a singer for my new band. Candy brought through a box I'd gathered over the years and picked out one. It had your name and number on it. She said "this is the one". So Candy is responsible for you being here, buy her a drink". That's kinda how it was. I was gobbsmacked. If I only auditioned, I thought, I'd be okay. To get the gig was blast.

Given Ritchie's legendary artistic 'temperament and quest for perfection within any musical sphere, how did you approach your job within Rainbow, and did you enjoy your time with the band?

DW: I was the happiest man in that band. When we were recording, I used to wake myself up in the middle of the night laughing. It was all so surreal. Here was me, a wee lad from Scotland with big plans to one day be Coverdale or Dio or whatever and here I was getting a chance to be me. Dealing with Ritchie was easy......ish.... I just got on with my job and kept my nose clean. I never let him get to me or get inside my head. As I told him I don't need the "Hannibal Lecter" of rock running round inside my head. The day I let my guard down ,forgot the pleasure he takes in others misery, I was dead meat. I once went to a party at his house and he told me he would like to pick on someone and throw them out, just to see the look on their face. Bring me my coat..................

Word has it that you did a mini 'minstral' set half way through your later shows with Rainbow.

DW: Not true. We sometimes played them after the shows.

How do you feel about this type of music?

DW: I can take it or leave it. To be honest, I haven't heard much.

After more than 30 years as one of hard rocks legendary guitarists, why did Ritchie decide to form Blackmore's Night and concerntrate on medievil rock?

DW: Perhaps thats a question for Ritchie. I hope he finds satisfaction doing BN's music. I like many others are waiting for the day that he straps on the Strat and rocks again.

From a vocal point of view, did you try to recapture the essence of any particular era of Rainbow's past, or did you aim to create a brand new image/sound?

DW: Having been a fan of the band for a number of years I was excited that he was going to put it back together At the time(Jan94) I had no idea that I would be the singer...... So to answer your question, I tried to bring to the audience what I would have wanted to see and hear. At dinner after my audition Ritchie asked what kind of album I wanted to do. My reply was easy. A cross between Rising and Burn. I knew lots of people wanted Ronnie back but that, financially, was never an option. I understood I had big shoes to fill. I just tried to capture the essence of the band and add my own voice to that. It would work or I would die trying.

Were you surprised not to get the chance to do another Rainbow album?

DW: As the time between albums drew on, I felt it was getting less likely. Pretty much since he started, Ritchie has done an album every year or there abouts. Only when he has doubts, does he wait and thats when I knew. He was moving into BN mode and I was helpless to stop him. I thought he would do one "Candy Album" and continue with Rainbow as he had indicated. So I wasn't surprised. Just pissed off.

Ritchie seemed pretty happy with SIUA and the subsequent tour. Were you dispapointed by the sort of venues in the US that you were booked for to play on that tour?

DW: Nah, I loved America. The venues were not like Europe but hey it just prove that not everything in America is bigger. I`d only seen wee parts of the country. So to have 6 weeks touring all over was great. I got very sick with a chest and throat virus. So the middle phase is a bit hazy. Great fun though. It took me months to get over the illness.

Did that lead to uncertanties about Rainbow's commercial future?

DW: Nope, I dont think we were commercial at that point. Certainly not like in the JLT lineup days. Other than that there was Ritchies desire to be commercial and live in the 1500.

Are you still in contact with Ritchie, and are there any future plans to work together again?
DW: It would be interesting to work with him again. I felt that we had another good album in us. Whether he would want to work with me or not, I have no idea. Don't take bets though!

What are your thoughts on the current Deep Purple with Steve Morse on guitar? Have you been to a Purple show since this line up evolved?

DW: I saw them at the Royal Albert Hall in London with Dio. Awesome. I still think that theres something special about those guys. People bitch about whether it should be Steve or Ritchie, its like hey "you still get to marvel at Ian Paice, have your guts shaken by Jon Lord". They say they are happy. Leave it be........

What is your favorite Deep Purple song/album, and why is it special to you?

DW: When you grow up with a band like Purple, there are so many eras and lineups and songs and stuff. They are wee bench marks to certain times when you first heard them. My first Purple album was Come taste the Band. I still put it on and marvel at the sound. Martin Birch caught them perfectly. Tommy Bolin was an awesome guitar player. Then it was, Burn, Made In Japan and all the rest. They were in my opinion the finest hard rock band. Tell you what. Put on Fireball after you read this. Now is that not genius................???

Tell us about the Chains project that you are/were involved in, and how can people in OZ order the CD?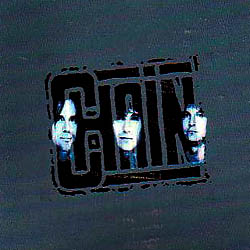 DW: I spent some time writing and recording with friends of mine and from those sessions came CHAIN. Interest from various quarters was high and we decided to print a few and release them. Its a very eclectic but interesting selections of Heavy Rock tunes blended with a more quirky approach on songs like Single Life and Absence of Angels. I'm very pleased with it. Its limited in numbers and there are only a couple of million left. So get year orders in on my webpage and treasure this once in a life time opportunity to own one of the classically overlooked albums of this or any era. Chain was a lot of fun and if your into Nirvana or Pearl Jam, maybe, this is not for you. But if you like classic hard rock with a melodic edge. Have I got something for you. You can order it in 2 or 3 ways from my web site, Or.. send a cheque or IMO for the equivelent of £10 sterling to GAWD Productions, PO Box 31421, London W4 3YN. Payable to Dougie White.

Do you ever perform any Rainbow songs live these days?

DW: No. I play in a bar band called the Barnstormers. Keeps the wolf from the door and, keeps my voice in shape. We play covers and Rainbow are not amongst the tunes we get to play. We do Black Night though.

Finally, you have many fans down under, is there any chance of Dougie White performing in Australia in the future? With Cornerstone perhaps?

DW: It's great to know that people down under keep a wee fire burning. This year with the Barnstormers I was asked to play Austrailia Day in an Aussie Club in London. God can you guys drink. No Rainbow but a bit of Jimmy Barnes. Working Class Man. The Cornerstone album is doing very well If it sells well enough to allow us the luxary of a visit to OZ then that would be amazing. Rainbow were supposed to play OZ, cant say what happened. Suggestions on a postcard to Carole Stevens.......................

Thanks for your time Dougie. I, and your fans down under eagerly await your responses!

DW: It's been fun thanks for the interesting questions.

Cheers Dougie

Paul Sommer, DPDU, Februari 2001