Ronnie James Dio

Enfer Magazine Interview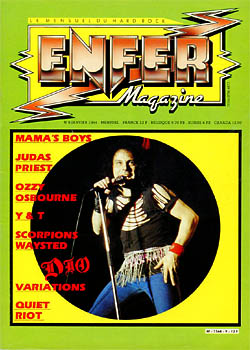 A name that sounds like a liturgical pattern, a voice came surely a world where beauty is universal, as this is the character of Ronnie James Dio. Yet so many different things and concerns haunt the mind of this little guy and if the subtitle of this article is not without imitating the famous book of a certain Maurice Clavel, French Christian philosopher, who died here are 4 years, the author of that famous phrase: "Gentlemen censorship, goodnight!" is precisely how to understand Ronnie's process who, during his career, had also to say about the gentlemen Blackmore, Iommi and Butler: "Masters censorship, goodnight!". Hence the peculiarity of this man who was able to hang his own risk position and to ensure his identity.

Hours before the concert, Ronnie James Dio received me kindly in the room of this great Paris hotel. Looking relaxed, baggy shirt, jeans, snakeskin boots on his desk, he began the conversation by offering me, guess what ?.... a beer.

Enfer: It's been a long time that the Parisian public have seen you!

Ronnie James Dio: Yes, it must be seven years. The last time I sang in Paris, it was with Rainbow in 1977. With Black Sabbath, we never came to France, except for the recording of "Neon Knight" which was recorded at Studio Ferber in Paris for the album "Heaven and Hell." We had spent here a great fortnight, everyone was happy, you know, it was the early days of Black Sabbath without Ozzy and therefore, the end of the wilderness.

E: Now, you're about to be enshrined as one of the first round of rock'n'roll singers. Were you thinking that with this album you come to this point so quickly and how do you feel that success?

RJD: Actually, I never thought of becoming the best singer in the best group. This finally represents a hazard of circumstances. What we want is that the disc works well, so we can continue to do what we wanted deeply. So we put everything we had deep in our guts to make this album. I never thought of becoming a "rock star" because it would involve some compromise of my personality with the demands of business. I have always been educated so I feel good about myself, and I naturally stay myself, which is contrary to an approach that "act" with the intention of becoming a "superstar".

This does not preclude that throughout all these years, I have to change, evolve, enriched by these experiences that have marked my environment, only I'm still the same with regard to the relationships I have with people I love and who always helped me.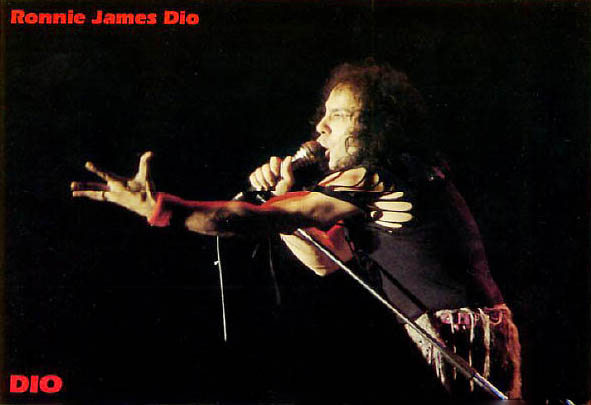 E: What is amazing is when we see DIO on stage and we know some musicians, it seems that these new people and their behavior is different from the one they had before in other groups they were in.

RJD: Possibly, but how can you explain?

E: I think it is because neither you nor the other musicians are constantly forced to compromise.

RJD: That's completely true. Also, for example, the time in Rainbow or Black Sabbath, I could not really place myself, as the weight of the compromise was overwhelming. Today I felt like I discovered myself through interviews with people like you that try to understand the difference in behavior between the '75 to '82 years of Ronnie James Dio and the Ronnie James Dio of this year.

E: I will go further, because I feel that in the group, working methods are more liberal and discourse, so the behaviors are more liberated. I say this because when I met Jimmy Bain in Reading, he seemed so cool, so free, I thought this explains it.

RJD: Yes, yes. Jimmy has changed a lot since last year. I can tell you about it easily because I've known him for long. What happened to Jimmy is that during all these years, the groups that he was in did not give him the freedom to speak. Also, he never had any other role than that of bassist relegated to the back of the stage and he had this well defined role. He was never asked to be something else in a group as bassist, except in "Wild Horses" where he shared a lot with Brian Robertson, but it turned so bad for him that it remains a bad experience, too, when I called him in London, explaining that I wanted to start a band with responsible people as musicians, he said right away: "OK!" and joined me at the hotel where I was staying. Two days later, he toured with Phil Lynott in Sweden, because he played keyboards in the band of Phil Lynott. From that moment he went like crazy, because he had discovered a new future. Between the time we met and when he returned from that tour, he found a rehearsal room, he had hired Vivian Campbell and had dealt with everything because he wanted out of the deepest part of himself that our group works.


In fact, Jimmy had an opportunity to take revenge. Indeed, he had been fired from Rainbow, "Wild Horses" had been a real failure and nobody believed him. Today, nobody dares to treat him lightly because he plays in "DIO" and we feel that, if we are successful, Jimmy is responsible for the same share as others. So he is free because he is respected by all his musician friends. Exactly the same for Vinnie, he was despised, underestimated in Black Sabbath and there was a time when few people took him seriously. However, he is very good and able to play with anyone. Now he is with us and I am very happy because he can prove he is good and more he is my friend.

E: Let's get back to you. Between the Rainbow concert in Paris in 1977 and that of DIO at Donington in 1993, it felt like there were two different Ronnie James Dio's.

RJD: Really, how?

E: Well, your attitude is different.

RJD: That is certainly true. This reflects on the difference between being a small piece of an entity and be the entity yourself. In 1977, I had to be more humble for sure. With DIO the impertinence is to create communication. In Rainbow, I always saw Blackmore weighing on me and so I had to be careful in my behavior. In Black Sabbath they had made me lookin' away, so I looked like a fool.

Now I finally have a chance to talk to the public, with music or with emotion. With the former groups, I had to stay humble and when I showed emotion and communicated with the public, Blackmore, or Iommi, looked at me asking and often we had a disagreement backstage afterwards.

So today, I can say thank you to the public and fans who supported me throughout my career and I think the best way to thank them was to give them this album because I think this is the album they awaited after "Rising" by Rainbow.

E: To what extent can we say that your lyrics and your intellectual interests still bear the imprint of Ritchie Blackmore?

RJD: In any action, since the fact is Ritchie has never written lyrics.

E: Who, but in terms of contacts with the public, Ritchie has always cultivated an image of the perfect idea of being mystique with all the group and all the musicians.

RJD: Okay, but if he really cared about, why does his music not reflects this picture? It is true that all the early issues of mysticism and the philosophy really cared anyone except me anyway, but now what is he doing? He is more a "Pop artist", selling his music and his pictures have become very commercial, that's all now.

I was very disappointed by his latest album. As a person, I like him and he's still a friend, but his latest songs mean nothing to me. In terms of my writing, I continue to explore the field of unsearchable possibilities of the mind and metaphysics.

E: Since you use the word metaphysics, can you give us an interpretation of the cover of the album "Holy Diver"?

RJD: In the first place the design of the cover is an illustration of the song "Holy Diver". What I wanted was to put a picture on the cover to shock the public so that it bring reactions. Today, all groups have on their sleeves crosses, devils, pentagrams, cabalistic signs, "Stone Henge" decor style and all symbols of evil, but nobody ever is gone after this step stigmatized and has evil in his show: kill a priest!

So, I did it, and people ask me: "Why have you shown the devil trying to kill a priest?". What I did is just an image, a reflection of our imagination. In fact, how can you be sure this is not a priest who kills the devil?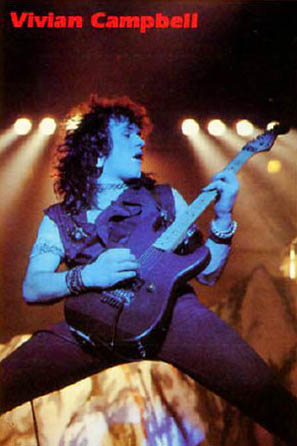 E: How could he do?

RJD: Just because nobody can be sure that the devil really is the devil. Maybe what you imagine to be the devil is actually a priest! Perhaps also that good and evil have exchanged their shapes and forms.

This means, in fact, should not be limited to the shape but look inside and watch the bottom of a problem to judge. And actually, it's also the mistake that too many have done: we have always compared Ronnie Dio from Ritchie Blackmore, Black Sabbath or even Ronnie Dio to Ozzy Osbourne ind Black Sabbath, or Gillan compared to me.

You should see the depths of the universe and life offers more opportunities when viewed from the inside, than it offers in terms of forms. I would like Ronnie J. Dio compared to himself and not, with respect, the packaging which gave me this shape. So that's were I got the idea from for this cover. The latter is a question for the world and the answer is another: "How can we be sure that the forms correspond to ideas attributed to them?".

E: OK. But taken at face value, that is to say, when we consider the scenario of the devil killed the priest, do not you think that the basic idea is somewhat pessimistic?

RJD: No, not at all, why?

E: Because evil destroying the good and after that he has won?

RJD: I see what you mean. At first glance, therefore, the evil exceeds good, but it is possible taken that at face value. That would definitely be pessimistic if the design arose as a vehicle for affirmation. But the idea of this package is primarily to ask a question: "Where is the good, where is the harm?"

E: Actually, from the outset, this package asks a question to the world.

RJD: Exactly. It's the same thing with our music. If you ask ten different people what they understand of the texts and why they love music, they will give you ten different interpretations. What I do is that I offer our audience the freedom to make your own opinion on each theme.

I have no desire to inculcate ideas that would be mine to the public. What I offer is a fantasy world, they build according to their desires. I prefer to avoid our universe as it really makes the most sense. When you open the newspaper, what do you think? "War, murder, rape, poverty, disease, cancer, etc..." In fact, these are the themes addressed by the new heavy metal bands. It's easy, when you open the newspaper to the "holy divers" to make an album entirely based on violence and death.

What interests me is to offer the public an album that is a liberating dream, something that you are allowed to escape the moment of listening, a world where there is no longer a break between values and where they do not pose the question, where is the harm? where is the good?

What I want is that people who listen to my music can construct new hopes, through this one.

E: Do you think the universe where you draw your inspiration is likely to exist somewhere one day?

RJD: I think the world of DIO describes a planet that will never exist.

E: It is pessimism!

RJD: In fact, pessimism or optimism are two things intangible. But the truth lies in what strikes your view. Look at the world around you and you will see that nothing is found in the world of DIO. The world does not even come within DIO utopia, because the last chance for utopia, and thus access to a calmer reality, is gone with the death of John Kennedy. Utopia is dead, but I keep it in mind because I respect the intrinsic values of this utopia of the early 60s, which joined almost a dream of knighthood. A world where the knight is in shining armor, the woman's hair like flowers, the white knight vanquishes the dark knight, he plucks a woman from the clutches of the dragon. You see, all these symbols that are conceivable in a society, but all traces have disappeared in our reality.

Our company has had its chances to integrate these symbols and these data would have been able to live in this society that now belongs to utopia. But our kind, the human race, has decided otherwise and dismissed all these values. We are the living form that is most destructive and we act as if it was our duty to destroy our neighbor, devoured by pride, ambition, jealousy, greed. So, you understand that the world of DIO is unreal, because the ideal is unreal.

E: The problem remains: where do these shortcomings in the own individualities.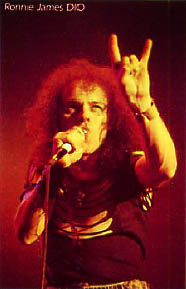 RJD: Sure, there is the problem. I am strongly convinced that at birth, man is naturally good. Take a child, let it evolve in the social world and you will see at the end of behavior it will be a pure product of his environment. If you are the students in my value system, in a universe with this scale of values, then it does not create a conflict between the child and the system.

E: Actually, this sound like a speech of a certain Jean-Jacques Rousseau.

RJD: Oh, yes, absolutely, and I believe everything he says in the "discourse on the origin of inequality" is completely true!

E: How do you interpret the Biblical message, given the assumption that the Bible is totally paradoxical to the message of Rousseau.

RJD: I have my own theory about the Bible. I think in the beginning of our era, there were on another planet superior beings. One day they got together and did a book on the theory of any living form. To test their theory, they wanted to experience it in places other than their planet. So they sent their book on the ground and observed the reactions of the first land when they found these writings. For it is my theory, I see that this bias to explain all the aberrations and contradictions that lie in the Bible, and especially in the New Testament. What is unfortunate is that today, or rather in societies organized economically, people need to believe in this message written.

E: This is insurance!

RJD: Sure, the individual needs to believe in something. A famous actor, American writer, Lenny Bruce wrote: "If Christ lived in the 20th century and died for the sins of the world today, in the electric chair, then we would all, or at least many us, have an electric chair around your neck."

All this is in fact to say, everything is relative and the interest in the Bible is the possibility of finding, interpreting, whatever you want and reassure you. Tell me, what is your interpretation of the Bible?

E: I think the assumption that justifies the presence of the Bible is as follows: suppose that God has created man. The man is on earth and when he experienced his freedom, through his relation to pleasure, it is considered wrong by the creator. Thus, to teach him good. God sends his son. In other words, Jesus Christ came as the company of men that were "wrong", which contradicts the very theory of Rousseau.

RJD: I agree with you. That's pretty much the same pattern that reflects Darwin's theory of natural selection and that religion has strongly opposed, although the evidence was made the veracity of much of the theory. The problem with religion is that it has complied for a very long time to mere human teachings from the bible and never open minds, so when you refuse the relevance of the Bible, you should be sent to hell!

E: What role does religion have in your daily life as you seems to be so closely involved?

RJD: My religion comes only from my attitude, what I see, what I read. I reject any dogma. Only my experience leads me to place myself in my relationships. I was raised in the Catholic tradition and I have learned, even if the dogma is questionable, it brings you at least a scale of values and a moral sense.

For a child it is, I think, something positive, because you'll make him think about good and evil. When you're an adult, you need to rethink the lessons that you have learned and you can make your own opinion. That was my case. In any case, whatever your own opinion, you keep in mind this primary distinction between good and evil, without thereby engaging in conduct in line with what the Catholic religion dictate you.

E: Don't you think that the main negative aspect of religion, say Christianity, is the tightness of the concept of guilt everywhere?

RJD: Ofcourse, the guilt only or the guilt of the human being is the invention of all religion. But maybe that regulates human behavior in relation to the world. If there was no guilt, and everything would permit that the basic instincts are externalized. For example, a guy who has a gun in his hand, he has no notion of what is relevant, he will use his weapon to kill. If he thinks by saying, I can not shoot, because what I do is wrong and I'm unhappy, then the guilt aspect of the value system becomes a positive norm and the world is safe.

But getting back to my personal perception of religion, I think, fundamentally, there is a part of God in me, in you in person. So, you are God, I am God, for the idea that each of us is God. It belongs to him, he forged his own God and takes the form.

E: I want now to the text of one of your songs, which bears the greatest possible interpretations. The song is "Don't Talk to Strangers" and, initially, I wonder, who are "strangers"?

RJD: Taken in general sense, this song is the concept developed in "Heaven and Hell" and, more specified, in the verse that says "The world is full of kings and queens, Who blind your eyes and steal your dreams, it's heaven and hell." Aliens are people who are lurking in the shadows and exploit you totally. They do not care of your emotions and your sensitivity, these people who steal and destroy your dreams, especially those of the artist because the artist is the most naive person there is, and he has only his art to gain credibility. If his art, and therefore hopes, robbed him, then he is nothing, it's swinging from one end, paradise, instead of achieving his emotion to another, hell, a place of exploitation and perversion of his creation.

E: So you can meet these strangers within your own family.

RJD: Yes, absolutely, and you can even meet them within yourself.

E: It seems that even the deer are concerned, and belong to this category of aliens?

RJD: Yes, because I am firmly convinced that the woman controls the emotional process rights. Indeed, the woman told the man: "you will be dependent on my desire and my sexuality, thou shalt love so I'll allow you to kiss me if I want, I'll give love if I want it."

E: OK, but don't you think that such a view is somewhat medieval primary or, at a time when there is a certain change of attitude?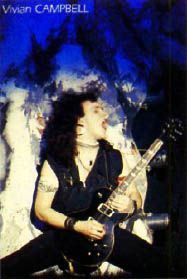 RJD: Yes, but as a basic process, I must explain because it is obvious it resides in the unconscious of humanity. Anyway, what I write is first for myself and for my personal feelings and externalize surely, at some point, I had a need to write "Don't dream of women 'cause they'll only bring you down". Probably at this moment I'm freaking out because of a relationship with a woman, which led to pain and anguish. So he had to express this sentence, which does of course a male point of view, that if man allows himself to fully capture and engages in an emotional relationship with a woman, it happens a day when the man finds himself and is confronted with nothingness.

E: How has your wife reacted when she read your text?

RJD: Very calmly, she did not take it as offence!

E: It is still relevant, right?

RJD: No, because she knows very well that I take the distance between her and the meaning of my words. She knows very well that I'm not talking about her in the text, even if one day our personal story ends badly for me...

I write for myself, I do not expect an answer from anyone when I talk about God, the Devil or women, although some are concerned. I am always myself and I do what I do and it stops there, with my inconsistencies and my contradictions.

E: What is interesting in this song is that the problem of women seems to be mixed with flowers. So, do you really smell the flowers and get involved in a physical relationship that reflect the same process of alienation?

RJD: Yes, because I think the impact of flowers on the sensitivity of men is the same as women. That is why the two lines keep coming. First, we discovered the ecstasy in the perfume of flowers and in the communion of the body.

E: Okay, but look, to take the scent of flowers as an evil drug is going a bit far, or not?

RJD: Maybe, but you always go very far till a share of the symbols is understood. In fact, I wrote "Don't smell the flowers cause they're an evil drug to make you loose your mind" because the beauty of the flower, which is a plastic beauty and sensory, it is something evil and domineering. You breathe the perfume of flowers, then you will abandon your mind, then the sounds the charm and sprain feelings that emerge. After the process, the woman in all her splendor appears dark and you're definitely under her domination, it's very symbolic, you see!

E: Do not you think that your writing style reflects, or rather is an exorcism of your own frustrations and fantasies?

RJD: Probably. This would surely be interesting to analyze!

E: Yes, especially since many Americans have close relations with their psycho-analysts.

RJD: True, but I was not yet touched.

E: You probably know the films of Woody Allen?

RJD: I know a few personally and I can tell you that this is so long that analysis is something now he can't live without and if he had not the possibility of joining his psychotherapist at any moment, his mind would be in a sorry state! But, I do not need this circus. For me, talking to people, is enough for me and allows me to place myself. In fact, there, you're my psycho-analyst and I like that because everything is spontaneous!

That is it, we're all finished now. At this point, I'm burning to see him on stage in a few hours to check if the intensity of the man was at the height of the intensity of the show. Of course, I see that he will say: "Damn, he did not ask what I thought of Black Sabbath, what about the guitarist, his favorite singer and all sorts of simplistic questions, which have in fact nothing to do with the personality of Ronnie, and let us look at what it really is, what led him to the realization of music and intellectual support that we enjoy today.

© Philippe Touchard, Enfer Magazine - January 1984

[Translated from French language]

Thanks to Radislav for the scan