RONNIE JAMES DIO

DIO FINDS GOLD AT THE RAINBOW'S END




It took Don Dokken seven years. Jay Jay French racked up a total of eleven years. For Rudolf Schenker, it was the summation of an astounding 17 years of hard work before the band he called Scorpions finally struck gold. But Ronnie James Dio has gone him one better. In a career that's had more highs and lows than the combined brotherhood of L.A. metal musicians on a Friday night, it took Dio an unprecedented 18 years from his first band, a cover outfit called the Vegas Kings, to his first gold album as vocalist for Ritchie Blackmore's Rainbow.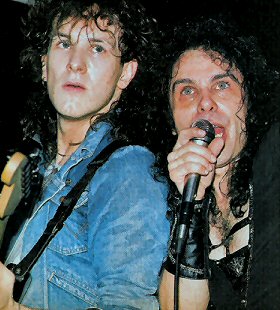 It's taken him some 29 years to reach his current pinnacle, but the success of Dio the band has been worth the wait. Ronnie's guttural tenor may have powered every album it was featured on since 1975 to gold and beyond, but even his detractors can no longer give credit for Dio's success to either Blackmore or Black Sabbath. Dio's accomplishments owe more to the experiences he has accrued than to his association with any one band.

In 1957, Ronnie Padavona teamed up with several high school friends to form the Vegas Kings. "At that time," recalls the singer, "you didn't have these monsters of rock & roll to learn from. So for us, we just concentrated on music that we thought was fun to play."

Ronnie soon switched from the bass to vocals and changed his name to Dio. At roughly the same time, the Vegas Kings became Ronnie and the Red Caps, who in short order became Ronnie Dio and the Prophets.

"It wasn't significant back then," he admits. "I was still searching." The Prophets released seven singles between 1961 and '67, but Dio soon became weary of recording other people's material. He and guitarist Nick Pantas left to form the Electric Elves, who became the Elves. Doug Thaler (now Motley Crue's co-manager) played keyboards and some guitar with the outfit for six years. In 1972, the group (which at this point had simplified its name to Elf) was signed to Epic Records and released their selftitled debut LP, which was produced by Ian Paice and Roger Glover.




Rainbow became the band that I didn't want to be in.



"After we did Elf we toured maybe eight times with Purple," reflects the shouter. "During the course of those tours I became good friends with Ritchie Blackmore. When he quit the band and decided to do a record, he took on Elf as his band [with the exception of guitarist Steve Edwards]." But Elf's style (which Dio described as "honky tonk rock") proved incompatible with Blackmore; before they could tour, bassist Craig Gruber quit, followed by keyboardist Mickey Lee Soule and drummer Gary Driscoll. Even before he had set foot on stage with Rainbow, Dio had begun to have second thoughts.

"There were never any physical threats, but they weren't necessary. Every day you'd be wondering who was still in the band. Without a program, you couldn't keep track."

The tempo was set; Jimmy Bain, who had replaced Gruber, was soon out in favor of ex-Uriah Heep bassist Mark Clarke, who was soon replaced by Bob Daisley, who in turn got bounced in favor of Roger Glover (who had actually been fired from Purple by Blackmore). And the situation behind the keyboards wasn't any better. By January of 1979, Dio had become tired of playing musical mike stands and wanted out.

"It had reached the point where I was no longer happy there," he says. "The final straw was the pressure to come up with more commercial material. I refused to write songs that said `Baby, baby, baby I love you.' Rainbow became the band that I didn't want to be in. That's not to put down Joe Lynn Turner or anything, but they became a Foreigner replica. And look what's happened since, Blackmore had to go back to Purple."




Of course, you do get discouraged when you see
people giving you the finger from the first row.



The next six months were spent in limbo. By his own admisison, Dio had become disenchanted with the music industry as represented by "the whole silly arena that Rainbow had become." While contemplating a solo project, he met Black Sabbath's Tony lommi.

"He wanted to do something -not as Sabbath- and we had hit it off pretty well," recollects the itinerant vocalist. "The two of us sat down and wrote 'Children of the Sea,' and things looked really well for us. We needed a rhythm section, which turned out to be Geezer Butler and Bill Ward. And we became Black Sabbath again."

Dio's first gig replacing original Sab vocalist Ozzy Osbourne was in Germany, shortly after the release of Heaven and Hell. He recalls peering out into the audience to see an ocean of fans waving "Ozzy Rules" banners.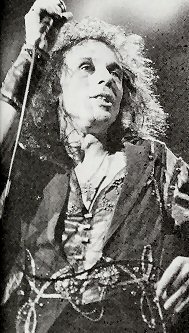 "I wasn't very concerned with the fans' reaction," Ronnie recalls. "I was confident in myself as a singer. Of course, you do get discouraged when you see people giving you the finger from the first row, but I was more concerned with my shirt. That night, I was wearing this shirt with these sleeves that went down practically to my ankles, and all I could think of was that I was going to get tangled in them and fall."

Over the next three and a half years, Dio eventually overcame both his sleeves and Ozzy's ghost; the Sabbath phoenix flew with three consecutive gold albums after the final four discs with Ozzy had failed to do so. But during the mixing of the Live Evil album, a row erupted beween Iommi and Butler on one side and Dio and drummer Vinny Appice on the other.

The veteran guitarist accused Dio of sneaking into the studio and turning up the mixes on his vocals, as well as taking advantage of Sabbath's name. Dio counter-charged that Sabbath didn't genuinely care about its fans. By January of 1983, Dio left to undertake the solo project that was curtailed when he joined the band.

"For some stupid reason, Sabbath fired Vinny" he recalls. "He's one of the best drummers in the business, so I wanted him to join with me. But I want to specify, I didn't ask him to leave, they did."

Ronnie also tapped former Rainbow bassist Jimmy Bain. The search for a guitarist lead him to Ratt's Jake E. Lee, but their styles clashed. Then Bain suggested a 21-year-old guitarist from Belfast, Northern Ireland.

"After watching Vivian [Campbell] for ten minutes, I knew we had our band. We all had compatible styles and no personality conflicts. We were an honest band."

Brooklyn-born Claude Schnell joined as auxiliary keyboardist just before the recording of Holy Diver (Warner Bros.), thus completing the lineup. (He's now considered a full band-member.) The medieval influences that had been tempered by previous members of the group had been moved to the fore. The singer explains, "Those influences come from the fact that I'm such a voracious readerparticularly of science fiction and fantasy. What were dragons then can be nuclear bombs now. If you can escape for a while and clear your head, you can always go back and fight your demons. These lyrics are just my way of reminding people that life isn't all that bad if you use your imagination."

And Dio certainly does, onstage and at home. While a man's home may be his castle, Dio has taken that adage to an extreme. His Southern California roost features stained glass windows, a turret, a small army of wizard and dragon statues, and floors and walls which are over 200 years old, imported from England and France. And his fascination with the fantastic doesn't stop there. His tours have featured castles, dragons, pyramids, sphinxes, knights, lasers and just about everything that an overactive imagination can come up with, short of a denim and leather re-enactment of the Battle of Hastings.

But what does one do with a firebreathing dragon and an operating drawbridge after the touring season winds down? Dio, the eternal pragmatist, thinks he has the answer. Among his future projects, which include a full-length animated movie, is the possibility of constructing a rock & roll version of Disneyland.

Mickey Mouse in leather? Donald Duck hurling raw meat at the tourists from the top of Snow White's castle? What would the concession stands sell? Don't bother asking Ronnie. Just use your imagination.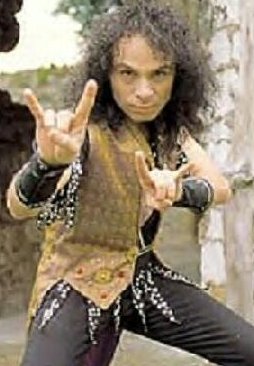 Dio guards against evil



Nobody is sure exactly who started using it first, but it cornuto, the hand sign supposedly known as the Devil's horns, has become most closely identified with Ronnie Dio. Hardly an article on the Italian-descended rocker exists that hasn't included him waving the infamous salute. But what does it actually mean?

"Well," commented the steel-lunged belter, "it's a double-edged sword. For me, it's a rallying cry. I was raised calling it maleocchia, which means 'evil eye.' It's protection against the evil eye when it's pointed up. It's giving the evil eye when it's pointed down. But," notes Dio, "I'd like to think of it as just a gesture."



Paul Gallotta, Circus 31 March 1986
Photos: Anastasia Pantsios