RONNIE JAMES DIO

Classic Rock UK Interview 2002
"It was my dad that got me into music. I always wanted to be a baseball player or a basketball player, first baseball and then basketball. But that was completely out of the question, as we all know!"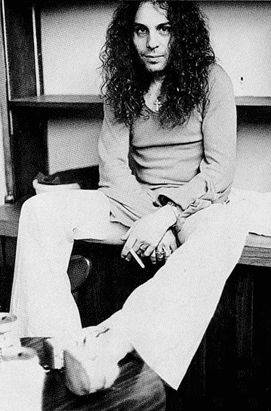 Ronnie James Dio is five minutes into what will prove to be a lengthy (eventually extending over two days) overview of his career, and he has already mentioned - with no prompting from this writer - the 'height' issue, which, it becomes clear as this feature progresses, has caused the singer more than a few moments of teeth gnashing over the years.

However, while we're in his resplendent abode situated in the Encino hills that surround Los Angeles, the ire that will occasionally rise up in Dio when this specific topic crops up - often of his own doing - is absent. Indeed he's all smiles as he cracks open some Guinness, imported from the UK, and, as he enters his sixtieth year on the planet, mulls over a fascinating career.

The House Of Dio is everything you's expect Ronnie James's home to be like. Set in a miniature medieval castle, on its oak-lined walls are hangings and regal paintings, and there's more than one suit of armour and crest of arms.

And while it's a far cry from a tacky American idea of what an English stately home might look like - thanks in no small part to its owner's kinship with England and having spent years living there - it does echo the peculiar rock-star era of the 70s that Dio himself was very much a part of.

He's a charming character who talks with warmth and at length about anything. He also often appears to be far different from the more devious and self-important man that has sometimes been portrayed in the press. - albeit a press that has long loved to goad him. He speaks with humility about his God-given talent, denies being arrogant, and claims not to know where his evident self-belief comes from.

When he talks about the array of colorful rock characters who have drifted in and out of his career, occasionally you can't help noticing that while on the one hand he praises someone, he's swift to add something far spicier by the time he's finished talking about them.

As our marathon chat drew to a close, he noted dryly: "I'm not here to say horrible things about people that I loved, I'm only talking about things that happened. I'm not saying as much as what happened wasn't my fault, cos maybe I'm the irritant factor that makes that happen. But there must be quite a lot of the irritant in them too, because these things have happened over and over. I just want you to know that this is not a soap box for me to say bad things about people that I care about."
Born Ronald James Padavona on July 10, 1942, his father played a major part in young Ron's formative years, encouraging him to take up the trumpet after the youngster heard the Harry james Band on the radio, and he would proudly watch his young son practise four hours every single day when he was between the ages of five and 17.

"I was a real good horn player. I played mainly classical things, in orchestras, until I first heard rock music that excited me. Trumpet didn't really fit, so I got a bass; though I was a trumpet player in my first band when I was about ten. That was The Vegas Kings. I always wanted to have a band."

The Vegas Kings soon became Ronnie and The Rumblers, who swiftly developed into Ronnie and The Redcaps, before Ronald Padavona dropped his real surname for Ronnie Dio and The Prophets. Ronnie James would use the name Padavona one more time when Elf, the band Dio and his cousin Dave Feinstein (later of early 80s New York metallers The Rods) has formed originally as The Electric Elves, released their debut album in 1972, as an honor to his parents.

"It was Elf because me and my cousin Dave we were little guys and we looked like elves," Dio smiles. "And our piano player, Micky Lee Soule, was pretty short, and our drummer Gary Driscoll wasn't very big and he looked like an elf too.

"That was the beginning of wanting to play real rock. At that time out heros were Purple, Cream, the shit! That was the shit to me, and always will be. Those were our heros and those were the people we were trying to emulate. Luckily for me I was able to take my style, which was a little different to most rock singers, and put that with a sound that got heavier as it went along."

Deep Purple bassist Roger Glover produced Elf's self-titled debut album, and introducing these new American heavy rockers to his bandmates, who were so impressed they ended up taking them out almost constantly as touring companions until the MkIII Deep Purple line-up finally ground to a halt - the members of Elf uniting with Deep Purple Guitarist Ritchie Blackmore in his new venture. Yet anyone thinking that Blackmore and Dio hit it off immediately, forging a strong friendship out of which grew Rainbow, would be wrong, according to Dio: "People think we suddenly became friends, but it was a long, long process. Roger Glover became my best friend. He was the one I admired the most. And it was thanks to Rog that it all happened. He took that record back to the guys, and we signed to their label and went on tour with them. For the first three or four years we toured with Purple, I never passed a word with Ritchie."

What were your impressions of the mysterious and enigmatic Mr Blackmore?

"I think that even though all of us - Glenn (Hughes), Davis (Coverdale), Ian (Gillan), myself - have gotten to know him really well over all these years, I don't think any of us could say Ritchie is their best mate," he announces. "He always kept the correct distance, for him, from each of us. He would open himself up occasionally, but never to the point where he would be vulnerable. He probably does have a best friend, though he's never mentioned it. He's very cleaver and astute, but sometimes that can make you a lonely man, and if that's what Ritchie wants, then he's certainly accomplished it.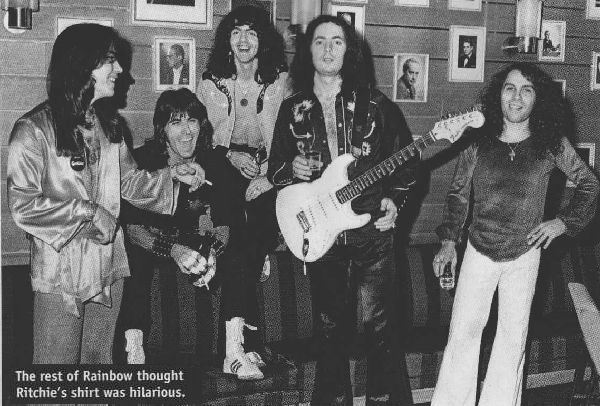 "I remember a time when we were playing in Austria, and Ritchie ended up in prison. When he came out, Wendy (Dio, ex-wife and manager) and I spent the whole night with him, cos that's quite a traumatic thing to endure. And I thought I'd finally made an inroad with him, but a year later, I was out of the band, so I guess it's not a matter of friendship with Ritchie."

Some kind of friendship - and the first signs that Blackmore might be thinking of exploring new avenues - became more evident following the departure from Purple of Ian Gillian and Roger Glover. " I think the biggest problem for Ritchie was that when David and Glenn joined Deep Purple, which was Ritchie's decision, they brought a funkiness to the table that Ritchie didn't want to hear. He called it shoeshine music. But it was at Waterberry, Connecticut, when I first spoke to him. I was backstage and I felt this presence, so I turned around and it was Ritchie, dressed in black with a white guitar and white boots on. He says: 'You're a great singer.' Then he turned and left.

"After that I would get an occasional call and he'd ask if I was interested in having a jam with me and the guys from Elf, and we'd go to clubs and jam. This was audition time as well, he's not a stupid man. Although I never had any plans to play in a band with Ritchie, and it never crossed my mind that he might be testing me. Elf was a band that I believed in and I thought we were achieving something."

A suitably impressed Blackmore finally got around to approaching Dio and Elf to join him in recording what would be the first Rainbow single, 'Man on The Silver Mountain,' backed with a cover of Quartermass's 'Black Sheep Of The Family.' But the real audition came after Dio agreed.

"One night he called me and asked me to come over to his hotel room, which was dark, with candles, and the door was answered by a voluptuous, scantily clad woman. He played me this song and asked me to come up with lyrics for the next day. I've never been one to lack in confidence, so I said yes.

"We were in the studio the next day. My Elf guys, who became Rainbow, played the backing, then it was my turn with the vocals. Ritchie loved it, the very first take. That's an audition, and that gave me enormous confidence for the rest of my life. It also signalled the end of Deep Purple, because it gave Ritchie somewhere to go."

Did he ever ask you to join Deep Purple?

"No," Dio insists. "Never an option. And something that I would never have done anyway."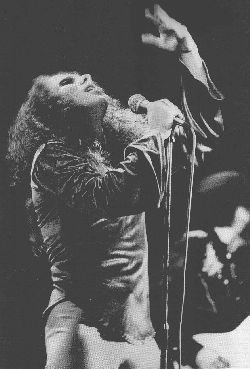 What were the early days like?

"They were kind of unusual. Ritchie was my hero when I wasn't playing with him, but when I was in the band, he was the guitar player. I learned a lot of things from him. He was a man who wanted things to be correct. I noted the bad things and believed I wouldn't do them: not giving enough of yourself to your fans, or in Ritchie's case, not giving anything of yourself to your fans. I went completely the other way, of course, and felt the need to be connected with people. But I learnt good and bad things from him. We had respect for each other and dealt with each other as a great singer and a great guitar player. I wasn't in awe, though. I was part of the band, and there were no stars in my eyes. Cold hard fact."

It was at this time that Dio first came under the scrutiny of the British - the start of a somewhat fractious relationship for the singer.

"They were always very kind to Elf, because we were these poor kids from New York who hadn't made it anyway. so there was no reason to knock them down," he begins. "But you know as well as I do, that's how they work: 'Oh, you've had some success? Well it's time to kick your arse out from under you, then.'

"But that didn't happen for a while, and they were happy for our success. But you know what? It didn't matter to me what they said about me, I was only interested in the quality of the music. And guess who wrote those songs? I was only interested in the music. Who gives a damn about what they think about me? I want to be appreciated by people who know music and by the kids out there. It did come to a point that I got annoyed. I'm only human. You either have the balls to stand up it, or you're meek and mewl off to a corner. And the British don't like people who cry off. They like people who've got balls. It hurt because I feel I gave too much of myself.

"And I really got sick and tired about being called a fucking midget all the time. Everything was about how small I was." I point out that it is in the British nature to be cynical and take the mickey. Both very un-American traits. It cuts little ice with the man. "Judge me for the music," he snorts. "How many more times must the press make reference to the fact that I'm supposed to be too small. They don't say that about Paul Rogers. They don't say it about Marc Bolan. And I know why they do it, because they know it gets under my skin. It's not fair. But I also find myself talking for other short-arse in this world. And you know what? Some of them have done some very good stuff."

Dio fronted Rainbow from 1975 to 1978 - what many would regard as their finest period, where Blackmore and Dio evolved the Deep Purple sound into something more streamlined and melodic. It was in 1976 that Rainbow recorded and released 'Rising,' the first of three bona fide heavy rock classic albums to feature Dio's vocals and the album widely regarded being their best work. With tracks like 'Tarot Woman" and 'Stargazer' pounding the studio walls, the band sensed that they were onto something good.

"It was a real special time," say Dio. "A lot of it had to do with (drummer) Cozy Powell being in the band. He just dragged you along with him. It was a nice collaborative effort writing-wise, and I think Ritchie and I knew we were onto something good when we did that one. We were all living in LA at the time, and it was a good time. We were going to the Rainbow every night, there were chicks every night, it was a wonderful thing. When you have that happiness in your spirit, you're gonna come up with something good. It's a great album, and it will always stand up. And I am so proud that I've been involved in at least three of the classic albums of the classic rock genre: one being 'Rising,' another being 'Heaven And Hell' and then 'Holy Diver' with Dio. I'm very proud of that.

In 1978 Rainbow released 'Long Live Rock And Roll,' an album that almost reached the heights of 'Rising,' not least with its anthemic title track, and the immortal 'Kill The King.' Yet while Dio believes it's a somewhat overlooked record from the Rainbow canon, it would be his swansong, and he could see the cracks starting to appear.

"Overlooked like (Sabbath's) 'Mob Rules' is an overlooked album," he starts. "But it was recorded at a time when you could see the underpinning starting to come away, a bit of decay here and there, so some of the things were more difficult to write. Ritchie wanted some more love songs and more of a pop thing - especially the kind of thing that they did with Joe Lynn Turner later. It started to become more difficult at the time, and I could definitely see the writing on the wall."

Was it difficult to deal with the fluctuating line-ups?

"Well the first time was really hurtful for me, because the people who went out the door, were the Elf guys I grew up with and played with. But it stuck in Ritchie's craw that people thought it was him playing with Elf, so they had to go. But he was right, because the changes were for the best. They had their opportunity to flourish, in that situation and they didn't. But once it happens, you get more thick-skinned about it and start thinking: 'When's my turn?' Except I never thought my turn would come."

What happened when you left?

"Bruce Payne, my manager at the time and who still manages Deep Purple, called me and said: 'I need to speak with you.' So I went round to see him, and he told me that Ritchie was gonna break up the band. I asked who he was keeping, and he says Cozy and Roger Glover, who had joined at that point. So essentially. I was out. At that point I felt good; I didn't want to be in a band anymore. Ritchie didn't want me to be in the band any more. He didn't want wizards and witches and magicians and things that made you think a little bit, he wanted broken romances and 'Lost In Hollywood' and whatever. Not that they didn't write some good things, but it wasn't what I was into, and it was the right thing to do."

Dio found himself ousted from Rainbow prior to 1979's 'Down To earth,' which featured ex-Marbles singer Graham Bonnett, and finally gave Blackmore the chart success he craved. But for Dio there began a two-year period of uncertainty that saw him first hook up again with his old Elf mates, and then look to forming a more R&B-style outfit with ex-blood, Sweat & Tears man, Al Kooper.

Then, out of the blue, he got a phone call: "A friend who worked at the Rainbow rang and said that Tony Iommi had asked for my number, as he was thinking of leaving Sabbath and liked what I did," says Dio. "Tony called me, and it looked like we were going to work together. The phone calls stopped after about two months, but it was their (Sabbath's) tenth anniversary and they'd been offered a lot of money to tour. And 'money' is the operative word here - the 'S' in 'Sabbath' should be a dollar sign.

"I was also in the process of putting another band together when I bumped into Tony Iommi again at the Rainbow. He asked me to pop up and meet Geezer and Bill, which I did, and we ended up writing 'Children Of The Sea' right there and then. And Tony said right away: 'That's it, I'm firing Ozzy tomorrow."

Although Sabbath's grinding metallic edge seemed somewhat at odds with the more refined heavy rock approach that Dio had been used to in Rainbow, the singer could see the potential with his new bandmates.

"I liked the early things they did, 'Sabbath Bloody Sabbath' and 'Black sabbath,' but I didn't think 'Technical Ecstasy' and 'Never Say Die' were up to much. But when I got a chance to play with them, I realized how good they were. Tony wanted it to be more melodic and to play more music, but I don't think Ozzy was giving him the opportunity to work off another musician. I'm a musician and Ozzy wasn't. When I came into the band, they were still this great bludgeoning band who were willing to do other things as well. So the mix of my classic experience and their great strength was a marriage made in Heaven and Hell at that particular time."

Although the general view was that in 1980 Black sabbath without Ozzy was like a vehicle without its proper engine, the band wasted no time in proving their detractors wrong. the proof was 'Heaven And Hell,' another classic album and, possibly the finest thing to bear the Black Sabbath name.

"One of the good things about it was using Martin Birch as producer," says Dio. "He's got endless spirit, and with his expertise took all the great things we did and captured them on tape. Without him it wouldn't have been anywhere near as good. All the right parts fell together. The hard part was the first month playing live, because Ozzy had been such a large part of the band. I spent a month seeing peace signs all the time and people shouting: 'Fuck you.' Eventually they just accepted it and the music proved itself. That album, much like 'Holy Diver,' gained its impetus from being played between bands at live gigs; engineers loved it and kids loved it. The success was so phenomenal."

Another intuitive step taken by Dio to stamp his own identity on Sabbath was to develop his own hand signal to take people's thoughts away from Ozzy's incessant peace signs: "It came from my grandmother," he says of the maloik, to ward off the evil eye, or to give the evil eye. We'd be walking down the street and i'd see her give people that sign. When it came time to be in Sabbath, I knew what Ozzy was famous for, and I decided to do something different. And it didn't take long for kids to pick up on it. It's been around for thousands of years, though, i'm not going to take credit for it. I'm sure Gene Simmons would like to take credit for it, he's taken credit for everything else on the face of the planet. He's taken credit for tongues, for Christ's sake. Yeah, no one had tongues before you, Gene!"

Recognizing the need to establish his own character, Dio's response to filling Ozzy's shoes was to tackle the old Sabbath hits as his own man. Admirable, but it still drew a few disgruntled comments from older Sabbath fans. Not that it particularly bothers Dio. On the other hand, the constant overlooking, in later years' of his impressive work with the band (a recent 32-track 'Best Of' found room for just 'Heaven And Hell' and 'Turn Up The Night') certainly does. "I think we recorded some fantastic music," he states, "yet all you get these days is Ozzy, Ozzy, Ozzy. And I don't think that's fair. I know why it happens, and I know that it's being manipulated that way, but it annoys me."

Sabbath's long-serving but by that time fragile drummer, Bill Ward, walked out during the 'Heaven And Hell' tour. After the often changing nature of Rainbow, Dio could have been forgiven for thinking that the writing was on the wall once more. But that wasn't the care: "Not at all," he insists. "Billy chose to do that himself. He was very unhappy in the band. Bill called me, I don't know why, and told me he was leaving the band. We had a sold-out tour booked and had to find a replacement. But we got Vinny (Appice) in and it was no problem."

No problem at all. That is until the band set about working on the follow-up album, 'Mob Rules.' "Now, that was a real problem," Dio says. "The start of the end of it all. "There was too much extra-curricular activity going on. I'd seen what it can do to people, and didn't want to be like that. Music is not created by drug use or alcohol for me. Sure, I love the bevvies and i've smoked lots of pot, but I saw what it did to Glenn Hughes, I saw what it was doing to Tony, and I did not want to be like that. I accepted that it's what they did, and as long as they could still perform to the best of their abilities, it was okay with me. And for the most part, things were okay. But what it did was alter the mind and the attitudes. The success meant a lot more abuse, and you could see it start to affect itself in personal ways. But that was the beginning of the end."

'Mob Rules' was released in 1981. Although not as good an album as 'Heaven And Hell' it was by no means a disaster, and tracks like 'Voodoo,' the title track and the epic 'Sign Of The Southern Cross' help it remain one of Sabbath's better recordings. The ensuing tour went well, and despite the evident substance abuse, all seemed well within the band. The well-documented problems came later.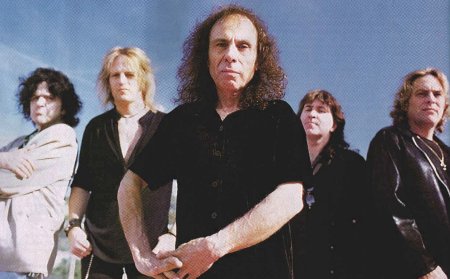 Specifically, they came with mixing of 1982's 'Live Evil' : "Well Tony and Geezer were told that Vinny and I were messing with the mix," Dio says of the often repeated tale. "In reality, we'd get to the studio at the allotted time to work on the record and they wouldn't turn up. Then we found that they'd turned up after we'd gone home. This happened for a while.

"Eventually, instead of sitting there with our thumbs up our asses, we asked to listen to some music. Then when they eventually turned up, the engineer told them that we'd been turning up the vocals and the drums. Then I get a call from Geezer saying: 'This isn't working. We think it's better if Tony does it himself.' I said: 'What you're saying is this isn't working and it's over.' And it was. When we did get back together for the 'Dehumanizer' album, we were apologized profusely to over that, which I feel vindicates us."

Bandless once more, this time Ronnie decided he would be reliant on no one else, and Dio the band was finally born: "The idea came to me after I'd been chucked out of Sabbath.

It was a matter of having nothing to do. I'd decided that i'd had enough of not being able to make my own decisions, which I firmly believed in, and making the kind of music I wanted to make. I called Vinny and told him I was putting a band together. I had two songs written, and I thought they were good enough to build a band around.

"I had 'Holy Diver' and 'Don't Talk To Strangers' when we looked for a band. We decided to head back to England, because I've always loved working with great English guitar players - I love their attitude so much more than Americans.' So we trawled the English clubs and couldn't find anyone.

"The only person I knew was Jimmy Bain, so I called him up, and he came over and gave us two tapes. One was John Sykes and the other was Vivian Campbell. And Viv was the man. He flew in and we rehearsed, and out of that Jimmy decided he was going to be the bass player - thank God. And the rest was Dio. we were very, very fortunate."

Dio wasn't simply a case of having good songs, although those first three Dio albums ('Holy Diver,' 1984's 'The Last In Line' and 1985's 'sacred Heart') include probably the best material the band have come up with. But that alone doesn't make a great band.

"Right time and right place and right people," Ronnie stares emphatically. "You create magic with your first project. Your second is often a little more jaded. It was like that in Rainbow, for me at least, thought the second album works because it was a new line up. With Sabbath it was the same. It's always like that for me. I was very stressed out at the time of doing that first Dio album, and those lyrics were very personal for me. It's real angst."

Although Dio mentions that he always thought he'd be in a band forever, his own outfit is equally famous as Rainbow for its 'revolving-door' approach when it comes to personnel. There's little doubt that Dio has been tainted by Ritchie Blackmore's reputation with regard to band members. "Of course," he agrees. "As soon as I made some changes, the press were like: 'Oh let's all leap over that little son of a bitch.' There were good reasons for my changes, with Ritchie there rarely was a good reason. Some people let themselves be told who to have in their band, with me, it's all down to me. I've got little broad shoulders and I don't really care, I can deal with it. When your born small, you learn how to be big."

1990's 'Lock Up The Wolves' seemed to show some of the strain. The band were trying to adapt with heavier times, with varying degrees of success: "Oh, we were definitely out of touch with what was going on," Dio admits. "I was still dabbling with too much fantasy, but I honestly didn't know what else to do. I couldn't relate to the unrelatable, so I did the best I could."

At which juncture in Dio's career Black Sabbath reared its head once more.

"I wasn't very happy with that Dio band," he says. "Rowan was stunning, but the supporting cast was making it hard to recreate the magic. But I remember Geezer coming to a show in Minnesota and jamming with us, and we got loaded after the show, and he brought up the idea of doing something. Tony called, and I was totally into the idea because we all knew there was more that we could have done with that band.

"But I should have known that leopards don't change their spots. Once again the same problems arose, the lack of communication, and it just went away. But I must tell you that I think it ('Dehumanizer') is one of the best albums I've ever worked on, and I believe it will do down as one of the most underrated albums in history.

"We never really promoted it properly. I don't think that anyone really believed that we would stay together," he says. "I think that for a lot of people it was a holding thing for the time when Ozzy said: "I'll sing in the band again."

Then as if to prove once and for all the laughable and ludicrous nature of their post-1981 reunion, Black Sabbath decided they would support Ozzy Osbourne. The move was evidently a precursor to the eventual reunion, but it was also a damning and wholly unfair indictment of Ronnie Dio. Needless to say, he was less than impressed.

"We weren't supposed to do that, it was supposed to be our own tour with two final shows in Los Angeles," he sighs. "I got a phone call from Wendy telling me that the shows had been changed to supporting Ozzy, and I just said: 'No I'm not.' I said I'd do every other commitment I'd agreed to but not that. There was method in that madness, and I can't totally blame the guys. But it doesn't matter.'

Dio eventually returned to doing what he does best: fronting his own outfit. Although times have changed, and grunge ruled the roost, the band struggled for both creativity and credibility. Their 1994 album 'Strange Highways' showed flashes of what once had been, but 1996's "Angry Machines' probably represents the nadir of their career.

"We sucked up until 'Magica,'" Ronnie admits, somewhat astonishingly. "I'll only stand up for the good things we did. I thought that 'Strange Highways' was very good, but things that came after that was absolutely the worse rubbish I'd ever been involved in. But I had no choice, I had commitments. And maybe I was too loyal to (guitarist) tracy G, though I thought we could work through it. I decided that 'Magica' would be the album that showed that I could still give people what they wanted from Dio. And I believe that re-ignited us."

It certainly did, pandering to the Dio fan base's love of all things fantastical. Referred to by Classic Rock's Dave Ling, at the time as "a massive step in the right direction," it was followed up earlier this year with the less cringe-inducing and more straightforward "Killing The Dragon,' with Dio still vocally on top of the game as ever. Times have certainly changed, but he remains resolutely aware of working within the limitations that confront a band such as Dio today.

"You can't sit there and moan: 'It's not like it used to be,'" he says, matter of factly. "Of course I still want to play. I love showing people what I can do. But unless you take a step this way and open for Alice Cooper or The Scorps and Purps you don't get a chance to do what you need to do. I'm not going to do the Quiet Riot, Poison, Ratt package, which means you can play weekends or end up on the Vegas oldie circuit When that happens is when i'll retire."

Which brings us to present day, with Dio set to play to British audiences again in October. There is just one question that remains to be asked, the question that remains on the lips of everyone who sees Dio's time in Rainbow as his best: does Ronnie still remain in contact with Ritchie? And if so, could the two of them end up (some would say inevitably) working together again once more?

"Still in touch with Ritchie?," he smiles cryptically. "There will always be the respect level. I've never said a bad word about Ritchie. He's the guitar player I've always respected the most, did the most for me and gave me an opportunity beyond most. To be on stage with the master was incredible for me. I always get asked if we will work together again. And I'll tell you what, I'll never say never to anything again."

Classic Rock UK, October 2002