BOB DAISLEY





It would take several pages to fully list the works of songwriter and musician Bob Daisley but here are a few golden goodies that have undoubtedly chewed your ear through the years. RAINBOW's "LONG LIVE ROCK & ROLL," BLACK SABBATH's "ETERNAL IDOL" and everything worth listening to by Ozzy Osbourne. Certainly no small contribution to Rock and Roll and you would think more than enough to ensure the man some respect from his peers as well as the music industry in general. Still, some would deny Daisley what he is owed in both respect and financial compensation.

Daisley now lives in Australia where he is writing and recording with a Blues outfit known as THE HOOCHIE COOCHIE MEN. Bob found a few free hours to speak with me by telephone about the good, the bad and the ugly of his career in Music.

- OK and on to RAINBOW. You kind of came in on that band in a transitional period. How was it that you got the gig in the first place?

I joined RAINBOW, roughly, around July of '77. That lasted for a bit more than a year, I think, because I know that when I joined we rehearsed for about six weeks into August of '77 and I know this because it was in rehearsals that we heard about Elvis dying and that was in August of '77. We rehearsed up until the end of August and then we did a Scandinavian and European tour into September and October and maybe even November and then we were into the studio to finish up "LONG LIVE ROCK AND ROLL" around December. January of '78 we went to Japan and in February we went to America and were there for quite some time. I think that everything folded around the autumn of '78 so it lasted a year and a bit with that lineup. A lot of people tend to think that was the classic lineup but I wouldn't comment on that. I mean I liked it and I thought it was a good lineup with Ronnie and Cozy and David Stone, he was a guy from Toronto and a good keyboard player.

- Yeah, it was a good band and the album was great but it seemed that it was about that time where Ritchie Blackmore started to accelerate the hiring and firing of band members to the point where the band didn't really have any kind of identity beyond Ritchie's solo project.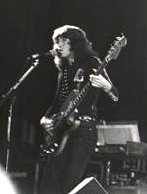 Yeah, he did change lineups but he did keep Cozy Powell on drums for a while but then he did get rid of him after a time too so that whole lineup had all gone.

The newer version of RAINBOW was a lot more commercial with Graham Bonnent and all of the other people that he had at that time were good players but it was just a bit more commercial than I expected but it did do well. You can't knock the success of it but I still think that the heavier lineup with Cozy and Ronnie was better.

- How was it that you actually got the call to come into RAINBOW in the first place?

I was on tour in a band called WIDOWMAKER and we had finished an American tour in Los Angeles in about July of '77 and I met up with a friend of mine, Dick Middleton, who I had known from England and had worked with in a band in the early days called MUNGO JERRY, anyway, I went to see Dick in LA and he said, "Hey, Blackmore is here and he is looking for a bass player, would you be interested?"

I said that I would be and so I met up with Ritchie and had a few beers and that happened a couple of times and then Ritchie said, "Would you like to come in for an audition?" I did and they put me through the paces and got me to try different songs and different ways of playing things. Ritchie was particularly interested in a bass player who played with a pick, he didn't want a finger style player, he wanted the precision of a pick and that is how I played. At the end of the audition he said, "Yeah, that's it, you can have the gig if you want it." Funnily enough, I had actually thought about it a while because I had heard stories about Ritchie being fickle and Ritchie chewing people up and spiting them out and saying, "Next!"(laughs) "Well, he lasted three months so lets get someone else now" and I felt like, "Do I really want to be in that position?" In the end I said to myself, "Yeah, it is a good position and an opportunity and a stepping stone so take the chance, why not?" Like I said, it lasted for over a year and I learned a lot from it and it was a good experience. It put my name around more and it was just a good situation and I enjoyed working with that band.

- Strangely enough after wanting a picking bass player he hired Roger Glover who at the time was a finger player I believe!(laughs)

Yeah!(laughs)

- There are the completist kind of fans out there who put together these intricate time lines for groups and one that I saw had you in the band in the morning with Graham Bonnent and then by the evening you were replaced by Roger Glover which sounds strange to me but so do a lot of things in this business!(laughs) Was this at all accurate?

Oh, is that what happened?(laughs) I don't know, I don't know too much about that really.

- How was it that you got your papers to leave RAINBOW? Was it a formal thing or did Ritchie just not renew your contract when it came time?

It was a civil thing. I think that it came to the point where, I can't remember who it was that told me, it probably would have been Bruce Payne or it may have been Ronnie but someone phoned and said, "Ritchie is changing the band and it is going to go in a different direction..." So it wasn't like nobody told me or anything so I think that it was OK. I saw Ritchie a couple of years after that when I was walking down Sunset Blvd in LA with Lee Kerslake while we were on tour with URIAH HEEP and we met up with Ritchie and he said, "Why don't we go and get some breakfast somewhere?" and we did that at Ben Frank's, I think it was, and that was the last time I spoke with Ritchie, twenty years ago.(laughs) It doesn't seem that long ago but I guess it was.

- When RAINBOW gave way to the DEEP PURPLE reformation they compiled a "live and rare" disc with a couple of tracks from your period on it, what did you think of those performances?

Yeah, they were all right I thought, I thought they were quite good actually.

- Have you kept up with any of the other guys from RAINBOW through the years?

I did a tour with Ronnie at the end of 1998 which is something that not many people know about because it was a last minute thing. He had a bass player that had another commitment to do something and couldn't make it and Ronnie said to me, "Do you want to do some shows?" And so I went in with them and rehearsed a bit in LA and then we went to England and Scandinavia in October and November of '98. I was in kind of a bad frame of mind then though because my Dad had just died and I was just not in a good place and it got really weird and it probably wasn't the ideal mental space to be in to be working with somebody for the first time after twenty years but that was no fault of Ronnie's or the band's. Ronnie sang great and the band was great but it just didn't seem an enjoyable time to me because of my thing but it was only like a three week tour or something and I just went in and did it and came out. We did some RAINBOW stuff and obviously his DIO stuff and a few SABBATH things.

- You also did some work with Joe Lynn Turner, another RAINBOW alum albeit from the time after you had left the band...

Yeah, the MOTHER'S ARMY thing as well as the first time that I worked with Joe on the Yngwie Malmsteen album and that was in 1987 or '88. Joe and I talked about maybe getting a band together and we spoke with Carmine Appice but it didn't happen until the MOTHER'S ARMY thing. Carmine had phoned me and said, "What are you doing?" and I told him that I was going out to Australia soon, this was when I was in England, and he said, "Well, fly via San Francisco and come in and have a play with Jeff Watson (NIGHT RANGER) and me." And so I did that and played on a track or two of Jeff's solo album and then I came down to Australia. The next year, '92 or so, we got the MOTEHR'S ARMY thing together with me and Jeff and Joe Lynn and Carmine and it was starting to do good and we did two albums with that lineup and the third album, Carmine wasn't with us and we had Anysly Dunbar on that one, what a great drummer that guy is! I love his playing, that guy. Business-wise the MOTHER'S ARMY thing never got off the ground but personnel wise and musically it was great, I like everybody in the band. I think that we might try and release one of those albums through MP3 or one of those things and if we do people can hear about it through my website I am sure.

David Lee Wilson, Electric Basement, September 2002