COZY POWELL

THE GENIUS OF COZY POWELL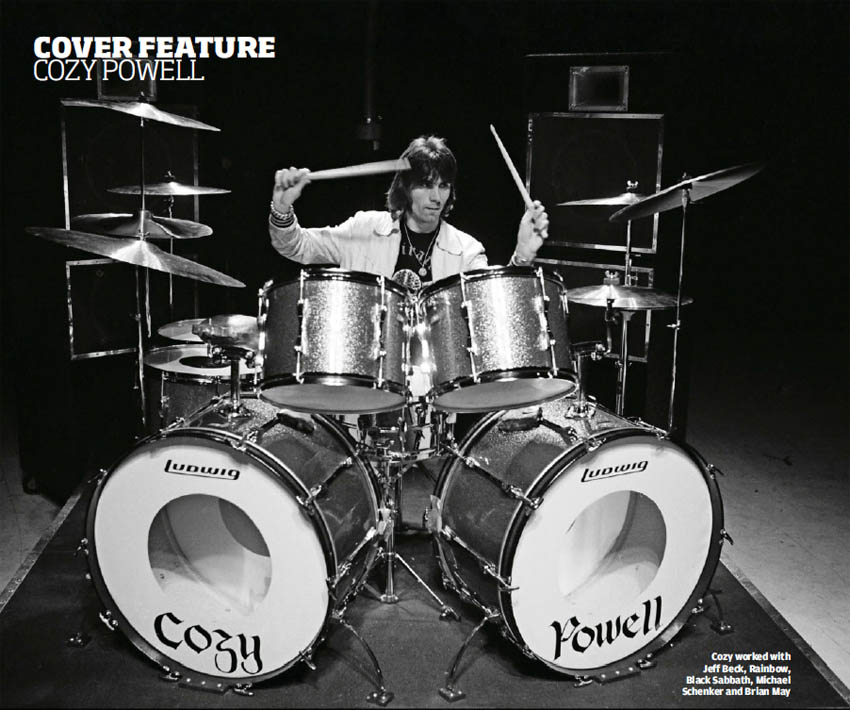 HIS PLAYING DEFINED ROCK DRUMMING, HIS SOUND WAS UNMISTAKABLE AND HIS SOLOS WERE UNMISSABLE. EIGHTEEN YEARS AFTER HIS PASSING, RHYTHM CELEBRATES THE LIFE AND MUSIC OF THE MAN WHO DANCED WITH THE DEVIL, THE INIMITABLE COZY POWELL

WORDS: DAVID WEST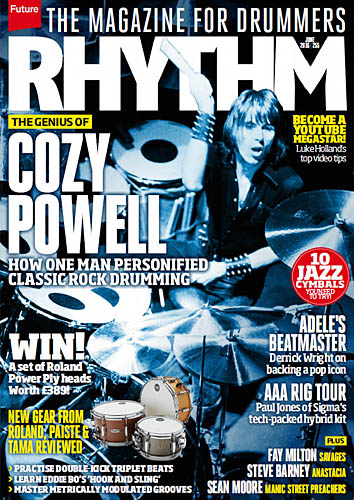 I do think there's a lot of technique in the people who can sit there and play these most intricate rhythms very quietly, but I like to hit things and hit them hard. It's become ingrained in my style of playing. Not very subtle, true, but it hasn't done me much harm in the past." So said Cozy Powell in an interview with Rhythm back in 1987. By that point in his life, Powell had already worked with the Jeff Beck Group, Rainbow, Whitesnake, the Michael Schenker Group, Emerson, Lake & Powell, had a Number 3 single in the UK charts as a solo artist, and been a successful session drummer for Mickie Most's RAK Records. He would go on to work with Black Sabbath, Brian May and Yngwie Malmsteen to name but three, before his death in 1998. Powell was one of the titans of British rock drumming and a star in his own right in a manner precious few drummers ever achieve, with an image, sound and style that were all his own.

He was born Colin Trevor Powell in Cirencester, where a memorial plaque was unveiled on Corn Hall this January in honour of his myriad musical accomplishments. The ceremony was attended by his friends and former bandmates including Brian May, Tony Iommi, Suzi Quatro, Neil Murray and Bernie Marsden. Powell started drumming in school aged 12, but was told to switch to the cymbals because he was too loud and had battered the drums into oblivion. He started gigging in his teens in local bands until the late nights and poor attendance resulted in the young drummer being kicked out of school. Undeterred he moved to Germany where he learned his craft the hard way, slogging around the late night club circuit with The Sorcerers.

"He absolutely loved John Bonham that's for sure and he certainly thought that Carmine Appice was fantastically good," says Neil Murray about Powell's drumming heroes. "Like a lot of these guys that came up in the mid- to late-'60s, they'd been influenced by the guys who had come before that, so he, in the early days, was a huge fan of Bobby Elliott from The Hollies and I think they became quite good friends later on. And he took his name from Cozy Cole, whether it was an actual drum influence I'm not sure."

After three years of working the German clubs, Powell returned to the UK where he played with Tony Joe White at the Isle Of Wight festival in 1970, a performance that helped him land an audition for The Jeff Beck Group. Never one to go for half-measures, Powell always played with absolute intensity, even in a high-pressure audition. "I took my old Ludwig kit along and set it up right in front of him and flailed away like a complete lunatic," remembered Powell years later. "I thought, well if I don't get the job, at least he'll never forget me! My advice to anyone is play your heart out… at least you'll get noticed if nothing else!"

The Jeff Beck Group was a huge gig to score - the guitarist was a massive star, regarded with something akin to awe by his contemporaries. Powell cut three albums with Beck - a set of Motown covers which has never seen the light of day, 1971's Rough And Ready, and 1972's The Jeff Beck Group. When the Jeff Beck Group disintegrated, Powell stayed busy playing sessions for producer Mickie Most's label RAK Records. There he cut tracks for Donovan, Hot Chocolate - proving he was more than just a heavy-handed basher by playing soul - and Suzi Quatro. "I first met Cozy Powell in 1971 when Mickie Most flew over to record Jeff Beck at Motown Studios," says Quatro. "This was when he discovered me. I was playing bass in the second wave of our all-girl band called Cradle and Mickie offered me a solo contract. We went to Motown Studios after my gig and I actually jammed Cissy Strut with Cozy and Jeff in 'the pit'… not many people can say that! So I have known him that long. We also did a RAK Rocks Britain tour. I was headlining, Cozy Powell's Hammer was second on the bill and Arrows last. We played a lot of poker in the bus - I always won. Cozy was a lovely, normal man and a damn good drummer."




BRING DOWN THE HAMMER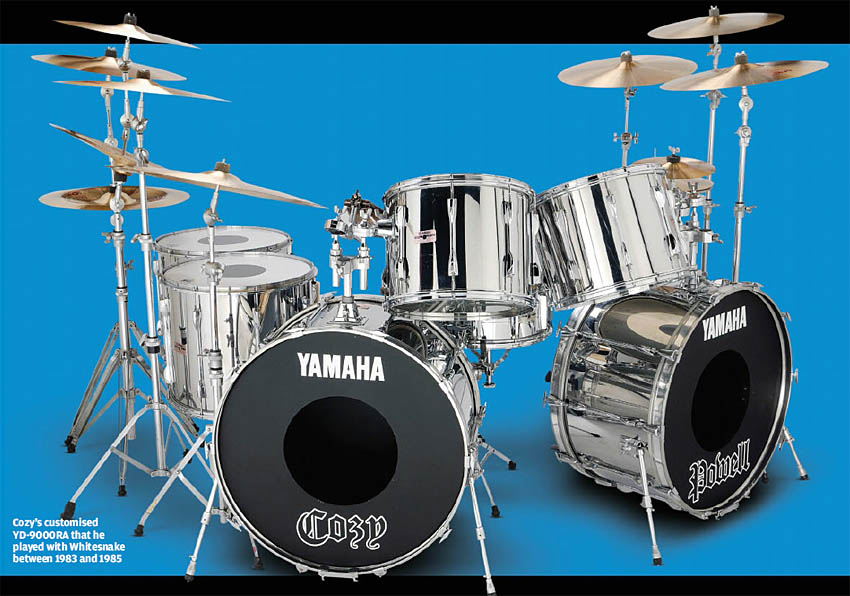 Mickie Most had a huge impact on Powell's career - it was the producer who convinced Powell to record the track that became his first signature piece - 'Dance With The Devil'. An instrumental built around drums that Most brought to the drummer. The track reached Number 3 in the UK charts and Powell was even invited to appear on Top Of The Pops. Two more singles followed - 'The Man In Black' which reached Number 18 in May 1974, and the pounding glam rock of 'Na Na Na' which peaked at Number 10 in August.

To promote the singles, a group was formed called Cozy Powell's Hammer with Bernie Marsden on guitar, Don Airey on keys and ex-Jeff Beck Group bassist Clive Chamen. However, when Chamen wasn't available, Neil Murray took his spot, beginning a musical relationship with Powell that would continue in Whitesnake, Black Sabbath and Brian May's band.

"It was kind of a mixture of everything - which was the problem really, it was hard to categorise it," says Murray about Hammer's repertoire. "The band was put together really to promote [Cozy] after he'd had a couple of solo hits in '74, so they were part of the set obviously but apart from that there would be some fairly standard rock songs but some more jazzy, funky things. We opened up with 'Super Strut' pigeonholed.

Musicians would be open to a lot by Deodato which is just an excuse for a blow really but wouldn't be the typical kind of thing a hard rock band would play. Back then things weren't so more influences than they seem to be now. There was some really great playing in that band but maybe it was unfortunate to be on Mickie Most's RAK label which was purely to do with hit singles and there was too much musicianship really. It kind of fell apart in '75 and then he planned to give it up and become a racing driver."

With Hammer, Powell developed the first of a series of drum solos that became a staple of his live performances, beginning with a solo in which he played along to Tchaikovsky's '1812 Overture'. "It was brought in simply because he had to do something extra - he couldn't just play three hit singles and a bunch of songs nobody knows," says Murray.

"It was an essential thing because the band was built so much would be very hard to hear the beats of the music on a cassette or a reel-to-reel tape with incredible amounts of hiss on it. To try to match your crashes with what's on the tape with no click or anything like it, if the monitoring isn't that special then sometimes it definitely was very frustrating for him. He would end his solo by tossing a stick up in the air and then catching it, but of course you'd suddenly discover that there was a huge spotlight right in your eyes when you looked up, so he would sometimes miss it for that reason. He'd occasionally go out to the front of the stage and say to the lighting guy in no uncertain terms, 'Turn that effing light off,' and then he'd go back, sit behind the kit, throw up the stick again and this time catch it. It was that kind of crowd pleasing thing. Like a lot of people, he had a hard shell and a fairly soft centre, particularly loving animals and the outdoors, not being a really stereotypical rocker in every single way."




RAINBOW RISING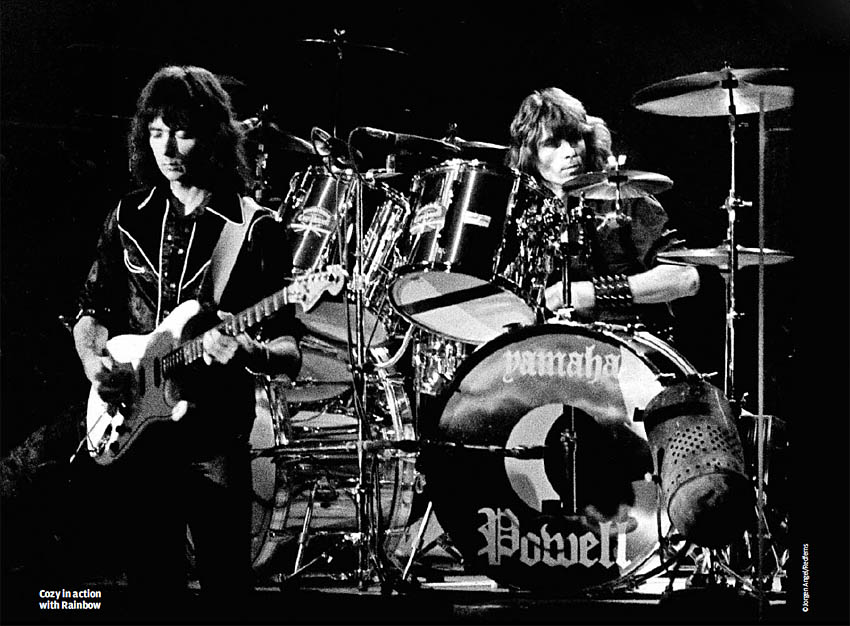 Despite the chart hits and busy session work - at one point he was doing as many as 15 sessions a week - Powell walked away from music the following year to try his hand at motor racing. He'd always had a love for motorbikes and fast cars but he was convinced to return to music when he had the chance to audition for Rainbow, the band that guitar hero Ritchie Blackmore had put together after leaving Deep Purple.

"I remember the audition for Blackmore," Powell told Rhythm in 1987. "He'd gone through I don't know how many drummers before I came along… I think it was getting into three figures. I knew he was desperate when he tried to persuade me to come out of retirement from motor racing. I mean, he had an idea I might be right, but he wasn't sure because he hadn't seen me play for years. I went over and thought, well if I'm going to go into this, I might as well do it properly. I psyched myself up, went into the room and said, 'Right, where's the kit, what are we going to do?' He said 'Let's do a shuffle.' 'Shuffle… right, sir.' So I went 'bang!' and played this shuffle for 10 minutes flat-out. His fingers were going up and down the fretboard and it was like, 'Oh my goodness me!' because all the other drummers had been sitting there afraid to play… 'Please, sir? Is it my turn now Ritchie, please?'"

The classic incarnation of Rainbow - Blackmore on guitar, Ronnie James Dio on vocals, Jimmy Bain on bass, Tony Carey on keys, and Powell behind his massive Ludwigs - cut two killer studio albums with Rainbow Rising and Long Live Rock'n'Roll, and the live album On Stage before Dio left the fold to join Black Sabbath. With Graham Bonnet taking over vocals, Roger Glover on bass and Don Airey on keys, Rainbow's sound evolved from classic heavy metal into a more radio-friendly hard rock on 1979's Down To Earth.

Powell wasn't too happy with the new direction, or with Blackmore's increasingly erratic stage behaviour, playing with his back to the crowd, and left following the band's appearance at the Donington Monsters Of Rock festival in 1980. Nonetheless, Powell's work with Rainbow ranks amongst his best, from the rolling power of 'Kill The King' through to the thunderous drum break that opens 'Stargazer'.

"I borrowed my next-door neighbour's record Rainbow Rising and I'll never forget when it went to 'Stargazer'. I'm like, 'What is this?'" says The Cult's John Tempesta. "I must have been about 12 years old and just looking on the back of the album cover with that big kit with the 26" bass drums and the cowbell and the whole thing, this guy is so bad ass!"

Last year Tempesta had the chance to play 'Stargazer' with Metal Allegiance during the NAMM show in Los Angeles. "We played at the House of Blues and Mark Menghi who puts it together was like, 'We're going to do Rainbow, would you be interested in playing 'Stargazer' and 'Kill The King'?' I'm like, are you kidding? He knows I'm a Cozy fanatic," says Tempesta. "It was great and the cool part was Jimmy Bain played on it with us. We were trying to get Tony Carey to play keyboards but he was in Germany and I guess he couldn't make it. It was a really big moment for me to play that song and do it properly."




OVER THE TOP



Towards the end of his tenure with Blackmore, Powell released the first of a series of solo albums that expressed a side of his playing he hadn't explored since working with Jeff Beck, bringing out his funk and fusion influences. Over The Top, from 1979, featured Jack Bruce on bass, guitar work from Gary Moore and Dave Clemson, and Don Airey on keys, while the double bass-drum shuffle of 'Killer' suggested the influence of fusion king Billy Cobham.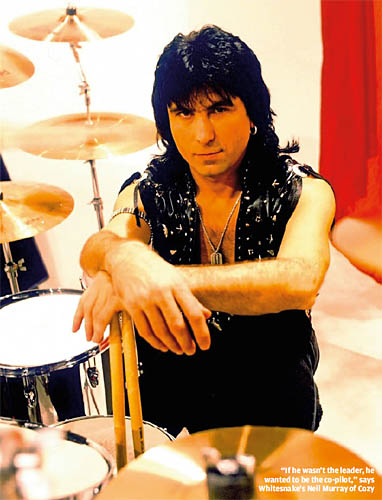 "Certainly with Jeff Beck he was playing quite funky stuff but still with a big rock kit and a rock attitude," says Neil Murray. "He might have been a bit disappointed that once you get into the more heavy rock scene that's when it becomes difficult to bring in outside influences. He was so good at what he was doing in terms of being so powerful and so solid and with such a big sound that if you stray away from that, the fans that want you to be like that all of the time don't seem to allow you to be more versatile.

Even though the solo albums did show other sides to him, the general impression was he's one of the loudest, more powerful, most over-the-top drummers doing phenomenal solos with explosions and lights and flames going off. Not as much subtlety as maybe he might have liked but you kind of get known for one thing and that's what people end up expecting from you all the time."

Over The Top was followed by Tilt in 1981 featuring Gary Moore, Jeff Beck, and both Don Airey and David Sancious on keys - then Octopuss in 1983, which introduced the latest incarnation of Powell's drum solo, '633 Squadron', taking the theme from the 1964 World War II movie of the same name. In 1981, Powell joined The Michael Schenker Group, the band formed by the German guitar wizard from The Scorpions and UFO. Powell played on the band's second studio album, the eponymous MSG, and the live record One Night At Budokan, but left the group in 1982 to be replaced by Ted McKenna, from The Sensational Alex Harvey Band.

"When I joined MSG, I actually played on his kit because I went round to the rehearsal room which was John Henry's, this was at something like two o'clock in the morning after meeting Michael and Chris Glen in a place called The Funny Farm and Michael, in his very German way, said, 'Do you want to play with me?'" says McKenna, who does not seem surprised that there was some tension between Powell and Schenker - it's hard to have two stars in the same band and Powell always presented himself as a star, never just as a backing musician.

"I was comfortable with the band situation whereas I think Cozy always saw himself as an individual," says McKenna. "I always admired him because of his focus at being a rock drummer. He'd had a hit record so he'd carved out a niche for himself on his own. If you had Cozy Powell in your band, you had Cozy Powell the star rock drummer, whereas I never thought that way at all.

Hearing Brian May talking about him, Cozy always knew what he wanted to do, he always had this real focus. He walked the walk, he talked the talk. He always had the image sorted out, the big sticks and the way he played. I always thought he was really cool and a good businessman to do that because he approached the whole thing from his personal point of view. When I started touring Japan more often with Schenker, you'd see ads in magazines, him with his motorbikes with his Yamaha jackets. He endorsed Yamaha drums so he matched that with his motorbike and his fast car image as well. It's wonderful, it's like being totally focussed on being a rock star drummer. That's what he came across as."

"I just thought he was so cool," says John Tempesta. "His playing speaks for himself, but his image, his massive drums, the cymbal set-up, the guy drove a Ferrari, had his motorcycles, a Rolex, cool leather jackets with boots - this guy's a rock star!"

"I think he felt that if you're going to be a rock star you've got to behave like one," says Murray. "In particular him getting to play with Jeff Beck early on in his career, that probably was the template in a way. They both looked similar to start with, but then that rather buccaneering, slightly piratical look, that was what Cozy thought people should look like in a band. Not just slop around in jeans and a T-shirt, particularly on stage, look as if you're really feeling and meaning what you're playing He looked committed to every beat and that's what it sounded like too."




THE SOUND AND THE FURY



After his stint with Schenker, Powell then joined Whitesnake, touring with the band for several years and playing on one studio album, 1984's Slide It In. But wherever he went, whatever name was on the billboard, Powell always put his own stamp on the situation with his distinctive drum sound. "It was always a very powerful sound," says Ted McKenna.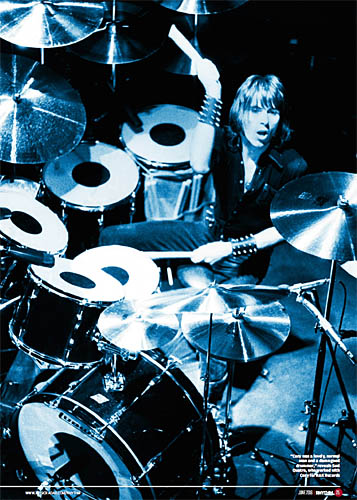 "He went for his sound as opposed to being in a situation with a producer trying to get the sound to suit the band. My sound changed in different situations but his was always very consistent. I was always proud when people said, 'I knew it was you because I know how your drums sound.' That's been eradicated in a lot of ways, but Cozy always had that. When I hear One Night At Budokan or 'Since You've Been Gone', the drum sound and his playing were very much the basis. They weren't incidental, they were always in the forefront.

His style was part of the whole genre that he played in. He didn't compromise his sound but then again he didn't have to. Whether he was playing with Whitesnake, Rainbow or Michael Schenker, it was always his sound, which is a very important thing to have. It's as important as having your image for what Cozy was doing."

From the blues-based hard rock of Whitesnake, Powell changed tack when he joined Greg Lake and Keith Emerson in Emerson, Lake & Powell. Taking over the drum seat so closely associated with Carl Palmer was a tricky proposition, as Powell told Rhythm. "I must admit I did get a lot of grief from all sides over that - people saying things like I only got the job because my name starts with 'P' - things like that. I've heard them all. But again, I got the job through an audition."

The classically influenced progressive rock of ELP stretched Powell's drumming and gave him the chance to work up a new solo based around 'Mars, The Bringer Of War' by Gustav Holst. "Musically speaking he actually said in later years that working with Keith Emerson and Greg Lake was really enjoyable for him because it was a challenge," says Neil Murray. Unfortunately, there were tensions inside the trio that led to its demise. "I was disappointed when it all fell apart," said Powell in 1987, "but when Emerson and Lake decided they'd fall out for the 15-millionth time, I'd had enough. It was a shame it ended as a bit of a farce where the right hand didn't know what the left hand was doing. And as usual, the drummer got left in the middle of it all!"

After that ended, Powell did some sessions, appearing on Warlock's Triumph And Agony and Cinderella's Long Cold Winter. He briefly joined Gary Moore's band, but despite the fact that Moore had played on Powell's solo albums in the 1970s, Powell walked away after the recording of Moore's 1987 album After The War. "People say I keep moving around; I move around session-wise, but then again, I think a lot of drummers do," Powell later told Metal Hammer. "It's great to be part of a band; had the Gary Moore tour happened, it just would have been, 'Do this, do that,' and there's not a lot of satisfaction in doing that after a while. I don't mind doing it in the studio, but on stage you have to be able to play the way you feel best. If every drum fill has to be the same every night, there's no fun in that for me."

Powell wasn't content just being a hired gun, taking orders from another musician, whoever they were. "He very much didn't want to be in the background being just somebody's backing musician, he wanted to be heavily involved," says Neil Murray. "If he wasn't the leader he wanted to be the co-pilot and have a lot of say in what was going on. If that wasn't going to be allowed, it would be, okay, see you, I'm off to find something else."
When Powell first joined Black Sabbath in 1988, he found a situation much more suited to his personality working alongside Tony Iommi. Together they co-produced the 1989 album Headless Cross, easily the best album Sabbath had done for years. Tyr, from 1990, was credited to the whole band for production and Powell's drums sound huge on both records.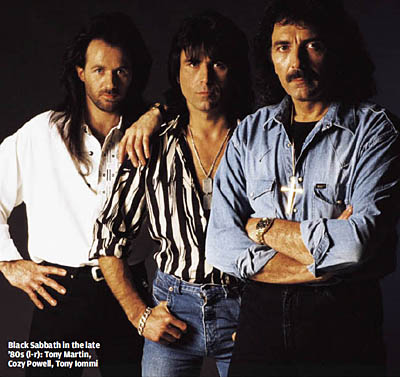 "He really enjoyed Sabbath, certainly the first period that he was with Tony Iommi because it was a very equal situation. They were like the two leaders of the band, really," says Murray. Unfortunately, in 1990 Powell broke his hip in a horse-riding accident and, with Ronnie James Dio back in the line-up, Powell was replaced by Vinnie Appice. Dio's involvement came to an end when he refused to open up for Ozzy Osbourne and Powell returned to the fold.

But Iommi was no longer looking for a co-pilot and 1995's Forbidden, produced by Ernie C from rap-metal band Body Count, was a critical and commercial flop for Sabbath. "Things had changed and musically I think he was more frustrated," says Murray who was in the band at the same time.

"I think he expected to be back being the joint leader and that wasn't really what Tony Iommi wanted at that point in time. That was less satisfying for him so he didn't last terribly long in that situation in late '94 into '95.

But musically speaking Brian May and Sabbath were very much up his street. He was extremely supportive to Brian May and very encouraging to Brian to get out there and tour and record and stand on his own two feet as a solo artist at that time."




LIFE AFTER QUEEN



Not content with having played with Jeff Beck, Michael Schenker, Tony Iommi and Gary Moore, Powell added another guitar legend to his résumé when he joined Brian May as the Queen guitarist launched his solo career. "I did hear Cozy's hit record, 'Dance With The Devil', of course, in the days when he was a solo artist with Mickie Most," says Brian May.

"And his name was well-known among my friends. But I was more and more aware of him when he played live concerts with Rainbow, and later with Black Sabbath. I'd also spent some time with Cozy and my old friend Tony Iommi while Cozy was in the studio recording a Black Sabbath album. I was definitely a big fan by then. But as early as 1975 when Queen played Hyde Park, Cozy had told me backstage that he was hoping we could work together. Why did it take so long for me to probably some shyness on my part."

The drummer and guitarist played together for the first time in Spain on a bill packed with six-string heroes, including Joe Satriani, Joe Walsh and Nuno Bettencourt. Then May brought Powell and Neil Murray in for his first solo record, Back To The Light and subsequent tour. "We hit it off seemingly from the first notes we played together," says May. "Neil Murray and Cozy made an awesome rhythm section. And somehow Cozy's approach, as a drummer, musician and as a person, was exactly what I was looking for.

I've never known anyone so positive, and so supportive to me. He loved making music together, and, while I was quite unsure about going out without Queen, once Freddie had gone, Cozy was constantly jollying me along and telling me it was great! Well, with him, it WAS great! Yes, his personality was as full of energy, wit and joy as his drumming would make you expect. A wonderful guy to have around."

Powell and Murray stayed with May for the live album Live At Brixton Academy, and then a second studio outing, Another World in 1998. "Meticulous but also quick," says May when asked about working with Powell in the studio. "He was completely focussed - but also a great collaborator, in the sense that he'd always discuss ideas, and make sure he was in harmony with the song, and expectations. Of course on that album sometimes the whole impetus that I found was built around Cozy's licks! He brought great things to the table. It was more than drumming… I consciously used Cozy's drums as a central block around which to build tracks."

Asked to describe Powell's playing, May replies, "Hooligan! That's what he liked to call it. There's fabulous technique in Cozy's playing, and he has that magic that a truly great drummer has, to make every hit sound huge. But the greatest quality of all in Cozy's style, I think, is the warmth and joy and the slightest hint of tongue in cheek... a wry humour which was never destructive... always done with empathy. I will never quite get over our collaborative journey in music being cut short. We were just getting going. All set to tour together again, when Cozy was taken from us in such a shockingly unexpected way. Well, his life was luminous and full of success and fun. Bless him."




THE STORY BEHIND COZY'S SOLO SMASH HIT




'Dance With The Devil' was a rare instrumental hit that helped put Cozy on the map.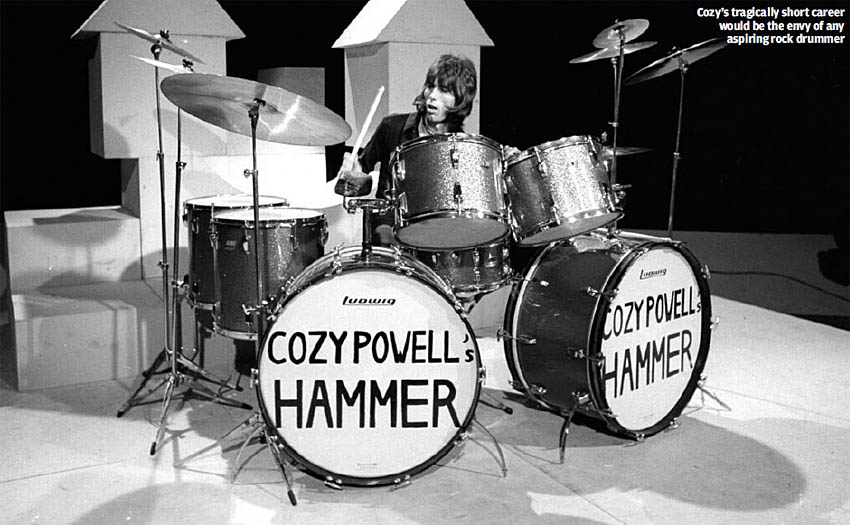 Dance With The Devil' hit its highest chart position, Number 3 on the UK singles chart, in January 1974 and ranked Number 36 in the top 100 selling singles that year. The British music scene of the time was dominated by family-friendly pop hits and glam rock. The biggest singles of 1973 included saccharine tracks like 'Tie A Yellow Ribbon Round The Old Oak Tree' by Tony Orlando And Dawn, Peters & Lee's schmaltzy ballad 'Welcome Home', and the toe-curling 'Long Haired Lover From Liverpool' by Little Jimmy Osmond, but it was also the year of 'Blockbuster' by The Sweet, Slade's 'Cum On Feel The Noize' and Suzi Quatro's 'Can The Can'.

It's easy to hear the glam rock influence in 'Dance With The Devil', particularly in that thumping tom-tom pattern as the signature glitter beat of the glam rock era was essentially a shuffle played on the floor tom, like the one in The Sweet's 'Blockbuster'. However, 'Dance With The Devil' is built around 16th notes, not triplets, although Powell does use sextuplets for the intro fill. The song is credited to Phil Dennys and Michael Hayes - the latter being the real name of Mickie Most, the head of RAK Records and the producer on the track.

The melody was taken from 'Third Stone From The Sun' by The Jimi Hendrix Experience, which appeared on their 1967 debut album. There are two main grooves. The first is played on the toms and bass drum, with the right hand playing the accents on either the floor tom or the snare. The second is a series of five-stroke rolls moving between the toms and the snare. Cymbals are used strictly for accents, rather than for playing time. Powell was using Ludwigs at this point and it's easy to hear the influence of John Bonham in the big drum sound, although Powell used two 26" bass drums where Bonham just had the one.

While Powell's subsequent singles featured his Hammer band, it's not clear who played on 'Dance With The Devil'. Suzi Quatro, Powell's label-mate at RAK Records, is often credited with playing bass, but the rocker herself isn't so sure. "I may have played bass but can't be sure," says Quatro. "Mickie did use me and my band in the studio sometimes… it was a long time ago."

The B-side of the single was another instrumental by Dennys and Hayes titled 'And Then There Was Skin', a slightly more laid-back track with a heavy organ providing the melody and Powell playing a more conventional beat with his ride cymbal, snare and kick drum. The glam rock that was hinted at on 'Dance With The Devil' would come right to the fore on the follow-up singles. 'The Man In Black' has a version of the Glitter shuffle, while 'Na Na Na' sounds awfully close to what Slade were doing at the time, with vocalist Frank Aiello, from Powell's short-lived band Bedlam, belting out the chant-along chorus, and Bernie Mardsen's glamtastic guitar riff.




COZY'S KITS

From Ludwig to Yamaha, Cozy liked them loud and proud



With his love for John Bonham, Powell played Ludwig drums early in his career. But where Bonham used just one 26" bass drum, Powell had two 26" bass drums with a tom mounted on each and two floor toms. He was still using Ludwig on Rainbow Rising in 1976, but with the introduction of the Yamaha YD9000 Recording Custom series in 1977, he switched companies and stayed with Yamaha thereafter. "He always had this real high-pitched snare sound, there was a real crack in that, it was a definite sound that was his the proud owner trademark," says Ted McKenna.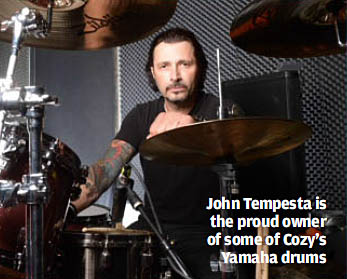 Powell's Yamaha custom-made drum sticks Yamaha drums were enormous, the better to create his huge,heavy sound, coupled with Paiste cymbals - likeBonham - and Remo Controlled Sound headswhich feature a 5-mil black dot in the centre of the 10-mil head for extra durability. In 1987 he was using Paiste's 3000 series, favouring larger sizes including 15" hi-hats and a 24" ride. "He had an incredible knack for tuning drums to be very loud but very musical as well," says Neil Murray.

"All of his drums and cymbals sounded great. He wasn't a big guy, he really had to work at producing such a heavy sound. That's what I always say to people, that he had such commitment, he didn't ever pussyfoot around. He always played as if he meant it."

Mega-fan John Tempesta stumbled upon some of Powell's old Yamaha drums in a shoip in Los Angeles. "There is this music store out in LA called Jammin Jersey, they have a lot of used gear," says Tempesta. "I see this kit on a shelf, 'That looks like Cozy's kit. No way!' It's the black Yamaha kit from Whitesnake with the wood hoops and mirrored drum heads. I ask the guy, 'Is that Cozy's kit?' He goes, 'Yeah, we got it from Showco,' the sound company at the time. It was left in storage and they had it. I'm like, 'I've got to have this,' so we wound up doing a trade and that was it. I remember taking it home, 'I own half of Cozy's kit!' I never have recorded with them.

They're like my shrine, I keep them in a very special place because I don't want anything to happen to them. They're in my drum room, they're right above me every time I play and I have Cozy's poster behind me.




THE DREAM TEAM

With Neil Murray, Cozy formed one of hardrock's greatest rhythmsections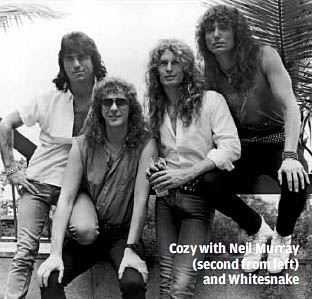 "He would set the pace and the feel really," says Neil Murray who played with Powell over a period of three decades. "It would be definitely drum-led and really my intention would be to try to make the rhythm section as solid and powerful as it could be, try to put a little bit of my personality or my own lines in there but mostly reinforcing what Cozy was doing. That extended to duplicating what fills he would do, matching up the bass notes to the tom fills or whatever it might be.

I could really lock in with him not just in the groove but in the fills as well. I couldn't really compete. He played with some great bass players, obviously Jack Bruce, Billy Sheehan, Roger Glover, and loads more, but in a way the drums always won.

It's very hard to get an equal balance between the two. If a bass player really wants to shine, then you need a drummer who stays a bit more in the background. Because I played with him, then it was known as a very good rhythm section, but I'm really fired up by what Cozy is playing."



INSTANT EXPERT

Rhythm's handy guide to classic Cozy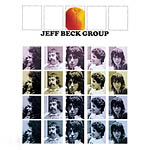 JEFF BECK GROUP
'Ice Cream Cakes' (1972)

Produced by Steve Cropper from the group's self-titled 1972 album, 'Ice Cream Cakes' is a funky slice of R&B. Powell opens the track with a syncopated beat around the kit.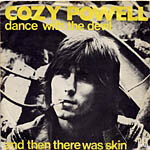 COZY POWELL
'Dance With The Devil' (1973)

Powell's sound - full, fat and powerful - was already in evidence on 'Dance With The Devil', which proved a surprise hit. The tom-driven groove is punctuated by military snare rolls.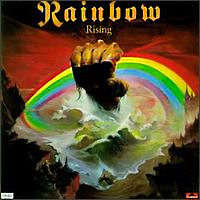 RAINBOW
'Stargazer' (1976)

A thunderous break from Powell kicks off an epic, bombastic track that provided a blueprint for power metal in the 1980s. The drum sound is blisteringly aggressive and heavy.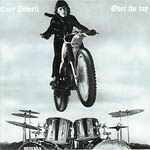 COZY POWELL
'Killer' (1979)

Showing the fusion side of Cozy Powell's drumming, this track, written by keyboardist Don Airey, is built around a galloping double-kick groove while Cream bass legend Jack Bruce weaves out a wicked bass line.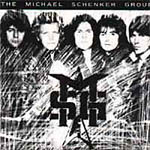 MICHAEL SCHENKER GROUP
'Attack Of The Mad Axeman' (1982)

Powell played on the studio version of this ode to guitar excess and the live version on One Night At Budokan. Either way, he drives the pulse behind Schenker's fireworks.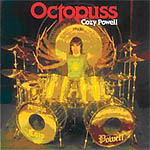 COZY POWELL
'Octopuss' (1983)

A beast of a performance from Powell, playing triplets on his bass drums and accenting just the right hand of the triplets on his ride cymbal, creating a layered groove.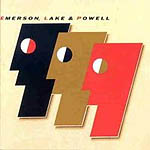 EMERSON, LAKE & POWELL
'The Score' (1987)

Powell had the chance to stretch his stylistic range playing with ELP, whose keyboard-led classically-influenced progressive rock was a far cry from the guitar rock of MSG and Whitesnake.


BLACK SABBATH
'When Death Calls' (1989)

Produced by Powell and Iommi, 'When Death Calls' is as dark and Satanic as anything in Sabbath's catalogue. When the drums come on the chorus, they hit like an earthquake.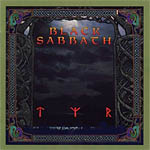 BLACK SABBATH
'Valhalla' (1990)

Powell's second album with Sabbath continued the same dark and doom-laden vein as its predecessor. 'Valhalla' finds the drummer in pummelling form, relentlessly driving the song from behind the kit.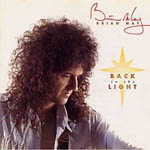 BRIAN MAY
'Resurrection' (1993)

A powerful rocker from the Queen guitarist, easily one of the heaviest tracks on his solo debut, and it features an absolute stonker of a drum spot from Powell in the mid-section.




Rhythm - The Magazine for Drummers, June 2016