COZY POWELL

Interview - 1996



Last year saw virtuoso drummer Cozy Powell leave Black Sabbath for the second time, to take only a second 'break' from music in nearly 30 years. Last time Ritchie Blackmore persuaded him out of near retirement, this time Cozy is already working with various projects, including one track on the 'Music Of Jimi Hendrix' tribute album with Brian May and on Judas Priest guitarist Glenn Tipton's first solo album.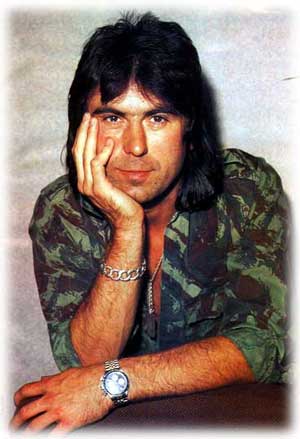 Colin Powell, dubbed Cozy at school after jazz drummer Cozy Cole, became a household name when his 'Dance With The Devil' single rode high in the charts, but his career had started nearly ten years before, working with Ace Kefford and later Jeff Beck. Since then he's played with Rainbow, Emerson Lake & Powell, Whitesnake, Black Sabbath & Brian May, even turning up on Comic Relief's 'The Stonk' with Hale & Pace. In between he's still found time to work with Jack Bruce, Gary Moore, Jon Lord (Deep Purple), Don Airey, Bernie Marsden, Jeff Beck, Graham Bonnet and many more. Not forgetting The Young & Moody Band, which coupled Motorhead and The Nolans, and a session player for Micky Most's RAK label, his CV runs like a Who's Who of heavy metal. He joined Record Collector for a beer in an attempt to fill in a few of the many gaps before returning to continue work with Glenn Tipton and a new project with Peter Green.

Joe: You toured Germany with The Sorcerers, did they ever recorded anything?

Cozy: Christ, this goes back, The Sorcerers had recorded a single in Germany. We did a cover of a Young Rascals number, 'Love Is A Beautiful Thing', we did a version on an obscure record label in Germany. A few copies were pressed and sold in Germany. That was back in '67 or '68. That was my vinyl debut but my first proper single was with Youngblood, 'Green Light', which we did at Pye Studios, I remember, 9 O'Clock in the morning. Petula Clark was in the next studio. It was the same studio Status Quo had used. For me, this is my first actual thing in a studio and the bloke who ran the session, Jack Dorsey, with some of his orchestra there. We did this track "Green Light" which was a real 3 minute thrash. I got it right by the third take, all this brass going, my first ever session. I remember coming down from Birmingham on a Sunday night and sleeping on the floor, not getting any sleep and no breakfast and going straight in and doing this track.

Joe: Was Ace (Kefford) really as drugged out as the press would have us believe?

Cozy: He was having some treatment, I don't know what was medically wrong with him. He was generally OK but sometimes went a bit weird. He had some shock treatment, which is a shame. When I was with him he was fine, it was afterwards he went a lot worse. Working with him he was pretty good, we did a few shows, did the Ace Kefford Stand thing. Then he'd just left The Move, so was pretty big in the Birmingham area. Good looking bloke, long blond hair, we did OK gig wise.

Joe: How did you team up with Jeff Beck?

Cozy: I was recommended to Peter Grant, Jeff's manager at the time. A guy called Phil Myatt who managed the 'Mothers Club' in Birmingham at the time, said there's a couple of good drummers in Birmingham. One guy's called John Bonham, one's Cozy Powell. As they say, the rest is history. John had then just got the gig with The New Yardbirds, with Jimmy & Robert, who were good friends of mine in those days. I was recommended to Peter Grant, they wrote to me saying they were holding auditions for Jeff Beck. I hired a car, drove my kit down. There were about 30 other guys doing the audition and I got the job.

Joe: What happened to the album of Motown covers you recorded with Jeff Beck?

Cozy: You may as well start off with both feet on the most obscure thing I've ever done. I've got a copy of it, a tape.

It never got the test pressing stage. We went to Motown in Detroit with the idea of Jeff recording an album of all the Motown hits, basically as an instrumental album. He wanted to use a lot of the Motown session players. At that time I'd just joined him, 1969 I think, and his original idea was to find a drummer first. Found me, went down to the audition, got the job, next thing I know we're going to Motown to do this album. We did 'Reach out I'll Be There', 'Losing You', things like that. In the end we did about 7 or 8 tracks of which the backing tracks were done.

Jeff plays rhythm guitar, he hadn't actually put the lead on and for some reason he wasn't happy with what he heard or with Micky Most or whatever. It never ever saw the light of day.

Joe: Was that your first meeting with Micky Most?

Cozy: Yes, it was.

Joe: Later with Bedlam, you played with of Chick Churchill and Donovan in that time.

Cozy: Here I am playing in this early kind of rock band, I knew Chick through the people at Chrysalis and he asked me to do a few tracks. Donovan, at this point, Micky Most knew me, he took me under his wing and said 'Look, I use a pool of drummers and musicians, would you like to work for me as my session drummer. I went on to play loads of stuff with Micky, more stuff than I can remember. He used me a lot in those days. That we really when I started and Donovan was one of the artists I got. Some of those musicians were also in Big Bertha.

Joe: The Chick Churchill album, was that your first meeting with Bernie Marsden?

Cozy: Very probably. Yes it probably was, you know, I can't remember. He was in Wild Turkey at the time. I think I done some gigs with Bedlam and we kept bumping into each other. We got to know each other and he ended up coming into my own band, Hammer.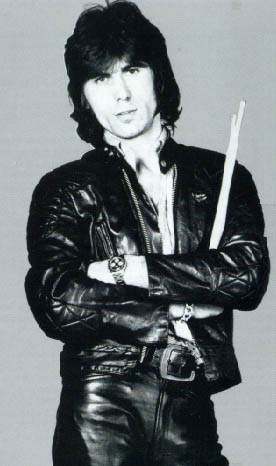 Joe: Cozy Powell's Hammer, the 3 RAK singles were very different to other projects at that time.

Cozy: Micky Most really had the idea. For 'Dance With The Devil' I was doing this session for CCS and he said 'Do you want to do a drum single?' He gave me a rough idea of the musical side, a drum riff. It took about 20 minutes to do, we messed about with a few things and I forgot all about it. Six weeks later he says he's finished the track, put some backing vocals on, here it is and played it to me. Didn't think any more of it until a month later I noticed it going up the charts. Then I was asked to do Top Of The Pops and it was this massive thing.

Joe: Bedlam vocalist Frank Aiello sang on 'Na Na Na'.

Cozy: Yeah, Frank, still a dear friend of mine. Micky Most thought that after 2 instrumental records we were doing well, and that the next single should have a vocalist, should be a song ..., it was more of a band other than Cozy Powell. It was Cozy Powell's Hammer. I had felt a little uncomfortable, being a drummer, in the background to be suddenly thrust in the limelight and a household name in those days. It was fun but I didn't want to be the centre of attention. It was my band. Throughout my career I've always tried to share things equally. I don't like being the big star as it were. I think it's important if you're working with people you should all have an input, keep everybody on an equal basis.

Joe: What happened with the short lived Strange Brew?

Cozy: That was a great idea that never really took off. The idea was Clem Clempson, Greg Riddley from Humble Pie and myself as a 3 piece. Basically it was a Cream, we always loved Cream and that sort of music. Greg and Clem could both sing and play as well. At the time we were just going to get going and Clem got a fantastic offer from John Heisman and I hated him from that moment on. We've since made it up, John's a good friend of mine, but at that point just shattered my whole dream.

Joe: Is it then you considered taking up motorbike racing?

Cozy: Yes, I was so disillusioned with everything, I thought I should have a year off. I've done this since, taken a step back, clear my head a bit, but that was the only other time.

Joe: Ritchie Blackmore was very desperate for a drummer when you auditioned.

Cozy: Yes, I was number 80, or 77 or something like that. I've heard some funny stories about Ritchie being difficult with drummers. Apparently this one guy came along, set the drum kit up, looked the part, got his suitcase out and changed next to the kit with this all black kind of outfit and black gloves. Eventually gets up and says he's ready and Ritchie says 'Get rid of him'. This poor guy doesn't even play a note. I remember that audition. I got a phonecall on the Wednesday night from my tour manager and got the plane to L.A. in the morning. Off the plane, check into the hotel and straight down to the audition, no time no nothing and a kit I've never even seen before. There were about 100 people in this sound stage looking at me like a golden boy they've just flown over from England at great expense. The first thing he said to me was 'Can you play a shuffle?' How about this and BANG! started playing this shuffle and 20 minutes later 'You've got the job'.

Joe: Rainbow Rising is considered by fans a classic rock album.

Cozy: I think it's probably one of the best albums I've done, in retrospect. There were 2 or 3 tracks on there that were really outstanding which summed up the music at the time, just when heavy rock was really coming into its own. It featured the drums fairly heavily. I had to work out all these little things that have been copied to death since and I'm very proud of it. We did it every quickly, in Munich. Most of those tracks were done in 2 or 3 takes. 'A Light In The Black' was done in one take, you could not simply play that track again. It was done in the days before you started editing. We worked out how to do it and went into rehearsals and I said to Ritchie I'm going for this, so don't worry about the guitar we can put that on afterwards but let's get the track right.

Joe: Have you kept in touch with the musicians like Tony Carey?

Cozy: No. The last time I saw Tony was when he and his suitcases were walking out of the chateau after we tried to brick him in his room. Tony was unfortunately part of the darker side of Rainbow which if Ritchie didn't like anyone in the band he would do terrible practical jokes to and he hated keyboard players. We did some awful things to Tony Carey. There's a track called 'L.A. Connection' (from Long Live Rock'n'Roll), if you listen to the lyrics, it's about Tony Carey leaving the chateau where we were recording. We made his life a misery to be honest. Last time we saw him he was getting a cab to go to the airport to get back to L.A. He was a very good keyboard player and liked him up to a point, he was a little bit cocky. If you get like that with Ritchie that was it, you were shot down in flames.

Joe: Your last gig with Rainbow was Donnington 1980.

Cozy: I think I blew up Judas Priest's gear. I was running tests on explosions I wanted to be felt by the people at the back and we used gelignite. It blew the P.A. up. Then Graham Bonnet forgot the lyrics to 'Stargazer', and most of the other tracks, most of the time actually.

Joe: Was it for that he got kicked out of MSG?

Cozy: I've heard all sorts of stories about that. Apparently he was on stage at Leeds University and he really didn't get on with Michael Schenker but apparently half way through the set he announced to the crowd that one of the road crew used to play the rhythm guitar behind the stacks, he said "This is what you're really hearing of Michael Schenker" and instructed the spotlight to point to the roadie behind the stacks playing the guitar then apparently he took his private part out and had a pee on stage. Charming!

Joe: So he didn't last long after that?

Cozy: Stuff of legend. I don't know how true that story is.

Joe: What prompted you to record your first solo album?

Cozy: Money. No, at that time I was just finishing with Rainbow and my manager at that time had lots of contacts in Japan, and Japanese kids were really into the idea, they loved drummers. Polydor over there wanted to release a solo album. Sure, why not. Ariola picked it up here but it came from Japan. I got all my mates involved, got Gary Moore, Jack Bruce, Don Airey in, lots of fun. It didn't cost that much to do. With the profits I bought a Ferrari, a great incentive.

Joe: Again it was very different to other projects around that time.

Cozy: I don't just play heavy rock. 'Over The Top' was like this is what I can do. We had a classical track on there, the 1812, a couple of jazzy tracks, some blues. 'The Loner' was dedicated to Jeff Beck. I wanted Jeff to play that track, but he was on tour or something, but Gary Moore, not a bad replacement is he? And Clem Clempson.

Joe: 'Tilt' had just a good array of musicians. Jack Bruce and Jeff Beck together on one track.

Cozy: We did the session and the tape op was trying to save some money so he had loads of tape that had been spliced together. We did one take half way through it the tape there was a bit of leader tape in the splice. I got all these musicians in at vast cost and at the end of the day there was this track with a seconds silence in the middle. I was not impressed. I made him use a new reel the next time.

Joe: Graham Bonnet's 'Line Up' featured an equally dazzling array of musicians.

Cozy: Let me think, Jon Lord, Francis Rossi, Micky Moody. We all sort of intermingled on solo albums around that time. All wonderful. Pity it's not like that now.

Joe: Shortly afterwards you joined The Michael Schenker Group.

Cozy: Simon Philips did the first album, and they were looking for a drummer who could do what Simon had done, and that kind of narrowed it down a bit. The 'Live At The Budokan' album was good. At the time I had a bit of food poisoning.

We had literally just flown to Japan and some of us had eaten some airline food, so half the crew and band were sick. I was the one in the band who suffered the worst. The venue was 12,500 people, the mobile was there, and the guy was going 'Ladies and Gentleman...' and I'm still throwing up backstage. I walked on stage feeling like death, God knows how the album turned out so good. How did I do that?

Joe: I've heard that Whitesnake were the only band you didn't audition for.

Cozy: I think you're right. I knew David Coverdale quite well and he knew what I could do so it wasn't a question of auditioning. That's right. We got quite close at the time. We were good friends and he just wanted me in the band.

Ian Paice had just left to go back to, was it Deep Purple?

Joe: No, the Gary Moore Band.

Cozy: You're right, I can't remember all this. David and I got together one day, we wrote loads of stuff, but we came up with 'The Rattler', an instrumental, on the Tilt album

Joe: Then you toured with Whitesnake.

Cozy: That was the Saints'N'Sinners tour, with Micky Moody, Colin Hodgkinson, Jon Lord, Mel Galley. Then for Slide It In, Colin played bass but Neil Murray came in and did some extra tracks, replaced some of the bass. John Sykes came in too and did the tour. That was musically the most successful period for Whitesnake. 1987 was better financially, and people say 'Still Of The Night', which I like, but was a total Zeppelin rip-off. Slide It In was the last credible album. Later he got session players in and it just wasn't Whitesnake anymore. John Sykes got booted, as we all did.

I left over a disagreement over a contract, which is quite sad. I'd been offered a deal, on a handshake if you like, and that deal wasn't honoured. If I'd taken it I would have made a lot of money, that album sold about 17 million.

Joe: You've been in a lot of bands. Have you ever left any after a massive argument?

Cozy: No. I left Rainbow after 5 years, it'd kind of run its course. I didn't think that Ritchie was believing in the band any more. Although they had success after I left, I didn't think Ritchie was playing any way like he could of done.

I just thought I needed the change. The Michael Schenker Group I left because they were going through a real drug problem at the time which I didn't want to get into. I was being drawn in and was getting silly and the management was putting the band through some terrible things, we were doing some awful dates. We were killing each other. Going from that to Whitesnake was a much better move. Whitesnake I left due to the contractual dispute. ELP fizzled out under its own steam. Lake and Emerson blew up for the nth millionth time and unfortunately we had been signed to do two albums and tours. We'd taken advances on those 2 albums and when they've had argument no. 575 and decide they can't work together again there's me in the middle thinking we've just signed these contracts...

Joe: And the tour never made this country.

Cozy: It was a great tour, and possibly the most challenging for me musically that I've ever done. I really enjoyed the tour, and being in that band, but due to Greg and Keith it was never going to work. They've reformed since then, but how can you work with people you can't stand? Well, of course you can, they got back together because they were offered such a lot of money. They were all in financial hardship they had to do it. Keith's a great musician, inspired me a bit and with Greg, he's his own worst enemy in some respects, but a great musician and a fine singer.

I don't like to see such musicians, no matter how much grief they've given me, go down the pan.

Joe: How did Forcefield come about?

Cozy: Ah yes, great album. Ray Fenwick phoned me up, thinking he could use my name. In hindsight I should have had more control, as in some places it was promoted and Cozy Powell's Forcefield. We worked with Graham Bonnet, and Jan Akkerman's a guitar player I've always admired, from the old Focus days, and when Ray told me he was using Jan I thought great. He turned out to be a touch difficult but be played a couple of great tracks. The guy's a genius.

Joe: Tony Martin sung with Forcefield.

Cozy: I met him as we did Sabbath's Headless Cross album, then I asked him to do some stuff with Forcefield.

Joe: And Cinderella?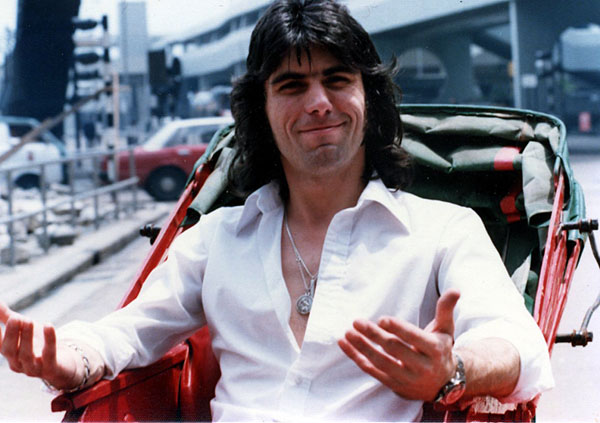 Cozy: Oh yes! I got this call, out of the blue from the guy who ran the record company in the States, used to be in Gentle Giant, said they were having a lot of problems, got this producer, Andy Johns. There's another nightmare, I do take on some things, anyway he's been through 18 drummers. 'We know you can do it, can you come over and do the album?'

The band was Cinderella. I didn't know much about them, so I listened to some tracks and said OK. I get over to Philadelphia and we start trying to do these tracks, in the first couple of days it goes great. Andy's ordering in beer by the crate and other substances and started telling me how to play which notes. I thought 'Hang on, I'm the drummer'. I ended up doing virtually the whole album. It was like pulling teeth, I would not go through it again for anybody.

I did Don Airey's K2 the same year. He'd worked with Gary Moore before and I'd worked with them on my own projects. By that time, Don, Gary and myself had done so many sessions with each other. Don wanted Simon Philips too. It was at that time Gary Moore wanted me to do his next album, 'After The War'. He had a tour booked, and Gary had his Gary Moore Band, with an equally well known drummer. He started giving me a load of grief during rehearsals, following the drum machine or whatever note for note on the previous albums. I thought that was a bit much for a 2 hour show. After 5 weeks of rehearsals we set up for production rehearsals and my kit sounded like 3rd world war and Gary wasn't happy with his guitar sound, so that night I'm suddenly off the tour. Chris Slade was brought in and had 3 days to learn the tour. After Jon Heisman put him through hell, Gary's always had a thing about drummers.

Joe: While in Sabbath, you took part in the Comic Relief single.

Cozy: With Brian May, Neil Murray, Tony Iommi and Rowan Atkinson I seem to remember. Good fun. I enjoyed my days in Black Sabbath then. We had a good time. I thought that was a good period in the band's life, Everyone got on really well. No complaints, it just all went downhill from there.

Joe: Brian May played on the Headless Cross LP and tour. Was that your first meeting with him?

Cozy: Playing with him yes. I'd know Brian since the Jeff Beck Group. He used to come and see us play the Marquee, and if you listen to some Queen stuff he's lifted it from Jeff Beck, he told me that as mates 20 years later.

Joe: Brian and John Deacon play on your Drums Are Back album. The track 'Ride To Win' ended up as 'Resurrection'.

Cozy: Yes, indeed. Written by Jamie Page, very good guitar player, had this idea for my album and Brian and I took it a stage further for 'Resurrection'. The album was successful, good fun. Brian's a very easy guy to work with, we did an 18 month tour.

Joe: In the meantime Sabbath did a further 2 albums. Were you invited back?

Cozy: They didn't do that well. I'd had an accident with a horse and was unceremoniously booted out the band. Ronnie Dio came back in and didn't really want me in the band anyway. I had turned down his solo album to stay in Rainbow, maybe that's been a sore point. He got booted out of Rainbow and asked me in spite of Ritchie, and since then has hated my guts. But I was invited back and I tried to recreate the same spirit that was there when we did the 'Headless Cross'. Unfortunately this time it wasn't quite there, I don't know why. Maybe people change over the years, there were a couple of things that weren't quite right, then they brought in a producer who's never really done a heavy rock album before. His ideas, whether good or bad, featured on the drums, so my drum sound went out the window. I was very unhappy with the way the kit sounded and the way that I played. I couldn't really promote 'Forbidden' and say it was the greatest thing I'd ever done when I didn't believe it. I backed off from the promotional tour, because if you don't feel that way it's better not to do it at all. We did a tour of America which was absolutely horrendous, possibly the worst tour I've ever done. It was badly booked. The agent in America did it at the last minute, we weren't drawing the audiences that we wanted to, the record company were not getting behind the band. It was a very difficult time. I also had a few personal problems. I needed to get off the road which I couldn't do because the tour was 8 months solid, so I said to the manager I'd finish the U.S. tour and get out and you find a replacement drummer.

Joe: Most recently you worked with Brian May on 'The Music Of Jimi Hendrix'.

Cozy: That was a one off, one track for the album. Brian just asked me to come over, another very enjoyable session.

Joe: I understand you've just finished recording with Glenn Tipton.

Cozy: Glen's a very prolific writer, he's just finished a solo album. He's done enough material for 2 to be honest, but the first one will come out in the Spring. I've done 2 tracks for that. I've also done a lot more, I think he's going to save a lot of that for release at a later date. We did quite a lot of tracks early last year, which was fun, and maybe we'll work together in the future.

Joe: How did you feel about the poor reviews for 'The Drums Are Back'?

Cozy: I think when you've made 60 - 70 albums, probably over 150 singles in various sessions, you're going to get a bad review every now and again. I don't think anybody wants to see a bad review. When you make a record you really try hard to make the best record you can and you use the best musicians available and do do your best. I put a lot of work and effort into that album. I got Steve Lukather playing guitar, Jon Lord, Billy Sheehan, Brian May a lot of good musicians, and when the review says "Bollocks, a load of boring old farts", how can you say that some of the best musicians I've ever worked with are boring old farts. That's not a review, that's a load of crap. I find that offensive. If he says that I'm too old or I'm too loud or I'm from another era or I use too many drums, that's not a review. I'd like to meet this guy outside and discuss it. I feel sorry for people like that. If I make 20 albums and one's a really good one, I'm doing well. I've been involved in a few really good albums in my career. 'Drums Are Back' may not be one of them, but there's some very good tracks on there, and some great musicians which I'm honoured to have had on my album. For some journalist to slag them off because, well. I've also used some unknown guys, give them a break. Jerry Laine, great singer. I thought the album had a lot of good things going for it. I listen to it now and think I could've done that better or may well have produced it better. On my solo albums I've perhaps tended to let my playing suffer trying to get the best out of the other musicians and then of course I do my track and I'm not pushing myself. Steve Lukather's guitar tracks, his playing, and Billy Sheehan, made the hairs on my arms stand up. Steve, one of my idols, playing his arse off on my track for my album. You can't get a higher accolade than that.

Joe: What are your plans now?

Cozy: Funnily enough, no plans whatsoever. I took some time off this year, I wanted to get this year out of the way. 1996 I've got no plans at all. Motorcycling again? I don't know. I'd like to get involved with something that's going to be exciting. Don't know what it's going to be. A musician's life sometimes is very unexpected, I have no plans. There are a lot of things in the wind, nothing concrete yet.

Joe: Anyone you want to work with in particular?

Cozy: Anyone with a record deal (laughs). I've done another solo album with a couple of very unknown guys, John West, Mike Howswell, Neil playing bass, various bits and pieces, which is nearly completed. I've got a deal for Japan which has made that possible. That may or may not surface in the future. I'd like to work with Glenn and Brian May again, it all depends on what happens in the next few months. I'm not closing any doors, I need to take some time off. Going back to Bedlam and the Hammer, I took a year out because I needed to get off the road. I've played all my life, that's 30 years worth of playing and touring non stop work. Sometimes you need to take a bit of a backwards step.

For the coming year I have no immediate plans. When the right thing comes along a guess I'll go from there.

Joe: Is there anyone you specifically would or would not work with given an offer?

Cozy: Of course, I would look at any offer, being a drummer you have to. I personally don't have a problem with anyone I've ever worked with, except perhaps Ronnie Dio, but Blackmore, Coverdale, we had a lot of fun, a lot of good times together. Maybe something could happen again. I would never rule it out. I'm an optimist, I always feel I can improve a situation if I join it. You never know. It's maybe quite good in a way to not know what your future is. Sometimes in this business it's all a bit too predictable.


© Joe Geesin - 1996