COZY POWELL & RONNIE JAMES DIO

Clouds Over The Rainbow

Sylvia Simmons sees them on the hardest tour of their career



We actually managed to tune into a station playing a Rainbow track on the way to the Sunset Marquis. It deserves a mention, L.A.'s about the only place over here that plays them. Rainbow are in the States for the purpose of changing that fact. They're touring heavily, with a commitment so far set around three months, supporting first fellow-Englishmen Foghat, and later natives REO Speedwagon, because for every place they could draw 10,000 on their own, there are a dozen others where they'd have problems fetching a few hundred.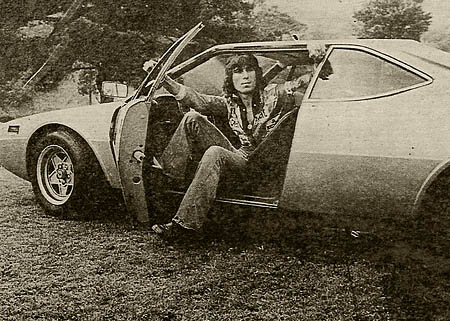 So far they've played four gigs; their fifth, Los Angeles, is tomorrow, and they've been getting themselves into shape for blowing REO off the stage by eating well (a feast of roast beef and yorkshire pud with third-on-the-bill No Dice at the hotel the night before) and keeping fit (a football match with No Dice ending in a glorious 5-2 victory for Rainbow, though variations on the allowability of some of the goals depended on which group was doing the talking).

This evening has been reserved for interviews, part two in the take-the-US-by-storm battle-plan. With the knowledge that Sounds likes Rainbow (the readers voted the band best just-about-everything in last year's polls) and Rainbow likes Sounds, it looked like being a case of leaving the tape machine running and letting them talk for an hour, an easy one. Till I arrived at the Marquis, found Blackmore had scarpered, and that I'd have to do the interview in little more than half an hour, running between two rooms on two different floors, and tossing in a question between the inquiries of a man from a Mexican rock paper (yes, they have them) with Cozy, and a delegation of fans from L.A. heavy-metal fanzine Raw Power with Ronnie.

Luckily, they are two very polite, unruffled, talkative and articulate guys - hope I haven't blown the image - and happy to make up for Ritchie's well-known silence when it comes to the Press --- he'd rather play than talk about it. So, after looking round the orange-decor rooms for evidence of aberrations like porn magazines, self-help manuals or anything else that you might find in someone's hotel room to make for interesting conversation and finding nothing, starting with Cozy Powell I try and figure out how they feel about being a support band this time around. Cab a Rainbow change its stripes?

C.P.: We've had a lot of problems because we're not the headline act, we're second on the bill. The bands we've played with have given us a lot of trouble - soundchecks and this and that - and there's going to be war tomorrow if they give us any more trouble. 'You can't do this, you can't do that, you've got to cut that out.' We're not used to being dictated to. We've had a lot of problems with the last couple of gigs. But whether that was sabotage or coincidence I wouldn't like to say. We still don't mind going on before them; if we do a really good show, it's harder for them to follow us. It's all political really. I just like to get up there and play.

(Over to Ronnie Dio who's been rapping with the Yanks in an identical room upstairs.)

R.D.: We've headlined everywhere else we've played in the world - including America, but smaller halls. What we needed to do was play places that hold 10-20,000; play to a lot of people, so that we can really get off the ground in America. We're taking a backseat to another band right now, but that's how it has to be. We really should have done it a long time ago, but now we're going to give it a damn good try. As for REO, I thin k they might applaud something happening to us, but I don't think they'd be the perpetrators of anything.

This tour looks like being a long one, When does it end?

C.P.: It's open-ended. It started four gigs ago, and will continue to go on till somebody drops dead - which will probably be me. I'm having a lobotomy next weekend.

(The tour should end around September or October, followed by a stint in the recording studios for the next album, and back on the road to Japan, Europe next year, and back again to the States. Quite a schedule.)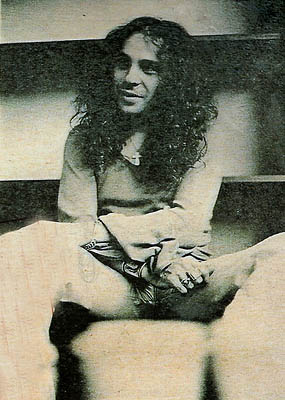 R.D.: When we've been on the road a long time, we complain that we don't have enough time off; and as soon as we get two days off, we're complaining because we want to be back on the road. Personally speaking, I'd rather be out working all the time.

You're doing this tour without props and special effects, right?

C.P.: We don't use the backdrops, the rainbow, nothing at all. There's really no special effects whatsoever, which is a pity because our policy has always been to give the kids value for money. But that comes when you're not headlining. Can you imagine REO playing under the rainbow? But basically what we're trying to get across is the music in the first place. If everybody likes the way the band is doing over here, then the next tour will be a headline tour, and we'll be able to use all the special effects we use in Europe.

R.D.: We've travelled here before with the effects and the backdrops, and we've had the whole stage to work with instead of just a modicum of room. For those reasons, doing it now as second on the bill, it must look to some people like we're going down instead of up. Also we've had to cut our set from about two hours to 50/60 minutes, which has been difficult. We're the kind of band that needs an extended period of time to elaborate on our music and get it off of the ground --- but it's going to be a good one. Because they can take away our props, but they can't take away our music. And we're a hell of a good musical band.

What do you think of your audiences so far - for that matter, what do they of you?

C.P.: To be honest I like the English audiences best - because I'm English and naturally I'm biased. American audiences are good; if they like you they let you know; they've been real kind to us. So far we've gone down really well. I enjoy playing Europe. I enjoy playing anywhere. I'd play on the moon if someone would build a stage.

R.D.: When we first started out, we drew a lot more Deep Purple fans. Every time Ritchie did a taste of a riff that smacked of Deep Purple, they went crazy. Now they're different - they don't even recognise Deep Purple Stuff. People who grew up with Purple are still listening to them, buying albums like 'Twenty Carat Purple', The younger ones are buying Rainbow records, which proves that we haven't passed our prime. Which pleases me, and I'm sure it pleases Ritchie a hell of a lot, because he's been through two decades of it. (Blackmore is 33).

How are your newest members (David Stone on keyboards and Bob Daisley on bass) working out?

C.P.: They're working out very well. We had a lot of problems with keyboard players and bass players for various reasons - we've had three bass players (Craig Gruber, Mark Clarke, Jimmy Bain) and two keyboards (Micky Soule, Tony Carey). Basically it's Ritchie's problem. With Ritchie the notes and the chords and the way he hears the music comes from the bass player and keyboards, and if he doesn't like what he hears, it's either play his way or leave.

If it's not the way he wants it, he doesn't want to know about anything else - which is why he left Deep Purple. It doesn't matter to me. I just play it my way, and if they play with me great. If they don't, well - I just play straight along the line, which is a very conceited way of looking at music, but it's the way I've always played. Because I've had to work with such difficult people - like Jeff Beck, who's got to be the most difficult person in the world to work with. After Jeff, I just resigned myself to the fact that it's not worth trying to bend myself to anyone else, and just to play the way I want to play, and if they don't like it they can shove it. That's the attitude I've always had.

R.D.: I'm pleased. I'd like to say this is the ensemble that's going to last. But with this band's past reputation I couldn't say. I'm only speaking for myself, though. It's Ritchie that has to make most of the decisions as to bass player and keyboards player - he has to work with them a lot more than Cozy and I do.

How do you feel about your latest album, 'Long Live Rock and Roll'? Did you spend a lot of time working on it?

C.P.: I think it's very good - I'm pleased with it. It took us a long time to record, because half way through the recording, the keyboard player and the bass player - Jimmy and Tony - went. We got another bass player for a while, but that didn't work out. After six weeks of virtually nothing, Ritchie and I went back into the studio at three in the morning and knocked off three tracks in one take each. Then we did the European tour, and went back in with Bob and Dave, and they've been very, very good. I felt like I was in a band again - I'd forgotten what it was like.

R.D.: Only the public can really tell us whether it's good or bad. I think we went for a concept on this one; being, you can put this record on at a party, and certainly you could listen to seven tracks out of eight and not have to take it off and worry about any drastic change in music. You can dance to it, because it all has a single thread going through it for at least seven rock'n'roll tracks. The ballad - they can't either take it off if they don't like it, or slow dance or slow rude to it, whatever they want to do. I think it's a very good album. We set out to make it as commercial as possible, but we're still being honest with ourselves and doing the kind of music we want to do.

Is this going to be the one to break you in the States?

C.P.: We've tried to make the album a lot more commercial than the others - the live one was a bit of a joke anyway, so we'll forget that one, and 'Rainbow Rising' was a bit self-indulgent. This one's got eight tracks that are all fairly short and very much to the point. I think it'll do better than the others have done, but I think it will take another two before Rainbow's really established in the States.

R.D.: I don't intend to hype myself. I honestly think that we as a band haven't written or performed our best material yet. I just think that even though we've been individually in other bands for a long time that have had great success, we're relatively newcomers as Rainbow. It's been not quite three years yet, and I consider that to be the beginning, and in no way should we think we've made it. I think we've got our best years in front of us - no, this is not the album that's going to put us on top.

What are your plans for the future?

R.D.: After this tour there's going to be another album. I think it will be kind of the same LP as this one. It has to maintain that same sort of rock'n'roll music. That's what we're all about. We're out to prove that - quote - 'heavy metal' - unquote - is not dead. We're trying to make rock and roll a lasting idea.

Any plans to make solo albums?

C.P.: I just like playing the drums for whatever band I happen to be with at the time. I'm not into any sort of ego thing as far as doing a solo album is concerned. I did those two or three solo singles as a laugh, and everybody took it seriously. I though I'd be doing Top of the Pops for the rest of my life!

No, I've been fortunate in playing with a lot of good players - Jeff, Richie, Stevie Wonder - I did a lot of session work for five years - but there's not too many people left. I've just enjoyed myself, and I think that's what it's all about.

R.D.: I don't give any thought at all to a solo career - I think that can only be detrimental to the band. We just want Rainbow to be as big as it could possibly be.

Cozy, are you still racing cars?

C.P.: Yes, but it's very difficult, being in a rock'n'roll band. I stopped (music) completely in 1974 and said, right, I'm going to race care this year then see what happens. The Ritchie called me out of the blue and said, would I come to L.A. and play. I was going to do the Le Mans race this year, but the insurance company wouldn't put up the money for insurance, si I had to blow it out, which is a shame. But because we're touring so much, and the racing season goes from March to November in England while we're in America, you can't do both. It has to be one or the other.

I don't want to play rock'n'roll, but for the time being I have to. Maybe I'll get into racing next year. I'm not going to commit myself (to Rainbow) any further than the next year. Racing is my first love.


© Sylvie Simmons, Sounds - August 5, 1978