COZY POWELL

A LIGHT IN THE BLACK

Rainbow Still In Existence Shock Disclosure

Presenting a hot new double act: Blackmore and Powell

In reality a serious discussion with the Rainbow drummer Cozy about the future of the band!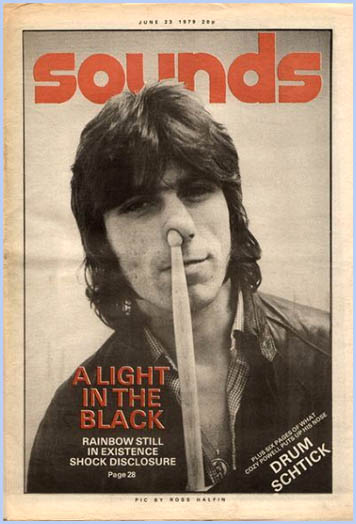 Uh, before we begin talking in earnest Cozy, I'd just like to check one thing. You are still a member of Rainbow aren't you?

Powell, his brow knitting in mock concentration, mulls over the question for an inordinately long period of time

"I think so. Am I?"
"Well, are you?" pipes his publicist. "Don't ask me."
"Ha!"Powell snorts. "This is a good way to start the interview, isn't it? Ofcourse I'm still a member of Rainbow."

Yeah, I knew you were really. But you must admit that there've been so many comings and goings in the band recently that it has been rather difficult to keep track...

"Well," says Powell, "you begin the cross-examination and I'll do my best to bring you up to date."

But as it happened intensive interrogation was the last thing that was needed. Drummer Cozy Powell, no doubt aware of Sounds' readers' increasing dissatisfaction with Rainbow and the band's 'hanging about and pissing around' (his words), was anxious that I only had to ask a handful of questions; the words flew from his mouth with Patrick Moore-style rapidity... not to say conviction.

Cozy Powell was my first ever rock interview for this paper. That's getting on for five years ago now, when he'd just had that string of hit singles ('Dance With The Devil', 'The Man In Black'and 'Na Na Na') and was pursuing a solo career with his group Hammer. He hasn't changed a bit since then, both visually and verbally. He still has the same wiry, scruffy street tough looks and his speech remains brusque, blunt and to the point.

More than ever today in fact. This time, it's necessary to go far away and beyond the usual casual banter about 'the new album', 'the last tour' and 'future plans'; the job at hand here and now is to state a cast-iron case for Rainbow, explain why they've been out of action for so long and convince doubting Thomases that the band is together and still a force to be reckoned with.

And we begin with the story behind the departure of vocalist Ronnie James Dio.

"Let me think, let me get all the facts straight here." Powell settles down on a creaky whicker chair and proceeds to open up: "Yeah, we'd just begun rehearsals for the new album and Ronnie was sort of humming and hawing about this and that... his heart didn't seem to be in it, something wasn't quite right. So he'd come to rehearsals and we'd be bashing away at the backing tracks, waiting for him to come up with the vocal lines, and nothing was really happening. "So after a couple of weeks of this Ritchie Blackmore said to me, 'What's the deal? Have you noticed anything different?' And I said, 'Well, yeah. He's not exactly 100 per cent into it, isn't he?' And this went on and on and I just think Ronnie had either lost interest in the band or interest in singing our particular kind of music. So, like, the writing was on the wall.

" I must admit it came as a shock when I heard that Dio had left the band. "We figured it would...". I mean, I could accept the driftings in and out of various bassists and keyboard players, but I always regarded yourself, Blackmore and Dio as Rainbow's hard core, the band's constant factor.

"The thing is, with Rainbow we don't accept anything less than total conviction from the people in the band. Ronnie wasn't giving it as far as we were concerned, so - pfft! It's as simple as that. It wasn't a case of him not singing very well, the guy's a great vocalist and he always will be. It's just that he'd become disenchanted with us and we'd become disenchanted with him and rather than just keep going, plod along like a lot of bands do, we decided that it would be best to take the trouble right out at source. So we asked him if he wanted something else and he said, Yeah, OK' and left. He didn't get fired, we asked him to leave. You can read into that what you can like."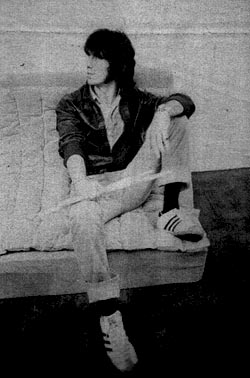 When did all this actually take place?

"In October and November of last year. So then the search for a singer began. Of course, we'd just got rid of the bass player (Bob Daisley) and the keyboard player (David Stone) as well, they both went more or less in the same week, so we were same basically down to a duo, there was just Ritchie and me left.

"It's good this, isn't it?" he laughs. "Just like Crossroads. So there were the two of us and I thought, 'Well, what shall we do, shall we start at the Red Lion?' We both took a week off to talk things out and we reached the conclusion that, yes, we wanted to carry on with the band because we still believed in it. After all, Peters And Lee did alright, so we reckoned that Blackmore And Powell, you know...

"Seriously, this time we decided to reach for the right people. Ritchie brought Roger Glover in as the producer of the new album, meanwhile we were trying to find a bass player, keyboard player and singer. So I said, 'OK Ritchie, let's stop messing around, let's get a good keyboard player in. I know someone, he used to be in my band Hammer. He's great, he's a good writer, a nice guy, no problems.' So Don Airey joined the band.

"The bass player was a little more tricky. I got Clive Chaman in from the Jeff Beck Group, he also used to be a member of Hammer. However he didn't really work out. He's a funky sort of player, he needs a lot of freedom and he wouldn't have got that with Ritchie. After a while we were going crazy, we couldn't find anybody at all. Then Roger Glover said, 'Well, what about me?' Ritchie asked me what I thought as I'd have to work with the guy and I said, 'Fair enough, I'll give it. try, once I start playing I can never hear anybody else anyway.' So Roger became the bass player."

That leaves the singer.

"Yeah, and you wouldn't believe the aggravation we had trying to find one. We must have auditioned, oh, 50 or 60 people."

It was said at the time that you were after a vocalist of the style of Lou Gramm of Foreigner.

"We wanted someone who'd got a good tonal resonance, someone like Paul Rodgers. Lou Gramm is very much a Rogers' copyist. Yeah, we wanted someone like that, a singer with a good voice, good range."

I heard that you'd chosen John Sloman (ex-Lone Star) at one stage.

"Really?" Powell replies, not giving anything away. Well, we tried a hole bunch of people and eventually got down to about 10 guys. They were all good, but in the end we plumped for Graham Bonnet. He'd been doing nothing since the Marbles split up. He had a single out called 'Only One Woman' a few years back and had been following a solo career in Australia...

"He's got a four octave range, which is what we want. He's a very, very good singer. He came out to the Chateau in Geneva where we were recording, sang over some backing tracks we'd laid down and - boom! - he hit it straight off, he was great. We were all biting our lips, trying not to smile... he'd really got it down well. So he's now in the band.

"So it's going to be interesting. We'll see when the fireworks start. We should have the first argument about six weeks from now, I reckon. We'll take it from there."

How long do you think this Rainbow line up will endure?

"I'd like it to last longer than three months, but you never know."

Forgive me for saying, but you don't sound very optimistic.

"No, I'm taking the piss. I as joking there. This is a very strong line up, possibly the strongest Rainbow have ever had. All the members we've got are very competent at what they do. Don's been playing keyboards for years, Roger's an accomplished bass player, Graham's a great singer... all I've got to do is teach Ritchie a few new chords and we'll be alright."

Rainbow, new members and all, have just this moment completed their new LP 'Down To Earth'. Powell is pleased with it, although he feels that hardcore 'Rainbow Rising' fans (such as myself) may find parts of it a trifle too commercial.

"To my mind Rainbow is a very heavy rock band, there should be no compromises," he says. "Ritchie feels that we should compromise to a certain extent and therefore this album has a couple of commercial numbers on it. Of course there's the usual heavy stuff as well - there's one epic track that's a slight nick from 'Mars' in Holst's 'Planet Suit', we'll probably be opening our new show with it - but like I say it does contain these two commercial tracks.

"Ritchie and I have argued about their inclusion, well we have a lot of arguments anyway as you can well imagine. When we don't agree over certain things he usually wins because it's his band, he started it all in the first place, so I'm not going to knock that. But I will make my opinions heard.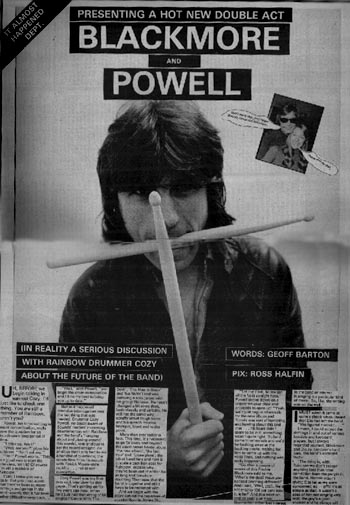 "I'll say what I think to Ritchie and he respects me for it. I think the only reason that I'm still a member of Rainbow is that Ritchie knows that I' ll beat him up if he fires me. So we have differences of opinion - in fact it nearly came to fisticuffs at one point in Geneva - but at the end of the day it's usually OK, we have a few drinks and make it up. But it's good all the same, it's healthy. We're men enough to know that united we stand, divided we don't necessarily fall but it's not going to be so easy. So if we stick together we could end up conquering the world. Which'd be nice, wouldn't it?"

Powell also has an album of his own due out (probably in September/October to avoid a clash with the soon-come Rainbow LP). In direct contrast to the title of the Rainbow disc, it's going to be called 'Over The Top'. The cover will feature Powell doing an Evel Knievel and leaping over a drumkit on a motorbike and the music, well, our skinsman describes it as 'a mixed bag'.

The album features a star studded array of musos, from guitarists Gary Moore, Clem Clempson and Bernie Marsden, through keyboard players Max Middleton and Don Airey, up to the legendary Jack Bruce on bas. It's all instrumental and contains two Jeff Beck-type jazz-rock compositions,a couple of straight ahead rock numbers (one written by Marsden, the other, 'a heads down lads see you at the end hooligan workout', by Moore and Airey), a 'pleasant little ditty' by the drummer himself, a version of George Martin's 'Theme One' (the old John Peel show signature tune, also done by Van Der Graaf Generator) and a grandiose final track which includes the '1812 Overture', the Powell drum solo extravaganza.

"I started off my career playing with a lot of serious musicians," Powell says, "and when I had my solo singles out they were done as a laugh, tongue-in-cheek, you know. I didn't expect them to be successful, but they were and people tend to judge me just on that and forget about the stuff I did eight or nine years ago with the Jeff Back Group. I don't want to be branded that easily, I want to show people that there's more to me than might at first meet the eye. So that's why I did the album. It's not an ego trip, it's something I wanted to do and enjoyed doing."

As per prior reports in these pages, Rainbow will be touring Britain in the autumn. They start a month's worth of rehearsals a short time from now, then they go out on the road in the States for six or maybe eight weeks, depending on how the new album does. Then it'11 be Britain followed by the rest of Europe (or possibly vice versa) and after that dates in Japan and Australia. The rainbow stage effect won't be in evidence this time around (the whole contraption was dumped overboard into the Pacific after the band's last Japanese tour) but Powell says that the show will still be 'interesting to watch'. "I'll be doing my gross-out drum solo, Ritchie'll be demolishing guitars at the rate of one a night, that won't change," he promises. He will also try persuade Ritchie to play 'Stargazer' as he's noticed that the number seems to have taken up permanent residence in the Sounds heavy metal chart.

Nevertheless, it has been a long time since Rainbow made a UK appearance and, as I said earlier, Powell is aware of the band's fans' growing impatience. "The reason it's taken so long is that we always want to deliver the best," he reveals. "If you've got people in the group who aren't pulling their weight then you're not only cheating yourself, you're cheating the kids who buy your records and come to see your shows. Nothing less then the very best will be accepted from this new line up.

"It's a bit like being a footballer, if you're not doing your job then it's, like, the reserve team or a transfer. That's why the new Rainbow has taken a year to get together, we were waiting to find the right people, people who could consistently give 100 per cent. And I think it's going to turn out to be pretty good."

And of course no Rainbow interview would be complete without the inevitable 'will Deep Purple ever reform?' question. So I ask it, more out of a sense, of duty than anything else, and it turns out that Cozy Powell has some bad news for you livin' in the past 'Machine Head' buffs...

"Ritchie just doesn't want to know. He isn't interested. He must have been asked to reform the band at least half-a-dozen times, but the fact is that he considers Deep Purple to have been a good group while it was going, but now that it's finished he'd rather just look back and say, 'Well, we were very successful, we made a lot of records, set a let of trends and I'd rather leave it at that.'

"What he's doing now is Rainbow, that's what he believes in, it's what he believe in. If he did reform Deep Purple it would be a mistake, it's much better to have your memories and leave things the way they are. If it did happen it would just be a bunch of musicians getting together again to make bread and Ritchie's not Into that, he's already made his money. "No, what he's interested in is getting Rainbow to the top and he'll stop at nothing until the band's there. And I'd go along with that as well."


Geoff Barton, Sounds June 23, 1979 - Photos © Ross Halfin

Thanks to Tonny Steenhagen for the scan