Cozy Powell

Monsters Of Rock 1980 Tour Program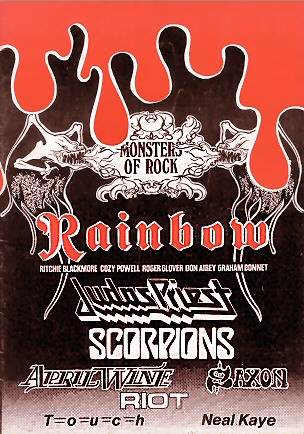 The summer of '79: Heat rises, streets sizzle and, for the fifth consecutive summer, Rainbow releases a new album of steaming rock 'n' roll, Down to Earth. Down to Earth heralds the reunion of guitarist Ritchie Blackmore with his ex-mate from Deep Purple, bassist Roger Glover, who joins Ritchie and drummer Cozy Powell in forming Rainbow's strongest and most versatile line-up yet. Another new member is keyboardist Don Airey, who previously played with John Hiseman's Colosseum II as well as Cozy Powell's Hammer and is thrilled at the opportunity to perform with Rainbow. "I've admired Ritchie and Cozy for a long time. I wanted to get into playing some heavy rock 'n' roll and Rainbow had the best band around to do that with," explained Airey upon joining the group this past Spring. Singer Graham Bonnet, who fronted the English band Marbles, and had an international hit with "Only One Woman" and a couple of chart-topping albums in Australia and New Zealand, is the other new addition to Rainbow's star-studded line-up.

During his five year stint with Deep Purple, Roger Glover honed his song-writing and production abilities along with his skills as a song-writer. Upon leaving Purple, Glover became a producer for bands such as Nazareth, Rory Gallaher and Status Quo. He also released two solo albums during this time, a soundtrack for the book Butterfly Ball and Elements, an orchestrated rock piece in four movements - earth, fire, water and air. Glover's production work on Down to Earth enables Rainbow to achieve a richness and density the band strived for, and now have reached.

Recorded in France, Down to Earth marks a significant departure for Rainbow. Known in the past for their metal rockers, Rainbow's latest collection emphasizes Roger Glover's elaborate production, luxurious melodies and lyrics which are as futuristic as the music. Ritchie Blackmore's renowned scorching leads remain, but now the group's overall sound is rich, dense and multilevelled. "Since You've Been Gone" is slated as the first single and it races out of the speakers like a runaway truck. "Eyes of the World" is a textured hall-of-mirrors which takes you to the furthermost reaches of outer space and then back to earth again, highlighting Rainbow's newest members and the flexibility they bring to the band. This is not only powerful rock `n' roll, but tuneful as well.

Rainbow was born in 1975, when ace rock guitarist Ritchie Blackmore, who had backed up the legendary Lord Sutch and Jerry Lee Lewis, among others, decided to leave the fantastically successful Deep Purple because he had "grown bored with the expanding state of rock 'n' roll". Blackmore proceeded to form a new group with the members of an American band called Elf, who had opened at a few dates for Purple and caught Ritchie's ear. That first album, Richie Blackmore's Rainbow, was released in the summer of '75, and featured Blackmore classics like "Man on the Silver Mountain", "If You Don't Like Rock 'n' Roll", and a re-working of the Yardbirds' chestnut, "Still I'm Sad". The initial line-up included vocalist Ronnie James Dio, drummer Gary Driscoll, bassist Craig Gruber and keyboardist Mickey Lee Soule. The resulting album managed to fuse classical elements with the improvisatory power of Richie Blackmore's guitar-playing, added to the medieval bent of Ronnie Dio's wailing lyrics.

In the summer of '76, Blackmore, still searching for the right magical combination, replaced bassist Craig Gruber with Jimmy Bain, keyboardist Mickey Lee Soule with Tony Carey and drummer Gary Driscoll with Cozy Powell. The addition of Cozy Powell, ex-Jeff Beck Group member and a solo artist with three English hit singles to his credit, was the important step since Blackmore saw the drummer as a fulcrum around which to build Rainbow's stage presentation. Perhaps only Cozy could provide the hell-bent energy on the skins needed to push Blackmore's Rainbow into that realm of no-holds barred rock `n' roll where restraint is a dirty word.

The group's second album Rainbow Rising, was released during the summer of 1976, and it combined heavy metal histrionics with the sophisticated strains of the Munich Philharmonic Orchestra on such Rainbow stand-outs as "Stargazer". An extensive world tour followed, with the group travelling to the Far East and Australia, where the next album, a double-live set, On Stage, was recorded. On Stage was released during the summer of '77, and the critics agreed it faithfully captured the power-house outfit that made up Rainbow.

Blackmore, ever the perfectionist, shifted the lineup once again for Rainbow's fourth album, Long Live Rock 'N' Roll, with ex-Widowmaker bassist Bob Daisley replacing Mark Clark, who had, in turn, replaced Jimmy Bain. Canadian keyboard player David Stone was also added, replacing Tony Carey. Long Live Rock 'N' Roll proved Rainbow was maturing into a cohesive unit. Appearing during the summer of '78, Long Live Rock 'N' Roll deftly bridged the styles of music Blackmore seeked to combine-classical, baroque and searing hard rock. The title cut could well have served as the theme to Ritchie Blackmore's career.

With Down to Earth, Rainbow has finally hit upon a permanent working line-up. Blackmore, Glower, Powell, Bonnet and Airey form a talented and experienced group whose promise and potential has only been touched upon. Rainbow's future looks stronger than ever.





Cozy Powell



The show is over.

And at the theatre, Cozy Powell is slumped in a corner of the dressing room. A sweat-stained shirt lies crumpled at his feet. His long, dark hair hangs in wet rat's-tails. He has lost 10 pounds in weight, during Rainbow's set.

It's been quite a night.

"How do I feel now?" he says, with an easy smile. "Shattered. That's the way it should be. I like to feel exhausted. The way I see it, the people who come to see us have worked their balls off to buy their ticket. So, I aim to give them a good show.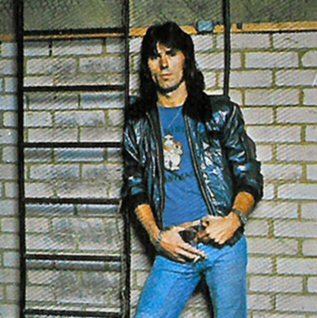 "We can be onstage for two hours at a stretch. My solo always comes towards the end of the act. That just about finishes me. As you've seen, when we finish I just want to collapse in the dressing room. I may be drained, but it's a satisfying feeling to know you've given the audience what they came to see."

Cozy's involvement with Rainbow is total. "I really believe in this band," he explains. "I think the music is strong and I feel we're progressing all the time. If we ever started to stagnate, I'd turn it in. Not just this band. The whole music business. When I finish with Rainbow, I'll move into another area. I won't be coming back." He is disillusioned with the rock circus in general.

"It leaves a very sour taste in my mouth. What's wrong? The businessmen have taken over from the musicians. The guys who are interested in the quick buck are running things now. There's a lot of falseness around. The superficial smiles. The back-slappers with their phony talk. I'm not very good at playing those games. I just walk away and let them get on with it."

Outside of music, his main interest is motor racing. In 1975, he seemed to be heading towards a career as a professional driver, but when Ritchie Blackmore asked him to join Rainbow, he changed tracks.

"I've got a pretty direct approach to life," says Cozy. "It shows in my drumming ... in everything I do. That's why I'm happy with Rainbow. It's an honest band. If you've got something on your mind, you say it. I like that."

Musically, he lays the stylish, rhythmic foundations for Rainbow. Lyrically and melodically, the band take you through many changes, but get down to the roots of every track and you will find Powell pumping busily in the boiler room. His role takes more physical effort than any other.

"On a tour, you have to keep fit. I'm feeling good for this tour. We did two months rehearsal in Los Angeles, before coming to Europe, so I'm ready. We tend to be on the road a lot, but when we get a break, I don't like sitting around. I play football, go running, cut down trees .. anything. I keep busy.

"I still drive when I can and that helps too. It's surprising how much strength you need in your arms and shoulders if you're going to handle a powerful car in a race."

This high energy keeps him slim, despite the fact that he eats like a horse. "On tour I'm eating all the time. Not 'junk' foods. I have a lot of steak and fresh salads and vegetables. Plenty of sweet tea too. Keeps up your energy."

At one time, you could have added a lot of booze to that daily intake. He was drinking heavily.

"It was getting a bit out of hand, about three years ago," he admits. "In the end, I tried to sort myself out and I found I was drinking too much because I wasn't happy with the music. There was no real satisfaction. That's when I decided to concentrate on motor racing. I gave up booze all together."

Being back in the music world hasn't tempted him to turn to the bottle again. This time around, he's really into what he is playing. Previously, his most successful times were with Jeff Beck, who he joined in 1970, and Mickie Most, who produced his million-selling drumbeat single, "Dance With The Devil", in 1973.

With Rainbow, he is known as the ace practical joker. He has been known to scale the outside of German hotels, leave bedrooms neatly coated with fire extinguisher spray and generally add to the popular theory that all drummers have a crazy streak. In fact, his stunts are a direct result of the boredom and routine that travel with every band on those "Glamorous" tours.

"Yea," he grins, "people really think it's glamorous, don't they? Well, the time you spend onstage is great. But the rest of it is a bore. The routine can make you edgy. Whenever possible, I drive myself from town to town. I use my BMW 1000 cc motorbike, or the Ferari. Depends on what the weather's like. If it's dry, I take the bike."

None of the group has ever ridden with Powell. Manager Bruce Payne has travelled with him in the car, but he draws the line at riding pillion on the BMW.

"I enjoy those rides. I can burn up my inhibitions behind the wheel. I drive fast, whether I'm on two wheels or four. On the race track, I'm not frightened. In a strange way, I like to get close to danger. Maybe I've got some kind of death wish. I don't know."

Cozy Powell is a complex man. He is full of restless energy. He doesn't live life. He attacks it. He gets bored and impatient when the pulse slips. That's why he's happy onstage. He drives himself. Burns off that pumping energy.

Then he can sit back, after the show, wipe the sweat from his face ... and feel easy.

"I still think the music world is a mess," he says, finally, "But I've found a corner of it that works for me. With Rainbow, it's the music that count. That's the way it should be ... "




Monsters Of Rock 1980 Tourprogram