COZY POWELL



On April 5, 1998, the legendary Cozy Powell (actually: Colin Powell) was killed in a car accident at the age of fifty. Cozy is one of the few drummers who had a hit single with a drum solo ("Dance with the devil"). He was best known as a drummer in bands such as Black Sabbath, Rainbow, Whitesnake and behind guitar heroes such as Gary Moore, Peter Green and Brian May. Cozy was supposed to be joining the Queen guitarist again during Brian May's upcoming tour, he also played drums on the latest album "Another World".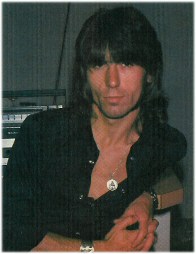 A few years ago we spoke with the then drummer of The Brian May Band. At the time of this conversation, the South American tour with Brian had just ended and in the period up to the American tour, Cozy took the opportunity to do a short European tour with vocalist TONY MARTIN, bassist NEIL MURRAY and guitarist MARIO PARGA.

Cozy released his latest solo album, "The Drums Are Back" in late 1992, which featured quite a few well-known names: Brian May, John Deacon, Geoff Nichols, Don Airey, Steve Lukather, Billy Sheehan, Jon Lord and so we can go on for a while.

First question for Cozy: why this solo tour?

I haven't done any since 1974. Then it was called The Cozy Powell Samurai. Since then I have actually been employed by everyone in showbiz. I was now ready for my own new tire, which was going to taste the groundwater again. I hadn't played in clubs in years and this is basically a warm up for when I hit the road with Brian May again. I love to sit with my drum kit close to the audience, normally I'm far and away from the audience. In the past two years I haven't done much because of an accident. I was in the hospital and then got a lot of ideas.

I will continue to work with big bands but I want to do a bit more, I am far from in the position that I can retire. It's great working with Brian May's band. We've known each other for a long time and Neil I have been friends with each other and with Brian for a long time. Tony and Brian also get along well, although Tony does not play along with Brian. Working with this band is also a lot of fun, we play songs from many bands that I have been in, from Rainbow to Black Sabbath, Whitesnake, Michael Schenker, ELP... There is a lot of interest in these songs, most people still have these songs. never heard live and when I hear the response to Stargazer, Long Live Rock'n'Roll and Since You've Been Gone every night I know we are doing well. They are all classic songs of course and of course we do songs from Tony's new record and mine. This combination, with three ex-members of Black Sabbath, is of course also very attractive to rock fans.

Of course you do a drum solo. Why don't you do your hit song "Dance With The Devil"? It was quite a hit for you.

To be honest, I haven't thought of that in years. I would have to punch the song back in first, but then I could do it again. Who knows... It's been a long time since anyone mentioned that song, maybe that's a good excuse to do it again. We call this band Cozy Powell's Hammer. Neil and I have worked together for a long time, so why not work together now. The rhythm section is very important. Our guitarist Mario Parga was recommended to me by several people. He is now 23 years old and plays a bit like Steve Vai and Al DiMeola, jazzy licks with a lot of rock. He is from England but has a Spanish father, hence the name. Tony Martin was looking for a vehicle to promote his product and since we get along well, the deal was quickly made. It's just good teamwork. The first gigs we did lasted two hours, but because Tony's voice doesn't last that long, we shortened it a bit. We now play fifteen minutes shorter. Tony gives himself completely every time, but that is not so good for his vocal cords. He hadn't performed live for a few years either, so he had to get used to it.

The last time we saw the three of you, you were on tour with Tony Iommi as Black Sabbath. Tony is now touring again with Ronnie James Dio, Geezer Butler and Vinny Appice (nowadays that is already different and Tony Martin is back as singer in Sabbath; ed.). What went wrong?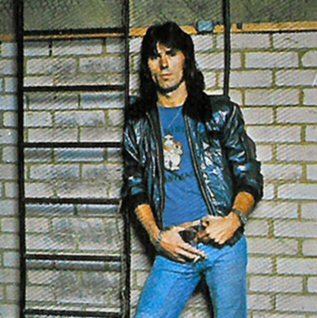 As I said, I had a serious accident. Not with a car or a motorcycle, but with a horse! A horse fell on top of me, I broke my hip and my thigh, and that's the worst possible place to break your leg. I was out of circulation for six months, Black Sabbath wanted to make a record, the record company acted a bit weird and when there were also changes in management the whole band was suddenly fired. Ronnie Dio then joined and I couldn't play so he took Vinny with him, back to the Heaven And Hell period.

Now I hear stories again that that line up is a thing of the past and that Ozzie Osbourne is back... It seems like a quiz, who is in Sabbath this week? I was very disappointed with how it all turned out, I could not change much about my situation and no one called me, just that they would continue with new members. Shame! The dumbest thing Tony Iommi could do was fire Tony Martin. I may not have left Sabbath under good circumstances, but that's rock'n'roll, I've been in this world for so long, I don't expect any favor from anyone else.

With Whitesnake it was something different again. David Coverdale again had voice problems. Basically the band had stopped, David is the boss, so if he wants to stop for a year, that will continue. Then it is at most: thank you, you can go. Maybe we'll call you again.

In the meantime you have to make ends meet as a musician and that is one of the reasons why I have been in so many bands and why there are so many changes in bands.

The bands I played in often had a lot of members. 17 people played in Rainbow, more than 20 in Whitesnake, MSG ditto, Black Sabbath also at least 17... You see, it's all about the music in the end. Sometimes changes can make the band better. Just look at Deep Purple: Ian Gillan got better than Rod Evans. David Coverdale and Glenn Hughes also became a very good band. As long as everyone is having fun and the musicians play live instead of machines that do the work, I think it's okay.

How did you get into the Brian May Band?

I've known Brian for years and luckily he was always a fan of mine and I of him. Before Freddie died he came to me and asked if I wanted to play drums on his solo album. I visited him and listened to the material, I let him hear some of my material and that's how we got started. I helped him with his album and he helped me with mine. In other words, we were in the studio for a long time. When there were live performances on the horizon, he asked me to join. I then called Neil again and Back To The Light came about. We did a short tour of South America and it was fantastic. It was filmed by the BBC. We played in football stadiums in front of sixty thousand people, while the record was only out. Brian's album sales were very good.

Are there any plans to make a record with your band Hammer?

Yes, we would really like to make one, but yes... we are with two different record companies, so we have to wait and see if it will work.

Several reviews of your CD were quite negative...

Well, apparently a lot of people don't like musicians making music, they want to hear commercial songs and what I also hear is that there is a divided opinion. I only make an album if I support it 100 percent and if someone else doesn't like it, too bad. I've made about sixty-seven albums in my entire life and twenty of them got a perfect review, twenty of them were approved and twenty of them were slated. You make records and you just hope that they work, sometimes you have made something in ten minutes and then it worked out fantastically. I remember a super hit that I played on, which we recorded in ten minutes, even in one take. I thought it was a terrible song and left the studio as soon as possible. The song became a huge hit. Sometimes you work hours, days, weeks on a song and you are very satisfied with the result and then it doesn't sell for a minute. You just have to be lucky, you always do your best and the record buyers have to decide. The Drums Are Back... didn't get the reviews I expected, but that is of course also because most of the record is instrumental and quite varied in style. There is a bit of everything and maybe that was wrong. Better luck next time!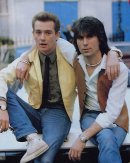 What song did you mean just now?

I am not going to tell you that, that is something for me to know and something for you to find out. I'll help you a little bit, it's a Rainbow song.

Was Graham Bonnett the singer, by any chance?

Nnnnnnn....yessss!

Then talk about "Since You've Been Gone"!

Exactly! None of us wanted to do that song. We liked the song, but not suitable for Rainbow. In the end we were forced by the record company to record the song. Ritchie did the solo while reading the newspaper, really! I said I'll only play it once and then I'll leave. And so it happened, it was almost a form of rebellion. So it became a worldwide hit, everyone wanted to hear that classic song. So tonight too. So I am obliged to still play it. Fortunately Tony sings it very well... Sometimes things just go differently than you want.

Interview: Harry Pater/Henry Knegt
Noize Rockmagazine 1996