GRAHAM BONNET




When Michael Schenker flying-Ved himself into prime position in Kerrang recent Guitar Hero's poll, it represented Something of a quiet revolution, For many years surveys of this ilk have simply reaffirmed public confidence In the Inspirational, hit-or-miss approach of Ritchie Blackmore - this paper's first reader's poll, published in '82, certainly had him ahead by a neck and a good few frets - but now Schenker's fluid, well-turned style would seem to the people's choice earning him the right to a pedestal that had t virtually become an extension of the lower Blackmore anatomy. It's ironic however, that this swell in grassroots support, due at least in part to the success of MSG's recently-released 'One Night At Budokan' album not to mention Rainbow's increasing Americanization in both sprit and Personnel, should come at a time when the pressure on Schenker would seem particularly acute, Not, on this occasion, as a result of any drink, drugs reliance but rather, due to a reshuffle of the MSG line up provoked, it would seem, by the problems surrounding the band's second album.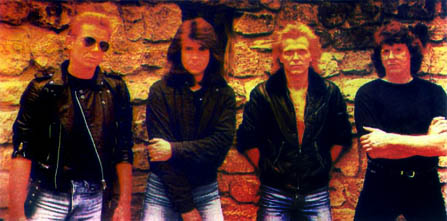 The first, produced by Roger Glover, came together relatively easily, without undue tears or, tantrums, but the follow-up proved a good deal more difficult with former Zeppelin, Bad Co producer Ron Nevison Inserting a jumbo-sized spanner In the works and reducing all around to quivering heaps of rage. It was a disappointing album and the British dates to back up its release 'proved little better, a series of below-par, performances salvaged to a degree by the Powell drum extravaganza and Chris Glen's inventive gurning, and it wasn't long before the line up started to fragment.

Out went Gary Barden and Paul Raymond, followed most recently dramatically by Cozy Powell, and in came vocalist (Graham Bonnet, formerly, of course, with Rainbow, and drummer, Ted McKenna, whose credentials include stints with Alex Harvey, Rory Gallagher and Greg Lake.

This left a four piece band who, with the assistance of keyboard player Tommy Eyre, have now finished recording the third MSG album 'Assault Attack' - produced by Martin Birch and set for an October release- and will make their debut appearance as Sunday night headliners at this year's Reading Festival.

How will they cut it live - particularly under the festival spotlight? How will Bonnet and Schenker fare as a writing team, neither having the greatest of reputations in this field? Both these questions remain to answered, although a preview of the single 'Dancer', one of the eight tracks on the album, due for release on August 27 'give a clue to the latter and to be honest I can't say I'm overly optimistic. My first and only impression was that it lacked real Character, though the B-side Girl From Uptown not on the album, came across as a more consequential composition and Martin Birch, fresh from his triumph with Maiden, has certainly done his reputation another power of good, providing a rich purposeful sound topped with a Bonnet voice showing subtle new dimensions in range and timbre.

Michael, in fact, had wanted Martin at the helm for his first solo outing, liking the drum sound he'd achieved on Rainbow's 'Long Live Rock'N'Roll', and though the studio had been booked and all was in readiness, the guitarist's physical/mental condition finally let him down and Birch, having, pressing commitments to BOC was unable to wait for him to pull himself round. Today, however, Schenker has his alcoholic intake a good deal more under control though, as an antidote to what is currently a stringent daily routine, he still allows himself the occasional 'explosion'. Just a couple of days prior to our meeting, in fact, one of these 'explosions' had taken place with Michael, by his own admission, banging off brain cells in a variety of haunts. As we take a seat outside a pub close to London's Oxford Street it's plain that the 'shrapnel' has yet to clear from his system and Graham Bonnet, on arrival, proves similarly stricken.

As Graham's home is still on the West Coast of America, in the Malibu area, he's been staying with the band's manager during pre-Reading rehearsals and, attempting to cook a plate of chips in unfamiliar surroundings, has ended up concocting a meal that fought back vigorously the early hours of the morning. Not to feel left out, I admit to a touch of hayfever -possibly with complications- and maladies are briefly swapped before the conversation takes a quantum leap and lands on the subject of 'flashing'. It's one that Graham can expound on at length having been arrested a few years ago after being (wrongly) accused of exposing himself in of all places, a Golden Egg grease parlor In London's Leicester Square, a mix-up that earned him a suitably salacious headline In the News Of the World. Responding to the provocation of two friendly females across the street he simply got to his feet and whisked his zip up and down, though a plain clothes policewoman, who just happened to be passing, reported that he unleashed his equipment fully and waved around his foreskin. It was enough to get him handcuffed and taken away.

"And the ridiculous thing Is," he says, taking tentative sips on a glass of lager, "I haven't even got a foreskin! Anyway my lawyer said all I could do was plead guilty and I got off with a fine but the next day I decided to see, what would happen if I did it for real, so I took off all my clothes and jogged from Highgate to Camden Lock. No one took any notice until eventually I was stopped by a policeman who, when he saw I was a bit drunk, lent me a fiver to get a taxi home,"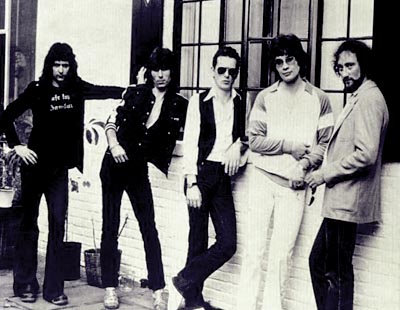 There's clearly a moral in there somewhere but, no one feeling sufficiently fit to work out what it is, we retire, fully clothed, to the Chrysalis office to start the interview proper. A discussion of the album gets things underway and both Graham and Michael are quick to praise Martin Birch.

"He's like one of the band really" says Graham, settling down in a chair "I imagine him to be like George Martin was with The Beatles; he makes you feel very relaxed. I've never, worked with, him before and the first time I met him we were all very drunk and he gave me a real hard time.

He Said 'You've never, Performed properly', and all this business. Anyway, we got in the studio and he turned out to be just like me, very shy - and very productive. He comes up with great ideas and he brought some good things out of me that I didn't think I could do,"

I can't say he's the best," says Michael, I've only recorded with three producers, but he's the best I've worked with so far." Having linked up at last with the producer of 'Long Live Rock'N'Roll' it seemed only natural to return to the place where that album was made - Le Chateau, near, Paris, a studio in -a castle affair frequented by the likes of Fleetwood Mac.

Neither Michael or Graham had worked there before but the latter had found himself secluded in a similar place, the Chateau Pelly De Cornfeld, when Rainbow recorded 'Down To Earth', his sole album with the band. The reach for-the-garlic atmosphere suited him not at all.

"What happened when I did that Rainbow album was I just couldn't get it together vocally. I felt really down and just strange. It was the place, it was like a haunted house and I just said to Roger (Glover) 'I can't do it, mate', cos I was going and trying out the vocals in the bog and it felt all wrong. So what happened that time was we went over to Long Island and did all the vocals and guitar overdubs at a place called Kingdom Sound. I guess, I just don't like castles,"

What you might call claustrophobia, though for the new MSG album Graham did manage half the vocals at Le Chateau. Situated near a town called Heroueville (Horrorville in Bonnet terminology), the other half, along with all the overdubs, being done at Munich's Musicland Studio, home of the legendary Queen/Squier producer Mac. The whole recording process took some two and a half months, but at the time of our meeting all the tracks, with the exception of the single, had still to be mixed. Officially christened - the working titles being Pythonesque affairs – and given credits, though most of the latter will go to Schenker and Bonnet with bassist Chris Glen's name appearing here and there.

Not wanting to spend too long In the studio, the band completed the lyrics and melodies in advance. Graham supplied all the former and about half of the latter though his abilities in this field have been decried almost as much as his shirts by his former Rainbow colleagues.

"Well, actually I had a hand In a lot of the songs on 'Down To Earth' but I was a fool and didn't say: 'Wait a minute I wrote that', Do you remember 'All Night Long' well, Roger wrote the lyrics but the tune was partially mine. And the same thing happened with Don Airey; he wrote a lot of the arrangements on that album and was never given credit for It. I still haven't got paid by Rainbow. I'm owed a lot of money and Ronnie Dio is too. There's f--kng millions of dollars knocking around there and I don't know who keeps it ... Bruce Payne (Rainbow's manager) I suppose so he can go skiing with Roger. I did write part of the tunes on Down To Earth 'but they will never say so, no way,'

Though disenchanted with both Rainbows music and attitude Graham started rehearsing with the band in Copenhagen for the follow up album, later to emerge as 'Difficult To Cure', but soon it all got to much. "After, a few months I just got out cos at one point they said to me 'OK, Graham, how about if we get another singer in to sing the tracks you don't like', which was stupid so I went back to LA and that was it. I was really fed up with the way Ritchie was acting; we just didn't get on towards the end. I got totally bored, it was a case of: 'Oh, f-- king hell, do we have to rehearse again', and I wasn't very impressed with the new drummer, either"

Despite recent rumour to the contrary, Bobby Rondinelli is still at the heart of the Rainbow rhythm, though his days with the band must surely be numbered as he phoned a while ago asking to be considered for the seat vacated by Cozy. Graham wasn't surprised to hear from him at all. "Rainbow's like a bloody football team, it's really just a session band backing up Ritchie."

"Sometimes I feel MSG is going the same way," says Michael. "Because since the first line-up which was all session musicians apart from Gary and myself we've had quite a few people and I keep thinking: 'Hang on, I hope I'm not going through the a same thing as Ritchie'. Hopefully we'll stay together as long as possible."

Graham: "This band has a different atmosphere to Rainbow, though."
Michael: "More democratic…"
Graham: "Yeah, and everyone's a bit silly. We have bad days, of course, but if anyone had a bad day with Rainbow it was like you're going to be fired today type of thing and there was no companionship. Everyone was going their own way, It had to end, and I thought Roger, would have left by now, I know he's considered it but - it's probably a rotten thing to say -he loves being on stage, playing his bass and showing off to all the girls. I'm not interested in that side of it; I'm concerned with playing good music not posing.

I think if Rainbow had worked at it more, they could have been as big as Zeppelin, but Ritchie just throws his talent away on stage, he doesn't play well at all, an after Cozy left it took a real dive. I think MSG were thinking that after Cozy quit that I would go as well but I believe in this band and I'm not gonna do that again, I'm not gonna leave just because one of my friends leaves."

Cozy's departure was certainly a surprise. Just a few weeks earlier he'd declared in a Kerrang interview: 'I ain't about to quit at the moment', and the next thing he'd changed his mind and his sticks were on the shelf. "He was just overdoing everything," explains Graham, "he'd been doing a lot of sessions and things like that. He was tired, and getting uptight about nothing sometimes - he's a very nervous person anyhow. I'm sad that he's gone but I think Ted is a very good replacement, he has the same kind of power as Cozy.

Ted's entry into the band came as a result of a chance meeting with Michael at the Funny Farm, a basement bar In West London. The latter persuaded him to have a jam and it went so well that he asked Chris, who knew him from Alex Harvey days, to persuade him to join. "It was very hard work though," says Michael. "Chris had to talk and talk and talk but finally we got him. He's so energetic, whenever you want to rehearse he's always there, wanting to play..."

"I know," says Graham, "it makes you sick, doesn't it?" Having exhausted the topic of Cozy Powell we turn our attention to Gary Barden. With his replacement sitting just a few feet away this Is clearly going to be a sensitive subject so I'm not surprised when Schenker's grasp of the English language suddenly seems to desert him and his replies become increasingly opaque. Barden's contention is that he was pushed out by the management who wanted a 'name' singer to help ensure the band could pay off their debts but, when one of my questions on the subject finally connects. It's clear that Schenker isn't having any of it. "I didn't see anybody pushing him," he says with a shrug. So he left of his own accord? " Most probably, he came from nowhere right up to the top and maybe part of it was that he couldn't even handle it all, I don't really know. I never tried to analyze it, it happened and that was it. He disappeared and I didn't even think about it (come on!) I just went to look for a replacement."

To this end a lot of albums were listened to and a list of potential singers drawn up. Coverdale was there and stashed away at the back of Schenker's mind was Robert Plant, but It was Bonnet's performance on 'Down To Earth' that impressed him most. Besides which, he was already writing material for someone with Bonnet-style chords in mind, so it seemed silly not to go for the obvious choice. Cozy was assigned to execute the coup. "It took a while though," says Graham, "because I was trying to do a solo thing which flopped drastically, I went back home to America leaving m solo album ('Line-Up') to be mixed and finished but it came of wrong. It became a POP album though it started off as very basic rock. John Lord was there, Cozy, Mickey Moody, rock'n'rollers, y'know, but John Eden, the guy who produced It, got in keyboard players from Toyah's band and made it flowery. He worked hard, but I wasn't very impressed and that went down the drain.

"Then I had a call from Cozy about joining this band and he said "Well, just think about it', cos I wasn't sure if I wanted to be in a band again. But after listening to my album I thought: 'Yes, I need to get back into rock'n'roll because I'm losing something here'."

What did you intend to do before the offer came from MSG, get a band together yourself? "Yes, that was the idea. I was going to try and get Jon Lord, Micky Moody and Cozy, In fact, because I thought he was going to leave MSG at one point, he kept saying that all the time. So that was the plan, but when I realized Cozy wasn't going to leave I said: 'OK, I'll come over to England to try it out,' and I'm glad I did because I think this band can be really big. Besides which, it's nice to be back with rock'n'rollers again."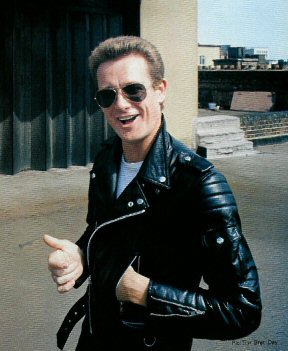 The spate of line-up changes within the group would seem to have stemmed, partly at least, from the problems surrounding the second album recorded at Air Studio, Montserrat and London, over a six-month period and at cost of 250,000-plus. Ron Nevison produced and...

"Well, first of all I don't think his name is real Ron," says Michael, "I think its wrong. The difference between Martin and him is like the difference between heaven and hell," But if the guy's such a walking disaster area, why use him?

"Well, It was my idea and that of Peter Mensch (the band's ex manager) because 'Lights Out', which he produced, went Into the top 20 In America tho I remember I actually had problems with him when we did, 'Strangers In The Night', I left halfway through the mix. But for some reason you forget all the bad times and just remember the good ones and Nevison seemed a sound idea, but I didn't know how fucked up he'd got in the time between which was about three years."

For the second MSG album Michael wasn't involved with the mix at all. Realizing that he and Nevison weren't going to see eye-to-eye he just left him to get on with it and started rehearsing for the band's imminent tour of Japan. The end result was a mix that removed all the power from excellent compositions like 'Ready To Rock' and 'Let sleeping Dogs Lie'.

"When you think of all the time and money it took," says Michael, "it really is a lot of bullshit. He left things out, like the bass for a start, you can't hear that, and the same goes for Cozy's bass drums.

I remember he had a conversation with his drum kit in the studio. He was going: 'Can you believe it? I've been fucking playing double bass drums for 15 years and what does he do? He leaves one of you out, and not only that but where's the fucking bass?' And Nevison didn't even notice that he'd forgotten the left bass drum. The whole thing was a disaster for myself. I was in a mess completely and at one point I picked up a metal ashtray and almost killed him, but somebody took it away in time."

While Michael was deep in rehearsal for the new album a call came through from Ozzy in America. Randy Rhoads had just been killed in a plane crash and he needed someone to help the band fulfil their immediate obligations. "He phoned In the middle of the night," recalls Michael, "stuttering because of the shock. I said I'd help him out If he really wanted, but that If I did I'd need to ask for a lot - my guitar roadie would have to come with me and I'd have to get a certain amount of money because we were paying for a rehearsal studio at the time and If I'd gone then we'd have lost that money, In the end It was too much for them.

"Actually I think it was unfair of him to phone me up, and not only once, and then when I say I need this and this, go and look for someone cheaper without telling me, because they make so much money in the States, they play in front of 20,000 people a night. I think he thought I was going to join the group forever but I made I clear to him that I could only do it for three weeks, at the most six, and I was waiting for a contract stating this. I would never have left for America without it because the management, by all accounts, are an evil business, they get you over there and you find yourself still in the group after six months because they've got a gun to your head. It's a case of 'go on stage or I'll shoot you'."

Michael's now pleased the deal didn't come off, as it would have set back his plans with MSG. As it was he was able to focus his attention on the band, deciding to leave it a four-piece though with two sidemen, situated off stage, helping to colour the sound. On keyboards there'll be a young guy called Andy Nye and on rhythm guitar Michael's guitar roadie, Steve Casey, who's been with him by and large since he Joined UFO at 17.

"I don't want too many people on stage," he says, "because then the audience doesn't know where to focus. If you've got just three people up front it gives a more powerful image. It's more rock'n'roll, no hanky-panky just straight forward." In October both band and sidemen will be off to Japan for ten dates as a prelude to a British tour In November, and time at some point will be found for a visit to the States as Michael is sure 'Assault Attack' will break the band over there, to date, MSG have toured America only once, as Special Guests to Molly Hatchet, and that proved something of a waste of time as they weren't advertised outside the halls and Hatchet's stetsoned supporters were far from an ideal audience. Next time they'll make sure they go out with a band whose style is more similar to their own.

Certainly doing well across The Pond will be an important factor in the band's future as, though many may believe otherwise, they're far from filthy rich, barely grimey. In fact, Schenker's home is still a rented flat and he continues to live a nomadic existence, the archetypal rock'n'roll GYPSY.

"Sooner or later, though, the time will come when I can make some money and I'll take the opportunity I'm sure of that. At the moment, however, I'm minus Instead of plus. I've lost so much cash through fuck-ups like the Nevison thing. I'd just like to be able to see some money that I don't have to pay back... I'd like to be able to have my own home."



Kerrang, August 1982