Ritchie Blackmore

Don't Mess With Me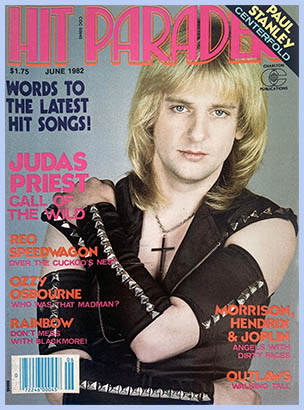 Ritchie Blackmore had just concluded Rainbow's appearance at Atlanta's Omni Auditorium by pulverizing his Stratocaster and tossing its broken bits to 15.000 roaring fans. Before the last buzz from the dying instrument could escape his double stack of Marshall Amps, the harsh glare of the house lights suddenly came on, instantly turning the crowd's reaction from cheers to boos.

"Why'd you turn the lights on so soon?," a furious Blackmore screamed at the engineer responsible. You shit! We bust our asses out there, and you don't even let us enjoy our ovation?' When his fierce outburst met with only a look of disinterested amusement from the burly light-technician.

Blackmore casually approached his adversary and unleashed a wicked right cross that sent the startled crew member into a heap behind the amps. The victorious Blackmore strode to his dressing room, offering a sly wink and a bit of advice. "Don't mess with me."

Ritchie Blackmore has never been one to mess with. Since 1967 when he first hit the scene as lead guitarist in the legendary supergroup Deep Purple, this 37-year-old virtuoso has built a reputation as an unsavory character — a contention supported by countless back-stage punch-outs and a worldwide swath of shattered Stratocasters. Despite his image as a moody and unpredictable performer, as we sat downing glasses of Beck's Beer in the bar of a New York hotel a few months after the Atlanta incident, Blackmore revealed a thoughtful light-hearted side that contrasted sharply with his blood-and-guts persona.

"I feel the need to let off a bit of steam every now and then," he said with a grin as he explained his behavior in the Omni. "Actually, such of my hostility stems from my desire to achieve perfection. I can't put up with incompetence. And when I see that, especially at one of my shows. I can't deal with it in a rational way.

I have a love-hate relationship with everyone and everything — my girlfriend, my guitar, my band — but my attitude has often been misinterpreted as arrogant and domineering. I may want things my own way," he chuckled. "but I'm not domineering."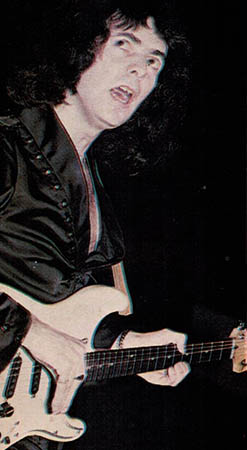 Over the last couple of years things have been going Blackmore's way. Last year's Difficult To Cure as Rainbow's most successful record in a seven album career, and their new Straight Between The Eyes is enjoying greater commercial recognition than its predecessor. On numbers such as Stone Cold, Rock Fever and Tower [that's what they printed, sic! ed.], Blackmore, bassist/producer Roger Glover, vocalist Joe Lynn Turner, drummer Bob Rondinelli, and new keyboardist Dave Rosenthal have created challenging, pop-oriented numbers that reflect Blackmore's understanding of his audience and himself.

"We've turned in a more accessible direction on the last few albums," he explained. "A few years ago I would have insisted that selling records means nothing. I realize now that a statement like that is made only by someone who isn't selling many records", he added as he broke into a broad grin.

"Seeing a sickening band like the Bee Gees sell millions of records helped me from that philosophy. Every artist wants people to buy their product, and even though I'm certainly not happy with the more commercial aspects of rock and roll, I am happy that our albums are doing well. You can be commercial as long as you don't sell your soul to do it.

"I understand why the first Rainbow albums weren't successful commercially," he continued. "We were exploring certain areas that I thought had potential, but we were too demanding on our audiences and on ourselves. We were too dramatic both on album and on stage, and it was difficult to maintain that musical intensity for long.

"American rock audiences need a more accessible sound to latch on to, and the failure of Rainbow to make it initially proved that. There was definitely a problem," he said with a mischievous look in his eye. "I knew that either I could take the blame, which I saw absolutely no reason to do, or I could just get rid of the entire band."

Blackmore's unquenchable lust for firing and hiring new band members is notorious. During the group's eight-year history, a total of 15 different musicians have come, and in most cases, instantly departed. On Straight Between The Eyes, for instance. keyboardist Dave Rosenthal has replaced Don Airey (now with the Blizzard of Ozz) who in turn had replaced Tony Carey. who had replaced David Stone. who had replaced Mickey Lee Soule. Rosenthal's addition keeps alive the band's tradition of never recording two albums with the same roster of musicians. Now Blackmore hopes that after 15 years (including his seven-year stint with Purple), he has found a group of musicians he can work with permanently. But, he admits, "I wouldn't count on it."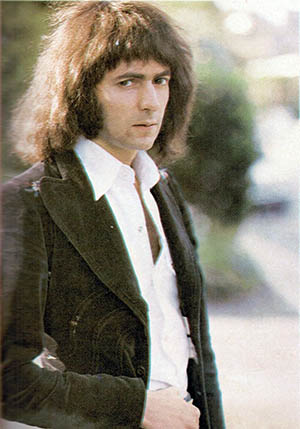 "Change is a natural part of rock and roll." he said. "We had an active turnover rate in Purple over the years, and that's been true in this band as well. I'm trying to make Rainbow the best band possible, and the only way to do that is to seek out musicians who have a compatable point of view.

"We've had a number of people in the band over the years who were excellent performers, but weren't as dedicated to the group as I'd like. That was the case with Ronnie (Dio, now lead vocalist with Black Sabbath) and Cozy (Powell, now drumming with the Michael Schenker Group). There were others who were incompetent.

"I feel very comfortable with the lineup we have now. Joe's an amazing singer and Roger (who appeared with Blackmore on Purple's In Rock and Made In Japan LPs) has been a major help as both producer and bassist. I realize that having strong individual players isn't as important as putting together a cohesive band. We now have that."

Straight Between The Eyes showcases a winning lineup. Turner's flexible voice enhances Blackmore's guitar outbursts. Eyes of Fire, a six-minute opus that features Blackmore's eastern-influenced guitar and a 22-piece orchestra, is as demanding and powerful as any number Rainbow has ever recorded.

"That song should appeal to all the old Rainbow fans." Roger Glover said. "We've tried on this album to strike a balance between the accessibility of the last few albums - and the progressive of the earlier ones. This is the most diverse and the best album that Rainbow's ever done. We recorded it up in Le Studio in Canada on a digital system — the first time the band's used the digital. Recording that way really let's each instrument come across with clarity and power.

The mix is so 'clean' that we're actually rerecording parts of the album with extra distortion to get a more rock-oriented sound. "Everything involved with this album fell into place very naturally," the bassist continued. "Even the title came naturally. Straight Between The Eyes was a term that Ritchie's been holding on to for about 15 years now. It comes from 1967 when he was sitting in a bar on Wardour Street in London and Jeff Beck walked in after seeing Jimi Hendrix play for the first time.

Jeff came over, and Ritchie asked him how Hendrix was. He said. 'he comes at you straight between the eyes.' That expression made a big impression on Ritchie and he's been waiting all this time for an album that he felt was worthy of that title. This is it.


© Andy Secher, Hit Parader Magazine 1982