Ritchie Blackmore

Ritchie Plays Haunting Songs With His Minstrel Hall Band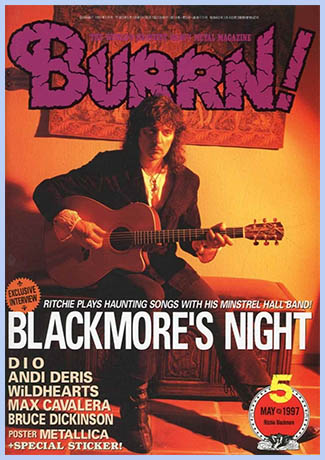 How are Rainbow rehearsals going?

RB: How are the rehearsals going?

Greg Smith & Paul Morris: Excellent!

RB: They seem to be happy (laughs). We just changed drummers. Chuck decided to play with Julio Iglesias' son or someone else, so he won't play with us on the US tour. The new drummer's name is John Micelli. He played with Meat Loaf and Blue Oyster Cult.

He was invited to the group by Greg?

RB: Right. I think he will stay in the group for a long time. He is a very good drummer, I like him.

What are your plans for Rainbow after the American tour?

RB: We are going to play in Poland and Russia in May and June.

So you're not going to record a new Rainbow album?

RB: That's right, the new Rainbow album will be released next year. Until September, I will not do this.

Looks like the line-up will be the same except for the drummer...

RB: I think the group will be the same. (To Greg) Is the singer still with us?

Greg: As far as I know, yes (laughs).

Your new album "Blackmore's Night - Shadow Of The Moon" is coming out soon. Is this the same Renaissance project you were aiming for?

RB: Yes, it's a very interesting experience. Many of my friends between the ages of 30 and 50 listen to this album on cassette. I love listening to it myself. Usually I don't listen to my own music. For me, everything ends after the recording. However, this time I got a lot of pleasure from making the album. I've wanted to play this kind of music for 25 years, so I'm very happy to listen to this album. It's not hard rock, but it's very passionate music. I feel like, in a way, it still has that hard rock vibe.

You have always loved the music of the Renaissance, and have long said that you dream of recording such an album. But why did you decide to do it now, with Candice?

RB: I have never played this kind of music myself. When I gave it to Candice, I didn't know she would sing it. I didn't even know if she would like this kind of music, but she liked it, and when she started singing it, it turned out just fine. When I heard her sing it, I thought: "Wow, she was able to express my thoughts with her voice." I was very impressed. She understands and feels the music of the Middle Ages, her voice is so quiet, there is so much melancholy in it, she immediately understands what I want. That's a coincidence. I have been fond of this kind of music for a long time, but we did not meet through music.

It seems to me that Candice's voice is very suitable for this music. Have you always imagined that in such a project you would work with a vocalist?

RB: It happened by accident. I think it's for the best. Her approach to music is very close to my preferences. It was interesting to work with her. But, seriously, before, when I thought about such a project, I didn't think about who would sing and play what. Every time I was asked if I wanted to record a solo album, I thought: "For what?". I would be bored listening to an entire album with only one guitar. Of course, there are a few instrumentals on this album, but in general I didn't quite understand what exactly I wanted to do. I didn't have a good idea for the concept of the project, and I wasn't sure what I wanted to hear. "Lazy" or "Maybe Next Time" stuff… I myself would be more pleased to hear compositions like "Maybe Next Time", it's easier for me to write such music than fast songs.

Those who love "Maybe Next Time", "Anybody There" or "Rainbow Eyes" will love the new album.

RB: I'm glad about it. I also got older. I'm a little tired because I've been playing hard rock for 30 years. I still enjoy playing it, but not always. Over time it gets boring. But I never get tired of this kind of music. I don't need anything, I just love playing it.

Despite this, "Shadow Of The Moon" and "No Second Chance" with a different arrangement could easily have ended up on a Rainbow album.

RB: Yes. These are more commercial things. Both "Shadow Of The Moon" and "No Second Chance" were originally intended to be more folkish, but producer Pat said he wanted to make them more rhythmic. This is not my idea. I planned a very simple arrangement. But, of course, I still have common roots in these styles.

In "Play Minstrel Play" Ian Anderson plays the flute, but the rest of the parts are recorded through a computer?

RB: We've been talking to individual flutists and krumhorns. But mostly we used samples. Pat did it.

It would be interesting if you went on tour with such musicians - flutists, lute players, etc., and played Renaissance music.

RB: Yes, we are going to do it. John O'Reilly will also take part in the project, he will be the drummer, and Paul and Greg will also be in the group. And a girl named Jessie, she'll be playing the acoustic guitar. Maybe we will also take a cellist into the group who will play quiet cello parts. It will be an electro-acoustic show, but not too loud.

Was it Candice who decided to record "Ocean Gypsy", which was originally sung by Annie Haslam of Renaissance?

RB: I introduced Candice to this song. I heard Annie Haslam sing this song a long time ago, and I really liked it. We played it for friends, they really liked it, so I decided to record it for the album.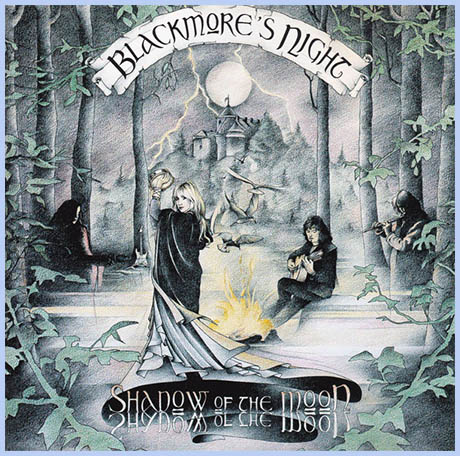 Why did you record "Wish You Were Here" by Rednex?

RB: I heard this song in Germany two years ago and I liked it. I gave it to Candice to listen to, she also loved this song. We played it for friends. This song was a big hit in Germany, but not many people know about it in Japan or the US, so I'm wondering how people will take it.

You made a very unusual arrangement of "Greensleeves".

RB: Arranged in the style of Mason Williams. "Greensleeves" we recorded at a fast pace. I really like "Classical Gas" by Mason Williams, so I decided to use this rhythm.

When did you start preparing these arrangements?

RB: Two or three years ago. "The Clock Ticks On" and "Renaissance Fair" are based on works by Tilman Susato from the 16th century. We listened to the music of that time, and then made our own songs out of it.

You said that John O'Reilly would go on tour with you. Does this mean that live these songs will have more rock arrangements?

RB: No, we won't be using a drum kit on this tour. He will play renaissance drums. However, everything will not be taken too seriously, it is more of a half rock concert, half renaissance music.

Do you think it would be impossible to record such an album with Deep Purple?

RB: Oh, that's right! Maybe this would have interested Jon Lord, but the rest of the members not.

Blackmore's Night is somewhat reminiscent of Rainbow music, but it has little connection with Deep Purple. Roger Glover recently said that Deep Purple is fun for him, not work. Did you perceive Deep Purple in the same way as Roger?

RB: I liked Deep Purple's music too, but it was work for me. In Rainbow I have more options, here I can play stuff like "Hall of The Mountain King". Dougie is able to sing different stuff, and Deep Purple has always been the same. There was no development there, everything went well until 1973, but then I got tired of it. I can still play with them, like doing a little month-long tour. I don't like long tours. I like this kind of music, but I'm tired of playing the same songs at every concert for 35 years. Renaissance music is something new for me. It is fresh. I like it because it's a challenge for me. It's non-commercial, but I wanted to try this music even if it isn't on the radio. At this age, it's better for me to play what I like, not what the audience wants to hear.

Do you plan to record a pop album with Candice?

RB: It's possible. But the roots of my music will always lie in the Renaissance. I have a lot of renaissance songs that didn't make it onto this album, so I'll use them on the next album. She also composes pop melodies on the piano. These are romantic songs that young women might like. Guys usually just want to drink and have fun (laughs). I would like my next project to have a more bluesy approach, but I don't think Doogie sings the blues very well. He's a great vocalist, but not a blues one. Perhaps when I play blues music, I will have to find another singer for it.

For a blues album, Joe Lynn Turner would be good.

RB: Yes, Joe could be there. I like him. Is he in voice now?

He is in great shape nowadays.

RB: Good. I like Joe. I love that he's crazy! Once he began to pester Candice, asking what she was doing (laughs). Every time he sees a beautiful girl, he goes crazy. If his voice is in good condition now, I would be happy to work with him. With Joe, I especially liked songs like "Street Of Dreams". Of course, there were good moments with him in Deep Purple too, but not so many.

Joe recently recorded "Street Of Dreams" with a new arrangement, you should listen to it.

RB: I will.

By the way, how did you find out about Tilman Susato?

RB: I found out about him in 1974, I was listening to a record of his music in Los Angeles. I heard his works on a collection of the best music of the 16th century, became interested and began to listen to him. It seems to me that I have records of all the things of Tilman Susato. I fell in love with these old melodies, and constantly played the music of Tilman Susato on the guitar, but I never thought that I would record it. It wasn't until about two years ago that I started thinking about how great it would be to record songs like this. But I started listening to it a long time ago.

Was it your idea to invite Ian Anderson?

RB: He actually said, "Richie, if you let me play on your album, I'll pay you a million pounds" (laughs). No, I called him and asked if he would be interested, he agreed, I sent him a cassette and he recorded it. He did great.

Have you ever played with Ian before?

RB: Never. I often met him, but Ian is not very fond of jams. His music is more complex. His concerts always inspire me.

How long did you prepare for the recording?

RB: Two and a half months. Pat is a perfectionist, he constantly asked us to redo something, even if it was only three notes. It's bad for music because it kills emotions. It's not easy for me to work with Pat, because he wants me to constantly re-record everything, and I tell him that I already like everything, and that's not how I work. I don't understand why it takes four days to record a backing track that I can record in 10 minutes.

You have a lot of experience in the studio - how can you evaluate the recording of this album?

RB: Everything was just amazing. In addition, Candice did a good job. She sang everything very quickly. She doesn't have a very loud voice, so I had to turn up the microphone volume all the time. When she recorded vocals, I turned off the refrigerator, TV and stopped the clock so that she would feel completely calm. There was also a heater - I had to turn it off as well. That's why I was freezing all the time (laughs).

She did a good job.

RB: Of course, it was her first experience, but there is something special about her voice. It has a lot of emotions. She is good at expressing loneliness. When a person really sings from the heart, it is immediately audible. She loves to sing. She doesn't sing for money, and she doesn't do it at the behest of a record company. In the US, the album will be released on another label - the guys from the record companies unanimously repeated: "Yes, this is good music. But what is this genre? What brand is it to be sold under? But this is music, not beer! However, American record companies believe that marketing is the most important thing. It annoys me. That's why I'm so happy that I can do whatever I like, even if nobody wants my music - I don't care. A lot of musicians don't have that opportunity, the record companies tell them, "Alanis Morissette is in vogue now, you have to sound like Alanis Morissette." Who will be popular next week? I like Joan Osbourne, Candice loves Alanis Morissette, but today's music has gone crazy, I don't follow these trends. It's terrible that someone determines what musicians should play. Many record companies generally say: "Great music, but how do we sell it?". If they have not encountered something, they immediately begin to panic.

Did Candice compose melodies for this album?

RB: I always told her what tunes I wanted to hear. But sometimes she sang her melodies. Candice likes not only Renaissance music, but also modern pop music. I only listen to Renaissance and Baroque music. When she composes something, the melodies are strongly influenced by pop music. In any case, we write music just by playing together, everything happens very quickly.

Do you argue with each other? If so, is it difficult to reach a compromise?

RB: In everyday life we don't talk about music. She hates what I listen to, and I hate the music that she likes (laughs). No, as far as music is concerned, we are now in good agreement.

You have worked with many vocalists, some of them were difficult people, for example, Ian Gillan and Graham Bonnet. How do you work with Candice as a vocalist?

RB: She is very easy to work with. When I have an idea, I play it Candice, she listens silently, and ten minutes later she starts singing. She writes poetry and I write melodies. And we have similar musical tastes, so we're very lucky. When I was composing music with Ian Gillan... it was a real struggle! When I said: "Black", he said: "White", when I said: "White", he said: "Black". That's why I couldn't work with him anymore - you can't do anything like that. I need to work with people who understand me. Candice and I have the same tastes, so it's easy for us. In addition, she not only sings the way I tell her, she also has her own vision.

I hope you will continue to cooperate with Candice.

RB: I think so.

Will the project Blackmore's Night continue?

RB: Who knows! I really like this music, and in the future I see different scenarios. Candice understands me very well, and her ideas about music are very close to mine. But Candice can't sing the blues. Anyway, I think that we will play this kind of music for a long time to come. I do it not for the money, but because my heart demands it. By the way, at first I did not know what to call the project, I wanted to call it "Violet Moon", someone said that this was a good name, others did not agree. Pretty strange. In the end, we settled on Blackmore's Night, I liked this name, which combined our last names. Then I suddenly changed my mind and wanted to return to the name "Violet Moon", but it was already too late.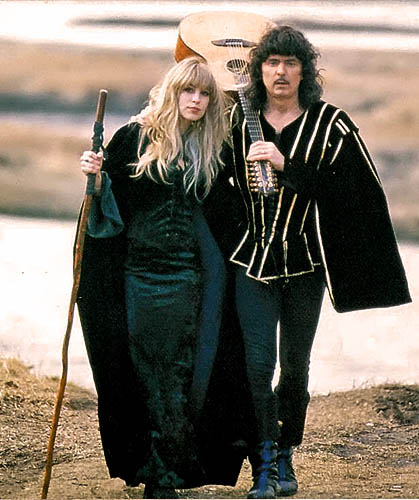 You could call the project "Shadow of The Moon".

RB: I thought about it. If everyone agreed, I could name the project "Shadow of The Moon". Yes, I thought about it.

Will you play your old songs on tour with the new project?

RB: Yes, we will play 4 songs from my other two bands.

What songs will they be? Maybe you will play an acoustic version of "Ariel"?

RB: We will play that, because it was me who wrote this song with her.

"Temple Of The King"...?

RB: Yes, we will play that too. She sings "Rainbow Eyes" and "Temple Of The King" well. Maybe play acoustic and some other Rainbow songs.

What about the instrumental "Maybe Next Time" and "Anybody There"?

RB: Maybe Candice can write lyrics for them, she would be great to sing "Maybe Next Time" and "Anybody There". There's also a song that I wrote especially for Japan, maybe we'll play that too. I want to put it on the next album, I wrote a lot of songs, but the Japanese department of BMG wanted only 12 songs on the album - I already recorded 15... I wrote this song about eight years ago, it has something Japanese I think you'll like it, it's a slow ballad composition.

Is "Writing On The Wall" based on Tchaikovsky's music? Where did this idea come from?

RB: Once I was watching TV in Germany and I heard a techno-pop song and I wanted to try to record techno-pop music myself. In this project, I decided to use the melody of the second part of Swan Lake, to name the composition somehow differently. It's great that I have this opportunity. In Deep Purple, I couldn't have that much fun. "We can't record such frivolous things, it's rubbish." In my opinion, the mixture of Tchaikovsky and techno music is very interesting. When I decided to add it to the album, I was not sure how the listeners would react, maybe many people will simply hate the song. However, if you listen closely, you can see that this is still my music. It's not like the rest of the songs at all, I thought I should play around with different styles - but after recording, oddly enough, it turned out that it fits perfectly on the album. It's interesting that it sounds so good together with medieval music. Maybe it's Candice's voice. I wouldn't put it on the album if it was out of place. I proceeded by trial and error. I bet Deep Purple would never record stuff like, "We're Deep Purple, if we record something like that, the fans will go crazy." It's impossible, it's not good enough... The group behaved like a draft horse. "Deep Purple can't play ballads like Procul Harum." It seemed that it was possible to work only according to a certain formula. Especially the drummer - he didn't want to hear about music without drums at all - he was like, "What's the point of these stupid ballads?" (laughs).

It's funny - when you were in the band, they refused to record such things, but now that you are gone, they claim that without you they can finally do everything they like.

RB: Yep. But they wanted to play things like 'Into The Fire' and I was like, 'Why? We've been through this before." They also wanted to play "When A Blind Man Cries". They just wanted to play more old Deep Purple songs. When I said that I want to play something different, I didn't mean other old songs! So I'm not interested. "Into The Fire", "When A Blind Man Cries" are good songs, but they are all old stuff. When we tried to play them, the audience reacted badly to them. When someone leaves the band, they always begin to blame for all the sins - so do Deep Purple.

Many musicians are now releasing box sets and writing their memoirs in booklets. Are you interested in this?

RB: No. It's just record companies that want money. Artists don't do it themselves. The situation with Deep Purple anniversary editions is simply ridiculous. Anniversary editions have been released for four years in a row (laughs). Of course, if a Jethro Tull box set came out, I would buy it, but in the case of Deep Purple, I don't see the point in buying all this. First they release an album in honor of the twenty-fifth anniversary, then in honor of the twenty-sixth anniversary. Of course, record companies take advantage of my work, but I have nothing to do with it. And I can't do anything. Now Polydor have started reissuing Rainbow albums from the 70s. I don't know why, maybe it's beneficial. It is clear that in the end I get money for this, but if everything depended on me, I would not do it. I don't like cashing in on old jobs all the time. And record companies love it. The digital re-releases of "In Rock" are just meaningless - there is no difference in sound.

Did the album turn out the way you envisioned it?

RB: It turned out even better than I imagined. But the songs themselves have changed little compared to the demos. Only there were more orchestral arrangements.

When creating this music, did you think about the guitar in the first place?

RB: I also paid great attention to vocals. Usually I played melodies on the guitar for her, she sang them, and together we looked for the right key.

Did you work the same way in Deep Purple and Rainbow?

RB: In Rainbow, as soon as I played something to Ronnie, he immediately understood what I wanted. He didn't have to listen to everything ten times. He got everything right the first time. Candice usually listens to the song, and Ronnie Dio had enough for 3-4 notes, he immediately said: "I understand what you want," and immediately composed a melody. With Ian Gillan, we worked completely differently. It is interesting. We never made music together. I gave him a backing track, went out to play football, and he overlayed vocals on the substrate. So I didn't even know he was singing there. I didn't even imagine! There were times when complete nonsense came out. I kept waiting for him to compose his own melodies, but sometimes he just repeated the guitar part (laughs). When I heard it, I didn't like it. I thought: "Why is he singing the same melody that the guitar plays?". But everyone liked it, so he was probably right. The chorus of "Smoke On The Water" has only two chords and a riff - Ian just sang my own melody. In general, I just gave him an instrumental basis, having absolutely no idea what he would do with it. Very interesting - I wrote music without knowing how the main melody would sound! This is rather strange. Sometimes it turned out great - "Rat Bat Blue", "Highway Star"... In "Space Truckin'" he used some of my ideas. But for the most part, he preferred to work alone. When I listened to the recorded background, I imagined the final result, but the song that turned out as a result did not sound at all like I imagined! I didn't know what he would do with it. Sometimes good songs came out, sometimes I thought: "No, it won't work like that." But, of course, in the case of the rest of the singers, except for Ian Gillan, I knew how my songs would sound.

That is, in Deep Purple the vocalist composed the melody, and in Rainbow you composed it yourself, finalizing it together with the vocalists.

RB: Yes, you could say that.

In Japan, many fans appreciate you for melodies, so I'm sure that in our country your new album will be to our taste.

RB: That's good. The melody is the most important thing for me. Not a guitar solo, but the sound of a song, a melody. It has always been so. However, in Deep Purple we worked quite strangely. "Here's a substrate for you, and I'm leaving" (laughs). And, in the end, when I listened to the mix: "Oh ... I want to commit suicide!". That's why I left (laughs).

Have you listened to "Purpendicular"?

RB: I don't want to listen to it. I've already heard that. I know what they wanted to play. I am familiar with their ideas and heard what they played in rehearsals. But I didn't like it. Of course, Steve is a great guitar player, so he will have great parts. He is a wonderful musician. But the ideas of Ian and Roger are clearly not to my liking (laughs).

Are you going to come with Candice to Japan?

RB: If the Japanese public likes this album, then we will come around in September. If they don't like it, then fine (laughs). My fans are in the older age category... They might like this kind of music. My fans are people from thirty to seventy years old. AC/DC has a different audience, don't you think?

It seems to me that in Japan you have also a lot of fans among twenty-year-olds.

RB: In any case, it must be thoughtful fans who are serious about music. This album is not suitable for fans who only want to dance in clubs.

Japanese fans appreciate your melodies.

RB: Melodiousness is very important to me, and I'm glad that the Japanese understand this. In America, melody doesn't matter that much. I don't understand what Americans like in general... I don't understand. For example, I really like the Swedish band One More Time, great musicians, but they sing in Swedish, so American radio stations refuse to play their music. America is controlled by radio stations. This is a big problem - Americans only learn about music through the radio. And through MTV. MTV manipulates the masses. Even when you don't like a song, sooner or later you will still buy it if you are constantly being pushed around. And the Japanese are independent in their thinking. They read magazines and decide for themselves what to buy. Therefore, Japan has a healthy public. Unfortunately, in the US, MTV plays a huge role. They are trying to do the same in England and Germany. They have top 20 popular artists and listeners have to buy their music. It's not fair. Japanese magazines like Burrn cover all kinds of bands. I don't see many bands anywhere except in your magazine. This is not the case in other countries. Little Richard, one of my favorite musicians, did a TV interview recently. He was asked about new songs, to which he replied that he had no new songs. When they wanted to know why, he said, "Because they don't play on the radio - there's no point in writing new songs." "Why don't your songs play on the radio?" - "Because I'm too old." He said it with irony. Today's radio belongs to the young. However, when I want to listen to good music, I don't care, even if the artist is 100 years old - I'd rather listen to a good song than a bad one that has become famous only because the musician is 21 years old.

It seems to me that Americans still love music.

RB: Ordinary people still love music. But American radio constantly imposes some rubbish. Everyone complains about the radio, but nothing changes. The same with the government. Nobody likes Clinton, but he is still president.

Two weeks ago I interviewed David Coverdale and he also complained about American radio and MTV.

RB: Where does he live now?

Lake Tahoe.

RB: I haven't heard from him for 6 or 7 years. What is he doing now? How is he?

It seemed to me that he is happy, he loves his wife and children. He spoke well of you.

RB: I'm glad about it. It's great that Whitesnake has been such a big hit in the US. He has proven that he can achieve everything on his own. When he left Deep Purple, and journalists began to ask him about it, he replied: "I want to move forward, I'm not going to rest on my laurels." That was great. He's right.

You are also moving forward.

RB: Yes. When I created this project, European promoters began to ask me: "Do you seriously want to play renaissance music?" "Yes, I'm very interested." "But you can't sell it!" It's more important for me to play what I like than to make good sales. Everything in the US is about money. There is nothing deep there. Everyone does something just to make money.

So why do you continue to live in the USA?

RB: Yes, everyone hints at it to me. "Why are you still living here? Get out!" (laughs).


© BURRN Magazine, Japan 05-1997