Ritchie Blackmore

Interview Music Life Japan 1981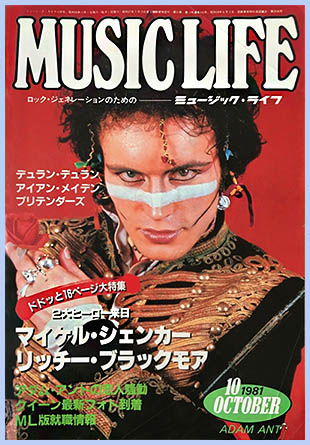 Which of the songs from the album "Difficult To Cure" is your favorite and why?

- Well, I think I have three favorite songs. First, Difficult to Cure. Also "Maybe Next Time", which differs from our other compositions. And also "I surrender", a good pop song.

What is the most difficult thing for you when writing songs?

- Actually, writing songs is a tricky business in itself. My point is that it is generally difficult to create something from scratch. It is very difficult for musicians who have been playing rock like me for so long to create new rock music that is different from the one we have already composed. It would be easier to write classical music because there is more variety in it, but rock ... no. This is the hardest part for me.

What song was the most difficult for you to write?

- So let me think ... Well, it usually doesn't take me that long to write the music, but it took me 8 months to finish Gates Of Babylon. For the first sketches, I first used the cello, then gradually brought it into shape. It took me 8 months. So I think "Gates Of Babylon" was the hardest for me.

What do you think when performing on stage? When do you play solo?

- First of all, I think about something like: "When will I go to bed today?" No, just kidding. I try to focus on the performance and try not to look at the crowd. This is why I close my eyes when playing solo. If I look at the audience, then I start thinking: "What are they thinking about now?" (laughs). I am that kind of person, so I am always very focused on my game.

What is the best source of inspiration for you?

- Well, what I love to play the guitar. But I don't play to be successful. I think this is pretty important. I play not only for this. I just love to play.

What is the most important moment in your life?

- In a good way, or ..?

In a good way.

- Well, that's when I decided to join Deep Purple. John Lord called me: "Let's just try to play together for 6 months!", I then thought: "Thank God! For six months I won't have to worry about money "(laughs). I made this decision in the heat of the moment, because my business was not going well, and until that moment I had problems with finances. I joined the group only because it seemed to me that it would be interesting, and I could at least live on something for these 6 months. But in the end, Deep Purple became very successful, so I made this music for 7 years. In fact, I'm still surprised by this.

What would you do if all the guitars in the world disappeared?

- Then I would play the cello (laughs).

What would you do if all musical instruments disappeared in the world?

- Then all the musicians would disappear in the world, and I wouldn't talk to you here.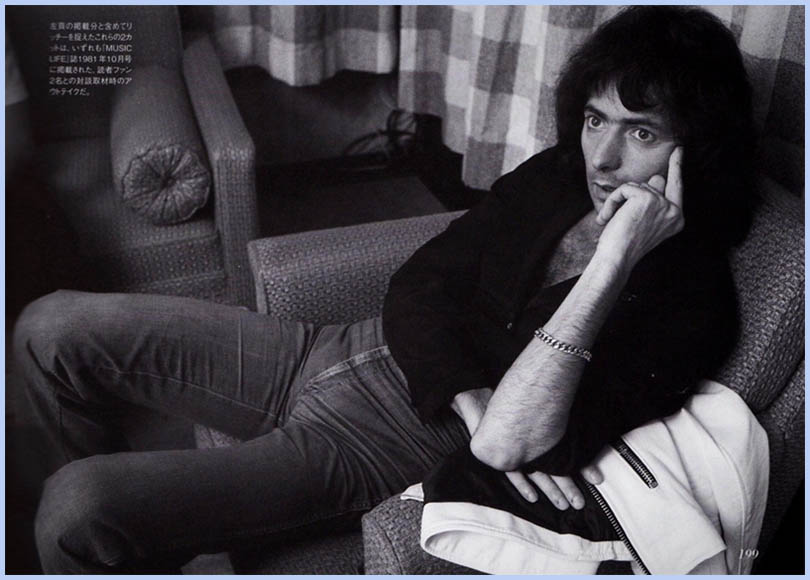 Is there someone with whom you would like to meet?

- Yeah, a lot of people. Do you know Sean Chris?

No.

- I really like him, and it seems that I am also interested in him. Well, he's not a professional musician. He is a violinist. I know that many are interested in his music, but there are those who do not know anything about him, like you.

After the release of the album "Difficult To Cure" you have a lot of new fans. What do you think of them? Your style on this album is very different from what you played before.

- Yes, "Difficult To Cure" was recorded for them, for my new fans. I've always loved ABBA and pop music. I am often told that my love for ABBA is difficult to cure ("Difficult To Cure") (laughs). I can listen to any good music, even if it's disco... I don't want to make music for the elite, because I firmly believe that listeners should enjoy it, and I myself would like to hear such music. And I'm sure there is a lot of good stuff in pop music. So in that sense, the songs from "Difficult To Cure" are made for my new fans.

I also love ABBA, which of their songs is your favorite?

- Oh, there are a lot of them. I've been listening to Dancing Queen for several years. I first heard it 5 years ago... Once we were touring the UK while this song became a big hit. Then it became a hit during our tour in America and later in Australia. So I listened to "Dancing Queen" every day (laughs).

The next question has nothing to do with music. I would like to grow my hair long, but this is not allowed in my school. Richie, what do you think of these rules?

- Well, there are reasons for everything... Although there are times when rules are necessary, I don't think it would be right to make them too strict. But, you know, long hair is going out of style. So don't worry (laughs).

How do you practice the guitar?

- Today I play in the bathroom (laughs). I practice chords while watching TV without sound. Anyway, now I'm trying to just get more fun out of the guitar than I used to. But I think this method is not suitable for everyone. However, I've heard that some violinists do this too, so I'm not the only one (laughs). It seems to me that it is very important to be able to relax and play naturally, and when you sit down to play only for the sake of classes, and exercise, exercise... Instead of playing through strength, you need to learn to get pleasure from classes and games.

What do you think about Budokan?

- It seems to me that it is confusing and too big. Besides, the security there is too strict. My ideal is a half-Budokan hall. In addition, due to the circular shape of the building, it is difficult to work with sound. Due to the fact that so many people come there, you always have to be very nervous, and this is bad. Also, I always remember the big old clock that stands there in the dressing room, it has been there since time immemorial and does not go, but each time it shows a different time. When I think about Budokan, I always remember these hours (laughs).

What is your goal in life?

- Live a quiet life and do what I've always wanted. Even though I don't like being in charge of the band and telling who needs to play, even more I don't like doing what others tell me. I have always believed that my life is my business. Now that the responsibility for Rainbow is becoming unbearable, I just want to walk, chat with the neighbors. In short, I'm lazy (laughs). I do not like to compete with someone, I always want to just be myself. But sometimes being yourself in this business can be difficult...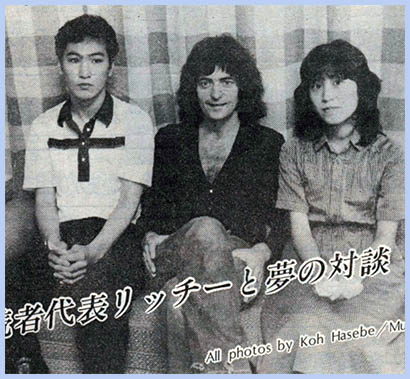 What would you be if you weren't a musician?

- I would like to be an inventor.

What would you like to invent?

- I don't know, something new.

Tell us a secret on how to become a good guitarist.

- ...(a little thought) the secret of a good guitarist is not to be a bad guitarist. I would say that you need to do a lot, but you also need to do it with the right goals. If you want to become famous, cash in on fans and make money, any activity will be useless because you will be doing it with the wrong beliefs. In any case, you need to enjoy playing and practice a lot, only then you will become a good guitarist.

What famous musicians would you like to play with?

- Drummers with John Bonham, and bass players with Jack Bruce or Tim Bogert. I prefer to play the guitar alone, I don't like it when someone competes with me. In this regard, I like Eric Clapton, he does not try to compete with anyone, but just enjoys the game. Of the singers, I would name Mike Finnigan, he lives in Texas, he played with Dave Mason. However, he is not very well known. Also Paul Rogers, Graham Bonnet and, of course, Joe Lynn Turner (laughs). Of the keyboardists - by the way, this is my favorite instrument - I would call the Japanese Isao Tomita. I also really like Wendy Carlos. If I want to change my gender, I would like to turn into Wendy Carlos. I also like violinist Jerry Goodman.

Do you have any wishes for your fans?

- I am very proud that so many people in your country like my music. Japanese fans are special because they listen to the emotional part of my playing, not the technical part, and I am very happy about that. I mean, fans in Japan listen to music more attentively than in other countries. For example, in America they like a concert to turn into a party, they only care about the rhythm, that's why they like drummers most of all. I wish everyone listened to the music as attentively as in Japan.

On stage, you gesture a lot, for example, you often show the drummer like this (depicts Richie's gesture when he points at the ceiling). What does it mean?

- (Laughs) No, my hands move by themselves, arbitrarily (laughs). Just kidding, sometimes I like to play songs at different tempos, and this is how I show the drummer how I want to play.

What does Rainbow mean to you?

- It's just my curse (laughs). No it's a joke. A very difficult question, isn't it? Before, I always wanted to leave Purple, be free and do what I love. Now, when I get bored with everything, I feel the same. That is why, despite the constant changes of members, the group continues to work. There were good and bad moments. But I don't want Rainbow to be perceived as just solo guitar music. I don't want to be surrounded by simple accompanists, I like it when there is a good singer, and drummer in the group. The better the musicians, the better the group sounds, but then the problem of selfishness arises...

I created this group, I am its leader, I am responsible for it, so when someone works poorly in the group, I tell him this in his face. Anyway, I would not want Rainbow to ossify. Variety is sometimes helpful. It seems to me that Rainbow is difficult to attribute to any one type of group, the work here is very different from the way Eric Clapton or Queen do it, communication happens in a different way. Rainbow members do not have the right to complain and prove their opinion, but they are also required to have talent, but such people are most often prone to conflict. But at the moment, I think things are going well. However, such problems cannot be predicted.


© Music Life, Japan - October 1981 issue